DATA AND TIPS TO CHOOSE YOUR TREKKING POLES
KNOW HOW TO CHOOSE TREKKING POLES FOR THE
INCA TRAIL HIKE TO MACHU PICCHU
Cusco is the perfect place to start a trekking adventure since it has varied walks that mostly end with the wonderful visit to Machu Picchu. If you are thinking of starting this adventure, you have to know how to choose trekking poles for the Inca Trail hike to Machu Picchu? Trekking poles could help your performance on travel days. Trekking and hiking are mountain activities that have become very fashionable. To walk through this type of terrain and be able to enjoy it, it is necessary to be well equipped. There are different types of canes that suit personal needs. If you don't know which one is ideal for you, take note. We teach you how to choose hiking poles. Follow these tips to get yours and enjoy nature doing mountain activities.
1.- Telescopic Walking stick
They are those in which a tube is inserted into the interior superior to the pick it up. It has two great advantages: they fold up for transport and can be perfectly adjusted to our height and preference, and also, in a very simple way, we can adjust them on the fly.
Shorter for ascents.
Medium length for the plain.
Longer when a descent comes.
It is recommended to adjust the lengths of the sections so that only the upper section has to be modified for gear changes.
Telescopic poles have two great advantages:

Possibility to enlarge the length.
Great resistance: the adjustment systems and the overlapping sticks make its joints between sections practically unbreakable.
This type of poles could be considered as universal, off-road and are the most classic. We will see them use by practitioners of hiking, mountaineering, trekking, mountaineering, cross-country skiing, etc.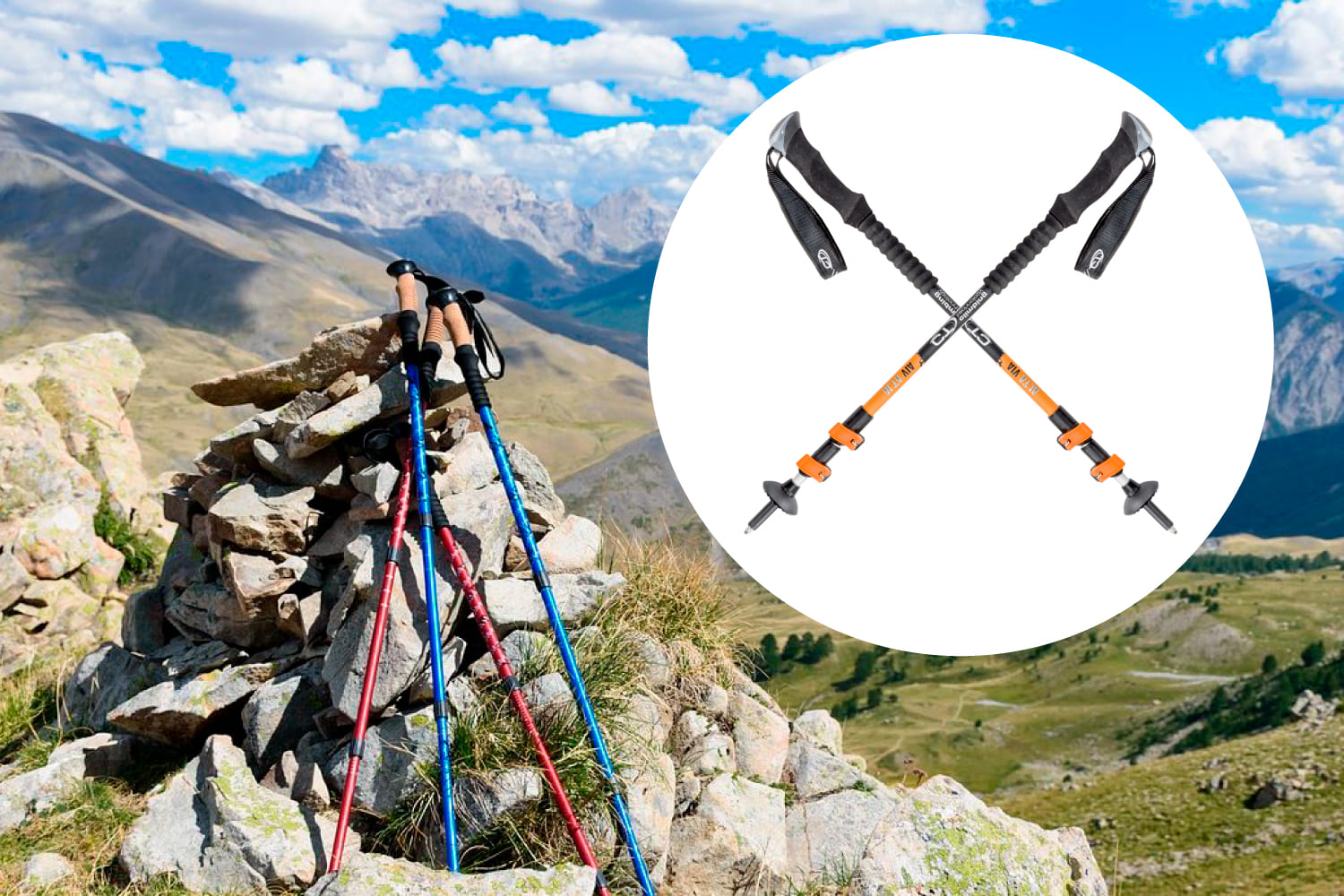 2.- Folding Walking stick
They are very fashionable, especially among runners and lovers of minimalism.
Instead of telescoping or expanding on themselves, the ultralight poles fold apart into sections that remain joined by different systems, the main one being an internal wire rope made of different materials.
They are considerably lighter than telescopic systems, by avoiding the material of the closures and that which remains inside the other tubes. For example: in a telescopic pole set at 120 cm, it is very likely that the sum of its three sections will measure 150 cm, or more, because the length of the pole must be added to the areas of the pole that are hidden within the next section. A folding cane removes that material.
Two great advantages:
It folds much more than the telescopic, occupying just over 40 cm.
They fold and unfold very quickly and comfortably, almost semi-automatically.
Its Drawbacks?
It cannot be adjusted in height (Although there are hybrid models that can). The most minimalist models can break more easily in the area of ​​union between sections, in hard use.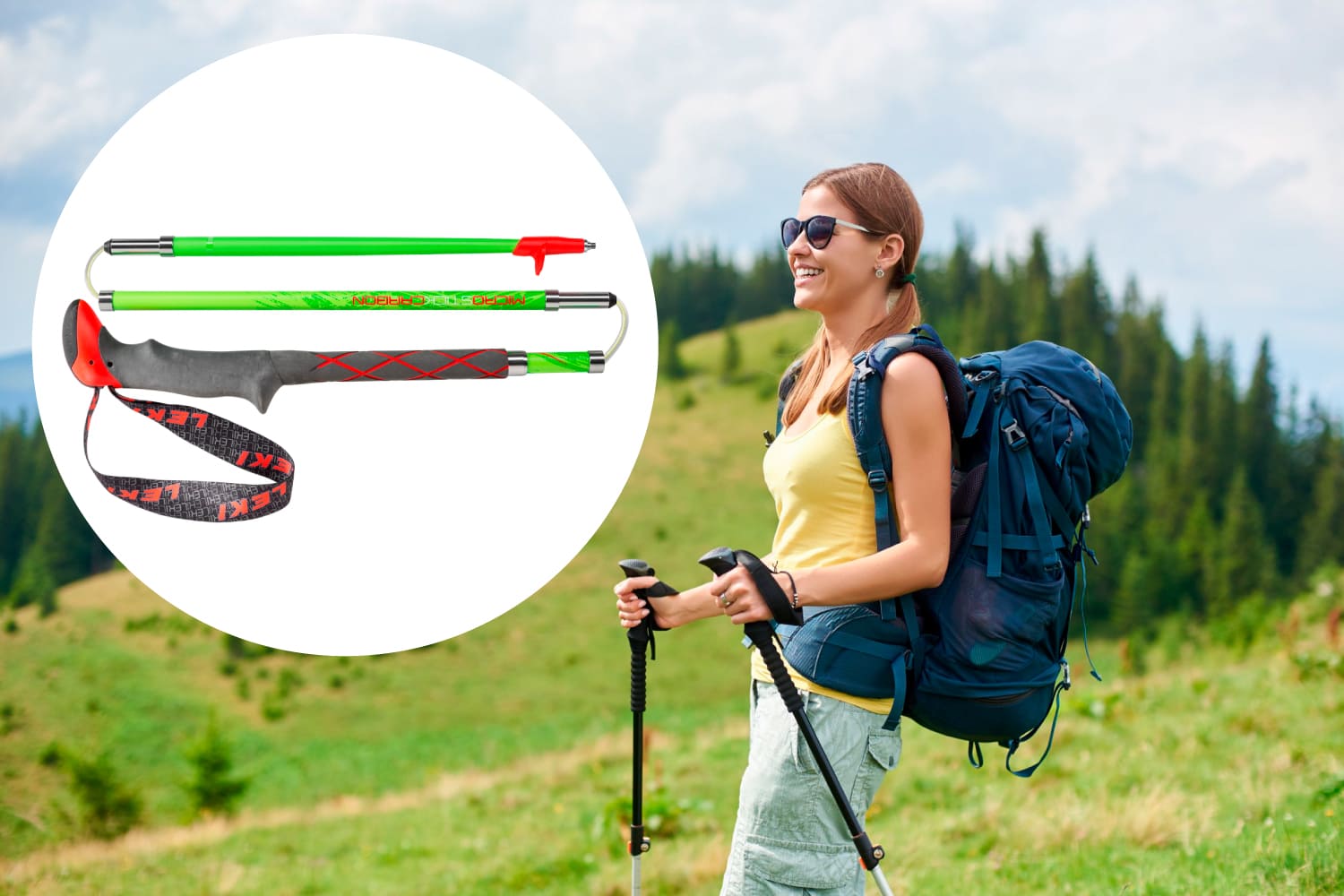 Advantages
The use of poles distributes the load between the upper and lower body. Studies indicate that 15 to 20 percent of the effort is released from the lower body of the body by sharing it with the upper body. Tiredness and risk of injury are limited.
Drawbacks
Its prolonged use, especially if we do not perform the correct technique, can affect our balance system.
How to avoid this inconvenience?
It is recommended to travel on some occasions without them through complex areas of the route, and above all learn to use them.
The optimal technique is when we walk, ascend or descend with them in the same way as if we did not carry it. Balanced our body by itself, we will make a slight support with the canes to help us.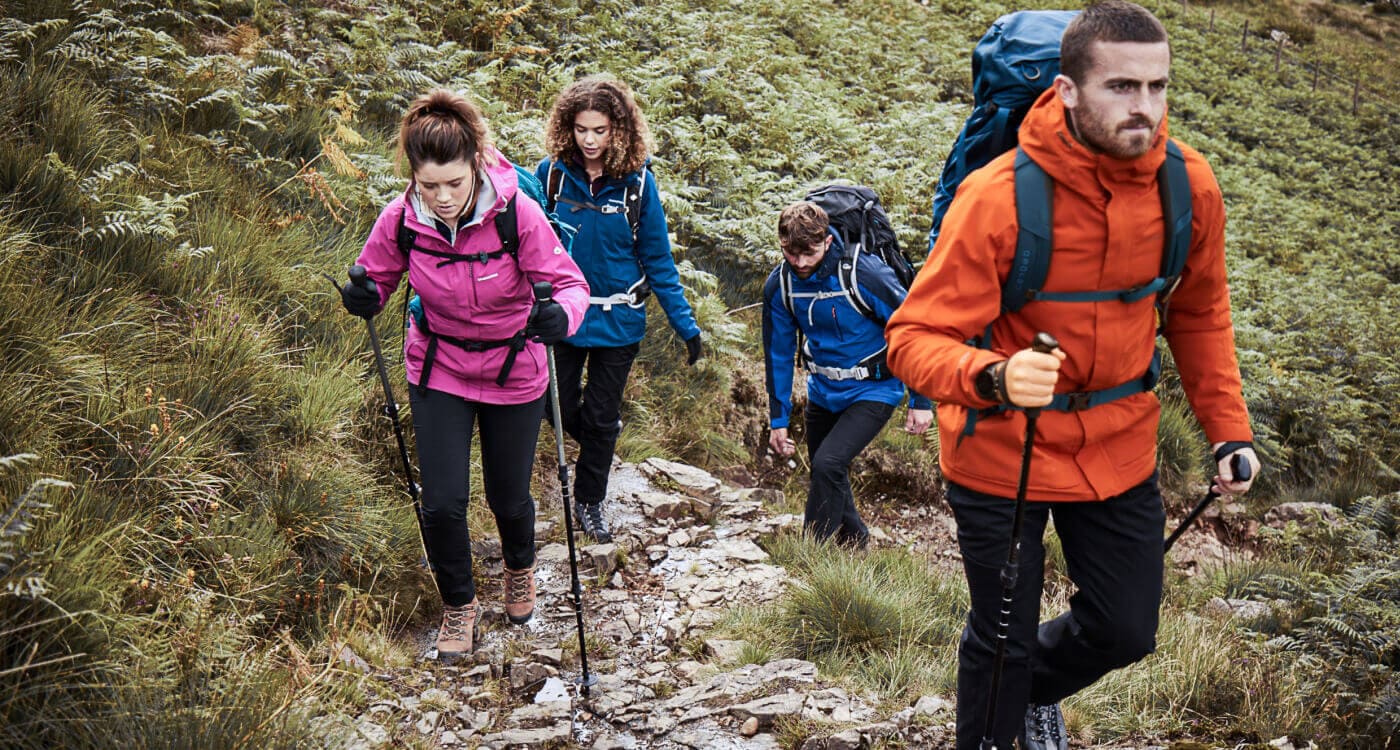 What is my cane size?
Although it is a personal matter, a good starting point is to choose a pole length that allows us to stand holding the poles supported vertically on the ground, have our elbow at a 90º angle, with the forearm parallel to the ground.
The ideal thing to do on the ascent (although everything related to pole length is something quite personal), and in the case of adjustable poles, it is to shorten them by 5-10 centimeters, depending on the slope, and lengthen them by 5-10 centimeters on the descent. In many poles, the handle is double, in order, without the need to adjust, to be able to grip it higher or lower.
As a rule:
Less than 155 cm: 100 centimeters.
Between 155 cm and 172 cm: 110 centimeters.
Between 173 cm and 182 cm: 120 centimeters.
Above 182 cm: 130 centimeters.
They are reference figures, which each one will have to adapt to their use.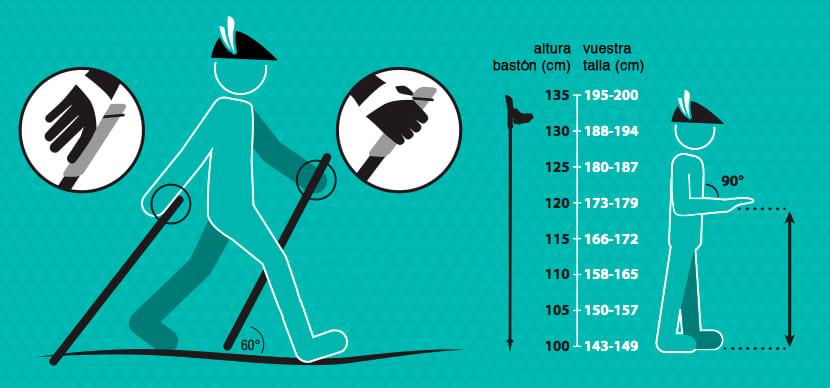 Which ones to choose?
Actually, most walking sticks can be used for any use. The differences between the different types do not lie in their morphology, but in the issues that we have already seen (folding, lightness, resistance, type of handle, rosettes, leash, etc.).
And it is that, if something characterizes them, it is their versatility. Once deployed, they all do more or less the same function. So the choice will depend on factors such as lightness, the folding that we need according to our activity, its rigidity, solidity etc.
If you are versatile and only want a cane.
Without a doubt, a 3-section telescopic one. It will serve you for everything, with very good performance and, in addition, for a long time. It does not matter if you take a walk along a path around your house, that you cross a hill at 3,000 m. altitude, whether you are in a four-thousand of the Alps or in Nepal: This type of poles will work perfectly. The aluminum ones weigh slightly more, and are less rigid, but they are totally reliable. The new carbon models have already reached almost the same resistance, they are stiffer (they transmit less vibrations), and they tend to weigh less.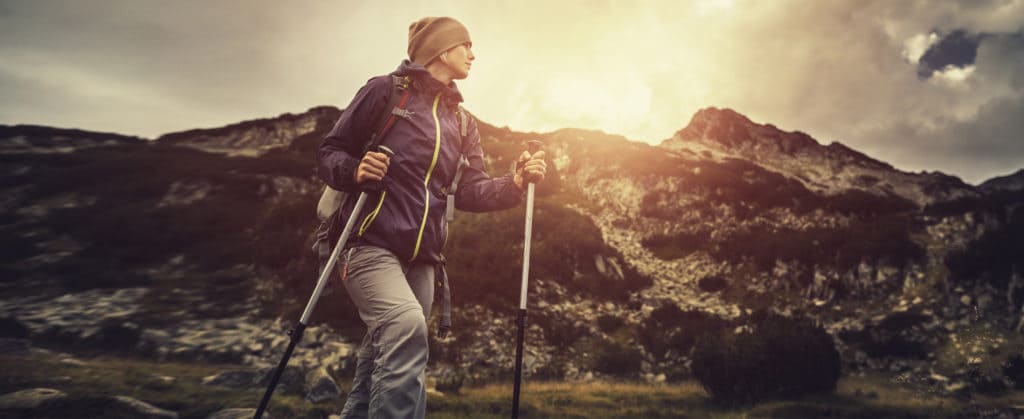 SUGGESTED TREKKING POLES BRANDS
THE CHOICE DEPENDS OF EACH ONE. IF IN DOUBT, DON'T RISK, AND CHOOSE WHAT YOU KNOW WITH SAFETY THAT WILL WORK FOR YOUR ACTIVITY!