There is something about pausing during your time in the Andes that allows you to embrace the wonder of being there. And there is no better place to pause than in the Sacred Valley of the Incas. The superior amenities of these Sacred Valley luxury hotels – such as relaxing spa services, fine dining and stunning natural surroundings – make each property a true gem.
Tucked majestically between Cusco and Machu Picchu, the Sacred Valley is renowned for its vibrant local markets, adventure excursions, impressive Inca sites and unparalleled natural beauty. While there is an exciting array of tours and experiences to keep you on the go, it is important to schedule time to slow down and luxuriate in the landscape. Experiencing the Sacred Valley at a slower pace, while staying at a premier hotel, provides the opportunity to unwind, connect with your travel companions and treat yourself to deep relaxation.
#1 HACIENDA URUBAMBA (5 STAR HOTEL)
Tucked in a valley of the Andean countryside, Hacienda Urubamba by Inkaterra is a Spanish-style estate with Inca decor throughout. The Casa Hacienda main house and stand alone Casitas offer opulent lodging with panoramic views of the surrounding mountains and meadows. Here you can immerse in the local charm with a book from your private porch. Or, you can visit the earth-to-table restaurant, wander through the healing garden and enjoy a rejuvenating spa treatment. There are also excursions included in your stay that allow you to fully take in the natural landscape. This is a PFL favorite when it comes to Sacred Valley Luxury Hotels.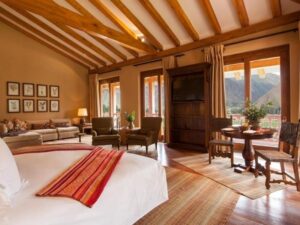 HACIENDA URUBAMBA HIGHLIGHTS
Earth-to-table restaurant featuring local ingredients grown at the hotel's ecological farm. The restaurant and its terraces behold inspiring views of the valley and mountains.
The rustic, Andean-inspired Mayu Spa features therapies and treatments using 100 percent natural botanicals. The healing garden features over 20 medicinal plants, and treatments include deep tissue massage, hot stone, facial hydration, cranial massage and more.
Exclusive excursions for guests include a visit to the ecological farm, a sunset walk with teachings about Andean astronomy, a class to make and try chicha de jora – a traditional Andean beer made from fermented corn, a birdwatching outing to see the winged residents of the land, and a challa huasi trail hike featuring viewpoints, medicinal plants and birds.
#2 HOTEL RIO SAGRADO BY BELMOND (5 STAR HOTEL)
Flanked by mountains and set on the banks of the Urubamba River, guests of Belmond Hotel Rio Sagrado enjoy luxurious accommodations and a privileged location. The sandstone-orange main house and free standing structures for the villas and suites are sprinkled throughout the property – akin to a small Andean village. Sit in the gardens beside the rushing river, dip into the climatized swimming pool, enjoy local fare at the elegant restaurants or join a traditional Andean ceremony at the Mayu Wilka spa.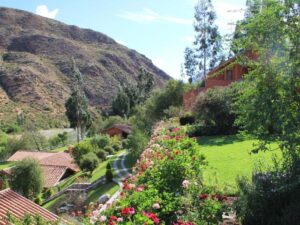 RIO SAGRADO HIGHLIGHTS
Spa Mayu Wilka offers relaxing, 30 to 150-minute massages as well as facials, body scrubs, wraps, and yoga. Amenities include a sauna, steam room, and an indoor and outdoor jacuzzi.
The two restaurants have something to offer everyone. Enjoy a delicious lunch at El Jardin and the sophisticated atmosphere of El Huerto Restaurant with local and international cuisine.
The hotel organizes special activities, like joining a mystic ceremony with an Andean shaman, visiting the resident llamas and alpacas (great for kids), and traversing by foot or horseback to surrounding attractions.
#3 TAMBO DEL INKA (5 STAR HOTEL)
Tambo del Inka, a Luxury Collection Resort & Spa, is the first hotel in the Sacred Valley to be granted the prestigious LEED (Leadership in Energy and Environmental Design) certification. The picturesque hotel is located on the banks of the river. It offers amazing epicurean experiences as well as spa and pool to unwind. The well-appointed rooms and suites are adorned with sliding glass doors, marble bathrooms and warm Andean design accents. Also, as a plus, Tambo del Inka is the only hotel with a private train station offering daily service to Machu Picchu.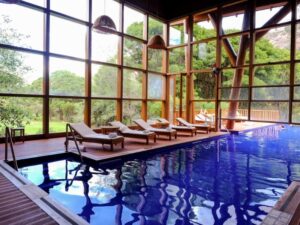 TAMBO DEL INKA HIGHLIGHTS
The Spa at Tambo del Inka is an extension of the hotel's luxurious services. Among many unique treatments, ask about the Andean Chocolate Facial, the Firming Coca Massage, and Quinoa Therapy.
Hawa Restaurant serves innovative novo-Andean dishes. After your meal, cozy up to the fireplace in the lounge with a cocktail from Kiri Bar.
The superior indoor/outdoor pool is heated, so you can enjoy a swim any time of the year.
#4 HOTEL SOL Y LUNA (5 STAR HOTEL)
Hotel Sol y Luna offers all the services you need to relish an extended getaway in the Sacred Valley without ever leaving its sweeping 37 acre (15 hectares) property. The hotel is part of the prestigious Relais and Chateaux Collection, an association of luxury hotels that span 60 countries on five continents. At Sol y Luna, each of the distinct casitas is a private sanctuary. They are constructed of local stone, and decorated with original pieces of Peruvian folk art. Premium Casitas feature a wood-burning fireplace, floor heating, and jacuzzi on a private garden terrace – an idyllic spot to soak in the stunning scenery.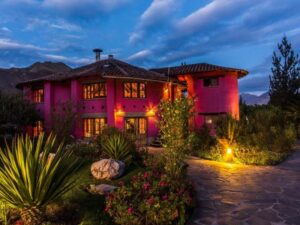 SOL Y LUNA HIGHLIGHTS
The gourmet restaurant Killa Wasi serves Peruvian cuisine cooked with a touch of fusion and best paired with wine from the extensive list.
Wellness experiences include treatments at Yuca Wasi Spa, morning yoga, and the sauna and gym adjacent to the swimming pool.
Since its opening in 1996, the owners have worked with local communities and established the Sol y Luna Association. This raises money for important educational and recreation programs to improve the quality of life for local residents.
#5 EXPLORA VALLE SAGRADO (5 STAR HOTEL)
This award-winning luxury hotel is embedded in the spectacular Sacred Valley landscape with design flourishes reminiscent of the times of the Inca. In fact, Explora Valle Sagrado is located just beside an ancient corn plantation and directly facing the majestic Andes. The standard rooms and guest suites hold a simple elegance and have views of the fields, valleys and mountains. Each room is complete with a private bath with a jetted tub, robe and slippers, heating and local infusions. The experience is complete with access to the onsite Spa Pumacahua Bath House and a restaurant with a menu developed by world-renowned Peruvian chef Virgilio Martinez.
EXPLORA HIGHLIGHTS
The 17th century hotel is located on ancient corn plantations with Inca architectural statements throughout, which allows you to pay homage to the rich history of the land while relaxing in luxury.
The gorgeous Spa Pumacahua Bath House was built in the 1600s and has rustic finishes and stone archways. It features massage services, saunas, steam room and outdoor swimming pool.
Onsite restaurant features an exclusive top tier gastronomic experience, with a menu developed by world-renowned Peruvian Chef Virgilio Martinez, owner of Central Restaurante in Lima, which is considered the 6th best restaurant in the entire world on the 2019 list.
#6 ARANWA SACRED VALLEY HOTEL (5 STAR HOTEL)
Aranwa Sacred Valley resides on the sweeping property of a 17th century hacienda overlooking the Urubamba River. Each of the deluxe rooms and suites have a terrace or balcony and a private restroom with a jacuzzi bathtub. We consider this hotel a basic 5 star, but is still an excellent place to relax and renew. According to Peru for Less' Melissa Dreffs, "It has everything that is expected of a 5-star but it is not quite as impressive as the other 5-star hotels in the area. However the nice part is that is reflected in the price as well; so Aranwa is a great choice for those who want the services of a 5 star without the soaring price tag."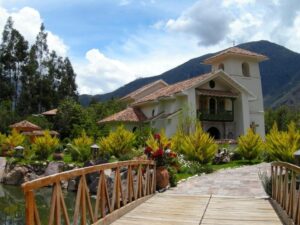 ARANWA HIGHLIGHTS
Unwind at UNNO Spa with a massage or facial treatment that incorporates essential oils made from native Peruvian plants like quinoa, camu camu, or coca.
Have your choice of several dining options. Head to Restaurant Gourmet Pukawi for haute versions of the country's traditional dishes or try Japanese-Peruvian fusion at Kusi Pisco Bar & Sushi Bar. For lighter fare, visit Restaurant Rikhuna and then order from the extensive wine list at Cava.
Aranwa's art gallery features reproduction prints of Peruvian photographer Martin Chambi. He was the first to photograph Machu Picchu after its discovery by Hiram Bingham in 1911.
#7 CASA ANDINA PREMIUM (4 STAR HOTEL)
This 4 star hotel has grounds as stunning as any 5 star hotel on our list, but more basic. Located in the lush countryside of the Urubamba Valley, visitors of Casa Andina Valle Sagrado can marvel at the panoramic mountain views and wander the landscaped gardens where adorable alpaca residents wander. The guest rooms, suites and villas come with a balcony, cozy robe and slippers, and regional design accents that round out your luxury experience in the Andes. The full service spa, Alma Bar and Restaurant, and onsite planetarium are excellent options to explore during your stay.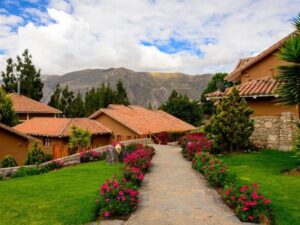 CASA ANDINA PREMIUM HIGHLIGHTS
The lovely guest rooms all have balconies looking out to beautiful mountains and greenery of the Sacred Valley.
In addition to the onsite restaurant and breakfast buffet, the hotel organizes Pachamanca experiences. This is a Andean earth oven preparation of potatoes, meats, herbs, and fava beans.
The onsite planetarium is a huge plus, and allows you to marvel at the stars twinkling over the valley. You'll also learn firsthand about Andean mythology, astronomy and constellations.
#8 SONESTA POSADA DEL INCA YUCAY (4 STAR HOTEL)
For a more quaint experience, go to Sonesta Posada del Inca Yucay, an 18th century monastery surrounded by gardens and mountains in the distance. While this hotel does not offer a spa, it does have excellent dining, an eclectic Inca market, a colonial courtyard and charming chapel. The 88 guestrooms are equipped with climate control and a private bathroom with tub and shower. There are regional design flourishes throughout that connect the property with its heritage and history. Here you can sit back, relax and feel the love of the ancient Andes. A more modest of the Sacred Valley Luxury Hotels, but every bit as pleasant.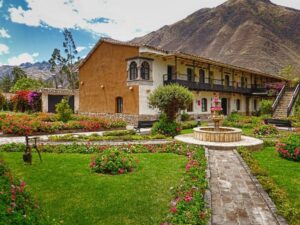 SONESTA POSADA HIGHLIGHTS
The polished, comfortable guest rooms and suites offer mystical views of the courtyard and countryside. All rooms have a bathtub as well, which is a wonderful way to relax after exploring the Sacred Valley.
There are four intriguing dining options right on site, including an elegant restaurant with Peruvian, novoandina cuisine; a spirited bar with live music, appetizers and refreshing cocktails; a eEuropean-style cafe with coffees, teas and desserts; and finally an Italian trattoria with pizza and pasta.
#9 SAN AGUSTIN MONASTERIO DE LA RECOLETA (4 STAR HOTEL)
If you want more of a historic luxury experience that surrounds you in the echoes of a colonial past, San Agustin Monasterio de la Recoleta is your spot. This religious monument and monastery was built in the 17th century. It features a traditional courtyard, rustic exposed stone finishes, and charming gardens and greenery. Stepping into the hotel you get a sense of stepping into an ancient chapel. The basic but comfortable rooms have warm Andean decor, hardwood floors, heating and private bathrooms.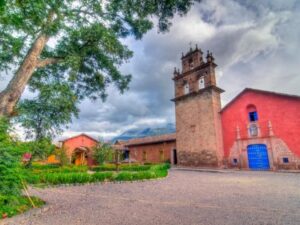 SAN AGUSTIN MONASTERIO HIGHLIGHTS
The modern onsite restaurant serves up a mix of novoandino and international dishes, while the bar has a nice atmosphere and serves excellent Peruvian cocktails, like the signature Pisco Sour.
The historic feel of the property is a big feature. There are ample common areas that have comfortable seating where you can sit, slow down and take in the ancient surroundings of this Sacred Valley sanctuary. It is a wonderful place for quiet, quality time in reflection or with loved ones.
#10 WILLKA TIKA (LUXURY WELLNESS RETREAT)
For those looking to dive into wellness in one of the most magical places in the world, look no further than Willka Tika. This eco-friendly wellness retreat center with local Quechua staff is the ultimate place to connect with Pachamama, or mother earth, delight in farm-to-table vegetarian meals and partake in a traditional healing ceremony. You can come on your own for personal growth and exploration or come with loved ones. Or you can even join a scheduled group retreat or host your own. The gorgeous sustainable guest rooms enjoy lush mountain and garden views and are adorned by local artwork with fresh flowers. Don't forget to visit the property's gardens, yoga studio, ceremonial temple, and library/music cottage as well. A true community-inspired retreat center in the Sacred Valley for those seeking deep healing.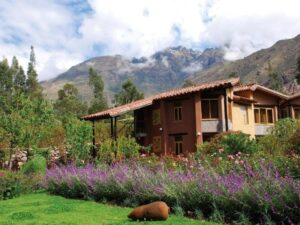 WILLKA TIKA HIGHLIGHTS
The Seven Chakra Gardens mystically meander through the Sacred Valley scenery and feature different symbols, sculptures and medicinal plants. A sacred lucuma tree for meditation and the spiral walk for healing are but a few highlights of this colorful oasis.
The Healing Arts at Willka Tika are incredible, with offerings by local therapists. The use use 100 percent natural ingredients from the medicinal gardens. Treatments include Andean massage and aromatherapy, medicinal solar baths beneath the stars, crystal light therapy and a range of yoga classes for all experience levels.
All guests have included in their stay herbal teas and infusions. There is also two included vegetarian meals per day: a buffet breakfast and organic three-course dinner.
#11 SKYLODGE ADVENTURE SUITES (DELUXE ADVENTURE EXPERIENCE)
If laying in bed while hanging off an Andean cliff in a glass pod sounds like luxury, this is the spot for you. Skylodge Adventure Suites is an exclusive retreat geared for adventurous travelers looking for a truly unique natural experience. To access these luxury glass suites, handmade out of aerospace aluminum, guests must hike, zipline and climb. The suite itself features a dining area, four beds, and private bathroom.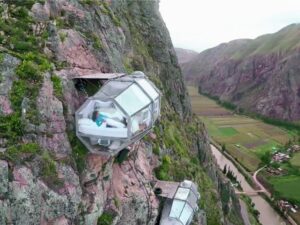 SKYLODGE HIGHLIGHTS
This was the first hanging lodge in the world, and attracts adventurous travelers from all over the globe. The sense of accomplishment after ziplining and climbing with steel cables, rungs and ladders is unparalleled. Especially when it ends with at luxury mountainside rooms with a 300 degree view of the Sacred Valley.
Your time in Skylodge is complete with private transportation, guides, safety briefing, equipment, snacks, gourmet dinner with a bottle of wine (and indisputably best views in the valley), and an energizing breakfast.
This list of Sacred Valley Luxury Hotels beholds something for everyone. Maybe it's a massage by the Urubamba River or quality time with loved ones in a villa in the mountains. Or perhaps it's a yoga retreat in healing gardens or a historic experience at an ancient monastery. Or even a zipline adventure to a glass oasis or an epicurean rendezvous under the Andean stars. Whatever your idea of Sacred Valley luxury is, talk to your travel advisor and they will help plan the ultimate custom Peru vacation.