HOW MANY KILOMETERS IS THE INCA TRAIL HIKE TO MACHU PICCHU?
There are different Inca trail tours including alternative treks to get to Machu Picchu each of the tours with different experiences and traditions of the areas where it will be traveled. The duration time is according to the tour you take; the most famous is the Classic Inca Trail that lasts 4 days and 3 nights and reaches a maximum height of 4200 meters above sea level; the second is the short Inca Trail tour of 2 days and 1 night and you reach a maximum height of 2650 meters above sea level. We also have other alternative adventure tours: the so-called "Inca Jungle" that consists of biking and hiking until reaching the Inca citadel and lasts 4 days and 3 nights; Finally, there is the trekking tour to Machu Picchu through the Salkantay snowy which lasts 5 days and 4 nights.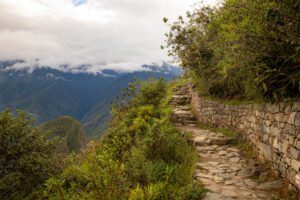 To know the lost city of the Incas "Machu Picchu", there are several options, go by train or by vehicle. But if you want to live an incredible adventure, the Inca Trail hike to Machu Picchu is recommended, it will travel the paths where the Incas walked to the citadel of Machu Picchu. Inca trails over the mountains, on a path of landscapes of indescribable Andean beauty that runs, throughout the days that this adventure lasts, archaeological centers that can only be reached by it; that's the Inca trail. Machu Picchu was communicated with the city of Cusco and with the rest of the Inca empire through roads of excellent structure, with ergonomic designs, they were built in strict harmony with the natural environment and have great aesthetics in their construction.
Many of the paths are ledges on the edge of the abyss and are surrounded by beautiful landscapes with lush and varied vegetation. In some sections the path is carved directly into the rock. The Inca Trail hike to Machu Picchu is considered one of the most spectacular trekking routes on the planet and is the best known of the Inca trails.