How to organize your luggage for your trip to Peru
The diversity that we find when traveling to Peru is very large, and covers both the landscapes and the climate. There are jungles, a long coastline and high mountains. In addition, depending on the time of year of our trip, we must be prepared for cold or heat. Remember that being a very rich country in all its senses, it presents diversity of climates according to its three natural regions: Coast, Sierra and Jungle, therefore what to pack for your trip to Peru will depend on the tour and the season you have planned travel.
To prepare the luggage when visiting the South American country, we must take into account two important points. First, decide in which season we will make our trip. Second, plan an itinerary with the activities that we are going to carry out. This step will also help us, since it is a large country and with a wide range of activities, we will be able to take better advantage of the place. Traveling to Peru will continue to be one of the best experiences in the world, and the best way to enjoy it is by equipping yourself with a suitcase that has what you need. Because Peru will be a country rich in biodiversity and tourist destinations; however, it is difficult what to pack for your trip to Peru. Even Peruvians themselves suffer with organizing their trips due to the number of variants that exist to put together a suitcase that has what is necessary for the climates or environments that their country has.
Also, get ready to make room in your suitcase to Peru and take back Peruvian handicrafts, fabrics, silverware, colorful chullos from this place of history, embellished with orchids, coca leaves, perfect architecture, but above all, fill yourself with spirituality and energy.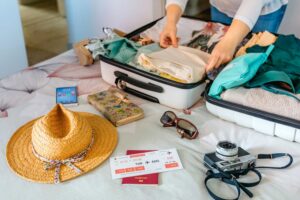 For the rainy season in Peru
If you are going to travel to Peru during the rainy season, keep in mind that weather conditions may vary depending on the regions you visit. For example, the season increases during this period and if you are visiting the coast, it will feel like summer. But, if you travel to the Andean highlands or the jungle, expect heavy downpours and partly sunny days.
The rainy season in Peru begins from October to April, although it is actually established between December and March. Depending on your travel destinations, here are some recommendations so that you do not forget anything when packing for Peru:
What to pack for the coast in the rainy season
Temperatures rise during this time of year and there is a small chance of rain during this period. For example, if you visit Lima, Paracas, Huacachina or Nazca, the weather will feel very hot. Do not forget to take with you:
– Protector alone. This should be your new best friend for the entire trip, make sure you apply it every 40-50 minutes.
– Bathing suits and sandals. They are essential if you go to the beach.
– Light tops, shorts and sundresses. Temperatures in this region can reach 30ºC.
– Hat/cap and sunglasses. Protect yourself from the sun at all costs.
– Comfortable shoes. Sports shoes are essential for walking long distances.
What to pack for the Andes in the rainy season
This region is the most affected by the rainy season, and the weather conditions in this part of the country are highly unpredictable. As you go up in altitude, temperatures can reach 16 – 18ºC. This is what you should take with you:
– A rain poncho and an umbrella. Even if it's a sunny day, always carry them in your backpack.
– Windbreaker jacket. It is usually very windy at this time of year.
– Light and warm sweaters. Although it is usually hot during the day, it cools down when it rains and is cold at night.
– Mountain boots. Designed to combat a deep puddle and for those who plan to do some trekking activity.
– Insect repellent.
– A thick sweater, a thick jacket.
– A good raincoat for the rainy season from October to May.
– Multiple long/short sleeve shirts or sweaters, as temperatures can change quickly.
– A hat/cap and gloves; a scarf. You can easily get everything in the southern regions of Peru, often handwoven from sheep or alpaca wool.
If you're planning a full day of activities, check the weather reports and pack accordingly. Keep in mind that the weather changes drastically from hour to hour during this time of year. Therefore, it is advised that you go prepared with layers of light clothing.
What to pack for the jungle in the rainy season
In the Peruvian jungle, the tropical rainy climate predominates, but during this time of the year the rain intensifies and temperatures can reach up to 26ºC. Be sure to pack this:
– A rain jacket, a poncho and an umbrella. You better be prepared, heavy downpours are expected throughout this region.
– Baggy t-shirts. The climate in the Amazon jungle is very humid and hot, so you should bring something loose.
– Long pants. Recommended to avoid mosquito bites and to protect your skin while walking through the jungle.
– Mountain boots. If you're going to hike in the rainforest, these will be your new best friends.
– Insect repellent. There are tons of mosquitoes and bugs in the Amazon jungle. Even if you use an insect repellent, you could end up with some mosquito bites.
– A waterproof backpack. Very useful this time of year to keep your things dry while walking in the rain.
– A light, breathable, long-sleeved shirt to protect yourself from insects and brush if you venture into the jungle.
– A pair of long socks to put under your pants in order to prevent insects from getting into your clothes on walks.
It is necessary to mention that there are some things that you can buy or rent upon your arrival, for example, if you are planning to do trekking activities but do not have time to buy the necessary equipment, there are some shops that rent trekking shoes, poles, sleeping bags and more.
Essential items such as sun cream, insect repellent, ponchos, umbrellas and others can be purchased at any pharmacy or store in the country. When packing, be flexible, you don't have to take everything with you as there are things that are easily accessible in Peru.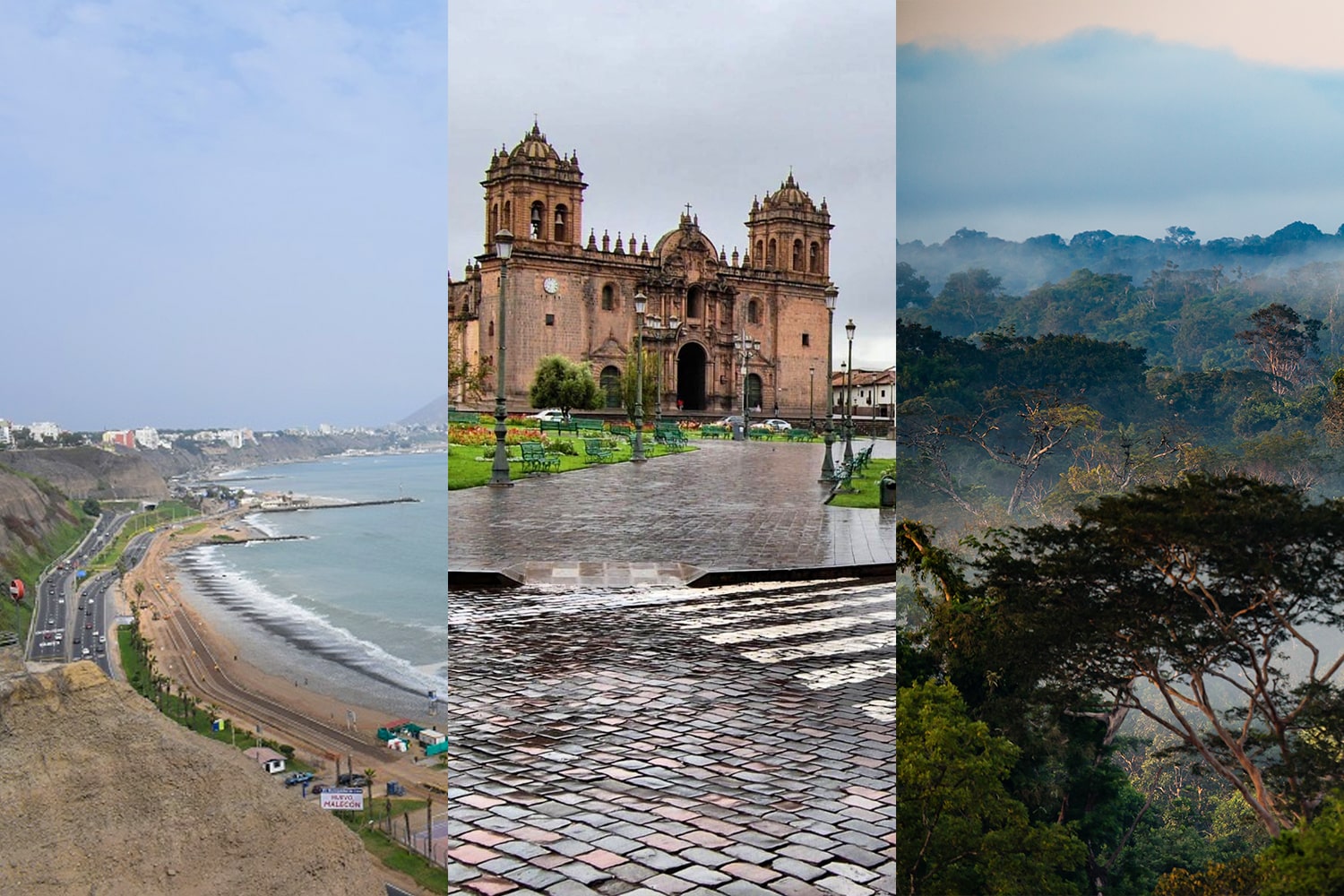 For the dry season in Peru
The dry season begins from May to October, it is considered the coldest season of the year as well as the high season of tourism. The temperatures are lower as you go up in altitude, and the chances of rain are little or none.
What to pack for the coast in the dry season
The climatic conditions do not change much in this region, except in Lima and Paracas, which tend to be more humid and a little cooler during this time of the year. Temperatures can reach up to 22ºC. Here are some recommendations:
– Light jackets and sweaters. If you plan to visit Lima during this time of year, consider sheltering from the breeze and humidity of the Pacific coast.
– Comfortable shoes. Consider wearing non-slip shoes. Due to increased humidity, the streets tend to be wet and slippery.
If you are going to visit the north and south coast, the chances of rain are almost nil during this period. Therefore, consider wearing summer clothes and protecting yourself from the sun during your stay.
What to pack for the Andes in the dry season
As we mentioned earlier, temperatures are cooler during this season, especially if you are higher than 3,000 meters above sea level. For example, in Cusco, the lowest temperature can reach -4ºC at night and 10ºC during the day. Consider taking one of these options if you are going to visit this region:
– Warm clothing. Although no rain is expected during this period and the days are mostly sunny, be sure to stay warm throughout your stay.
– Scarves, hats and gloves. Please note that you do not need to bring these from home as you can easily purchase these items at any local market.
– Lipstick. Dry and cold weather will leave your lips dry.
If you are going to add some hiking activities with nights in camps to your itinerary, make sure you bring the right luggage for your adventure. Trekking shoes, mosquito repellent and warm jackets are essential. Keep in mind that you can rent trekking equipment once you are in Peru.
What to pack for the jungle in the dry season
In the Peruvian jungle, the tropical rainy climate predominates throughout the year, the rains decrease during this season. But this doesn't mean you shouldn't be prepared, so be sure to bring a raincoat, an umbrella, hiking boots, a waterproof backpack, and most importantly, mosquito repellent.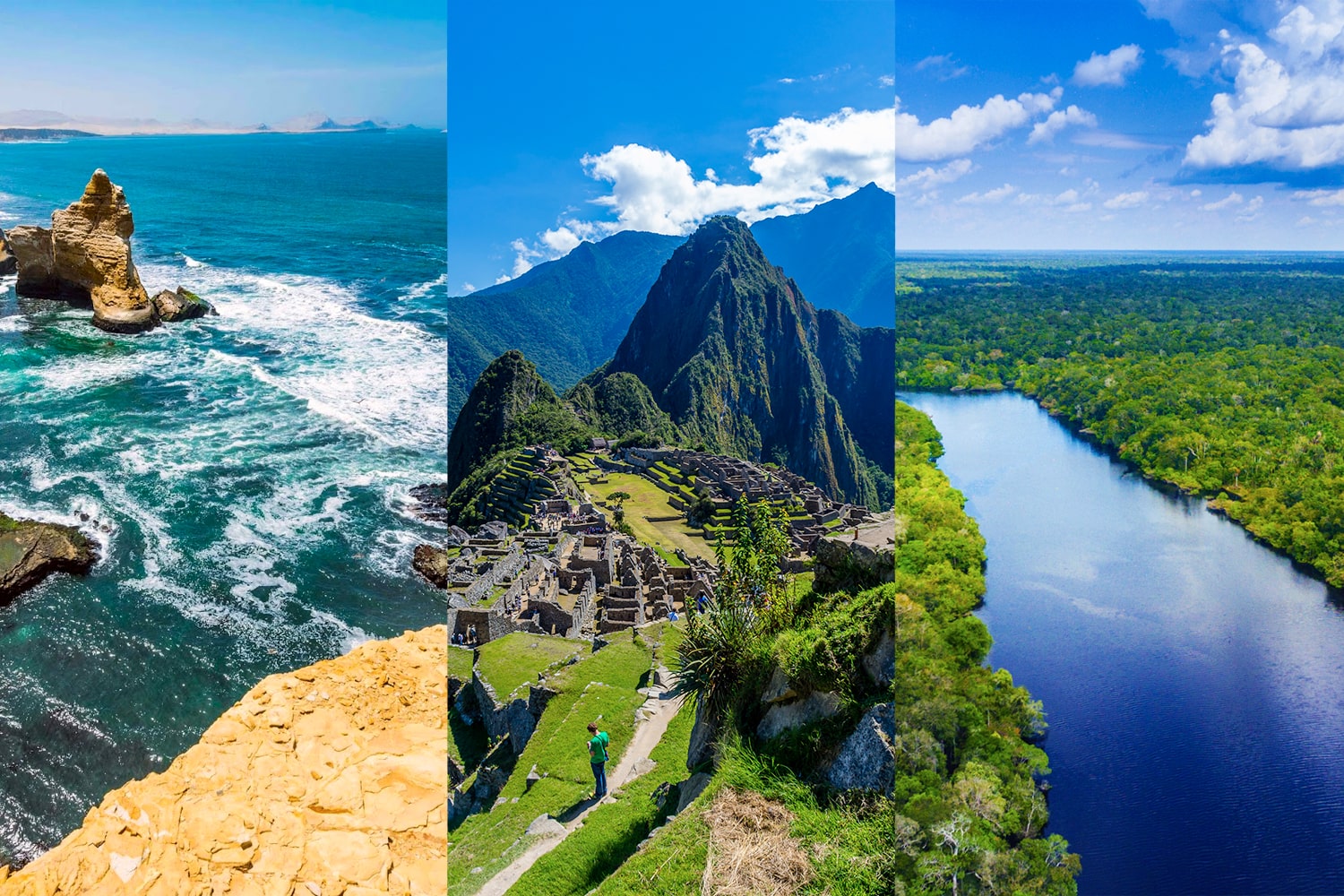 Essential things to take on your trip to Peru
Regardless of the particular region you visit, there are certain things you should bring on this trip. Therefore, here are some general recommendations to optimize your packing list:
– Plug adapter. If you are going to bring electrical appliances to Peru, be sure to buy an adapter, since the plugs may be different from those in your country.
– Voltage converter. The voltage in Peru is 220v. If you bring a 110v device you will need a voltage converter. In case this device is not extremely important, we advise you to leave it at home.
– Sunscreen. Even if you are visiting in the rainy season, this is essential, protect your skin at all costs.
– Photo camera. Do not miss the opportunity to immortalize your adventure through our country.
– Diamox or soroche pills. They serve to prevent any symptoms of altitude sickness.
Rest kit
We are talking about a long trip, so it is time to put a rest kit on your list of things to pack for a trip to Peru, which includes:
– Neck pillow, guarantees a stress-free trip, important to arrive relaxed in Peru, especially when you want to go to Cusco, because due to the altitude, your body must adapt during the day.
– An eye mask and ear plugs, the ideal couple for a perfect rest.
– Stories or legends of Peru, who knows, maybe you are crossing a bridge or a ruin where wishes come true and by not knowing it, you missed that opportunity.
Cleaning items
It is essential to group all toiletries in one place. Having a dedicated kit for these occasions will help make these items easy to pack. Small containers that do not exceed 100 ml are an excellent option for storing liquids such as shampoo, sunscreen or perfume. You can reuse containers with these sizes and fill them up. Free product samples are also a good start to start completing the kit. Preferably buy items such as a toothbrush, sewing kit, razor blades (among others that you consider necessary) for exclusive use on trips and apart from what you use daily.
Here is a list, thinking for men and women with the most necessary personal care items:
– Toothbrush.
– Floss.
– Toothpaste.
– Deodorant.
– Soap.
– Shampoo.
– Conditioner.
– Hair brush / comb.
– Razor.
– Bath towel.
– Sunscreen.
– Perfume cologne.
– Damp cloths.
– Talc.
– Repellent.
– Hygiene paper.
– LED Flashlight.
– Nail clipper.
To prepare for your adventure to Peru, you need to plan carefully and take into account the diverse landscapes and climates you will encounter. By sticking to these packing tips, you'll have everything you need for a relaxing, enjoyable, and memorable trip.
We know that many times what is not planned or spontaneous is enjoyed more, but it is recommended to make an itinerary, have a travel guide or hired excursions to plan your stay, thus reducing unforeseen events and preparing a budget to enjoy your vacations.
The contracted excursions or also called tourist services must be certified and from the area. The advantage of a tour hired by a travel agency is that reservations for both trains, buses, and tickets are included in the price of the tour and save you a good part of the time searching for so many options on the Internet, especially if you travel to Cusco – Machu Picchu.