REFORESTATION OF A MILLION TREES TO SAVE THE MACHU PICCHU
As part of the reforestation campaign "One million trees in 10 years for the Machu Picchu historical sanctuary", our company Andean Great Treks, operator of the Inca Trail hike to Machu Picchu, has played the reforestation of trees in Machu Picchu, with the support of our administrative staff, tour guides, chefs, porters, in the initial sector of the Inca Trail hike to Machu Picchu KM 82 Piscakucho, Misquipuquio at 3800 masl.
Campaign seeks to reforest 11 thousand hectares of land of protected natural area of ​​Cusco. Initiative seeks to recover areas degraded by forest fires. Strengthening the image of Machu Picchu as an eco-sustainable natural wonder, the National Service of Natural Areas Protected by the State (SERNANP) relaunched last Tuesday the campaign "A Million Trees for Machu Picchu and its buffer zone". Specialists from the Ministry of Environment argue the need to plant trees in the ecological belt (buffer zone) that allows to protect the archaeological sanctuary and the surrounding flora and fauna.
The ancient capital of the Inca Empire (15th and 16th centuries), located in the Machu Picchu district, Urubamba province, 80 kilometers northwest of the city of Cusco, has been threatened for years by heavy rains that cause landslides in winter and fires in summer.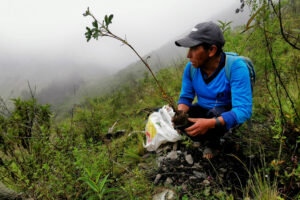 Found in 1911 by the American explorer Hiram Bingham, Machu Picchu was declared by UNESCO as a World Heritage Site in 1983. The archaeological complex is a protected area of ​​Peru of more than 35,000 hectares that includes the natural environment of the Machu Picchu site, nestled in the steep cloud forest of the yungas on the eastern slope of the Peruvian Andes and on both sides of the Urubamba River, which runs in this section to the northwest.
It is expected that within a period of two years this million trees occupy an area equivalent to 11,000 hectares of the 35,000 that has the historical and ecological reserve in which Machupicchu is and is made exclusively with native tree species, including Queñua, Chachacomo and tasta to the Andean zone, and alder, pacaymono, chalanque and incense in the Amazon zone, equivalent to 29.23% of the protected natural area, distributed in nine sectors of the sanctuary and its buffer zone. For the development of this initiative, there will be the support of the authorized tourism operators of the Inca Trail hike to Machu Picchu and institutions that make up the Sanctuary Management Committee.