The differences between rainbow mountain Vinicunca and mountain Palccoyo
It is nothing new that the rainbow mountains in Peru have become one of the main tourist attractions. In our opinion, they are definitely one of the places that are most worth visiting when you are in Cusco. However, there are two different colored mountains that you can visit: the Vinicunca rainbow mountain and the Palccoyo rainbow mountain. About 3 hours south of the city of Cusco, bordering the Vilcanota Mountain Range, there is a group of whimsical mountains of unique colors that do not stop attracting the attention of travelers and tourists around the world. Here, ochres, reds, whites and blues emanate from the earth, generating a spectacular effect. Below are some of the differences between Vinicunca mountain and Palccoyo.
Both mountains of colors offer beautiful natural and ecological landscapes, despite being very similar, each one has a unique attraction. On the first occasion, we have Vinicunca, also known as Winicunca, to which thousands of tourists arrive every day to contemplate this mountain; recently discovered Palccoyo rainbow mountain that is still little visited but there are two places and there are important differences between them that can make you like one more than the other.
Many say that the Vinicunca rainbow mountain and the Palccoyo mountain are very similar, but one landscape can never be identical to the other, the difference always exists, be it in temperature, altitude, scenic beauty or another, because each landscape is made up of a multitude of essential elements without comparing their most insignificant details that sometimes tend to be the most significant.
Vinicunca was the first Rainbow Mountain to become an appetizing tourist attraction in Cusco, with thousands of tourists visiting its colorful lands every day. Palcoyo, for its part, has become its most popular alternative in the last year, drawing attention not only for its relationship to Vinicunca, but also because it is actually multiple rainbow mountains that coexist in the same mountain range.
In addition, one of these jewels was listed by National Geographic magazine as "one of the 100 destinations you must visit before dying" and this was the Vinicunca Rainbow Mountain.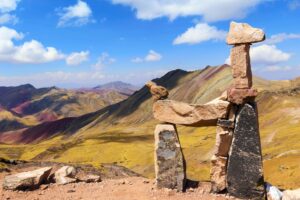 The Vinicunca Rainbow Mountain
The Vinicunca Rainbow Mountain, named after the local inhabitants, however in the tourism industry this attraction is known as The Mountain of 7 Colors of Peru, is 3 hours and a half from the city of Cusco by bus.
Vinicunca is located in the southern Andes of the Cusco region (Cordillera del Vilcanota), it was the first mountain to become very famous in the world of tourism, the natural beauty in the variety of colors is impeccable, that is why many people also call it the Mountain of Seven Colors, this tonality in the mountain is given by a complex geological history of marine, lake and fluvial sediments that occurred in millions of years.
Location:
The Vinicunca rainbow mountain is located at 5200 masl, where temperatures can vary from 5 to 35 °C, it depends a lot on the weather conditions, it is obvious that if it rains and it is very windy the temperatures drop, but they can also increase drastically if it is a super sunny day all the way to 38°C, plus consider that you are literally 5,200 meters closer to the Sun.
When is the best date to visit Vinicunca?
We recommend visiting the Vinicunca rainbow mountain in the dry season, that is, from April to mid-December.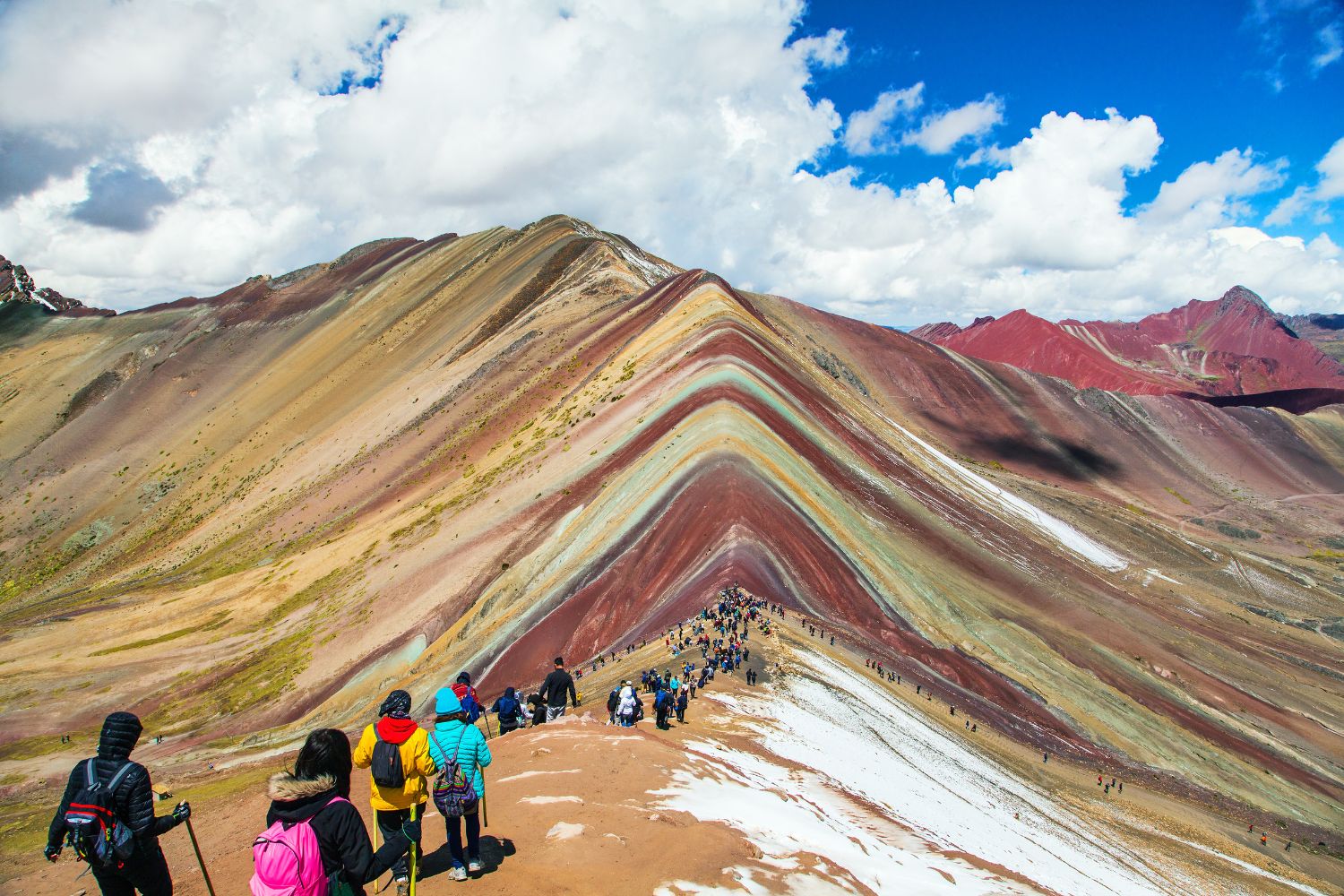 The Rainbow Mountain Palccoyo
Palcoyo is a set of Rainbow mountains, this fact is one of the clearest differences with regard to the Vinicunca rainbow mountain that has only one colorful mountain.
Palccoyo is located 3 hours approx. from Cusco by bus, the route to Palccoyo is absolutely impressive, besides that also on the route to Palccoyo there is a stone forest and there is also a chance to see the famous red river, better route than Palccoyo, Impossible!
Location:
The Mountain of the Seven Colors of Palccoyo is located south of Cusco at 4800 meters above sea level, a short distance from the snowy Ausangate, in the Andes Mountains in Peru, that is, it is 400 meters less than the Vinincunca mountain.
When is the best date to visit Palccoyo?
Visit Palccoyo in the rainy season, especially if it rains too much, it will be very good for your excursion because you will probably also see the Red River.
Visit Palccoyo, if you want to guarantee a good experience, sometimes in the Andes it snows and that can cover the mountain, in the case of Palccoyo there is no problem because there are many colorful mountains, there will always be one or two mountains where you can see this natural effect .
On the tour to Palccoyo, you will not only see the colorful mountains but also the Stone Forest
Take the tour to the Palccoyo rainbow mountain, if you don't like to walk a lot or if you have soroche.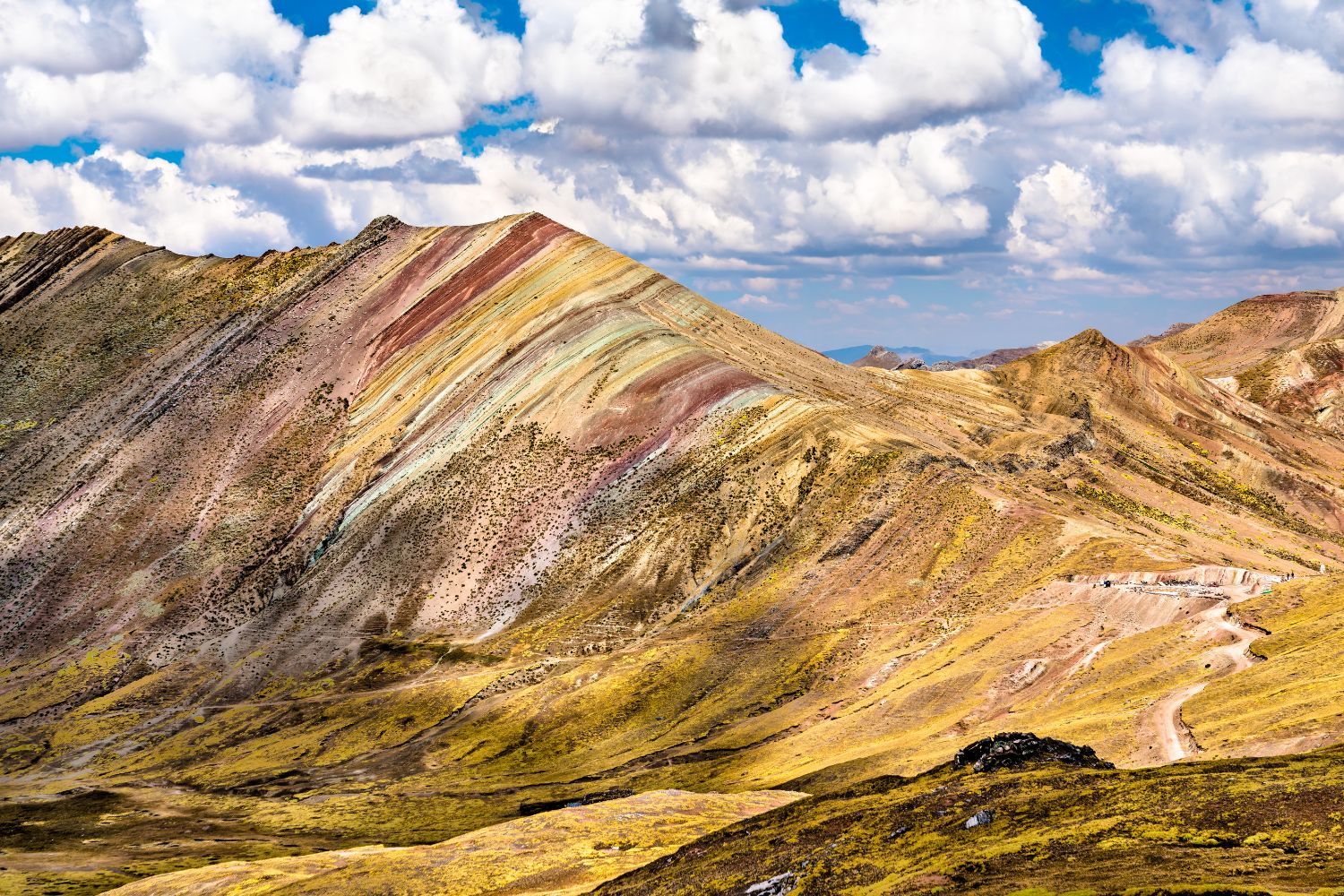 Important differences between Vinicunca and Palccoyo
Vinicunca Rainbow Mountain
Palccoyo Rainbow Mountain
Height
5200 m.a.s.l
Height
4900 m.a.s.l
Trip start time
Between 4:00 and 4:30 a.m.
Trip start time
Between 5:00 and 5:20 a.m.
End of trip time
6:30 pm. Approx.
End of trip time
6:00 pm. Approx.
Travel Difficulty
By Pitumarca (Hard)
By Cusipata (Moderate)
Travel Difficulty
Moderate
Walking Distance
4 km through Pitumarca and 2 km through Cusipata
Walking Distance
2 Km
Walking time
4h – 3h through Pitumarca and 2h through Cusipata
Walking time
1 hour and 30 minutes
In short, if you want to hike but also want to enjoy the stunning scenery, Vinicunca can be a great personal challenge. If you want a short and easy trip through colorful mountains, then Palccoyo is your choice.