THE BEGINNING OF A WONDERFUL ADVENTURE
There are many roads that lead to Machu Picchu but none like the Inca Trail. The most popular among travelers and the most famous hike on the American continent. From Cusco, 43 kilometers of path through forests and dense fogs, ancient stone steps and majestic views. In the end is the reward. Where starts the Inca Trail to Machu Picchu? The Inca Trail hike to Machu Picchu begins at kilometer 82 of the railway that leads to Machu Picchu (2 hours and 30 minutes by bus from the city of Cusco).
The Inca Trail hike to Machu Picchu is considered the best trek in South America. It is a route of 43 kilometers through ancient Inca trail hike to Machu Picchu. Tourists have the opportunity to appreciate the scenic beauty with Inca archaeological sites including the Wonder of the World.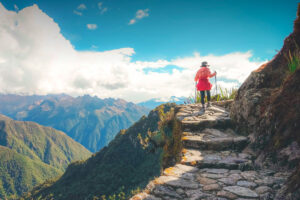 Every year more than 25,000 walkers from around the world walk along the 43 kilometers of this cobbled road built by the Incas that leads to the wonderful citadel of Machu Picchu located deep in the jungle of Cusco. The trip begins in the town of Piscacucho, at kilometer 82 of the Cusco – Quillabamba railway line and takes 3 to 4 days of intense walking. The route includes an impressive variety of altitudes, climates and ecosystems that goes from the highlands to the cloud forest. Travelers will cross two high altitude passes (the highest will be being in Warmiwañuska at 4,200 m.a.s.l.) to culminate the walk with a magical entrance to Machu Picchu through the Inti Punku or Puerta del Sol.
RECOMMENDATION: Acclimatization is necessary in the city of Cusco, one or two days before starting the tour. For a good acclimatization it is necessary to rest as much as possible, eat little, drink plenty of fluids; especially the coca tea that has recognized healing and digestive properties. Proper acclimatization prevents it from affecting "Soroche" or altitude sickness, which could cause numerous health problems.