WHAT IS THE COST OF THE  INCA TRAIL  TO MACHU PICCHU?
This magnificent hike in the heights of the highlands and jungle of Cusco is also one of the most demanded in the world, specifically the Classic Inca Trail 4 Days and Short Inca Trail 2 Days as they have a limited number of tickets for each date and must be booked well in advance (6 months before is recommended). The price of the Inca Trail to Machu Picchu varies depending on the number of days of travel or the route chosen.
Meet the beautiful flora and fauna along the way and of course the triumphant arrival at the sacred citadel of Machu Picchu. Performing the Inca Trail hike to Machu Picchu also gives you the wonderful opportunity to get to know the city of Cusco, a place full of history. The previous stay in Cusco will be very pleasant and useful in several ways.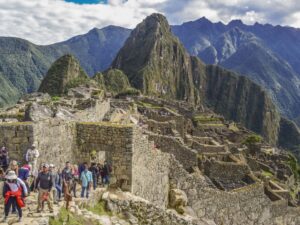 The only way to do the Inca Trail hike to Machu Picchu is to hire the services of an authorized tourism agency. These companies organize and provide their services in different qualities. It is for this reason that prices vary according to each travel agency. It is estimated that, on average, the 4-day Classic Inca Trail costs $ 720 per person.
How to get the best price?
• Booking in groups, when the reservation is 5 or more people there is a discount of $ 40, so each person would pay $ 690.
• Most tourism agencies offer a $ 10 or $ 20 discount for university students with valid student card.
• Children under 18 also have an additional discount when presenting a document certifying their age.
Remember that only 500 people can do this route per day, and only 200 people enter Machu Picchu the rest belongs to the support team, chefs, porters and guides.
Take into account that the Inca Trail hike to Machu Picchu is closed throughout the month of February of each year for maintenance.
There are many reasons to choose the Inca Trail hike to Machu Picchu that is an exercise for the body and mind, the walk is very energizing, relaxing, in a privileged natural environment of pure and healthy air, traveling through the Inca people.