THE 12 BEST RAIN JACKETS TO KEEP YOU DRY IN THE ANDES
In our more than 20 years of experience as mountain guides on the different trails of the Andes of Peru, we have been able to experience the different weather conditions, from the most delicate and gentle drizzle to the most extreme storms. It is so that of all our excursions our travelers have highly valued all the recommendations that we have given them about the best rain jackets to wear, to avoid feeling very uncomfortable in adventures through the Andes; in case the outdoor team does not fulfill its work as such.
Since in a classic adventure that goes from 3 to 5 or more days, an experienced mountain explorer should bring at least two sets of rain jackets, that is because if your rain helmet is not one of the more efficient brands to control moisture and water seepage you can make use of the additional jacket, and much better if these jackets are light so as not to take up much space in your hiking backpack.
The rains in the Andes occur at any time and season of the year, there are no marked seasons like in Europe or North America. Likewise, the duration of the precipitations could occur from a couple of minutes or long hours. Given this, it is vital to bring a good rain helmet, or as additional help you can bring a rain poncho that will cover more parts of your body at the time of the walk. Here we have attached the best options on the market in terms of rain jackets tested by our guides and travelers, who passed the most demanding tests in terms of performance.
The most famous of these materials is GORE-TEX, which you've probably seen on a number of different hiking brands and products, including coats, shoes, and even gloves. But other brands, like Patagonia and The North Face, have created their own versions of waterproof fabrics that work in the same basic way. These fabrics are waterproof and breathable at the same time because they have tiny pores that are so small that water droplets cannot get through, but large enough for air and vapor from your body to escape.
The other key to waterproofing is a jacket's durable water repellent, or DWR. This is a coating that is applied to the outside of a waterproof jacket so that water collects and runs off immediately. DWR coatings stop working after a while, which will cause the outer layer of the jacket to absorb water. The inner membrane will still keep you dry, but since the outer layer is filled with water, it will be harder for sweat vapor to escape, making your jacket less breathable. However, you can easily reapply your DWR coating with products like Nikwax.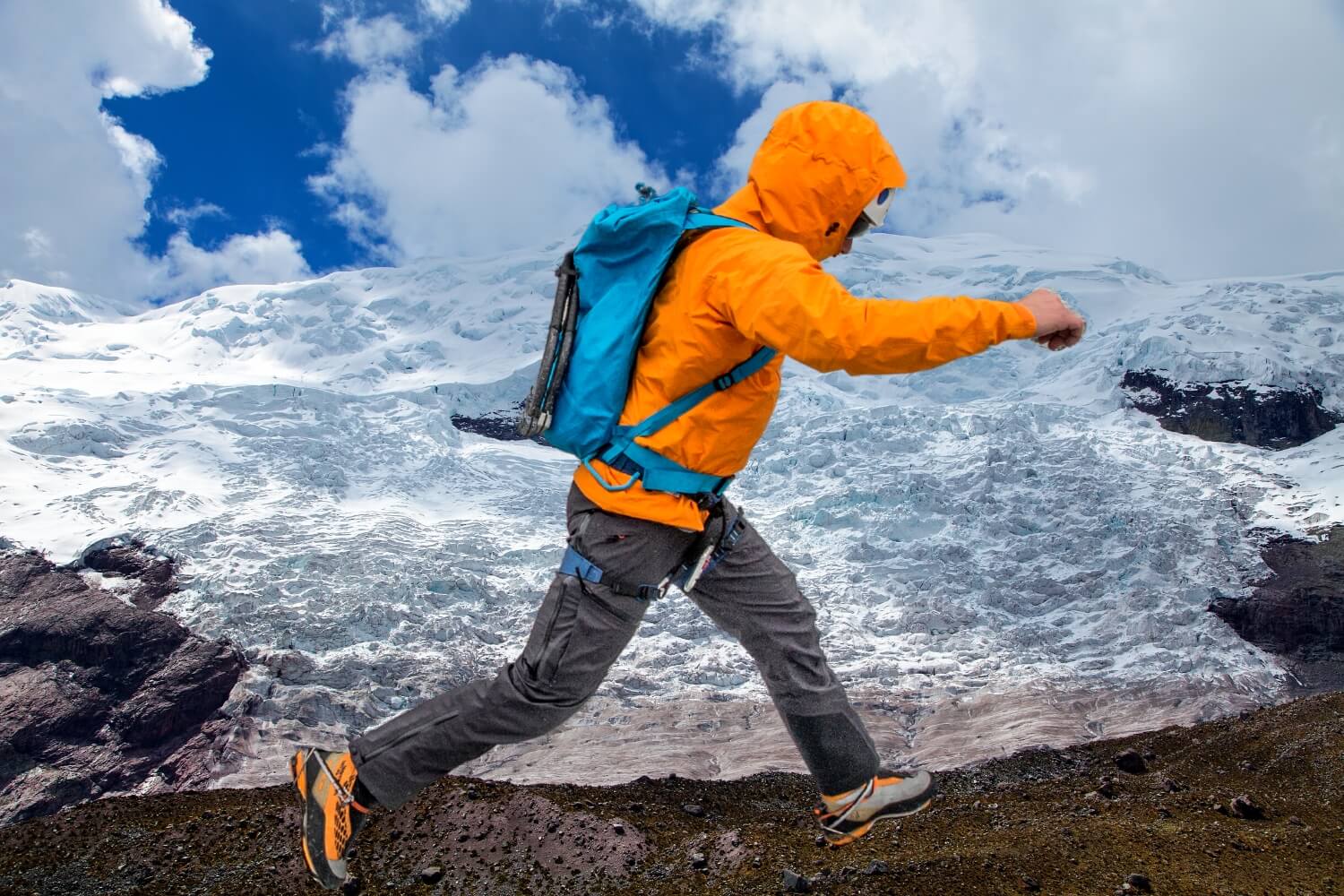 DETAILS THAT YOU SHOULD TAKE INTO ACCOUNT TO BUY A RAIN JACKET
TAPED SEAMS
Seam tape seals puncture holes created when sewing needles stitch together fabric panels. Virtually all top-brand WP/BR garments offer factory-taped seams. Some skiwear items offer "critical" seam taping. Always look for a rain jacket that's seam-sealed. That said, keep in mind it doesn't matter how much you spend, in a downpour even the most expensive rain jackets will probably eventually wet-out.
FIND THE PROPER FIT
A waterproof jacket should fit snugly without restricting your movement. When trying one on, move around: jump up and down, wave your arms around, and twist your body. Make sure it's big enough to fit two layers of clothing underneath, long enough that it never exposes your midsection, but not long enough to restrict movement.
HOODS TO MATCH YOUR ACTIVITIES
A really well-designed hood that lets you see well is something a lot of people probably don't think about a lot, but it's really important because with poorly designed hoods, you can barely do anything. Every time you turn your head you're looking into the side of the hood.
But the type of hood you need depends on how you'll be using your rain jacket. Casual rain jackets typically have simple hood adjustments, while hiking rain jackets have often more adjustable hoods with a stiffened brim. Jackets designed for skiing or mountaineering have large hoods that accommodate a helmet (heads up: these hoods can be pretty baggy if you never plan to wear the jacket with a helmet).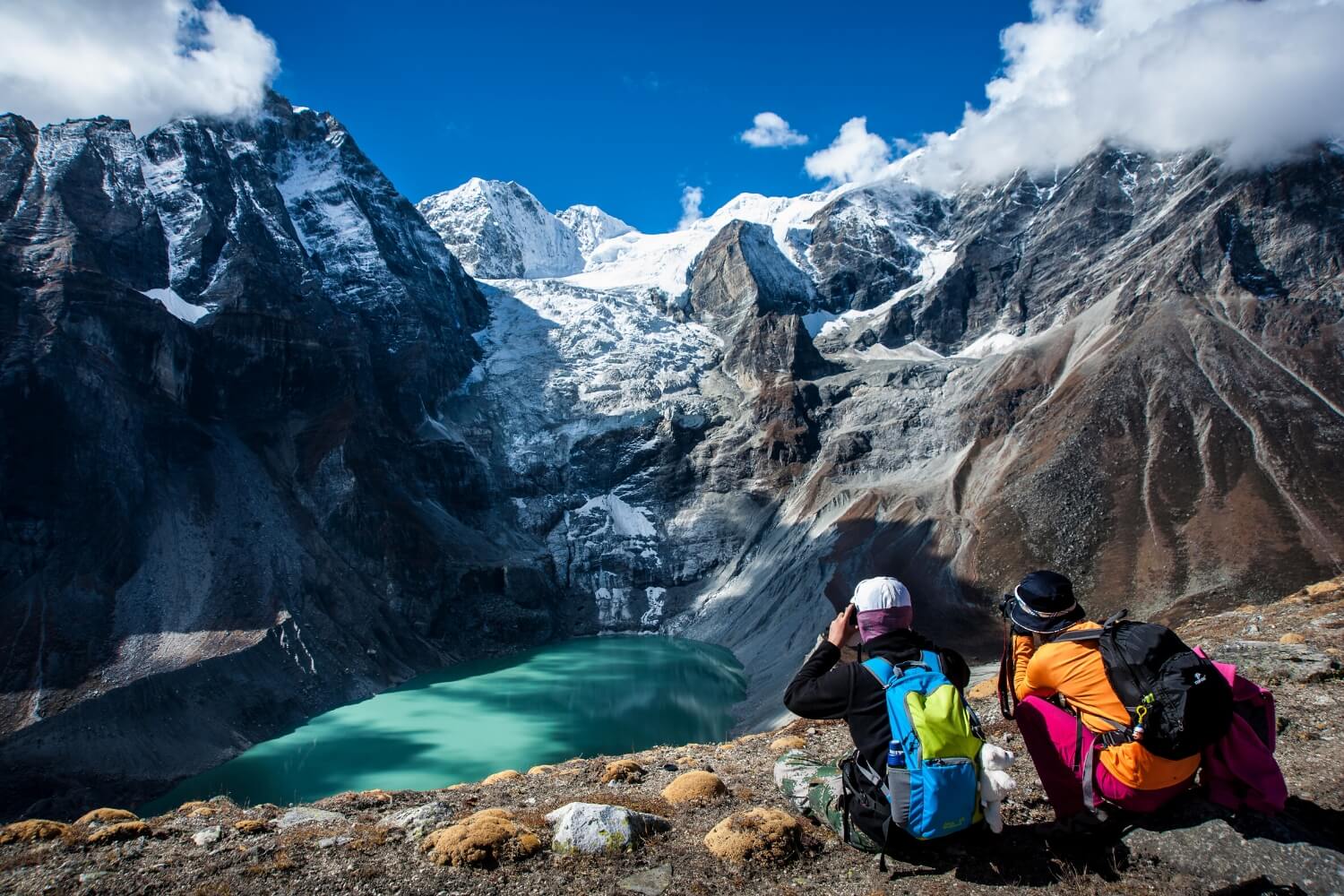 CHECK THE ZIPS
Make sure all zips run smooth the entire length of the zipper and that the main one is easy to fasten at the bottom. If the zips are not waterproof, make sure they have storm flaps that will prevent water from getting in. You'll also want to check that the jacket has pit zips if you're planning to use it for physical activities, as they help with ventilation to keep you from overheating.
Nothing hastens the evaporation of sweat as well as direct air exposure. A jacket's biggest vent is its front zipper, and savvy wearers will regularly adjust this opening to maintain a comfortable body temperature. Some front zippers are 2-way zippers, meaning you can unzip them from the bottom—a very handy venting option. Some chest pockets or hand pockets double as core vents, which is another plus. Many zippers are the water-resistant variety, which are nice in foul conditions but harder to pull.
SPECIAL POCKETS
You can often tell what a rain jacket is designed for just by looking at the pockets. Casual rain jackets often have lots of inner and outer pockets for daily essentials like keys or bus passes. Rain jackets designed for climbing or hiking usually have pockets set a little higher on the body so they don't get in the way of a backpack hip belt or a climbing harness. Most people view music pockets (with headphone ports) as a nice bonus. Inner mesh pockets can offer a place to store climbing skins or keep water bottles from freezing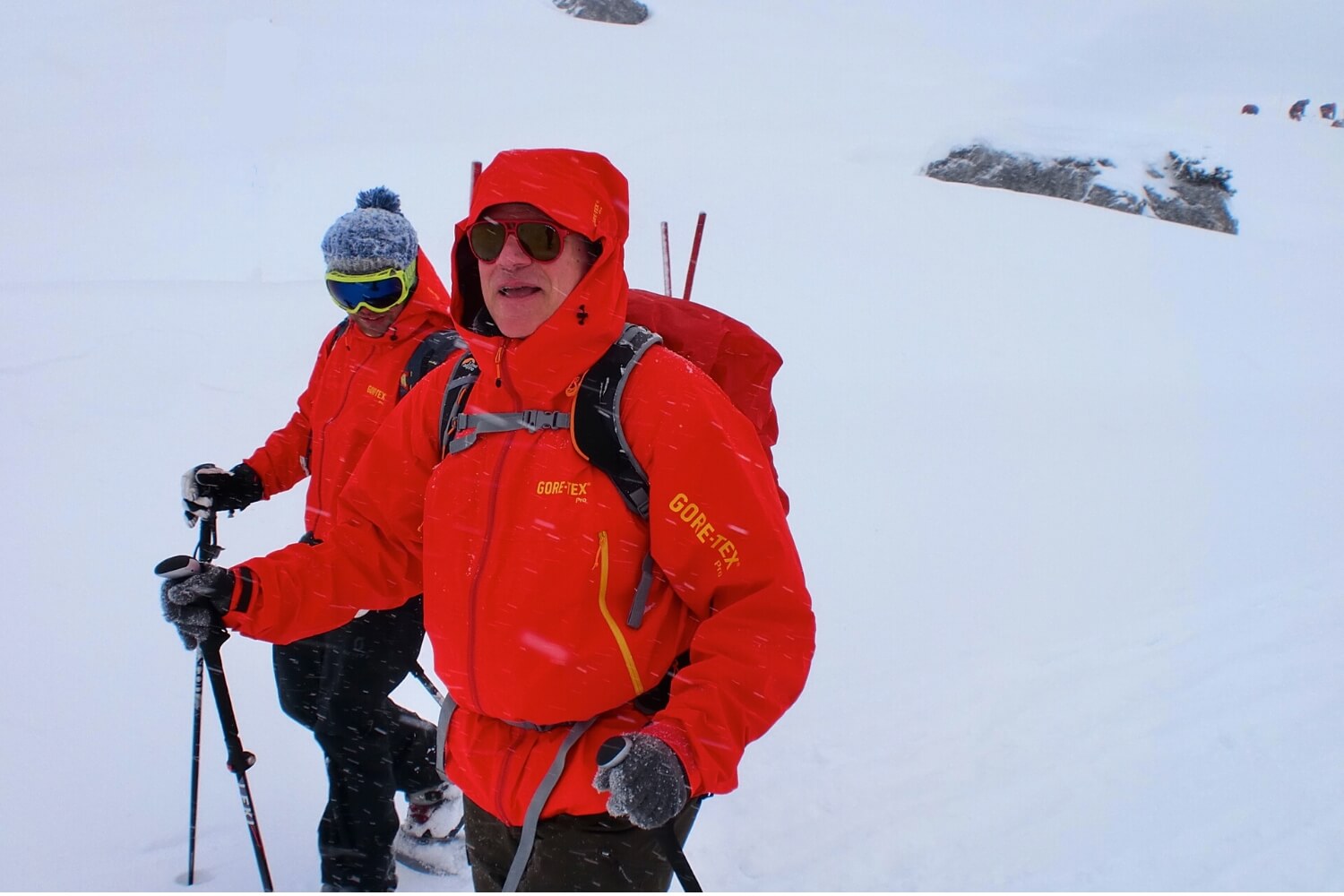 VENTILATION ZIPS
If you wear your rain jacket during high-output activities like hiking or mountaineering, there's a good chance you're going to get hot and sweaty. The waterproof-breathable membrane in your rain jacket can help move some of the moisture out of your jacket, but it's not a miracle worker. That's why many jackets come with ventilation zippers that you can open to let in a welcome rush of cool air.
PACKABILITY
Light weight water resistant jackets can be easily folded or rolled up to pack away nicely. You may want to consider how you will store or pack your more durable waterproof jacket, if it can't be easily folded or made compact for traveling. This is especially important if you purchase a heavy weight, full featured waterproof jacket that is too bulky to fold.
EVALUATE THE COST
How much do you want to spend on a water proof jacket? In general, jackets with superior waterproofing are going to be more expensive, around $100+ more than less advanced jackets. If the prices of full waterproof jackets seem a bit too steep for you and your needs, jackets with just a waterproof coating might be the way to go. They are just as effective at keeping the rain out, but they do tend to lack in the breathability category.
Many reputable manufacturers like The North Face and Patagonia sell waterproof jackets that are durable enough to last you for years for around $100-$150. This may be a good option for those wanting a light to mid-weight jacket. If you're buying one for extended intense exercise or activities, a cheap poorly-constructed jacket will not provide the necessary protection. Make sure you get the level of protection you need, and know that full-featured jackets can end up being a $600 investment.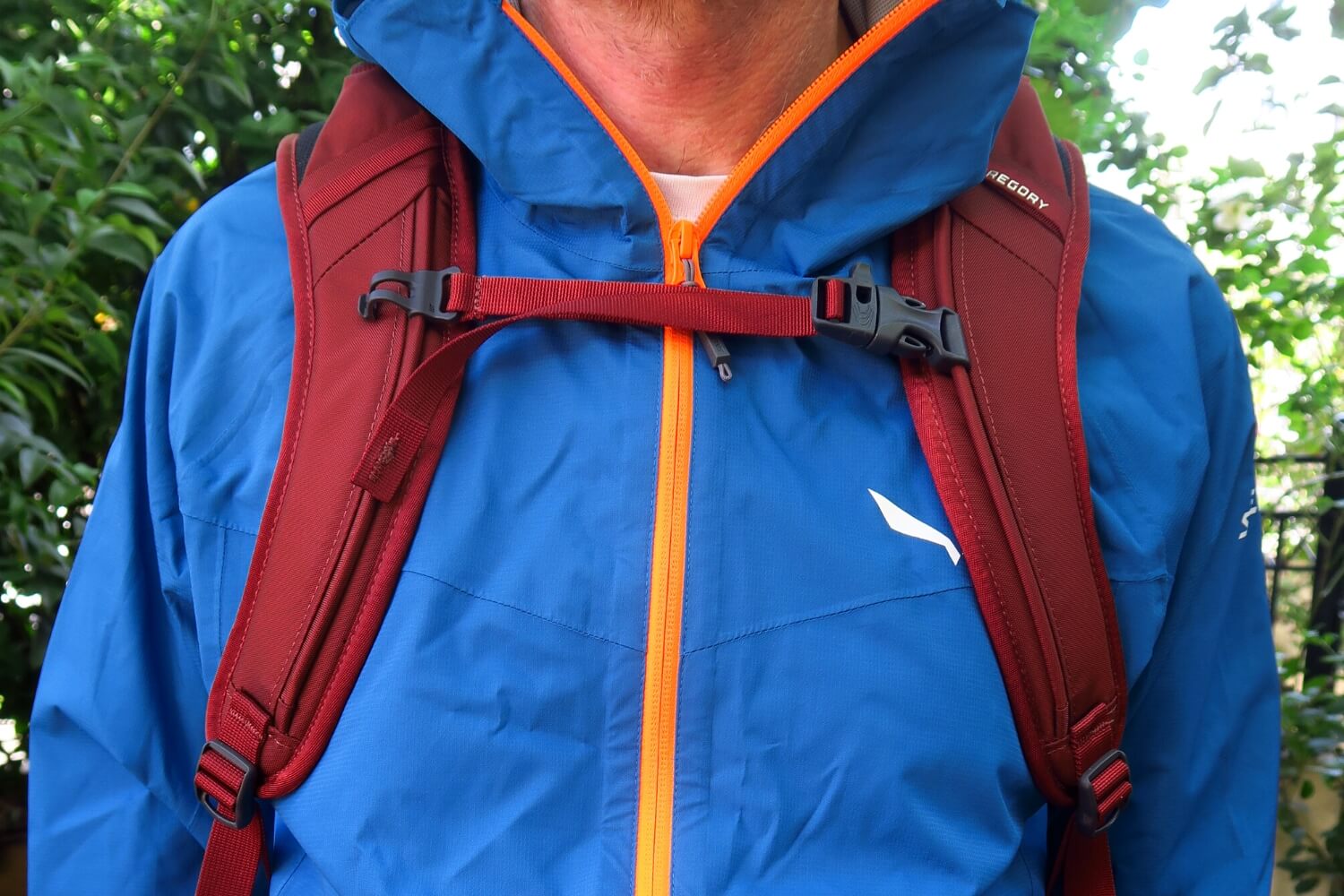 1. Best Overall Rain Jacket: Arc'teryx Alpha SV Jacket
Technical Features
Waterproof membrane: GORE-TEX 3L
Waterproof rating: 28,000 mm/24 hours
Breathability rating: 17,000 g/m²
Highly durable
Average Price: $ 800 USD
Pros: The most durable shell is designed with durable materials and weather protection, for prolonged exposure to severe conditions. Lightweight, minimalist climbing and alpinism products that protect from andean environments.
Cons: A little expensive
Utilizing extremely durable yet breathable GORE-TEX PRO with Most Rugged Technology,it has paired  with the most durable face fabric for incredibly long-lasting storm protection. The Micro Grid Backer enhances resistance to abrasion and contamination. The backer is dope dyed, a process using substantially less resources than traditional dye processes. Featured for confidence in extreme conditions, the Alpha SV includes an embedded RECCO reflector for improved searchability in emergency situations, helmet compatible Storm Hood, pit zips, and articulated construction that frees you to move across mountain terrain.
The Arc'teryx Beta uses Gore-Tex in a 3-layer construction  a Gore-Tex membrane inside of 2 thin layers all sandwiched together. This keeps the rain and snow out while still breathing well to expel any moisture generated while hiking or backpacking. During our exploration activities and ascents to the Andes mountains, this jacket turned out to be very optimal in all aspects, it is one of those all-terrain implements that a hiker or fan of the mountains wants to have, and not worry about getting wet. In our Ausangate Trek circuit that goes through rough trails and with very extreme climates such as snowfall, hailstorms and torrential rains, this  rain jacket gave us the best support, so we do not hesitate to recommend it, as one of the best among the others.
The Alpha features one of the best overall hood designs with a nearly unmatched level of peripheral vision; it does function with a helmet, but the fit is right. The hood design is easy and functional when cinching down. The Aplpha's hood easily accommodates most headwear and head sizes, hugging our heads from beanies to baseball caps or nothing at all.
Should You Buy the Arc'teryx Alpha?
Despite being one of the more expensive jackets in its category, for any more demanding or passionate outdoor user willing to spend the extra money, the Alpha will surely be worth the price. Offering the best storm protection and among the best freedom of movement, breathability, and comfort, this jacket is the bomb. Arc'teryx paid attention to all the details, from the smaller seam tape to its seam allowance, the materials used, its hood design, and the cut of the jacket, it's hard not to be taken with almost any aspect of this jacket, as long as you can stomach the price.
With this jacket you can explore the following hiking trails in the Andes: Ausangate Trek, Lares Trek, Trek to Choquequirao, Quellcaya Ice Cap, Vinicunca Rainbow Mountain, Salkantay Trek, Ancascocha Trek, Inca Quarry Hike and the Tours in Patagonia.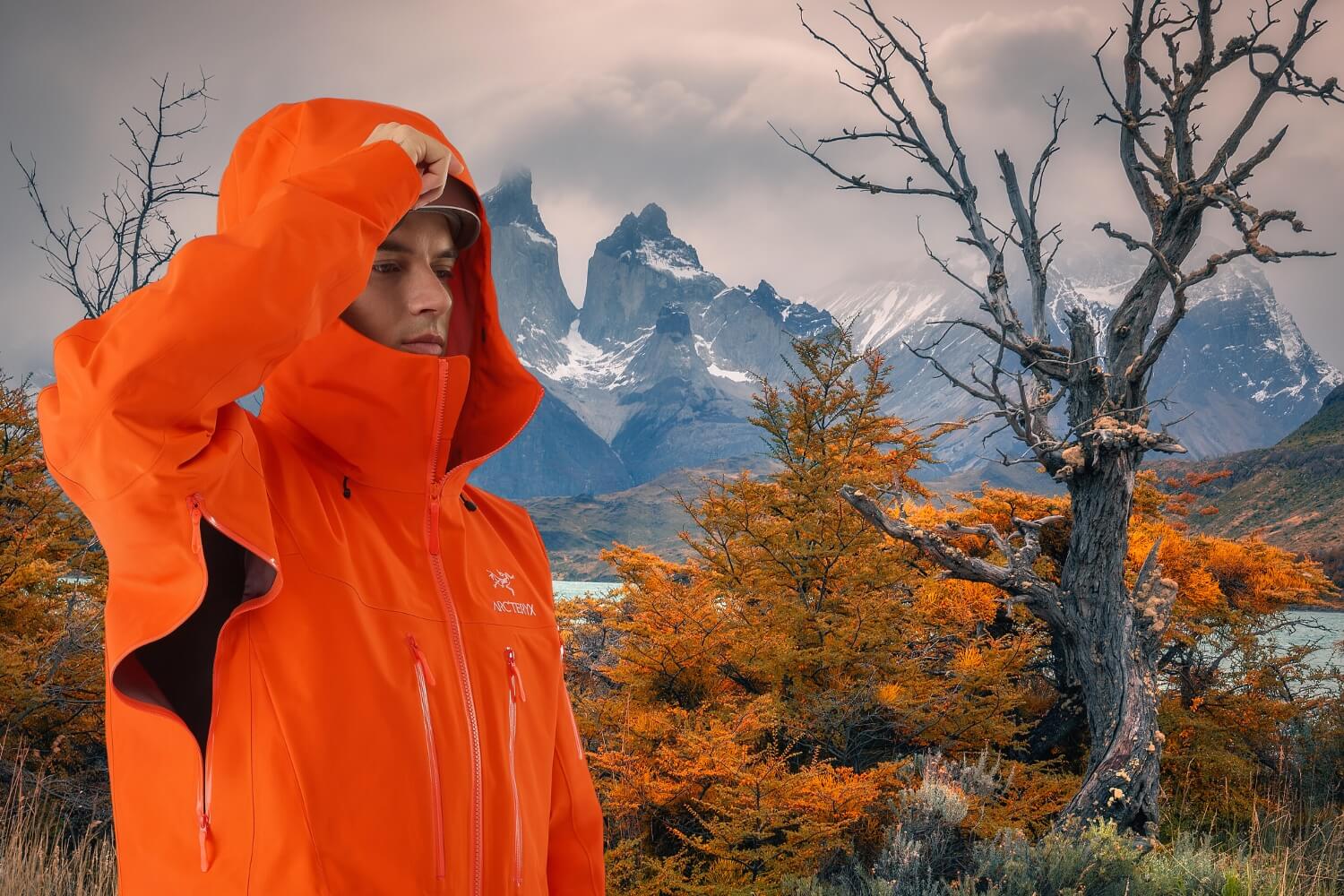 Best Rain Jacket for Hiking: Patagonia Storm10
Technical Features
Waterproof membrane: H2No 3-Layer, DWR
Waterproof rating: 26,000 mm/24 hours
Breathability rating: 14,000 g/m²
Highly durable
Average Price: $ 329 USD
Pros:  This jacket is extremely light and completely waterproof. Keeps your body perfectly dry without have a seeping.
Cons: The only downside  is the lack of pit zips and the price.
It's hard to find a fully waterproof raincoat this light and compactable, but this one checks all the boxes. Simply a great coat. Pockets are perfect and hood works well. Most importantly it keeps the rain out! And does it in a package that packs about as small as possible. Great coat to keep in your pack no matter where you're going or what you're doing. You'll barely know it's there… either in your pack or when you have it on. The jacket fits close to the body and has a shorter hem which makes it perfect for downpours while hiking or as a smaller rain proof for running errands. Your not going to find a lot of superfluous materials and features just 2 nicely sized hand pockets and a invaluable exterior chest pocket. The hood cinches perfectly around your head.
Should You Buy the Patagonia Storm 10 Alpine ?
Storm 10 Alpine Jacket is ultralight solution. It packs about 1/5 the volume of Gore Tex and weights much less than Gore Tex. If you are a Pro level hiker, of course you will love this jacket, because of the little space it will take up in your backpack, the great benefits it will give you when doing the most emblematic treks in the Peruvian Andes such as the Ausangate Trek, the Inca trail to Machu Picchu or the Huaraz mountain range. Although the price is not one of the lowest on the market, it is worth investing in a great team that will accompany you in your day to day.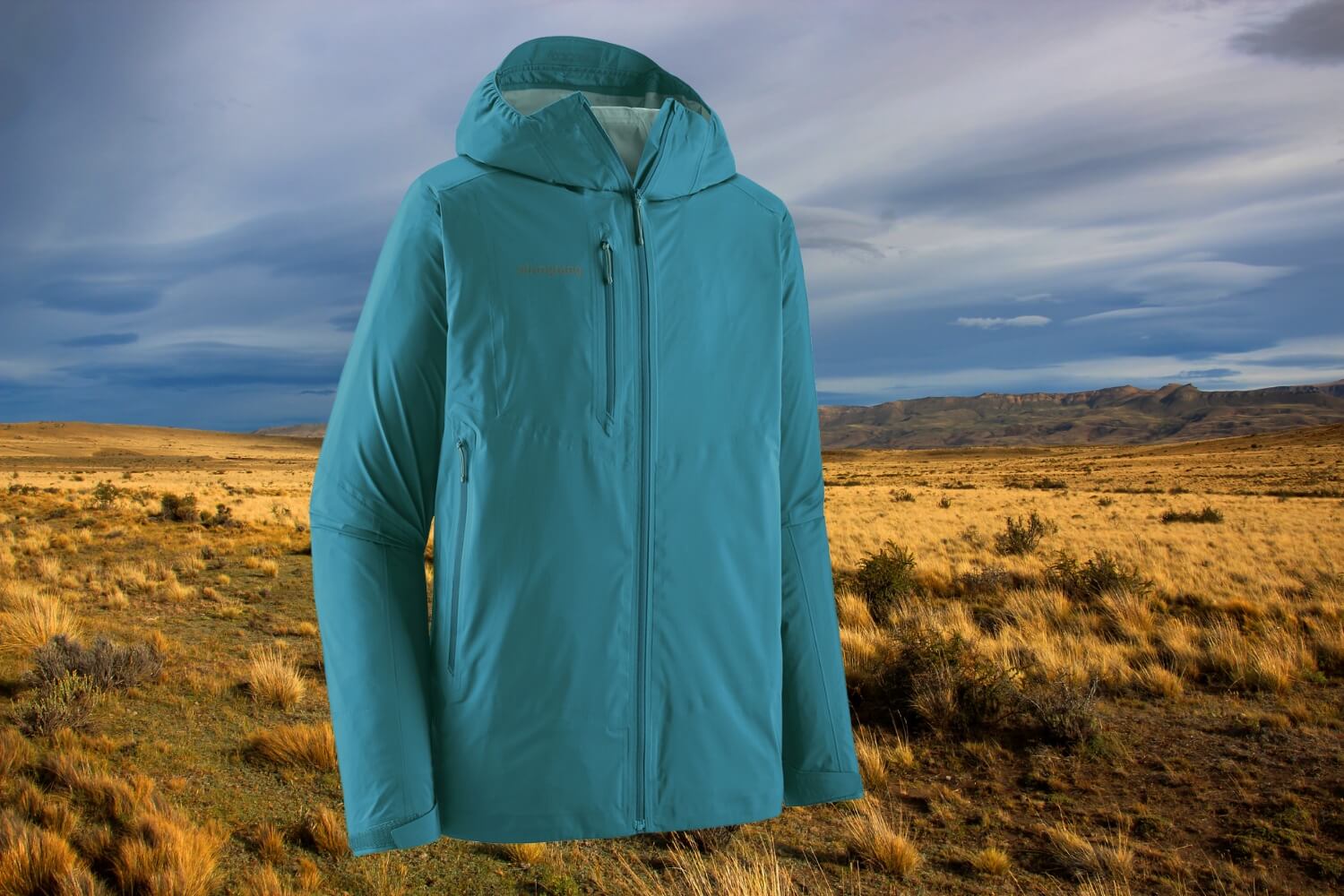 Columbia OutDry Extreme Rain Jacket
Technical Features
Waterproof membrane: OutDry Extreme waterproof/breathable nylon
Waterproof rating: 25,000 mm/24 hours
Breathability rating: 14,000 g/m²
Highly durable
Average Price: $ 250 USD
Pros:  Completely waterproof and breathable, adjustable hood stays up in strong winds, pockets big enough for your map or guidebook
Cons: Fabric makes zip a little sticky, slightly awkward fit with extra fabric in the front, shiny black fabric looks a little like a trash bag.
OutDry EX is Columbia's waterproof ultra-breathable technology which incorporates a waterproof membrane on the outside for permanent water repellency and durability. By putting the abrasion-resistant membrane on the outside where it's in contact with the rain, there is virtually no risk of "wetting out" like other garments do when their DWR wears off. This is a durable, permanent waterproof layer that actively repels moisture and rain.
OutDry Extreme is ultra-breathable, thanks to microscopic perforations in the membrane that allows moisture to escape while keeping rain at bay. The interior lining is a wicking textile that enables even more breathability and next-to-skin comfort, as opposed to a plastic-feel next to skin. This technology is an enormous jump forward in keeping dry and comfortable, no matter what Mother Nature throws at you. Making Columbia's OutDry Extreme perfect for active outdoor adventurists. The OutDry Extreme Featherweight Shell delivers lightweight protection from the elements and features contoured sleeve cuffs and an adjustable peripheral hood. The fit is comfortable and the protection is Extreme. This is a great go-to jacket for running, hiking and backpacking.
Should You Buy the Columbia OutDry Extreme ?
We would recommend a Columbia Outdry jacket to somebody who is looking for a high-performance rain jacket that doesn't want to invest in a pro-level shell. They are excellent jackets to get you comfortable in bad weather in the outdoors, and once you are comfortable in the outdoors you can really start to enjoy yourself. With fully sealed seams, OutDry Ex completely blocks out rain, sleet, and snow that you might encounter during your daily excursions, while the breathable quick dry lining will keep you dry and light on your feet.
With this jacket you can explore the following hiking trails in the Andes: Ausangate Trek, Lares Trek, Trek to Choquequirao, Quellcaya Ice Cap, Vinicunca Rainbow Mountain, Salkantay Trek, Ancascocha Trek, Inca Quarry Hike and the Tours in Patagonia.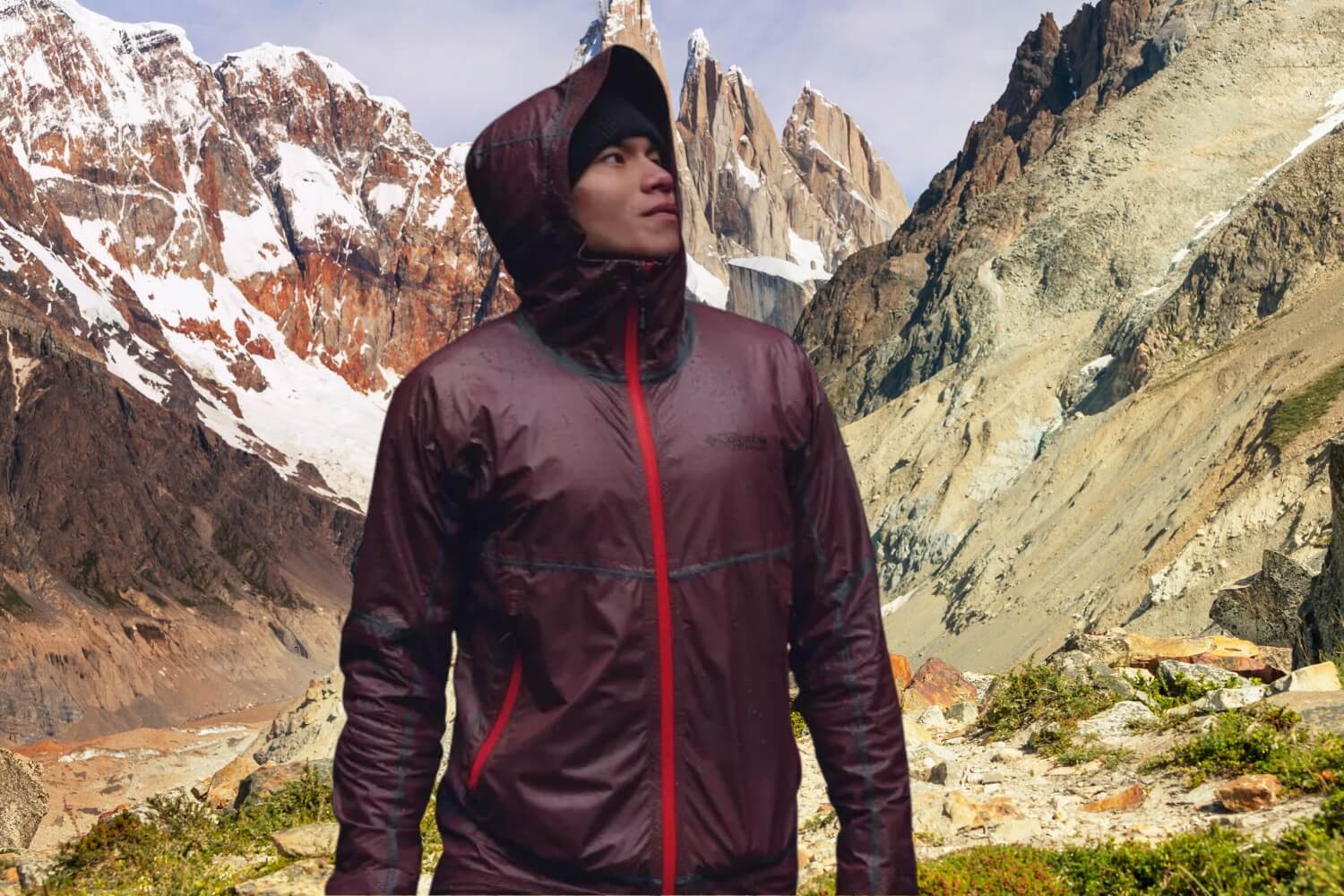 Best Budget Rain Jacket: REI Co-op XeroDry GTX
Technical Features
Waterproof membrane: GORE-TEX Paclite 2L
Waterproof rating: 28,000 mm/24 hours
Breathability rating: 15,000 g/m²
Highly durable
Average Price: $ 169 USD
Pros:  Budget Friendly Gore-Tex and Lightweigh
Cons:  Waterproofing is Not The Best, Gets Hot
The REI Co-op XeroDry GTX Jacket is a very good all-purpose hiking rain jacket at an excellent Price. Using a Gore-Tex Paclite waterproof membrane, a Durable Water Repellent (DWR) finish, and full stitching, REI integrated strong wind and wet-weather protection into the XeroDry GTX. During treks through the Andes, the jacket can withstand light to moderate rain very well. But when a relentless storm and exceptionally strong wind gusts hit, this jacket tends to get wet. It's hard to pinpoint the problem, but the XeroDry's face cloth appears to be made from a cheaper material, and the DWR coating certainly doesn't perform well.
As with most waterproof jackets, the REI Co-op XeroDry quickly overheats when hiking in moderate temperatures. The shell gets noticeably damp inside from your own sweat, and even opening the jacket's mesh-lined hand pockets, which double as center vents, couldn't help but get overheated. The center vents not only disappoint in terms of ventilation, but opening them compromises your ability to store personal items.
This model doesn't have any traditional pit-zips, but REI claims both its front pockets, which are lined with mesh, can be used as core vents. This model offers good mobility, but isn't anything special. It provides moderate articulation and a slightly baggy, cut which helps minimize a restriction on movement. This model has one convenient pocket, and two slightly raised handwarmer pockets. It offers average tear and abrasion resistance, and will provide plenty of durability for most backcountry trips.
Should You Buy the REI XeroDry GTX?
The REI XeroDry GTX packs in a ton of performance for the cost. While it isn't our favorite jacket, it is one of the best-performing for the price. For the price, you get a Gore-Tex piece of rainwear that offers better breathability and storm protection than most shells that are sold at a similar price. Its compressed volume and weight will keep most outdoor enthusiasts happy, and its hood design and elevated pockets are similar to what you might find on a higher-end model, that costs nearly double the price. Is the Xero the best all-around jacket? No. However, it is an incredibly solid jacket that will more than meet the needs of most people.
With this jacket you can explore the following hiking trails in the Andes: Ausangate Trek, Lares Trek, Trek to Choquequirao, Quellcaya Ice Cap, Vinicunca Rainbow Mountain, Salkantay Trek, Ancascocha Trek, Inca Quarry Hike.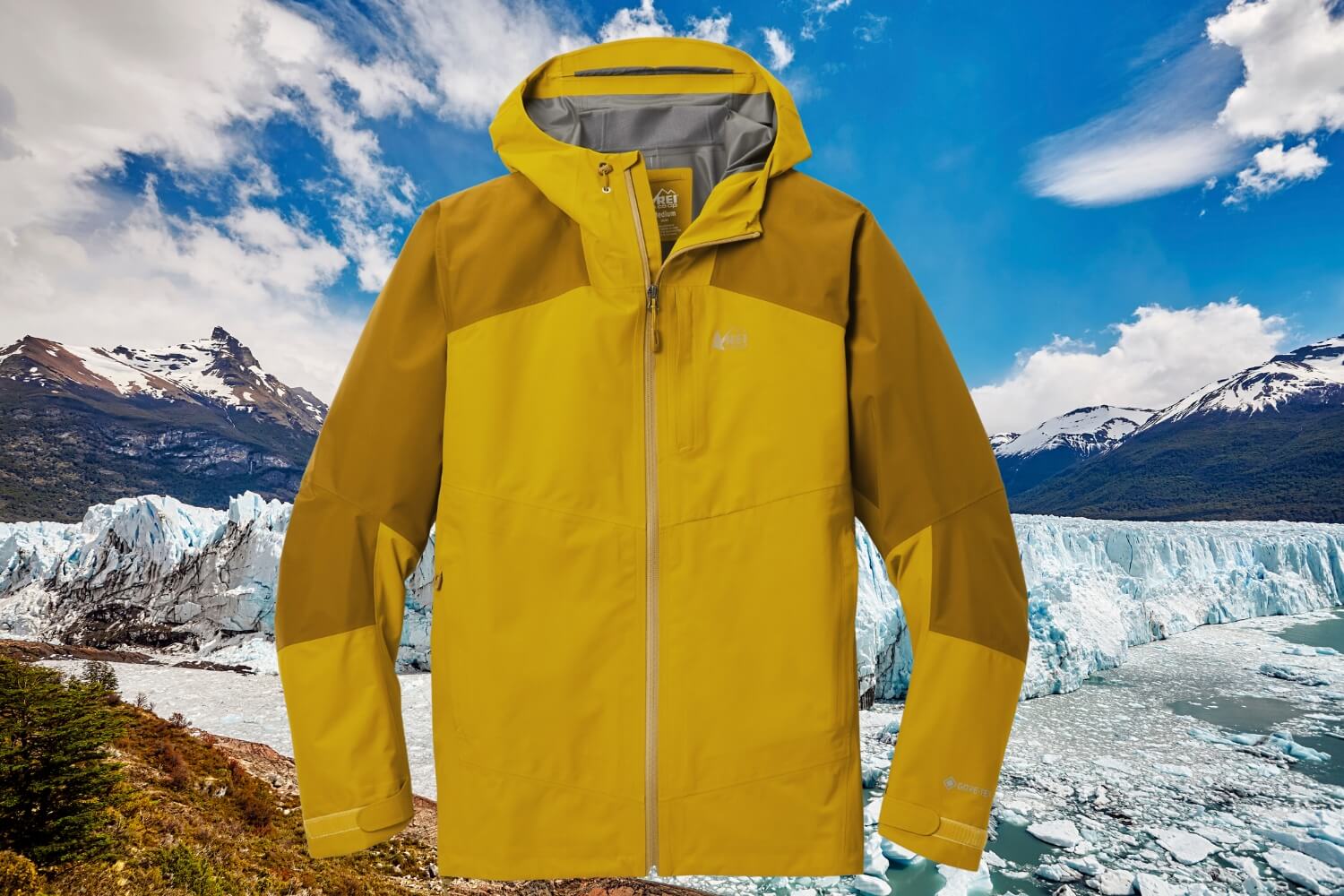 Most Comfortable Rain Jacket: Mountain Hardwear Stretch Ozonic
Technical Features
Waterproof membrane: Q 2.5L
Waterproof rating: 10,000 mm/24 hours
Breathability rating: 10,000 g/m²
Average Price: $ 230 USD
Pros:  Very light, comfortable stretch fabric, plenty of ventilation options
Cons:  The jacket is overwhelmed by moderate to heavy rains
Mountain Hardwear's Stretch Ozonic jacket is a waterproof, breathable 2.5 layer shell with all-over, four-way stretch, it feels more like a jersey than a jacket, while still providing excellent protection from the elements. Best suited to aerobic activities like backpacking and hiking, the Stretch Ozonic Jacket moves with you, keeps you dry, and is way more comfortable than your typical waterproof shell. The hood provides good peripheral vision, always a plus. The jacket's waterproofing, while adequate, is not a class-leader, this jacket is meant to be a minimalist shelter from the wet. On long rainy days under the packet the Ozonic becomes unapologetically wet, but thanks to the light fabric, it dries very quickly.
Mountain Hardwear chose to include two zippered handpockets which are set up and above where a backpack's hip belt will sit. The zips are sealed but the pockets are mesh-lined, meaning that any water that gets in while the zippers are open will quickly get into the jacket. However, this is probably worth it since that mesh will provide handy added ventilation. Additionally, the Ozonic features fairly short pit zips that are made of a non-waterproof zipper so that they're easier to pull.
Should You Buy the Mountain Hardwear Stretch Ozonic?
The Mountain Hardwear Stretch Ozonic Jacket is a very comfortable high performance rain shell. It's stretch outer fabric allows for a wide range of motion and its seam sealed waterproof membrane protects from all but the biggest deluges. It is moderately lightweight and has a nice set of basic features. It works great with a harness on and when wearing pack. You can use it throughout the Spring and Summer for a variety of mountain activities including: running, rock climbing, hiking and mountaineering with a great performance.
With this jacket you can explore the following hiking trails in the Andes: Ausangate Trek, Lares Trek, Trek to Choquequirao, Quellcaya Ice Cap, Vinicunca Rainbow Mountain, Salkantay Trek, Ancascocha Trek, Inca Quarry Hike and the Tours in Patagonia.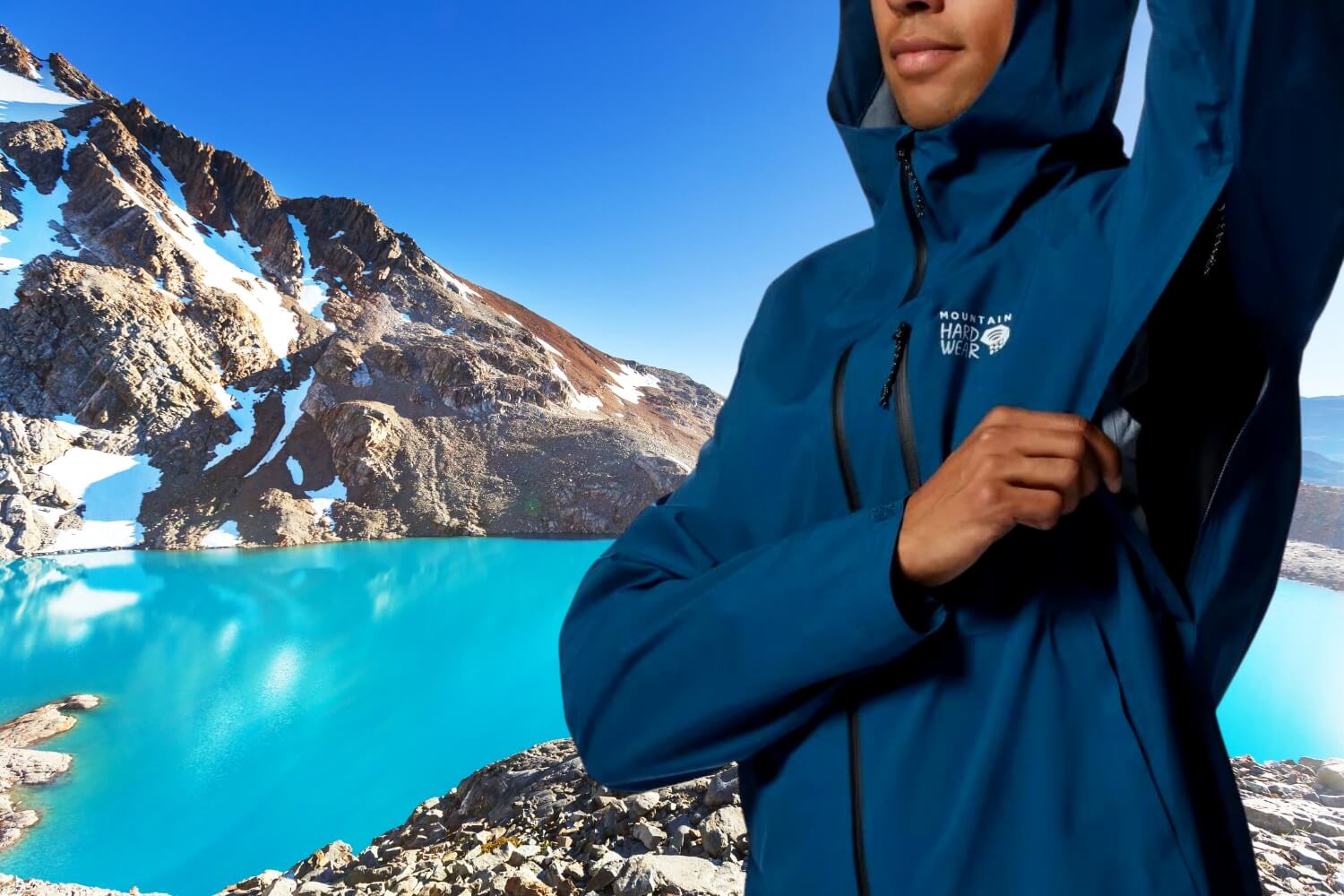 Most ideal jacket for Hiking: Haglöfs Roc Gtx Jacket
Technical Features
Waterproof membrane: Gore-Tex 3L
Waterproof rating: 28,000 mm/24 hrs
Breathability rating: 17,000 g / m²
Average Price: $ 272 USD
Pros:  It works for almost any outdoor activity, from mountaineering to trekking and everything in between.
Cons:  The jacket has no ventilation slits
The Roc GTX is a waterproof Gore-Tex jacket suitable for virtually any outdoor activity. It's tough enough for mountaineering yet comfortable and breathable enough for trekking and backpacking, making it a brilliant all-rounder. Providing total waterproof and windproof protection is a Gore-Tex membrane. Gore-Tex features millions of little holes which are so small that water droplets can't pass through, but large enough that water vapour (sweat) can; this makes the jacket both protective and breathable. Protecting this membrane is a fully recycled 75D polyester with a durable water repellent coating.
Starting at the top, the Roc features a helmet-compatible hood for all your mountain adventures, however, this hood can be compressed down to 'head size' when not wearing a helmet. Two mid-mounted hand pockets provide storage for the majority of your paraphernalia and sit high enough that you're still able to wear a climbing harness or rucksack hipbelt without impeding the zips. A brushed chin guard stops the jacket from rubbing in extremely cold conditions and an adjustable hem keeps the jacket snug around your waist.
The soft interior is comfortable to the skin. The hood is well designed and the peak fantastic for people who wear glasses. A climbing helmet fits under the hood. The pockets are easily accessible with a backpack. Jacket and pockets turned out to be waterproof.
Should You Buy the Haglöfs Roc Gtx Jacket?
This is one of those products we find very easy to recommend for our customers. Versatile, ready for year-round action and durable, without being over the top expensive. Thanks to its three layer Gore-Tex structure it works as an in-case-it-starts-raining jacket, and when temperatures drop, you'll just wear it with the correct base and mid layers for full weather protection.
With this jacket you can explore the following hiking trails in the Andes: Ausangate Trek, Lares Trek, Trek to Choquequirao, Quellcaya Ice Cap, Vinicunca Rainbow Mountain, Salkantay Trek, Ancascocha Trek, Inca Quarry Hike and the Tours in Patagonia.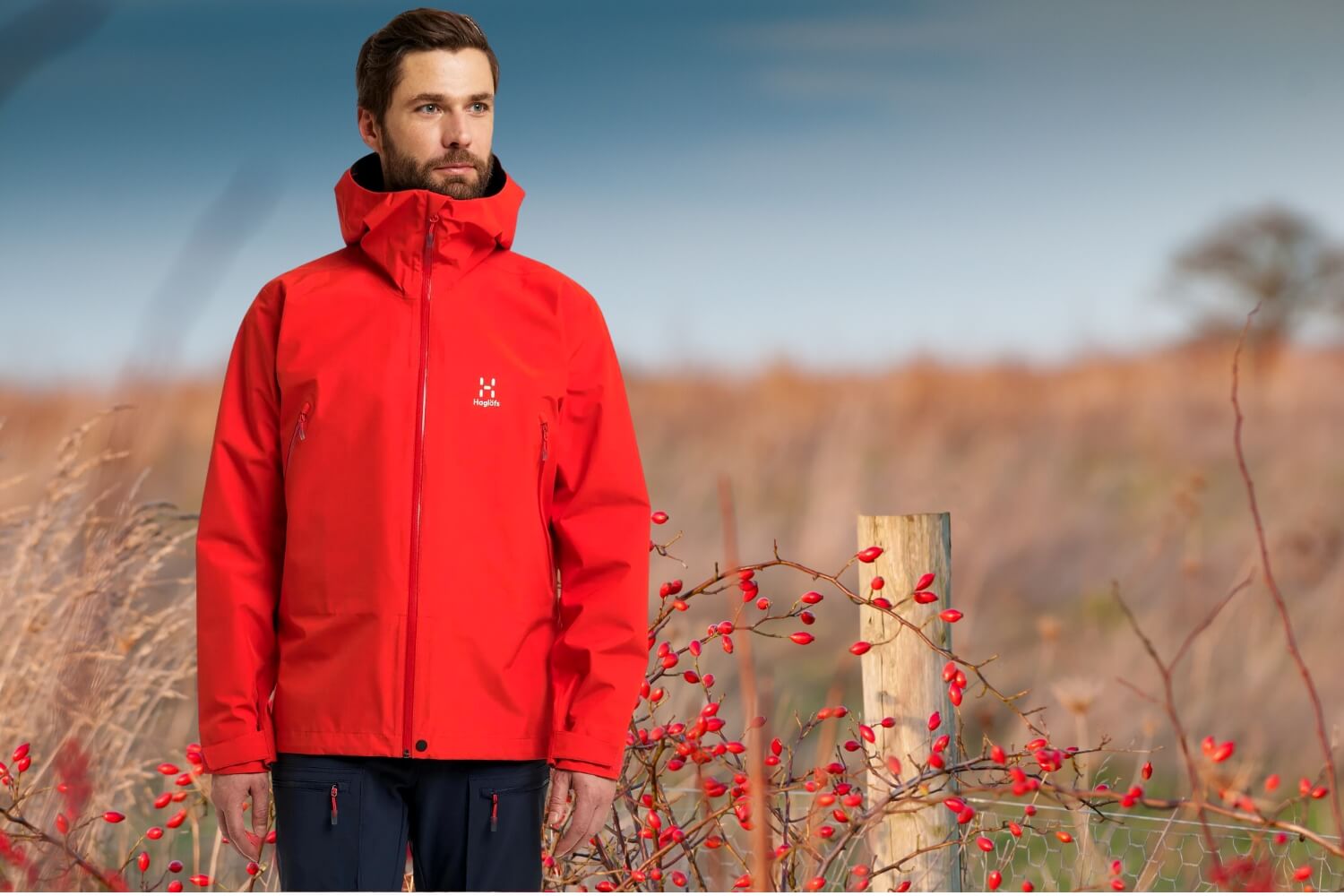 Best Affordable All-Terrain: Black Diamond StormLine Stretch
Technical Features
Waterproof membrane: Proprietary BD.dry 2.5L
Waterproof rating: 10,000 mm/24 hrs
Breathability rating: 10,000 g / m²
Average Price: $ 170 USD
Pros:  Affordable, lightweight, highly packable, high-quality construction, pockets, pit-zips, lots of colors to choose from
Cons:  High collar & helmet compatible hood isn't for everyone
StormLine Stretch Rain Shell can handle all waterproof/breathable/windproof solution, which is engineered to shield you from whatever the weather holds, the StormLine is a fully featured rain shell. With DWR sealed pit zip vents, two zippered hand pockets and a waterproof center front zipper, the StormLine comes prepared for the wettest conditions but quickly adapts for moderate weather. Its stretchy material and well-designed fit facilitate some of the better mobility. The StormLine's calling card is its stretchy face fabric, which gives the jacket added elasticity and comfort, while the climbing-helmet-compatible hood makes it perfect for on-route escapades when inclement weather rolls in.
The StormLine also has an adjustable hem and cuffs for dialing in the fit, and when the sun comes out, the shell stows into the right-hand pocket and clips to a harness or bag with a carabiner clip loop.The Black Diamond Stormline is a well-designed jacket that outperforms nearly all other jackets in its price range. The Stormline Stretch uses Black Diamond's proprietary BD.dry membrane in a 2.5-layer construction for its weather protection, incredibly effective DWR (ability to bead and resist absorbing water) which was even comparable with some of the highest-scoring models, some of which are double the cost of the Stormline.
Should You Buy the  Black Diamond StormLine Stretch?
The Black Diamond Stormline is a reasonably versatile, mobility-focused model for the dedicated outdoor enthusiast. Lighter and more compact than most other models, it is perfect for climbers, backpackers, or anyone who prioritizes low weight and a minimal packed volume but also needs a jacket that will allow them to keep doing what they are doing. While this model offered respectable storm protection, it's not ideal for more extended periods in inclement weather.
With this jacket you can explore the following hiking trails in the Andes: Ausangate Trek, Lares Trek, Trek to Choquequirao, Quellcaya Ice Cap, Vinicunca Rainbow Mountain, Salkantay Trek, Ancascocha Trek, Inca Quarry Hike and the Tours in Patagonia.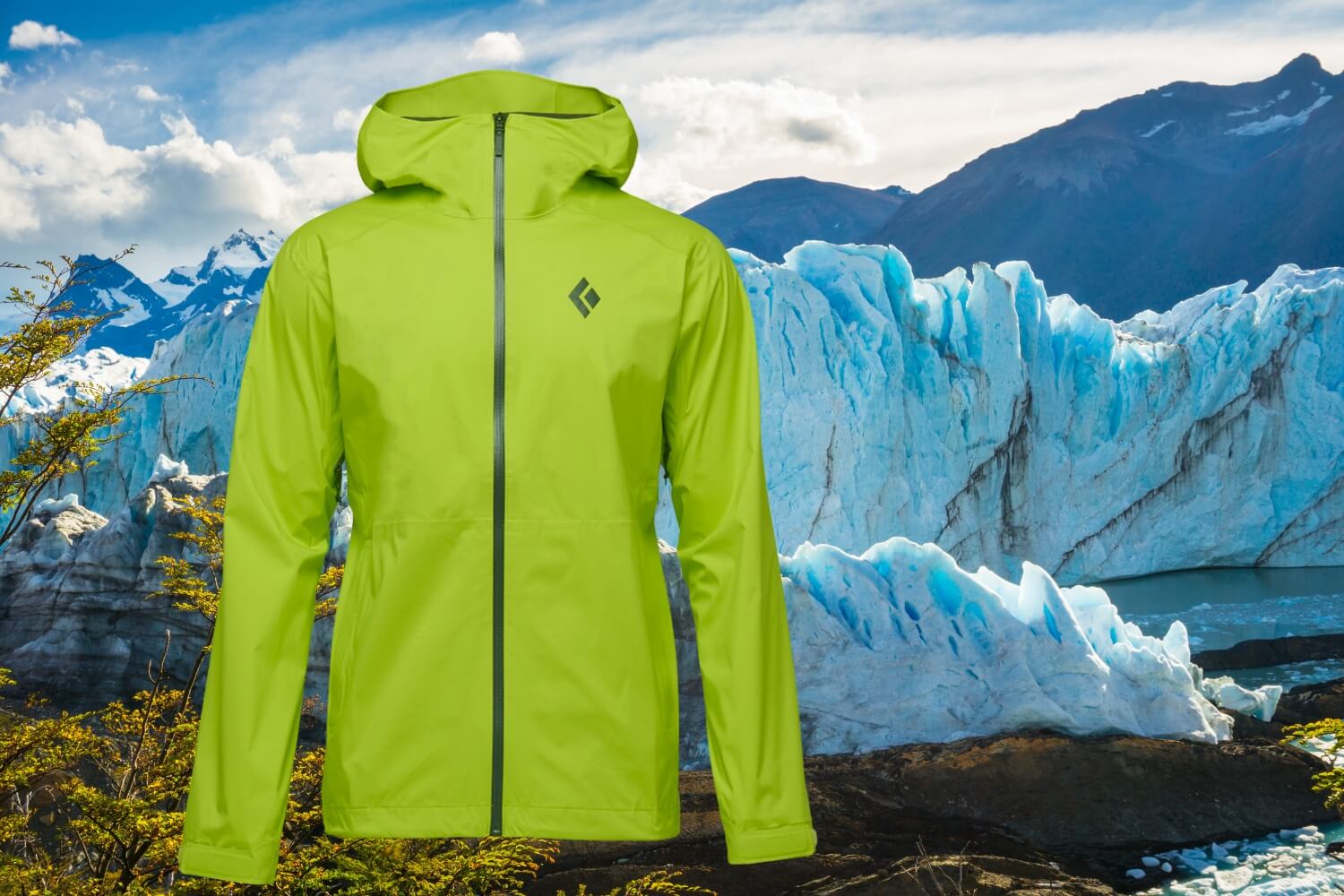 Best Breathability: The North Face Dryzzle Futurelight
Technical Features
Waterproof membrane: Proprietary FUTURELIGHT 3L
Waterproof rating: unkown
Breathability rating: 75,000 g/m²
Average Price: $ 230 USD
Pros: Good mobility, respectable weight and packed size, breathable, lightweight, flattering fit.
Cons:  A bit expensive, no pit zips, few adjustments, slim fit isn't for everyone, runs a bit small – size up to accommodate bulky layers
The nanofibre structure of the Futurelight membrane has, according to The North Face, created the most lightweight, breathable and completely waterproof material to date. Furthermore, the nano structure can be adapted to tailor its performance and durability for different activities. Made from three-layer air-permeable Futurelight fabric using recycled polyester on the outer, this shell is a step up in terms of durability, waterproofness and breathability. It has a fully adjustable hood and a full-length double stormflap protecting the zipper. Hand pockets are protected by stormflaps but the chest pocket has a water-resistant zipper.The jacket feels good when worn, even next-to-skin. Futurelight is a technology that works as advertised, being noticeably more breathable than comparable three-layer jackets. The main benefit is that the fabric breathes continuously, from the moment you put it on.
In downpours and strong winds, the jacket kepts you dry and warm. The hood is near perfect, just right for bushline trampers who don't require a helmet. It can be cinched tight to move with the head and doesn't obstruct lines of vision. It's complemented by a high-closing zipper that covers the mouth and limits the amount of face exposed to the elements. A soft-touch chin guard provides comfort on those occasions. The hand pockets can easily store gloves and other items. However, accessing the pockets while wearing a hipbelt isn't easy as the pockets are positioned low and the hipbelt squeezed the pockets to make unzipping and accessing them difficult. The chest pocket is deep and can hold a map and large electronics like oversized smartphones.
Should You Buy the  The North Face Dryzzle Futurelight ?
The price reflects that fact it's a hi-tech jacket offering acceptable durability and breathability on humid tramps. A tramping jacket offering all the storm protection and breathability you could ask for without providing any standout features. While not necessarily the absolute best at anything, it's well rounded for most outdoor enthusiasts. It's light enough to disappear in your pack on a day hike but durable, breathable, and weather-resistant enough for a soggy weeklong backpacking trip where it might rain every day.
With this jacket you can explore the following hiking trails in the Andes: Inca Trail hike to Machu Picchu, Ausangate Trek, Lares Trek, Trek to Choquequirao, Quellcaya Ice Cap, Vinicunca Rainbow Mountain, Salkantay Trek, Ancascocha Trek, Inca Quarry Hike and the Tours in Patagonia.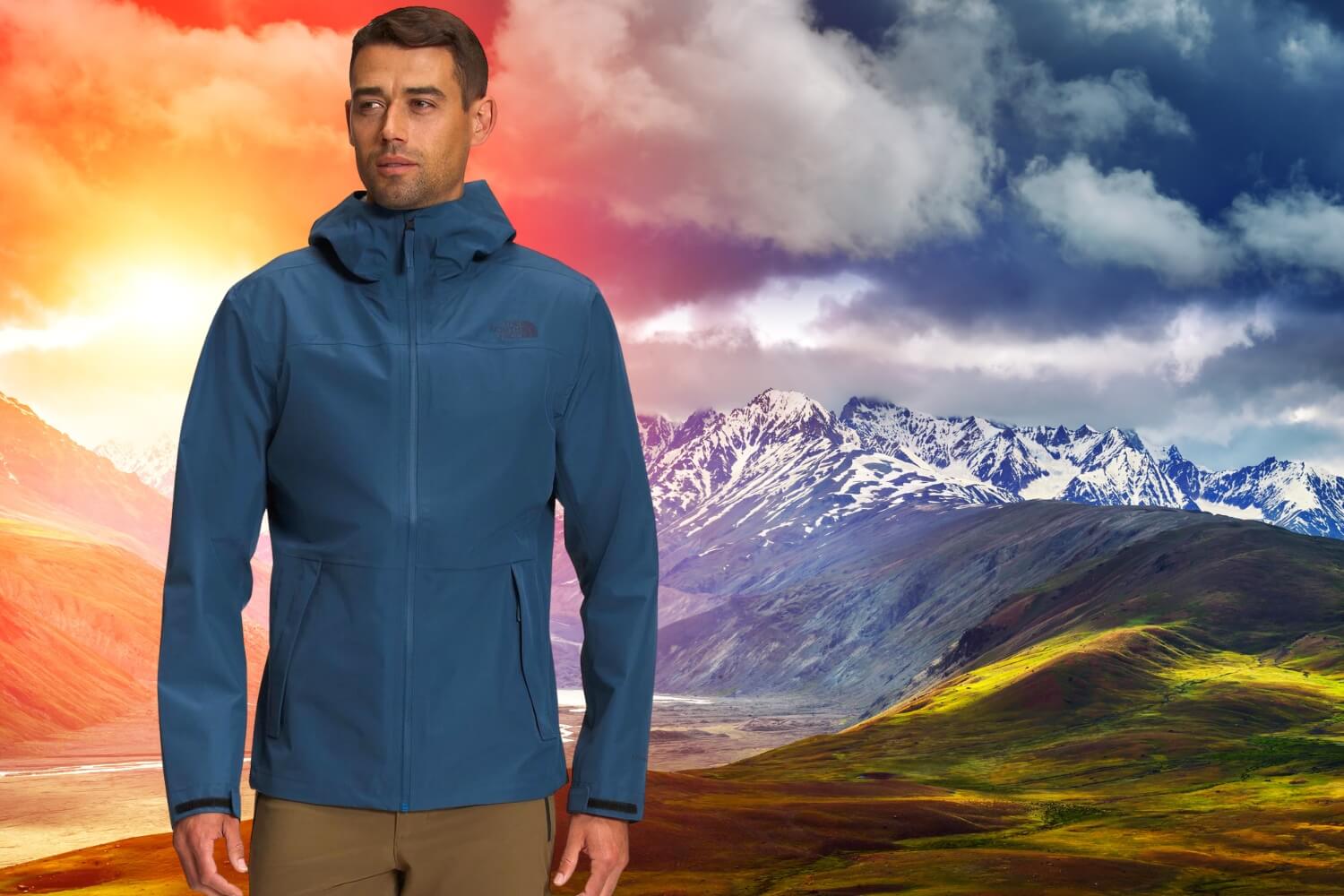 Best Ultralight Full-Featured: Montbell Storm Cruiser Jacket
Technical Features
Waterproof membrane: 3-layer GORE-TEX C-KNIT
Waterproof rating: 50,000 mm / 24 hrs
Breathability rating: 35,000 g/ m²
Average Price: $ 349 USD
Pros: The lightest option for a tough and durable 3-layer jacket. It's also up to high-intensity activity, with ventilation options and a lightweight design.
Cons:  This is on the pricier end of the spectrum, and the jacket is only available directly from Montbell which only has a one-month warranty.
Lightweight, storm resistance and full of features,  pretty much sums up the Mont Bell Storm Cruiser Jacket. Using Gore-Tex with a C-knit backer, you can be assured the Storm Cruiser will keep you dry, breath well and most importantly not be clammy against bare skin. When you crank up the cardio and heat begins to build the Storm Cruiser's pit zips come in very handy and if the sun happens to shine then it will pack down into the super small stuff sack that Mont Bell thoughtfully included. Unlike other lightweight rain shells, Mont Bell's Storm Cruiser can take the abuse of epic adventures and constant use and is still light enough to toss in your day pack for every quick hike.
This shell has a just-right balance between weight and features for all-purpose use. It has the most critical details (hand pockets, pit zips, three-way-adjustable hood). The large pockets start near the armpit, sit above a hipbelt, and can each fit a fly box or a dog leash, and the hem extends far enough to cover your butts when sitting on a raft or bending over.
Should You Buy the Montbell Storm Cruiser Jacket ?
If you're looking for a new rain jacket and want something that's going to keep you dry and keep you out, then the Montbell Storm Cruiser is a great option. If you want something that's just a bit lighter (and you don't care about pockets), then the Torrent Flier might be a better option for you. The Montbell Storm Cruiser may not be the lightest option when compared to all the rest of the ultralight shells out there, but if you want something that will make more of a difference when you're wearing it than it will while it's sitting in your pack, then definitely consider this jacket .
With this jacket you can explore the following hiking trails in the Andes: Ausangate Trek, Lares Trek, Trek to Choquequirao, Quellcaya Ice Cap, Vinicunca Rainbow Mountain, Salkantay Trek, Ancascocha Trek, Inca Quarry Hike and the Tours in Patagonia.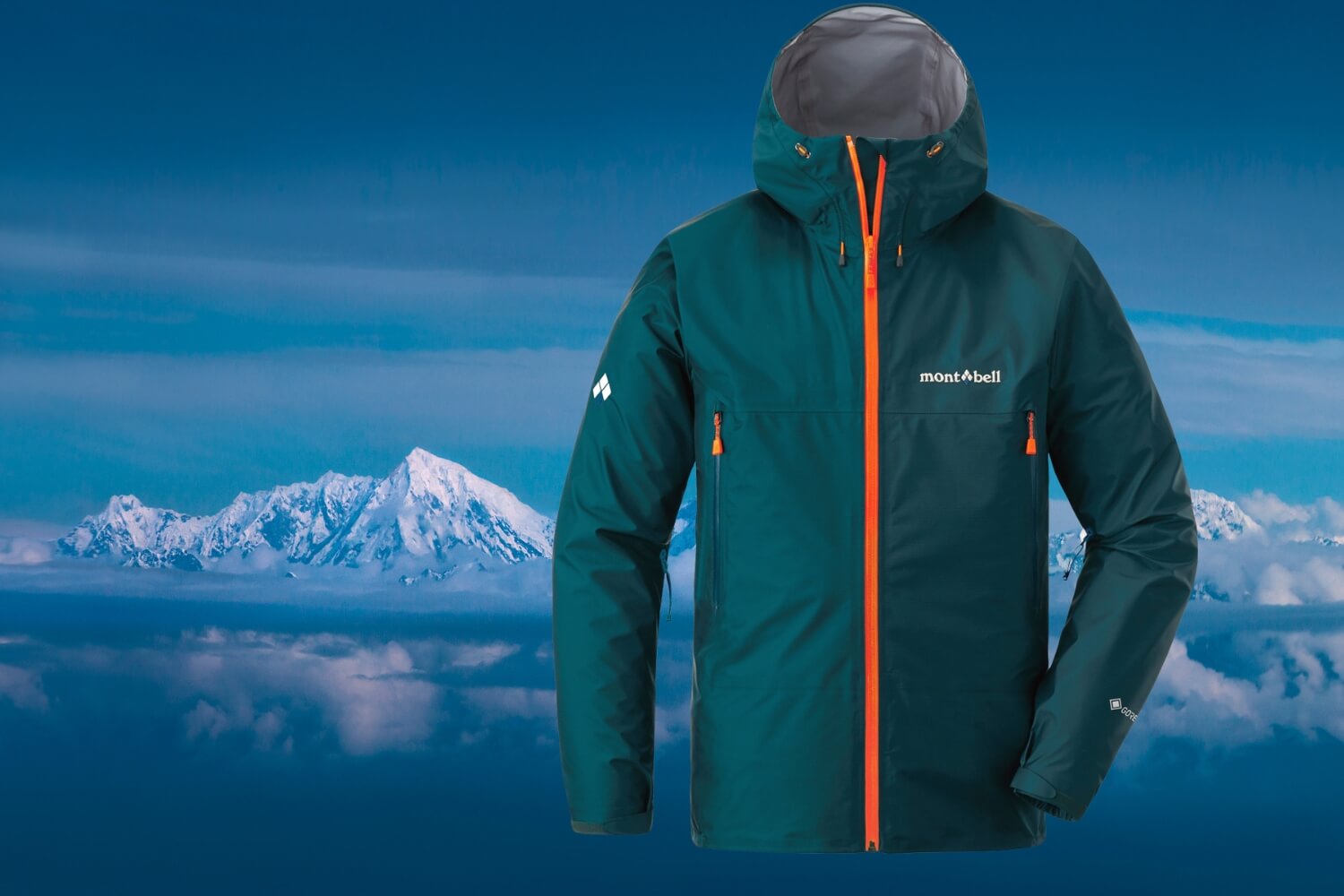 The best for Mountaineering: Rab Kangri GORE-TEX Jacket
Technical Features
Waterproof membrane: GORE-TEX 3-Layer construction
Waterproof rating: 28,000 mm / 24 hrs
Breathability rating: 28,000 g/ m²
Average Price: $ 300 USD
Pros: Wind and Water-proof, Highly adjustable, Great ventilation
Cons:  A bit pricey
The fabric feels very robust, reasonably flexible and doesn't make too much noise during wear. The Kangri GORE-TEX Jacket has velcro at the cuffs which allows adjustment for ventilation or to wear the sleeves at the wrist. The cut and slight stretch allows the arms to move freely and there are huge underarm, two-way, pit zips that are easy to adjust while wearing and allow a really good amount of ventilation.
Similarly the two front pockets the jacket has long zips so can be accessed while wearing a pack hip belt and they are big enough to take an map. The zips are waterproof and there is an internal chest pocket large enough for most phones or GPS. The main front zip is a solid YKK two-way with a really well designed large pull cord that can genuinely be used with gloves. The storm baffle behind it is secured with a snap fastener at the bottom and there's soft fabric on the inside at the top which makes it comfortable when zipped completely up.
The hood is a good shape but isn't helmet compatible, this is a real hillwalkers jacket. It has an easy to use, volume adjuster at the back and a more fiddly cord to adjust around the face. The stiffened and wired peak works well and the hood moves with your head and doesn't impede vision in the way some do. There's a drawcord to adjust the hem and also one for the back section of the waist. This could be used to tighten the jacket in cold weather or if wearing without a bulky mid-layer but it provides a potential spot for the fabric to get rubbed by a rucksack.
Should You Buy the Rab Kangri GORE-TEX Jacket?
In summary a great practical waterproof jacket, a suitable weight to cope with all seasons and with attention to detail and user friendly features. It even has a proper loop for hanging the jacket instead of relying on the hood and ending up on the floor half the time – indicates to me that they take pride in the product.
Gore-Tex jacket, it is a good quality waterproof with lots of excellent practical features. It has clearly been designed by people who enjoy the outdoors in all weathers and expect to easily access the tools of navigation and other such things from their pockets. It is a solid design and of medium weight so it is a good all year round waterproof for general mountain use that should last.
With this jacket you can explore the following hiking trails in the Andes: Ausangate Trek, Lares Trek, Trek to Choquequirao, Quellcaya Ice Cap, Vinicunca Rainbow Mountain, Salkantay Trek, Ancascocha Trek, Inca Quarry Hike and the Tours in Patagonia.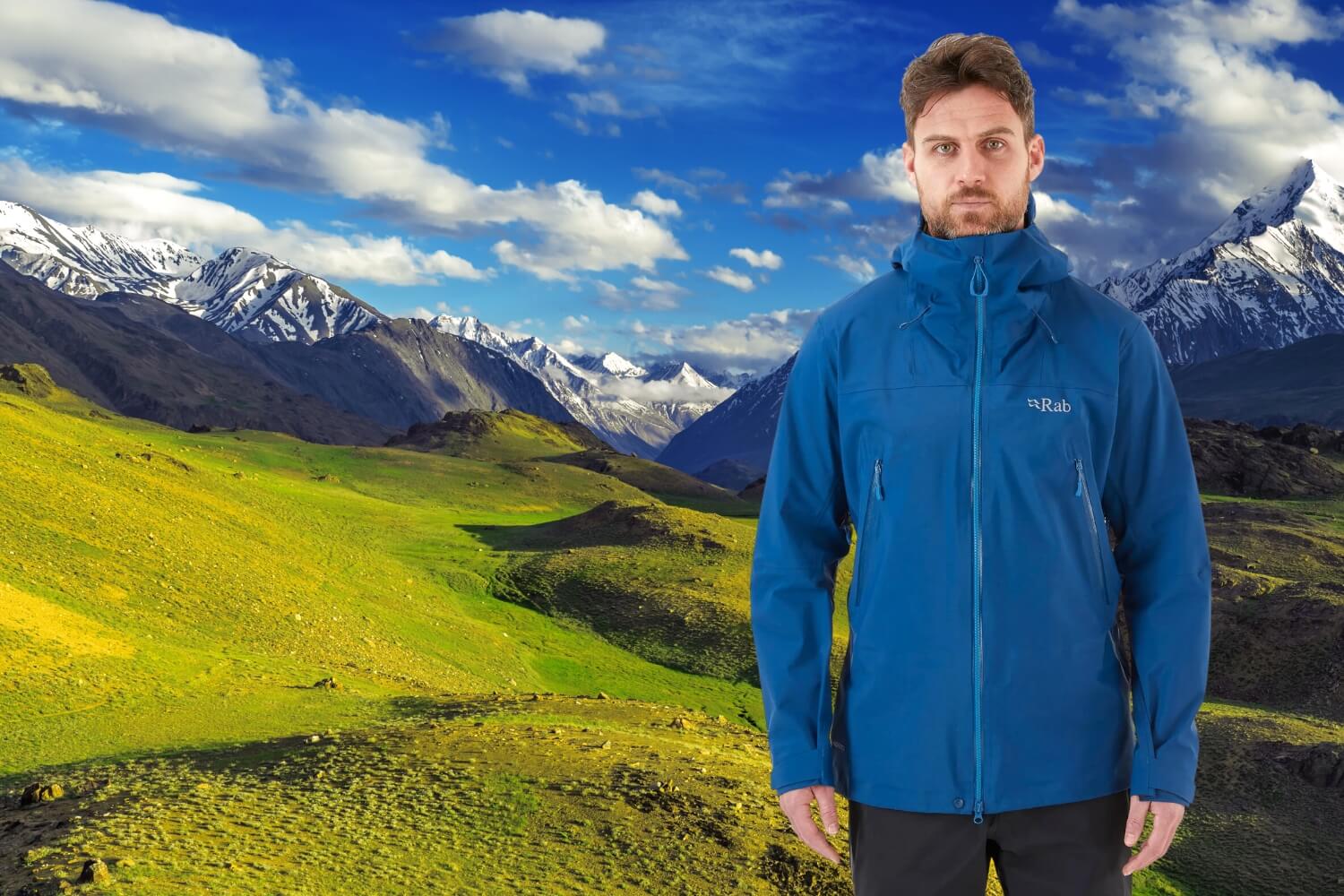 Exceptional in the Mountains: MARMOT GORE-TEX Minimalist Pro Jacket
Technical Features
Waterproof membrane: GORE-TEX Paclite Plus, 2.5 Layers
Waterproof rating: Unknow
Breathability rating: Unknow
Average Price: $ 275 USD
Pros: A high-quality and well-rounded rain jacket.
Cons:  A little bulkier / heavier than other rain jackets in the class.
Waterproof utilizing Gore-tex construction, Breathable with pit zips to provide an extra ventilation options if required they work well. Very comfortable fit with lots of room for layering underneath, functional hood that can comfortably fit a helmet / hiking hat. Adjustable Velcro cuffs, hem-cinch cord, waterproof zips and storm flap enable a cocoon around the upper body to protect you from the nastiest of weather.
Nice roomy zippered hand pockets which are accessible with a pack on Napoleon chest pocket is roomy too ideal for a compass and map. The jacket is fully tape seamed, so between that and the Paclite membrane, moisture is kept out. The waterproof capabilities of the Minimalist in the best way for wet day hikes, keeping you dry and comfortable. The MARMOT GORE-TEX Minimalist jacket features waterproof zippers covered with a storm flap on the front which secures with Velcro patches and a button at the bottom of the flap.
This is a regular fitting jacket with articulated elbows for better mobility. It runs true to size and you can wear it over pretty much anything, from a thin tank top to a fleece hoodie. If you want to wear the Minimalist over an insulated jacket you might want to pick it up in a larger size, depending on how thick your mid-layer is.
Should You Buy the MARMOT GORE-TEX Minimalist Pro Jacket ?
The MARMOT GORE-TEX Minimalist is a great waterproof jacket, but it does come with a hefty price tag. And that's mostly because of the Gore-Tex construction, if you want premium waterproofing technologies, you must pay the premium price. Gore-Tex products are never cheap, but they make up for the high price point with excellent performance.
Plus, you're getting a lot of other features for your money, including waterproof zippers, underarm vents and articulated elbows. If you intend to wear the Minimalist often and need something comfortable, weatherproof and durable enough to handle everyday wear, the Marmot jacket won't disappoint you. Especially if you want this jacket for hikes and backpacking trips. It was designed with that kind of wear in mind, and it's absolutely perfect for it. If you were hoping to get something more suitable for casual everyday wear, you'll find our other recommendations in the next section. During the journeys along the trails of the Ausangate Trek and the Inca Trail to Machu Picchu, this jacket provided excellent results to our friends who love the Marmot Brand.
With this jacket you can explore the following hiking trails in the Andes: Ausangate Trek, Lares Trek, Trek to Choquequirao, Quellcaya Ice Cap, Vinicunca Rainbow Mountain, Salkantay Trek, Ancascocha Trek, Inca Quarry Hike and the Tours in Patagonia.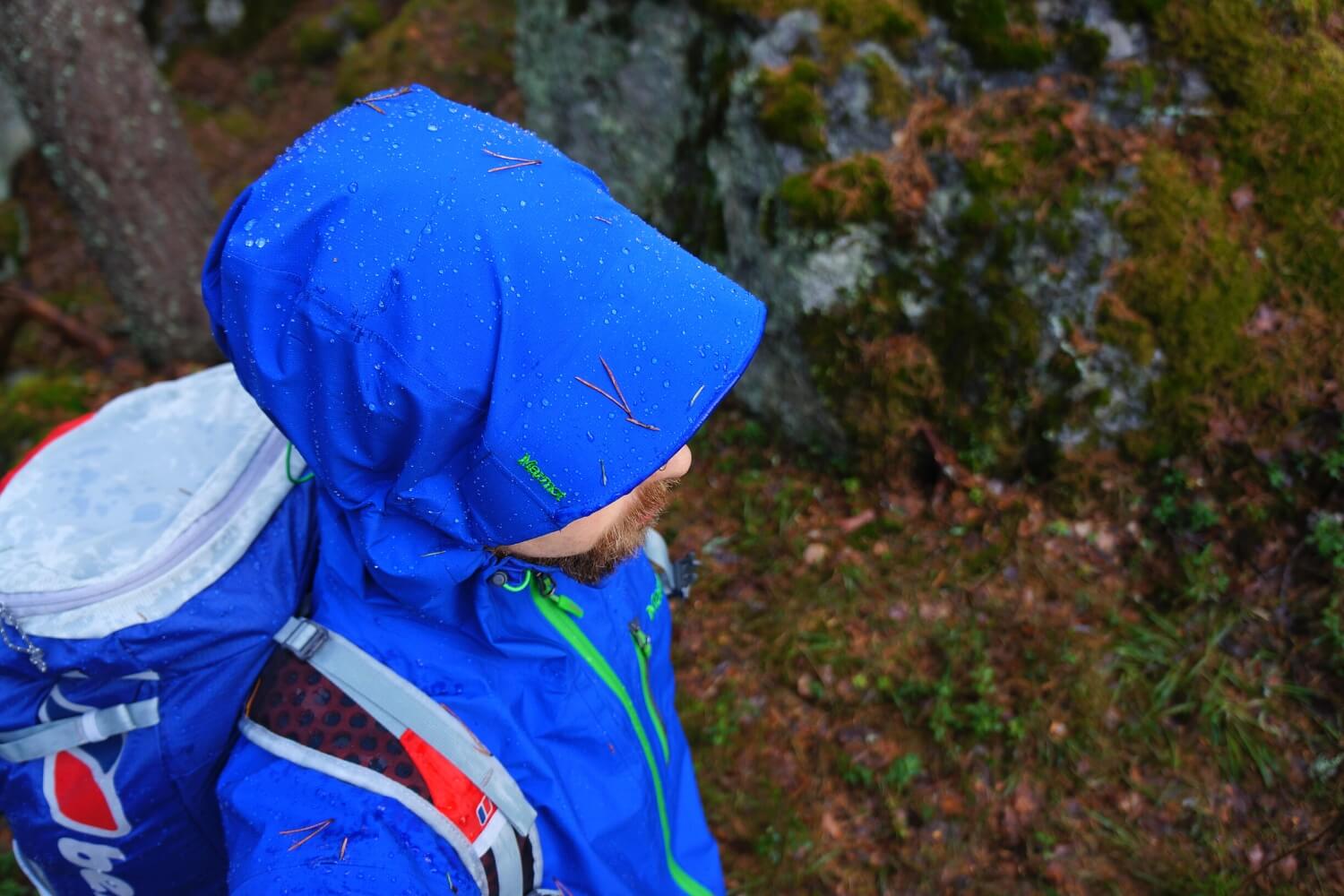 The best for PRO Adventurers: Salewa Puez Gore-Tex Paclite
Technical Features
Waterproof membrane: GORE-TEX 2L (100% Polyester (recycled))
Waterproof rating: 28000 mmH2O (ISO 811)
Breathability rating: RET <6 m2Pa/W
Average Price: $ 245 USD
Pros: Lightweight, Good Price, Recycled
Cons:  No vents, Not as robust as a 3-layer jacket
The Puez GORE-TEX PACLITE Jacket is designed to be as lightweight, packable and breathable as possible, without any compromises on durability. Its 2-layer laminate construction features a GORE-TEX membrane directly bonded to an outer shell that's covered by a durable protective layer and given a PFC-free DWR (durable water repellent) finish. It has extreme breathability, a solid waterproof spec (with welded seams, and a waterproof front zip.In addition, you get ergonomic sleeves and shoulders for a good fit, a tailored, rear-adjustable hood, two pockets (both with waterproof zips) and Velcro-adjust cuffs.This jacket is a Salewa Committed product made with bluesign approved fabrics that use no environmentally critical substances and are as green as possible.
Long-term durability won't compete with sturdier versions of Gore-Tex, and for prolonged periods of heavy rain we'd suggest upgrading to Pro or Performance with a higher denier rating. But for lighter 3-season conditions, this jacket is wonderfully light, packable and comfy.
Should You Buy the Salewa Puez Gore-Tex Paclite?
After having put it to the test in the harshest climatic conditions of the Andes. The Salewa jacket has emerged as the winner, since for the price that one finds in the market this brand is very versatile and therefore preferred by the most PRO hikers, because it has a high level to repel water, whether it is moderate rains or storms. . It also has a good ventilation system that helps a lot to expel all the steam that you generate through the armpits and back, during demanding walking routines. Although the price is not one of the lowest compared to others in the same category. But if you want to change the brand or design that you are always used to, I recommend you try this fabulous jacket.
With this jacket you can explore the following hiking trails in the Andes: Ausangate Trek, Lares Trek, Trek to Choquequirao, Quellcaya Ice Cap, Vinicunca Rainbow Mountain, Salkantay Trek, Ancascocha Trek, Inca Quarry Hike and the Tours in Patagonia.