THE BEST HEADLAMPS FOR HIKING & CAMPING  IN THE ANDES 2023
The best headlamps on the market are vital tools for navigating in the dark for anyone who practices outdoor sports or camping. These activities are often carried out in geographical spaces where there is no public lighting, or when you must get up very early to explore the trails even in the dark, for which a flashlight will give you visibility while keeping your hands free, on your next trip or any outdoor adventure in the Andes is desirable to say the least. In fact, it could save your life in certain extreme situations (such as losing your balance on a steep slope or cliff). When you hit the trail at night, whether you planned it or not, a headlamp can become the most important part of your gear. You might have the best backpack or the best hiking boots, but without a headlamp, you might be better off staying at home. Flashlights have become increasingly sophisticated devices designed for different uses.
Whether you're an accomplished night hiker or just get up to pee a lot in the middle of the night, almost every hiker needs handy, hands-free lighting from time to time. There are several features to consider when shopping for the best backpacking headlamps, from weight to battery life. In this guide, we highlight the best headlamps for when we have to explore the most famous hiking tours in the Andes this year. Not only that, but we've tested and reviewed the best headlamps for a variety of uses, so regardless of your needs or budget.
Best All-Around Headlamp: Black Diamond Spot 400-Rechargeable
Weight (with batteries): 2.7 oz / 76.5 gr
Price at time of publish: $ 65 USD
Batteries: 3 AAAs; also compatible with BD 1500 mAh rechargeable (not included)
Max brightness: 400 lumens; spotlight to 100 m
Rechargeable: Yes, micro-USB
Burn time: 225 hrs. on low; 4 hrs. on high
Red light: Yes
Waterproof rating: IP67 (submersible)
Pros: Excellent value, long burn time, bright, comfortable, waterproof, battery life reader, locking feature, rechargeable version available
Cons: Slight learning curve for the different modes
After long nights and multiple summits, few flashlights would still buzz like the Black Diamond Spot 400. Lumens, it's plenty for pre-dawn technical climbs where seeing detail at a distance is crucial. While other lamps have set brightness levels, the Spot 400 can be dimmed instantly – press and hold the large button to dim the light to the exact brightness you want. When turned off, the lamp remembers its most recent brightness, so there is no need to reset it each time. Its button on the side of the light, you can tap with a finger for a burst of full brightness for a quick look at the trail without losing your settings; a tap on the same pad switches the Spot 400 to its previous brightness. Such touches are easy to use and intuitive, while saving battery life: the operating time of 200 hours is the best among the tested models.
The Spot 400 has two beams that emit light either in proximity (a wide, dim beam) or in a spot (a narrow, bright beam). A separate button at the top of the case switches between these modes. The headlamp also has a red light to preserve night vision; an easy-to-read battery life indicator; and Black Diamond's beloved lockout feature, so it won't slam in your pack or in storage. Super-rugged IPX8 waterproofing means the lamp will work more than 1 meter underwater for 30 minutes. In other words, rainfall and spills are no match for Spot. USB lovers will appreciate that the Spot 400 is compatible with Black Diamond's 1500 mAh rechargeable battery pack, which increases versatility, has a USB input on the side, and slightly better battery runtimes, with longer battery life. average of 225 hours in its dimmest mode.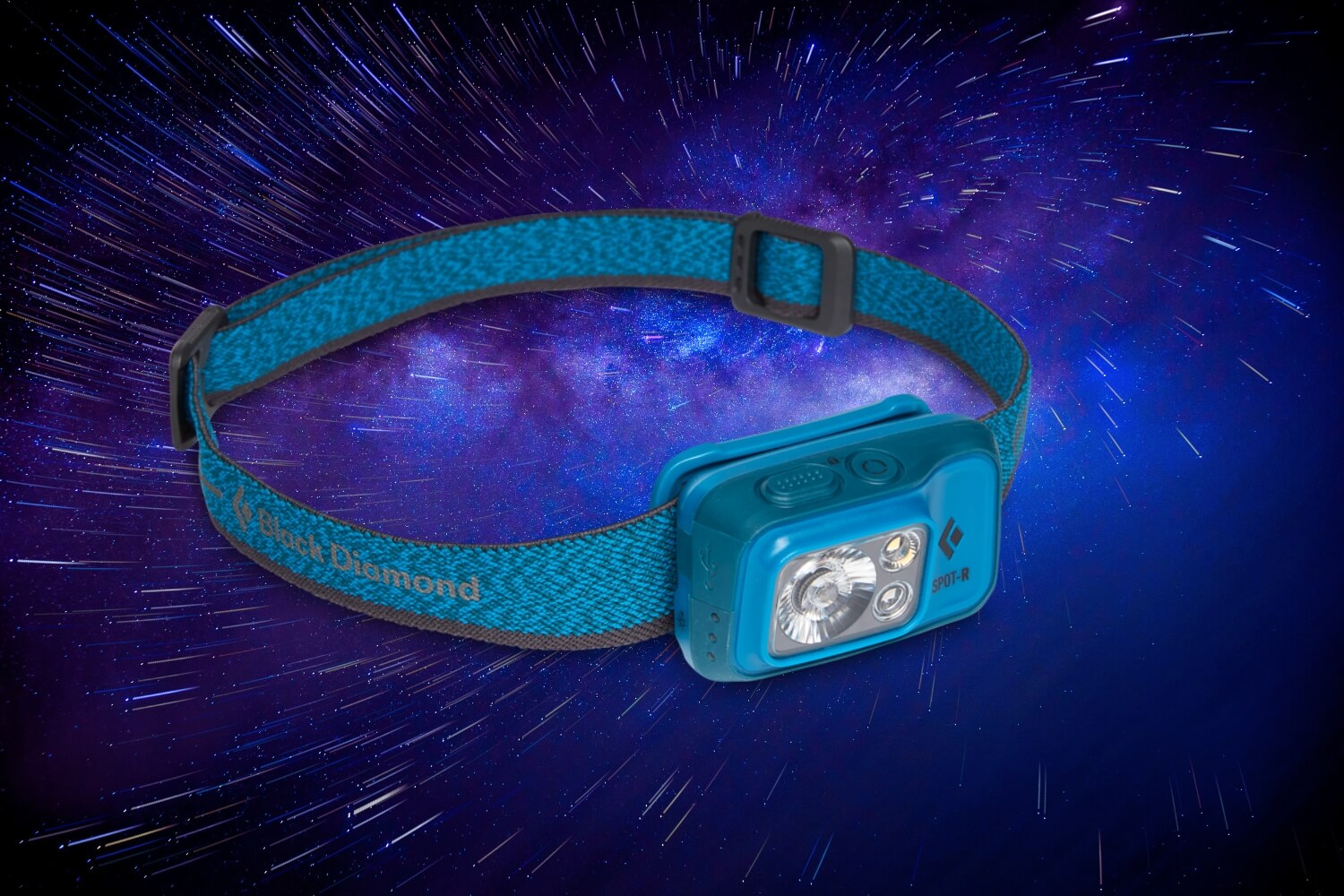 Best Budget Headlamp: Petzl Tikkina
Weight (with batteries): 3.2 oz / 92 gr
Price at time of publish: $ 25 USD
Batteries: 3 AAA/LR03 batteries (included) or CORE battery (available as an accessory)
Max brightness: 300 lumens, 10-60 m
Burn time: 120 hrs. on low; 3 hrs. max power
Waterproof rating: IPX4 (resistant to water projections)
Pros: Easy to use and a good price, strong battery life
Cons: Average light quality and no red light option.
If you're looking for a cheap and simple headlamp, the Petzl Tikkina is a great option. There's a central button that's easy to find and easy to use, though there's no lockout mode to ensure you don't accidentally turn the headlamp on and drain the batteries. The downside of the Tikkina is that it doesn't have a red light mode, which is convenient at night so as not to blind your fellow campers and is easier on the eyes than the white LED.
For camping trips or use around the home, a simple headlamp like the Petzl Tikkina is a good choice, with 300 lumens of peak output from a single white LED. The center button is easy to find and operate, and the beam is wide for overnight cooking and pitching tents in the dark. The Tikkina is compatible with Petzl's Core Rechargeable Battery, although in this case it's an accessory that can be removed. purchase separately. The headlights have a good brightness, it is IPX4 rated.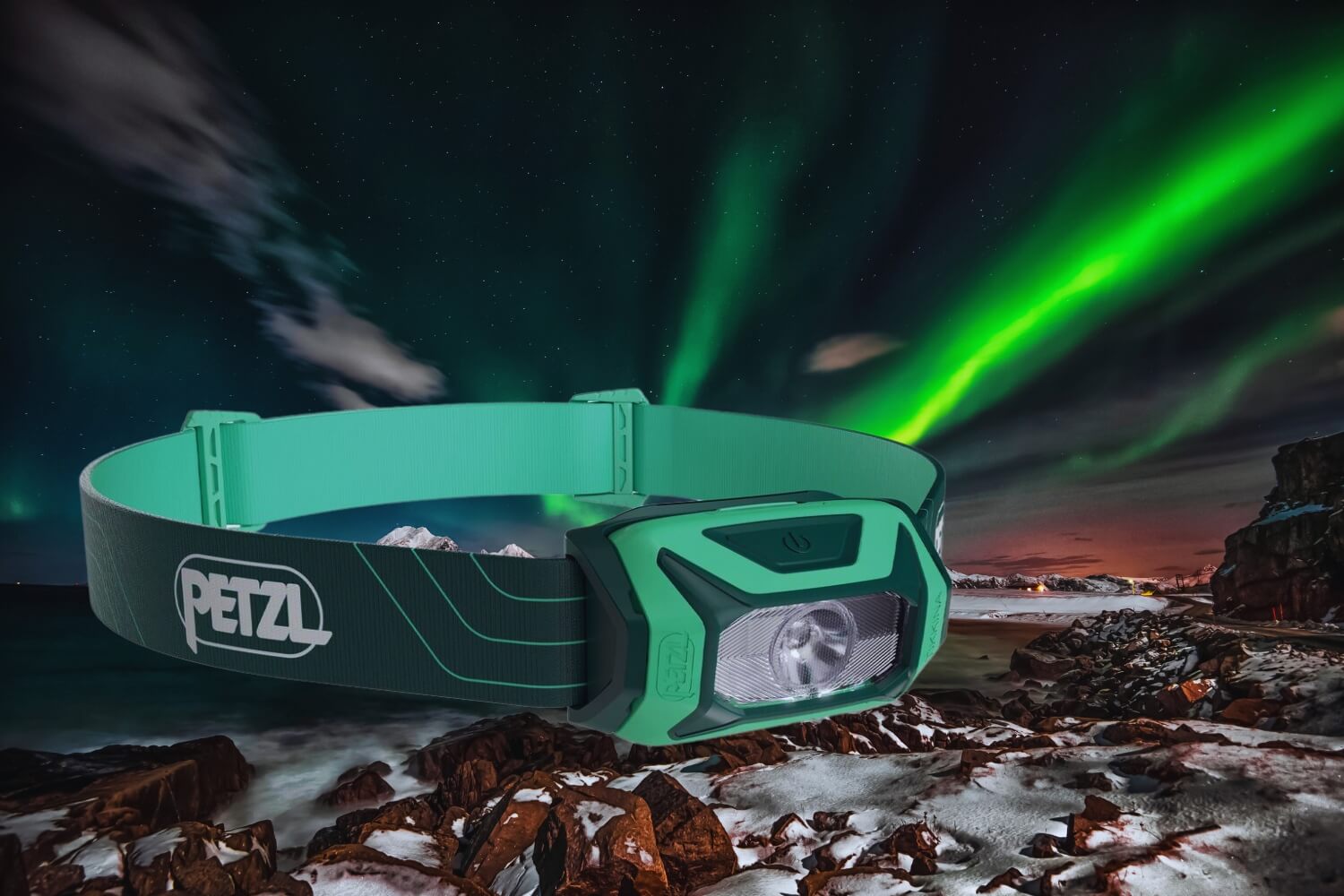 Most Lightweight Headlamp: BioLite 325
Weight (with batteries): 1.8 oz / 51 gr
Price at time of publish: $ 60 USD
Batteries: USB-rechargeable, 700 mAh Lithium Ion
Max brightness: 325 lumens / 246 ft. (75 m.)
Burn time: High: 3 hours; Low: 40 hours
Waterproof rating: IPX4
Pros: Ultralight, compact, rechargeable, comfortable, locking feature
Cons: Short burn time, not fully waterproof, small on/off button
The BioLite 325 is the most comfortable headlamp on the market with its soft headband and ergonomic design that sits flush against the forehead. The BioLite 325 is the headlamp that is used a lot, for hiking, backpacking and living in a van. It is the lightest headlamp on our list and is incredibly comfortable to use. Unlike other headlamps that have a bulky bundle in the center of the forehead, the BioLite 325 fits close to the meat of your head, meaning no bounce if you're running on the trails. You can wear this headlamp for hours and hardly notice it.
The BioLite 325 is USB rechargeable, which means you don't have to carry batteries. Our mountain guides have been using this headlamp on routes such as the Inca Trail, Ausangate Trek, Lares Trek, without the need to recharge it, mainly by keeping it on the "low" setting to preserve battery life. While it's not the brightest headlamp on the market, it's perfect for most adventures. The operating time of this rechargeable headlamp is relatively short, making it ideal for night walks or shorter outings close to home. But if you don't spend a lot of time using a light at night or carry a power bank, it could still be used for multi-night trips. If you're looking for more power, BioLite's 425 is a bit brighter and has a longer run time with a small battery pack in the back of the head.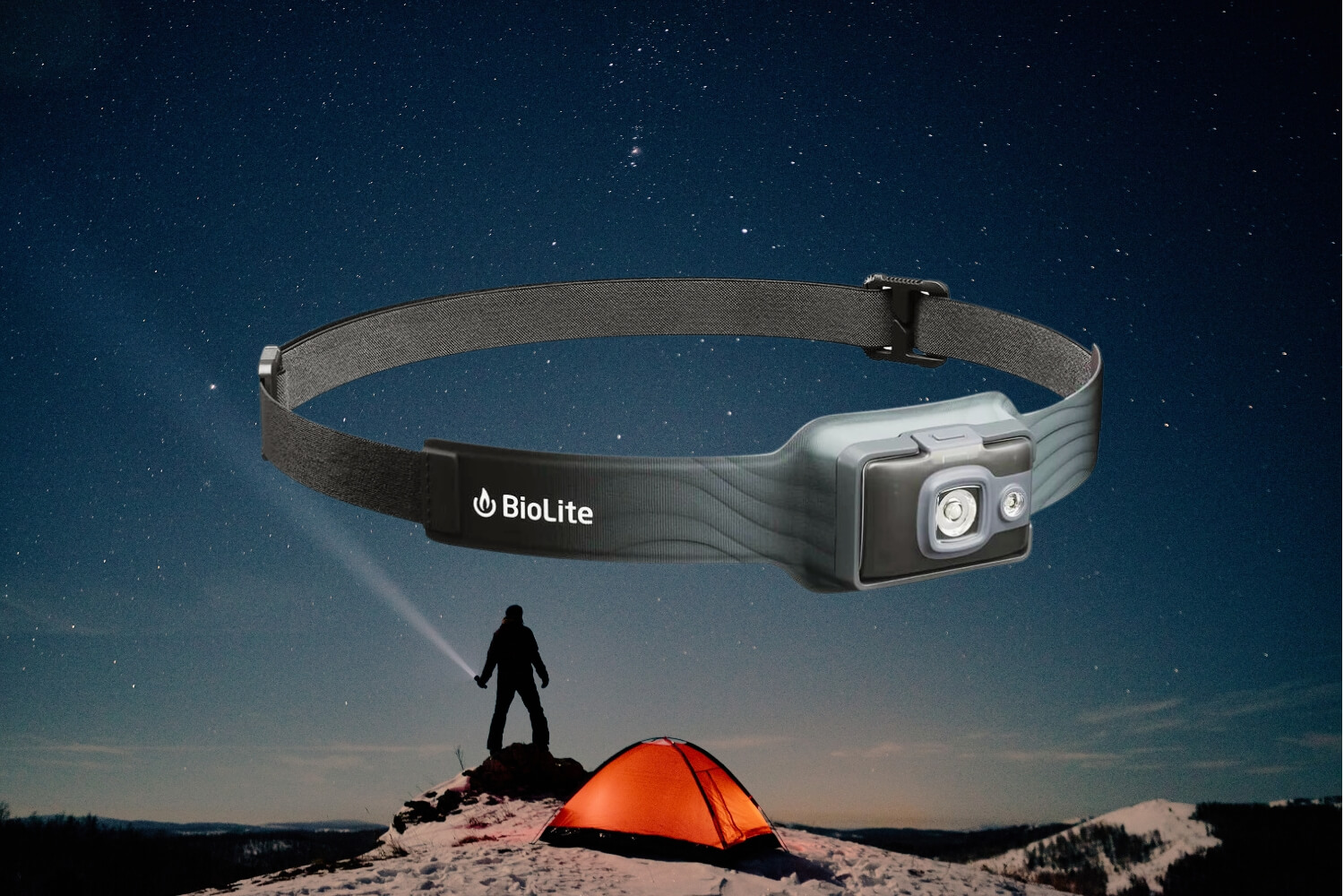 Most Versatile Headlamp: Princeton Tec SNAP Modular Headlamp
Weight (with batteries): 3.5 oz / 99.2 gr
Price at time of publish: $ 65 USD
Batteries: AAA Alkaline
Max brightness: 300 lm / 36 m
Burn time: High: 300 lumens / 10 hours; Low: 10 lumens / 155 hours
Waterproof rating: IPX4
Pros: Modular/easily detachable; bright; excellent battery life on high; dimmable.
Cons: No red light or locking; spot pattern only; heavy
The SNAP headlight is famous for its modular design. It's really a headlight kit that comes with accessories to attach the light to the bike's handlebars or hang it inside the tent. The light easily detaches from the headband so you can use it as a bike light, flashlight, or handheld light as needed. This is one of the best hiking headlamps for multi-sports enthusiasts who want a headlamp that works equally well for biking, backpacking, and RVing. It's also great as a flashlight if you plan on spending a lot of time in your tent.
It comes equipped with a strong magnet that will stick to most metal surfaces. This smart, multifunctional design appeals to backpackers who want to do more with less gear. The SNAP headlamp also has one of the longest lasting batteries. The ten-hour capacity is more than enough for most night-hiking backpackers. The headlight is dimmable, so you can easily adjust the brightness to your needs.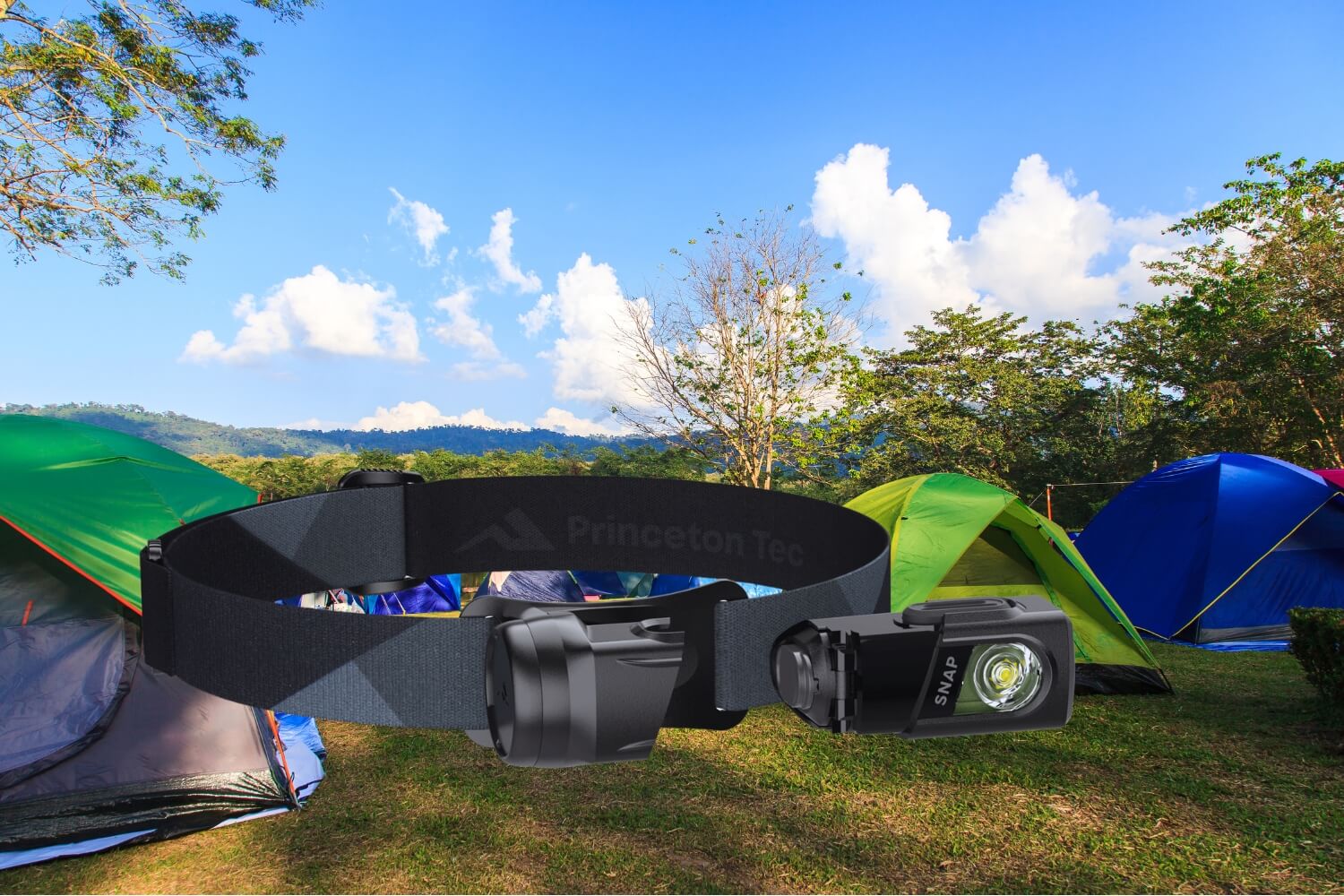 Best Angle Adjustment: Ledlenser MH6 Lightweight Rechargeable
Weight (with batteries): 3.2 oz / 93 gr
Price at time of publish: $ 150 USD
Batteries: Li-ion Rechargeable 3.7V (included)
Max brightness: 200 lm / 120 m
Burn time: High 5 hrs / Low 20 hrs
Waterproof rating: IPX6
Pros: It has a range of beam settings with an adjustable angle, so you can point the light where you want to look.
Cons: It's not rechargeable, so you may want to bring spare batteries just in case.
A good flashlight is essential equipment for outdoor recreation. Not only do you need one for camping, but you should always have a lamp in your backpack for emergencies. A beacon can mean the difference between getting lost overnight or finding your way back to base. What the MH6 has is the brightness and the range of the light at a considerable distance. The dual focus of the MH6, it is possible to switch the beam to flood mode (or wide focus). This is excellent for in-store work. It floods the entire tent with light, illuminating every corner.
The controls are easy to use, even with light gloves. A simple switch on top allows you to turn it on and switch between modes including bright, dim and emergency flashing. It also has a transport protector that prevents the light from accidentally turning on, like in your backpack. The Ledlenser MH6 comes with lithium-polymer batteries. Simply put, these batteries provide much more power than our typical AA or AAA batteries, which explains the super bright light you get with the Ledlenser MH6. The MH6 can be charged using a regular mobile phone power supply. So if you carry a power bank, you can charge the headlamp on the go. However, without a power bank, the MH6 may not last a full ride.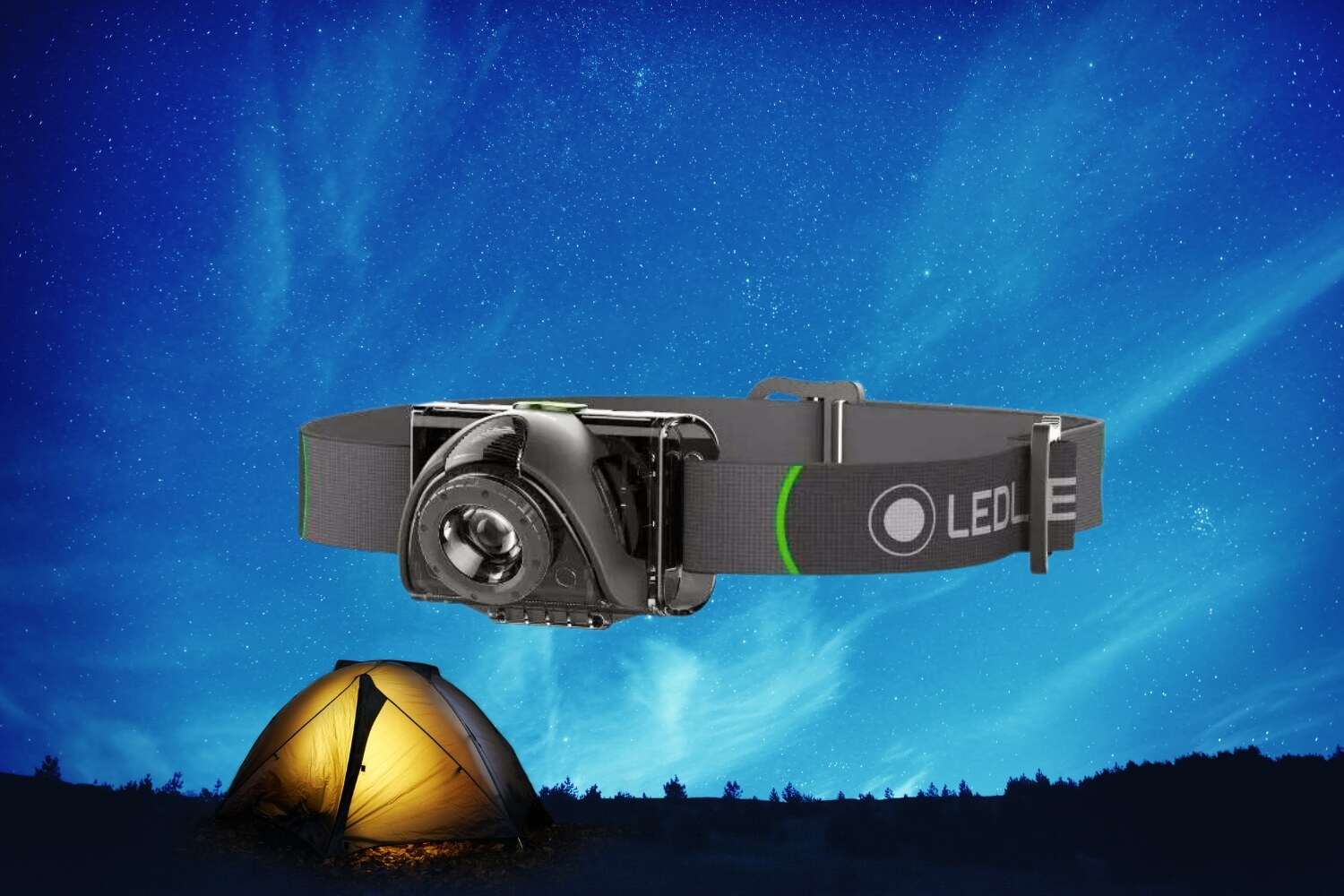 Best Rechargeable Headlamp: Fenix HL32R USB
Weight (with batteries):  3.8 oz / 108 gr
Price at time of publish: $ 54 USD
Batteries: Built-in 2000mAh Li-polymer battery
Max brightness: 600 lm / 240 feet (73 meters)
Burn time: High 1 hr / Low 200 hrs
Waterproof rating: IP66 rain / splash proof / dust proof
Pros: The white and red bulbs have nine different settings to choose from.
Cons: The beam doesn't reach quite as far as other options.
The Fenix HL32R is a lightweight and rechargeable head torch that is good for running, hiking, camping, dog walking and many other activities where a lightweight head torch is preferred. The Cree XP-G3 neutral white LED offers a maximum output of 600 lumens on burst as well as constant turbo, high, mid, low and eco brightness levels. There is also a red LED that offers 1 lumen of constant red light or a flashing red light and a red SOS. Two independent switches are located on the top of the head torch for easy operation. The left hand general button turns the white LED on in eco setting by holding the switch for 0.5 seconds and then each press after that will cycle through the modes. The right hand functional button turns the red LED on in constant red setting by holding the switch for 0.5 seconds and then each press after that will cycle through the modes. Press and hold the button again to turn the torch off when is either mode.
With the light already on the mode can be changed between red and white by pressing the opposite button to the mode you are currently in. The 600 lumen burst mode can be activated in any status by holding any button down for 1.2 seconds. The light will stay in burst mode for 1 minute. The HL32R has a lockout mode to prevent accidental activation which can be accessed by holding down any button for 3 seconds. Apart from being lightweight, the HL32R has a number of other features that make it great for running or hiking. The headband is comfortable and adjustable, but it also has a silicone strip on the inside that channels sweat and rain away from the eyes. On the outer part of the headband there are reflective strips, which are excellent for enhanced visibility.
The combination beam has a central hotspot with a 20° angle allowing the beam to reach a maximum of 73 metres and a wide spill beam angle of 85° so that you can still see through your peripheral vision easily. The direction of the light can be altered with the hinged bracket that allows the torch to tilt forwards at a 60° angle. The HL32R is powered by a built-in 2000 mAh lithium polymer battery that is recharged using the included micro USB cable. Simply pop open the rubber dust cover on the back right hand side of the head torch and insert the micro USB end of the cable, then plug the USB end straight into a computer USB port, or into a USB mains/car adaptor.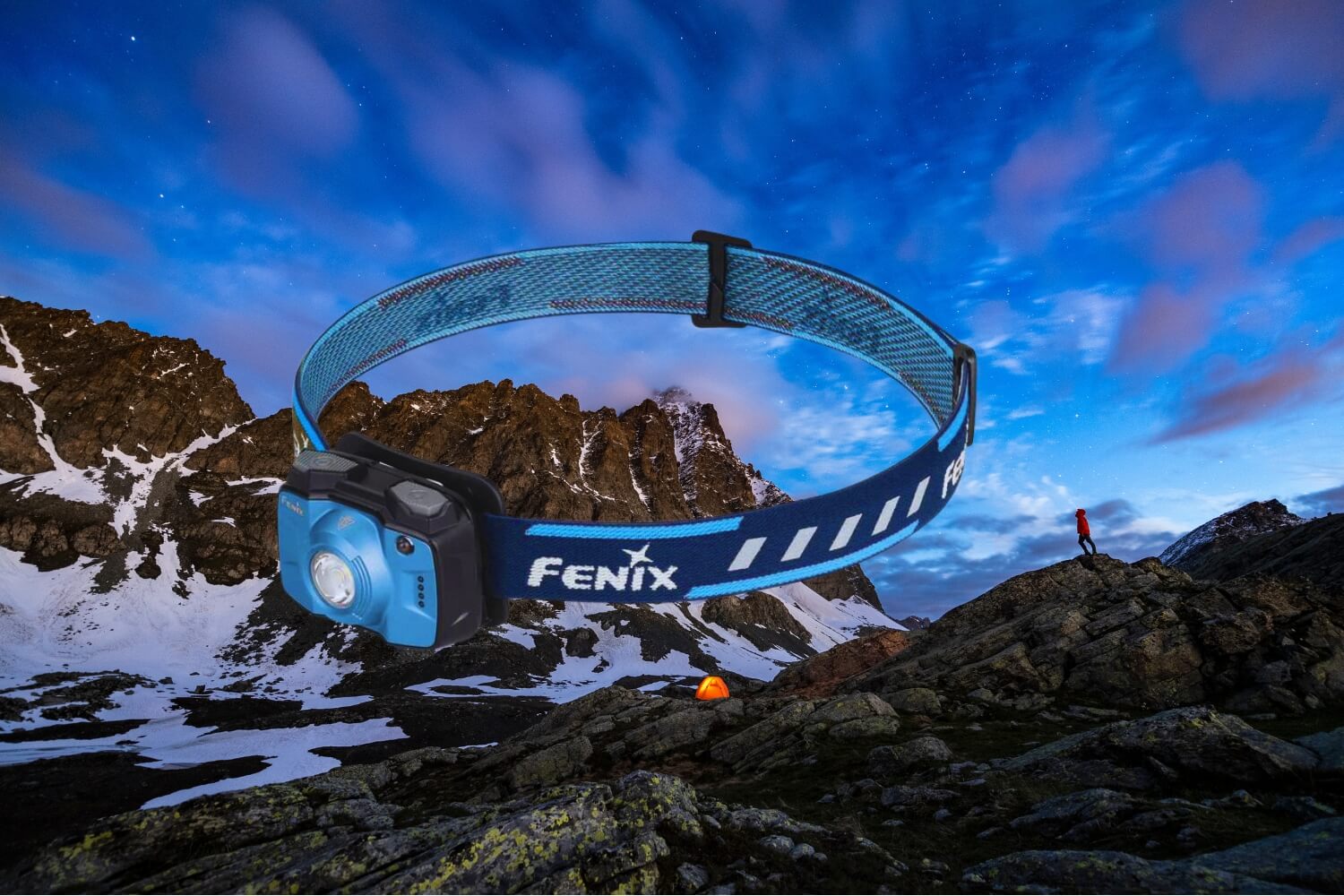 Best for Kids: Black Diamond Wiz Headlamp
Weight (with batteries):   2 oz / 56 gr
Price at time of publish: $ 30 USD
Batteries: 2 AAA (included)
Max brightness: 30 lm /  5 m
Burn time: High 5 h; Low 60 h
Waterproof rating: IPX4
Pros: This durable, functional headlamp was designed with fun and safety in mind.
Cons: It doesn't have a rechargeable battery, so it's not the most eco-conscious option.
Perfect for family camping trips, the Black Diamond Wiz Headlamp helps little ones navigate in the dark while keeping them highly visible to attentive parents. It also packs a host of kid-friendly specs and features that set it apart from other headlamps. For starters, use a detachable elastic safety strap on the headband to prevent a suffocation hazard. The modest 60-lumen output provides ample visibility. The Wiz is unique in offering a beam that isn't very bright, only shining around 7 meters (or 23 feet) at its maximum setting, which is bright enough for camping use, but not bright enough to hurt your eyes if you look directly at it.
It's very easy to use, with just one big button and no fancy features. One click turns it on and a second click changes it to color. Holding down activates dimming, which is intuitive and easy. The only trick you might not guess is that if you switch to colored lighting, a double-click cycles through the full spectrum of rainbow colors; once you find your favorite color, a single click locks it. The Wiz remembers the dimming level and color you last used, making it easy to lock in the right brightness and color for your kids. The biggest performance issue for the Wiz is battery life. It's powered by just two AAA batteries, which doesn't seem like enough. Most lights offer a powerful spot mode with a relatively short run time, and a low-intensity flood mode that offers longer battery life.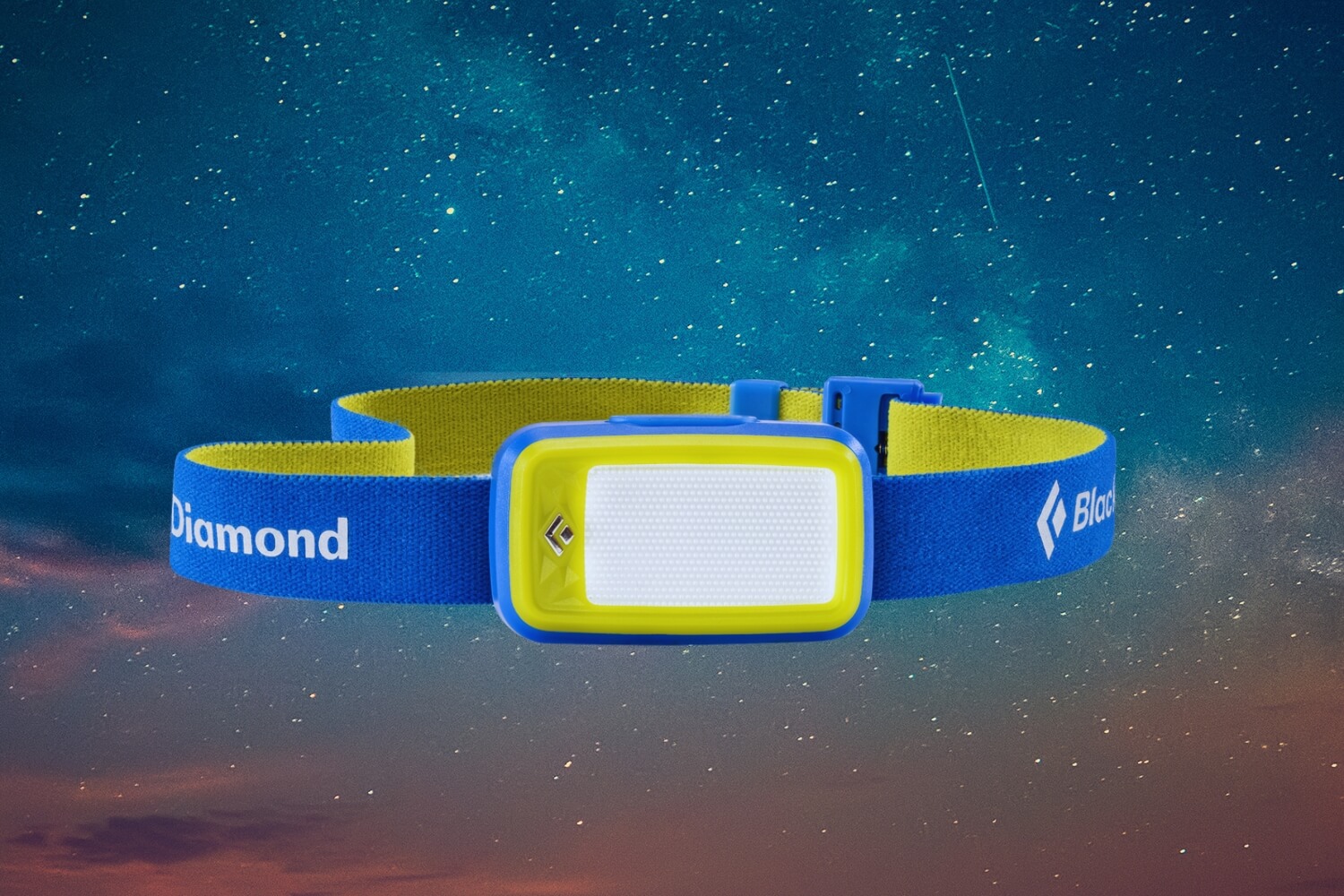 Best Multi-Power: Petzl Actik Core
Weight (with batteries):  2.6  oz / 75 gr
Price at time of publish: $ 80 USD
Batteries: CORE 1250 mAh battery (included)
Max brightness: 600 lm / 115 m
Burn time: High 2 hrs; Low 100 hrs
Waterproof rating: IPX4 (resistant to water projections)
Pros: Rechargeable, bright, comfortable, performance lighting, easy to use, locking feature
Cons: Expensive, shorter burn time, not fully waterproof
La linterna frontal Petzl Actik Core recargable incluye muchas características en un paquete liviano y fácil de usar que se adapta perfectamente a la mayoría de las actividades al aire libre. La Petzl Actik Core 450 viene con el concepto híbrido, lo que significa que puede funcionar con la batería recargable CORE o con tres pilas normales AAA/LR03. Una ventaja de usar la batería CORE sobre las baterías normales es que el brillo permanecerá igual durante todo el tiempo de funcionamiento. Por el contrario, el brillo disminuirá con las baterías estándar a medida que pierden su carga. El tiempo de funcionamiento es considerablemente menor que el de las baterías normales, pero, por supuesto, la ventaja es que puede recargarla y, gracias al diseño híbrido, puede elegir la fuente de energía que mejor se adapte a sus necesidades.
Una vez que haya ajustado la correa elástica al tamaño correcto con el control deslizante fácil de usar, la linterna frontal se asienta de manera cómoda y ceñida (pero no demasiado apretada), por lo que no rebota, lo cual es esencial para los corredores o los participantes en deportes extremos. Se puede separar completamente del faro, pero esto es un poco complicado e innecesario. La tela absorbente se puede lavar con esponja para mantener su olor y aspecto fresco. La dirección del haz se puede ajustar manualmente para trabajos enfocados en primeros planos o como una inundación directamente delante de usted. El Petzl Actik Core tiene una clasificación de resistencia al agua de IP X4. Esto significa que es aceptable para lluvia ligera, pero si te encuentras en medio de una tormenta con mucha lluvia torrencial, probablemente querrás guardarlo, y definitivamente no es sumergible.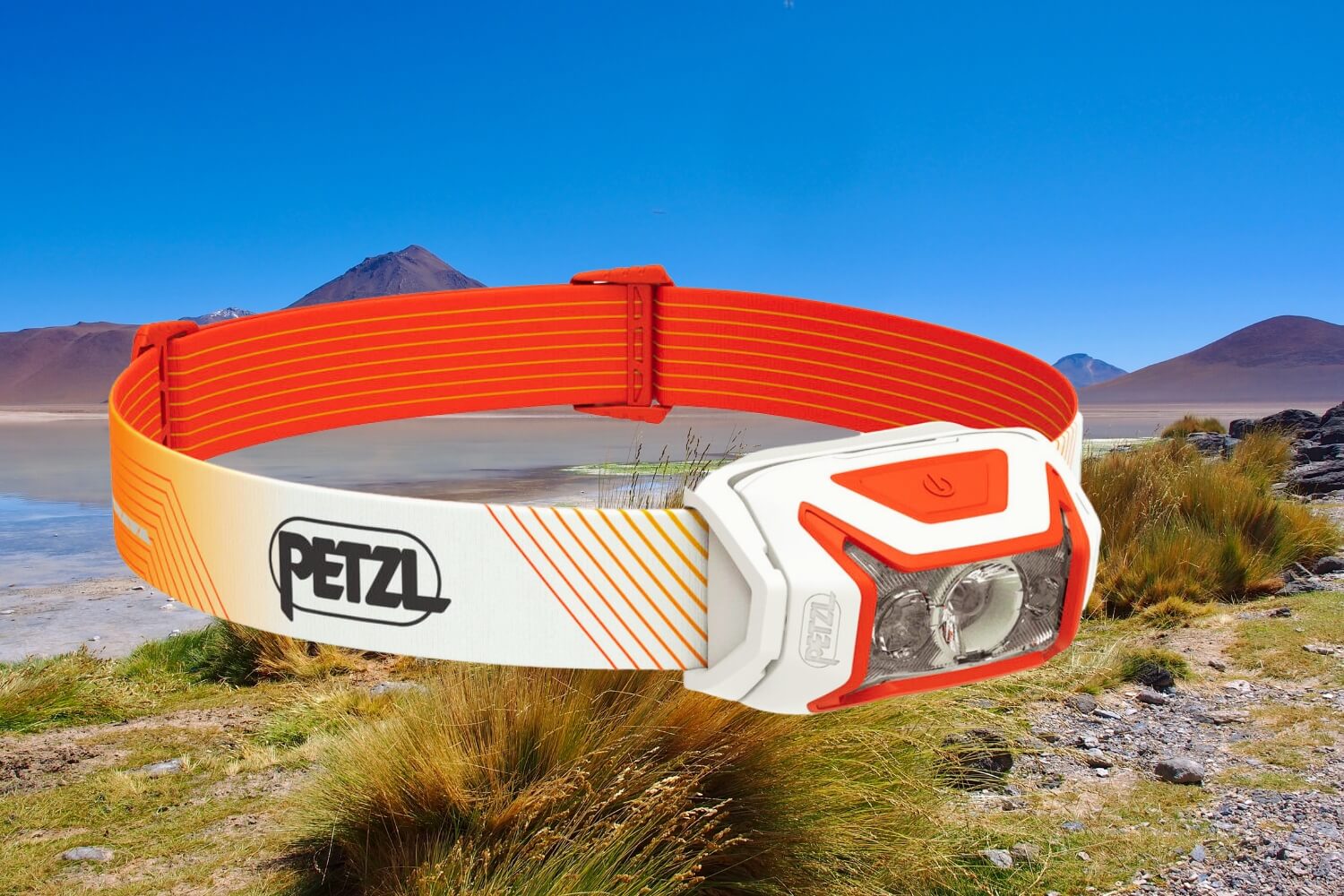 Best Editor's Choice: Niticore NU43
Weight (with batteries):  4 oz / 116 gr
Price at time of publish: $ 60 USD
Batteries: Built-in 3,400mAh Li-ion Battery
Max brightness: 1,400 lumens / 130 m
Burn time: High 10 hrs; Low 29 hrs
Waterproof rating: IP68 waterproof
Pros: Light, small, relatively inexpensive, good battery life
Cons: Not as bright as some, expensive, reactive technology isn't perfect
The World's Lightest 18650 Rechargeable Headlamp NITECORE NU43 has an innovative design of the built-in 18650 Li-ion battery that features light weight and high capacity, achieving the perfect combination of lightweight, long runtime and outstanding output. The spotlight and floodlight are able to be turned on simultaneously to produce a max output of 1,400 lumens, ideal for way finding and searching at night. Utilizing a unibody optical lens system with a light transmission of over 94%, the NU43 is specially designed for reflecting uniform and soft light while it features TrueVision+ Technology ideal for road observing and signage searching.
With an overall weight of 116g (4.09 oz), the NU43 is designed with a combined structure and is constructed from stamped aluminum alloy front housing and special PC plastic rear housing, which is a perfect fusion of high strength, comfort and lightweight. Powered by the built-in 3,400mAh 18650 Li-ion battery, it can provide 15 hours max runtime on 100 lumens MID Level, ensuring stable output throughout the night. The NU43 is USB-C rechargeable, available with a reversible plug-in for direct charging and it is able to be used while charging simultaneously. Besides, it only takes 2 hours to fully charge the NU43.
The included skin friendly widened headband is designed with the concealed silicone strip to divert sweat to the sides of the head and avoid sliding of the headband. The near-center of gravity bracket greatly reduces the pressure on the forehead from the lower edge of the bracket without shaking during intense exercise while it is 72° all-round adjustable and one-hand operable, applicable to avoid direct lighting on staff in aid stations. The dual buttons interface allows for straightforward operation. When the light is off, long press the Power Button for 1 second to turn it on; when the light is on, long press either button for 1 second to turn it off. The NU43 is also available with direct access to Red Light or ULTRALOW Level. Equipped with multiple protection safeguards — sensor protection function, transportation guarantee and lockout mode, the NU43 is IP68 rated and 2m impact resistant, ideal for trail running, trekking, camping, cycling and more.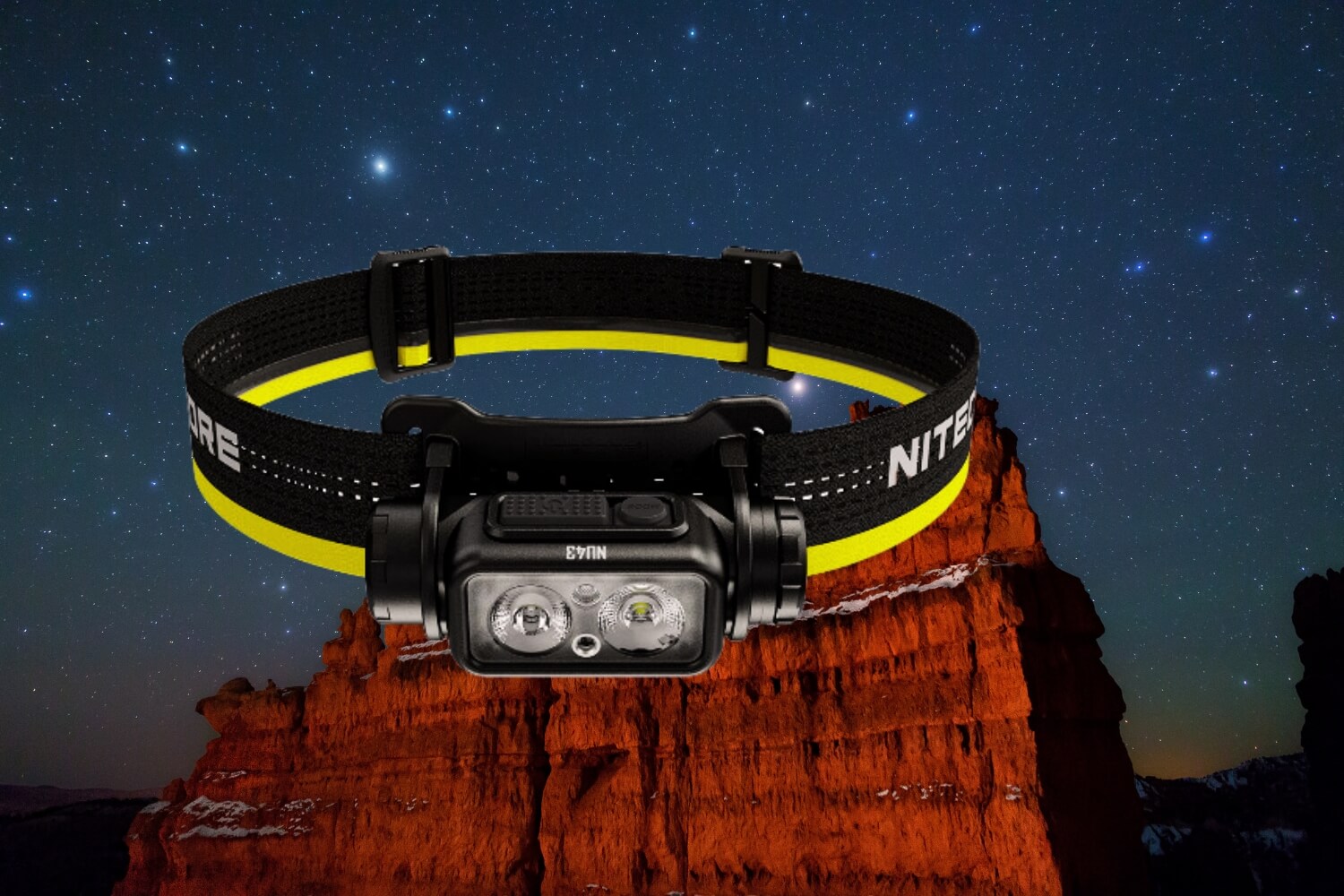 The best for Pro-Hikers: Ledlenser  H19R SIGNATURE
Weight (with batteries):  13.1 oz / 374 gr
Price at time of publish: $ 325 USD
Batteries: Li-iON 4800 mAh, 7.4V
Max brightness:  4000 lumens / 330  m
Burn time: High 3.5 hrs; Low 20 hrs
Waterproof rating: IPX7
Pros: Very bright, rechargeable, easy to use, long burn time for rechargeable battery, bluetooth, sistema de enfoque avanzado.
Cons: Expensive, heavy
Of all the headlamps developed by this prestigious lighting manufacturer, the H19R Signature can be considered the highest-end model for those extreme adventurers. It has an output of 4000 lumens of power, which allows it to reach a beam distance of 330 meters. Likewise, the H19R Signature headlamp incorporates a special function called Fusion Beam, which is a technology that allows the focus to be independently adapted to the two flashlight bulbs. In short, the customer can choose two types of light beam for each of the spotlights.
The H19R Signature flashlight, designed as a headlamp by Led Lenser, incorporates an additional red light to preserve night vision on escapes or survival activities. Likewise, the head has a rotation greater than 95 degrees, which allows complete illumination of the entire field of vision. Another of the particularities incorporated by Led Lenser in this fantastic H19R Signature is the remote control, carried out through the Led Lenser Connect application via Bluetooth technology, which will allow personalized control of the headlamp remotely.
Another fundamental factor of the H19R Signature is its incredible rechargeable system, which will allow continuous use of the flashlight without the need to buy more additional batteries. The autonomy of this model of the Signature range is 20 hours in the lowest lighting mode, and the removable battery is charged magnetically. The construction of all the new Signature Series fronts will allow intensive use in all types of adverse weather conditions, since they have an anodized aluminum body. The H19R Signature also complies with IP68 protection, which will allow protection for immersion in water up to 1.5 meters.