Discover Peruvian sweets, rich in flavor and tradition
Peruvian desserts are a delight that reflect the rich culinary tradition and cultural diversity of Peru. With indigenous, colonial and immigrant influences, these sweets delight with their unique and varied flavors. Among the most popular desserts are suspiro limeño, mazamorra morada and picarones, each with a special combination of local ingredients and ancestral techniques. Peruvian markets and restaurants offer a selection of delicious sweets that allow tourists to enjoy the culture and traditions of the country through its flavors. Tasting Peruvian desserts is an unforgettable experience on any trip to this enchanting country.
It is normal that everyone wants to know Peruvian desserts since we are talking about one of the Latin American countries with the best gastronomy. In this region there are all kinds of options, and the sweetest ones should also be known.
Peru is the cradle of great stews and desserts are no exception. This special bond originated in the 16th century with the arrival in the American continent of the Spanish conquerors, who brought with them inputs such as sugar cane and wheat, as well as cattle and goats. This meant a great discovery for the ancient Inca settlers, who hardly perceived the sweet taste of fruits such as lucuma and custard apple. This is how novel products such as sugar, flour and milk arose, which were used to prepare innumerable and exquisite desserts, which allowed the birth of Peruvian confectionery, as unique as it is appreciated.
And it is that there is no Peruvian or foreigner who resists the temptation to savor a purple Mazamorra, a Suspiro a la Limeña, some Picarones or an Arroz pudding. Either to round off a lunch or to satisfy a craving during the afternoon. Any moment is ideal to be happy together with one of the many sweets that the gastronomy of Peru can offer you.
The best peruvian desserts
With the arrival of the Europeans to the American continent, an indispensable input for the current Peruvian desserts also arrived: sugar. Coming from the Old World, it soon began to be combined with local products to lay the foundations of the delicious and varied pastry that we enjoy today. The Peruvian candy culture then began its definitive process of consolidation. With the extremely high production of sugar in Peruvian territory and the perfect combination of native and foreign products, the rise of Peruvian confectionery began.
In this period, the role of the convents was essential, venues in which our desserts were strengthened thanks to the dedication and almost mystical dedication of the nuns. They were in charge of devising and preparing with their skillful hands several of the delicacies that surprise and captivate us to this day. At that time, the Spanish nuns brought to our country the knowledge of the great Moorish cooks, and it was the Creole novices together with the Indian servants, black slaves and women who were allowed to enter the convents who learned the techniques.
It was usual in those years for women to enter the convent to be nuns and others to visit it regularly to learn to embroider, cook, paint and "learn to be good wives".
According to a publication by Hipólito Unanue (1755-1833) for the year 1797 there were 14 convents in Lima, 3 in Cusco and Arequipa, 2 in Huamanga and Trujillo and one in Cajamarca. And it is from these places where the desserts and sweets of the time came directly to the homes of wealthy families. It was a matter of time and the sale of these products became the main income for some convents, such as Arequipa. It was only during the first decades of the 20th century that the first private sweet shops and pastry shops appeared, putting an end to the success of the convents. Today there are very few who sell their desserts and sweets.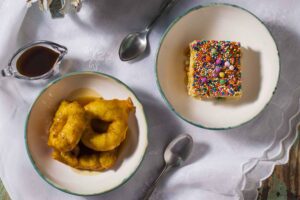 1. Sigh to the limeña
The origin of this sweet dates back to the beginning of the 19th century, although similar recipes were tried out in the past with most of its ingredients brought from Spain during colonial times. Its singular and special name was born thanks to the Peruvian writer José Gálvez Barrenechea who, upon discovering its flavor, described it as a "soft and sweet sigh of a woman." Phrase that perfectly symbolizes the effect produced when trying it.
This dessert is traditional in Lima, however, it is possible that it is made in many homes around the country. It is a very delicious delicacy whose main ingredients are eggs, milk and sugar.
As traditional as it is exquisite, Suspiro draws attention not only for its particular name, but also for its presentation. Served in small cups, one can imagine the magnitude of its flavor when contemplating the mix of layers between the manjar blanco and the syrup-based meringue. An explosion on the palate.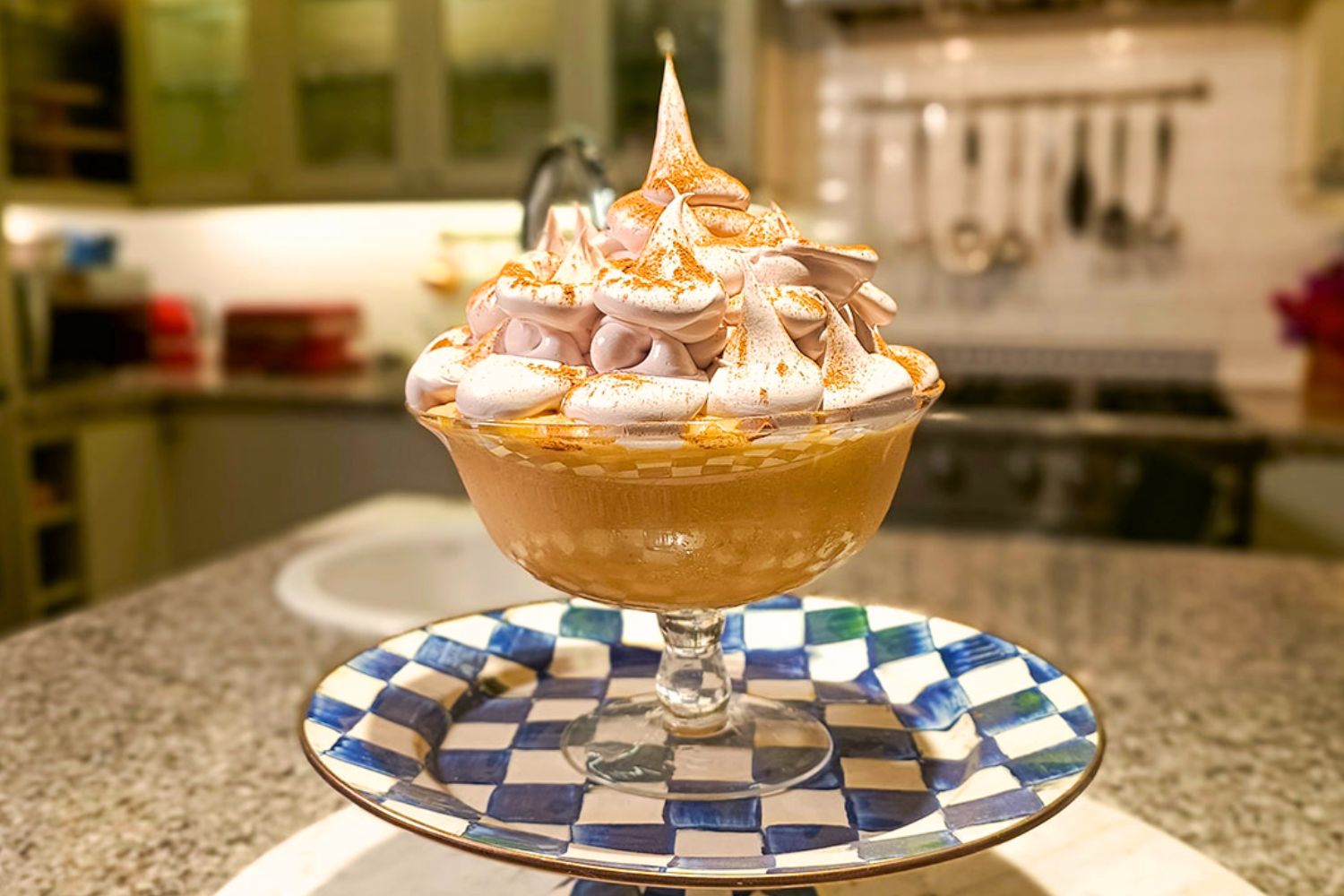 2. Picarones
Picarones are delicious sweet threads that were born as a combination of Spanish and Peruvian culture. Among its ingredients are wheat flour, pumpkin and sweet potato. They are excellent for sharing at snacks.
Picarones are a popular street vendor treat in Peru. It resembles a sticky sweet donut dripping with honey. The dough is made with sweet potato flour and thrown into a deep fryer for about 2 minutes until golden and crisp. They are covered with honey mixed with cinnamon, orange essence and other spices.
Picarones are the perfect treat while exploring Lima or Cusco on a cool afternoon, but they're also delicious after a hearty Peruvian dinner.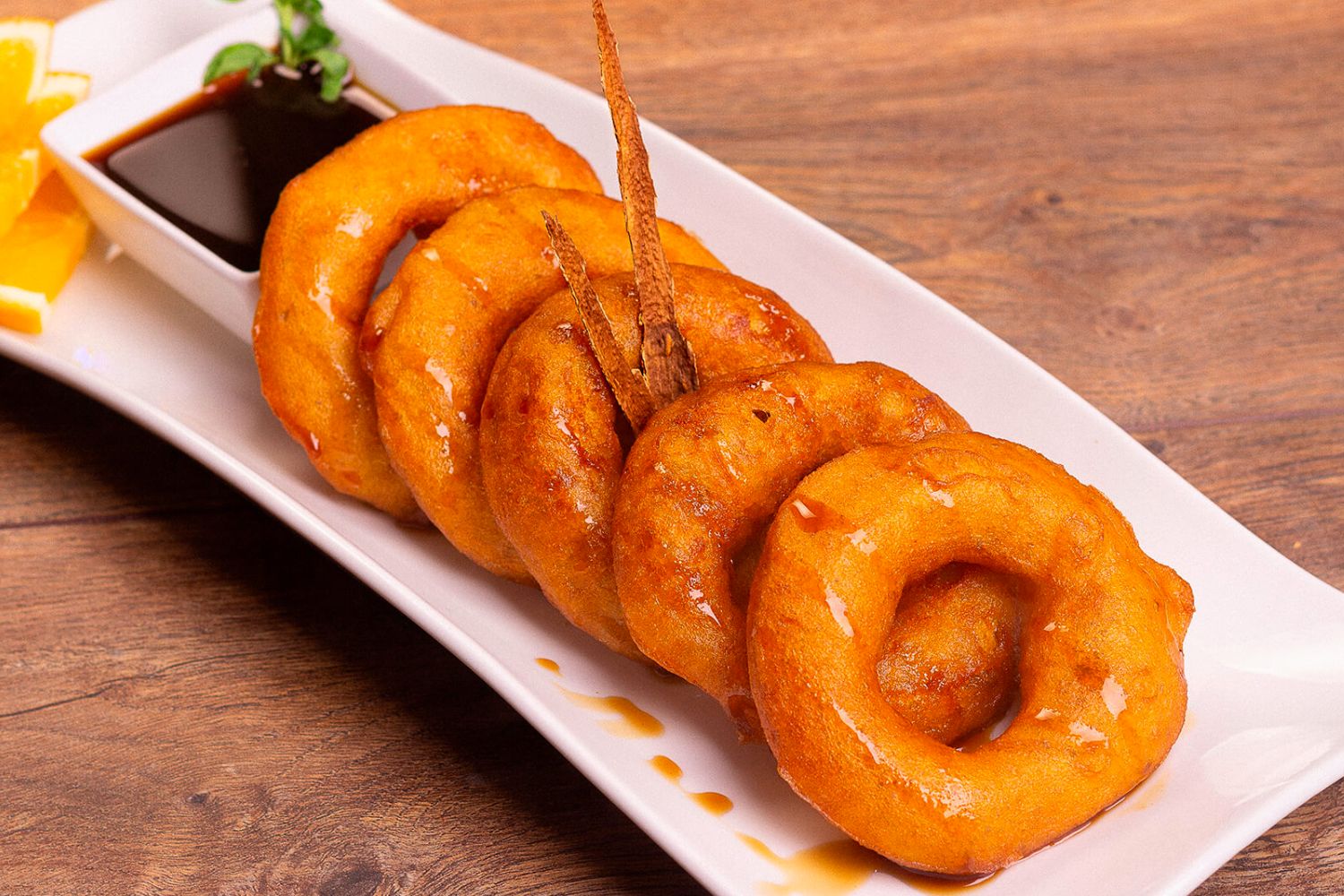 3. Purple mazamorra
It is, without a doubt, the most emblematic and traditional sweet in Peru, very popular especially in the city of Lima. This tradition is closely linked to the commemoration of the procession of the Lord of Miracles, a religious celebration that takes place every year during the month of October and in which massive processions are carried out with the image of the Cristo Moreno.
Its preparation dates from pre-Hispanic times. The ancient Peruvians prepared a variation of mazamorra using yellow corn called ishkupcha, to which quicklime was added. With the advent of culture -influenced by Arab cuisine- new ingredients such as cloves, cinnamon, quince, lemon and sugar were included to create the great dessert as it is currently known.
This popular street cart dessert is made with a base of water, purple corn, lemon, apples, pineapple, plums, raisins, apricots, and cherries, though the exact mix can vary depending on what's on hand. It is then thickened with sweet potato flour and sprinkled with cinnamon. There's nothing quite like it, and it's super delicious.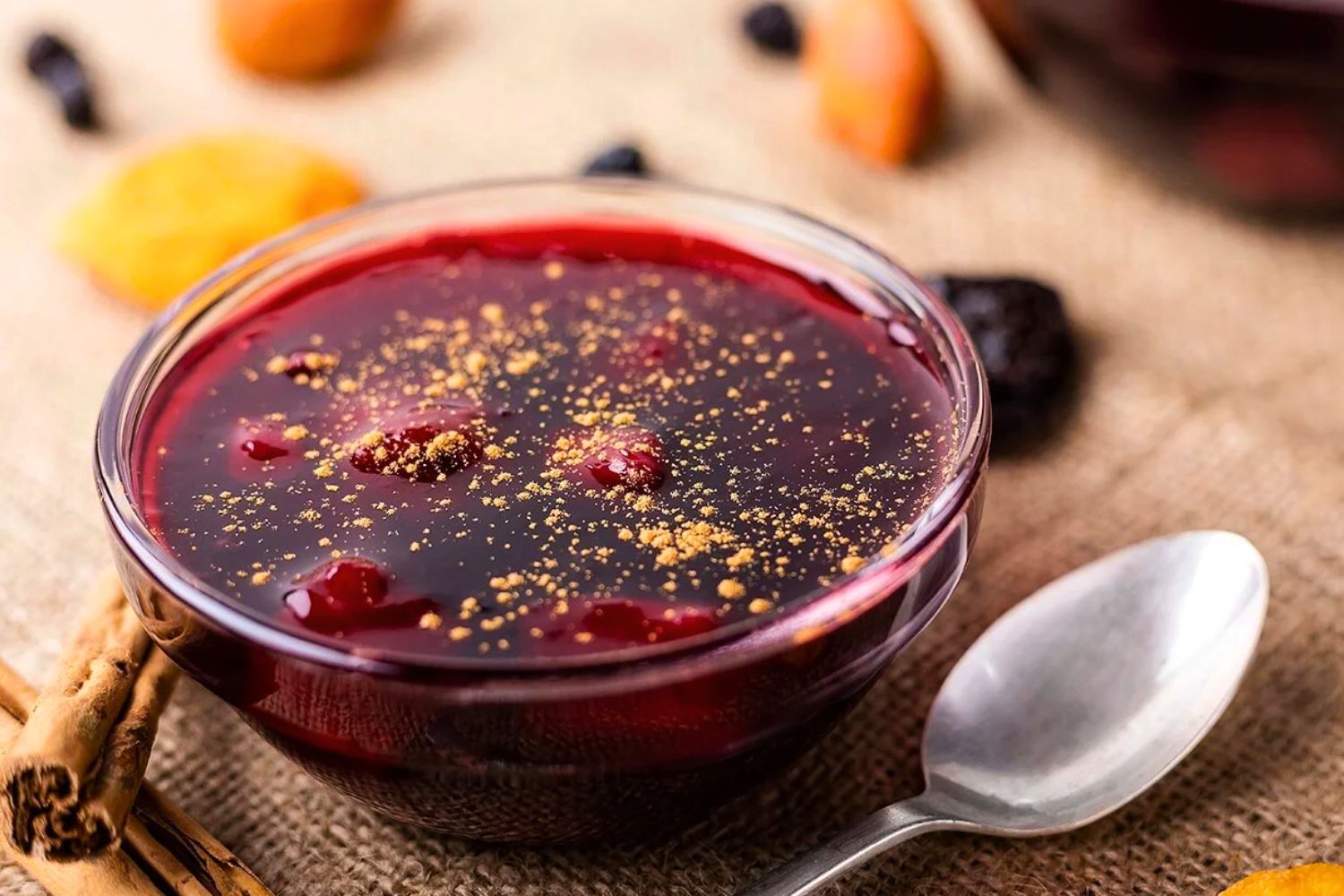 4. Alfajores with blancmange
This is probably the most popular cookie in Latin America, made differently in different parts of the continent. In Peru, alfajores are in markets, grocery stores, bakeries, and even street carts.
To make them, glue two soft cookie rounds with manjar blanco and sprinkle powdered sugar on top. Manjar blanco is essentially a Peruvian dulce de leche. The cookie rounds are made with cornmeal, making them very delicate and crumbly, with a consistency similar to buttermilk cookies. Alfajores are dry, but sweet, and go very well with a cup of coffee or hot chocolate.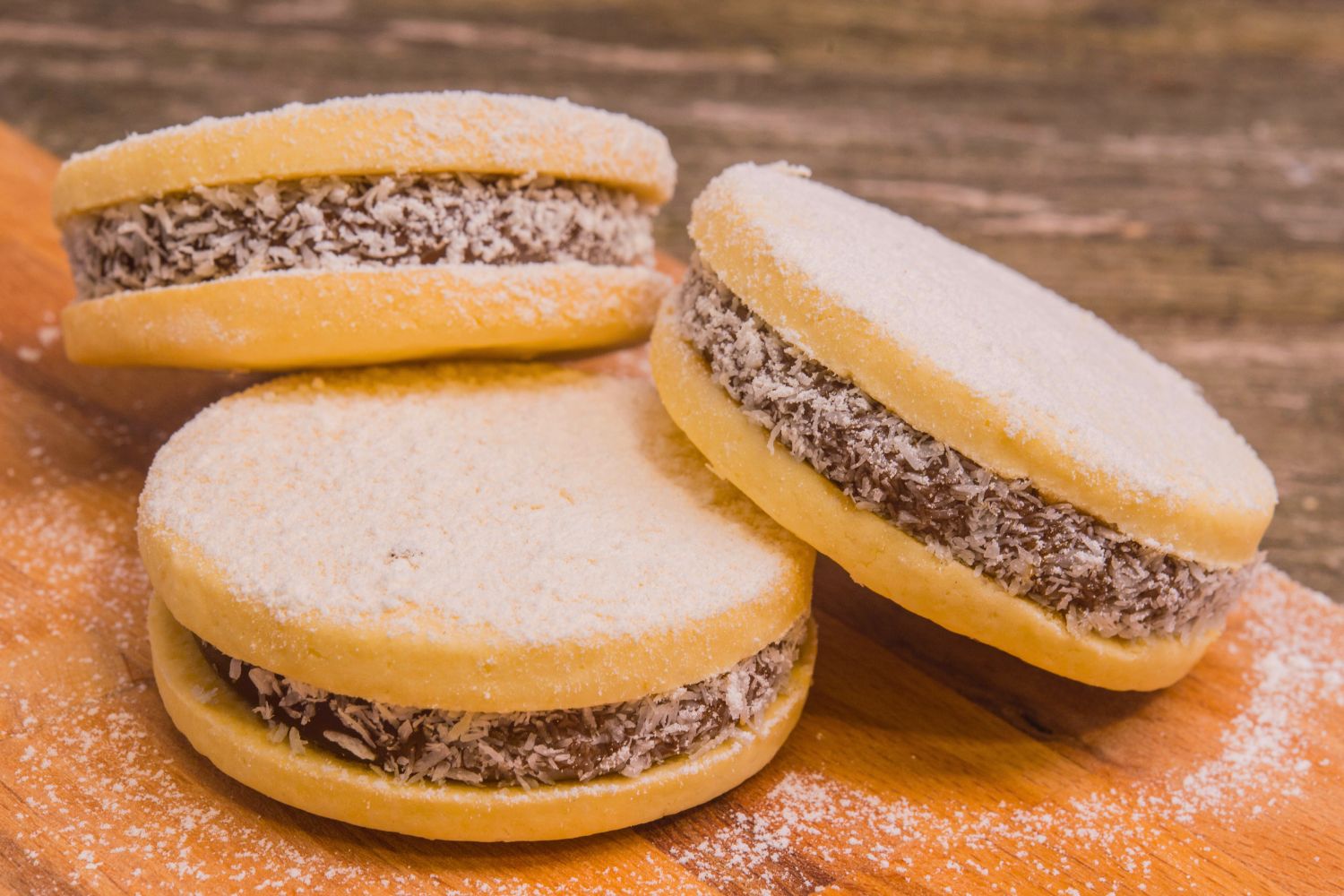 5. Dona Pepa nougat
This is one of the most popular Peruvian desserts made during the month of October for the Señor de los Milagros celebrations, but you can actually buy it year-round in grocery stores.
To make the dona pepa nougat, cookies are layered with aniseed and glued with chancaca, a very thick and sweet syrup made with cane sugar. The glued cookie delight is then covered in candies resembling sprinkles.
Tradition says that a woman named Josefa Marmanillo fell ill and could hardly walk or work. Overwhelmed but with a lot of faith, she asked the Lord of Miracles to heal her, promising that he would make a sweet in her name. One night he was cured and Josefa received the recipe for this nougat in a dream. When dawn came and she was able to get up, completely healthy, she made the sweet and began to sell it in the middle of the procession, remaining forever identified with this month of the year. Until not long ago, the Doña Pepa nougat was only found in October, but now there are bakeries and shops that sell it by the kilo throughout the year. Also the nougat makers, as those who prepare this delicacy are called, make it and sell it throughout the year. The preparation is quite laborious and there are many varieties, some very soft, which melt in the mouth, while others are drier.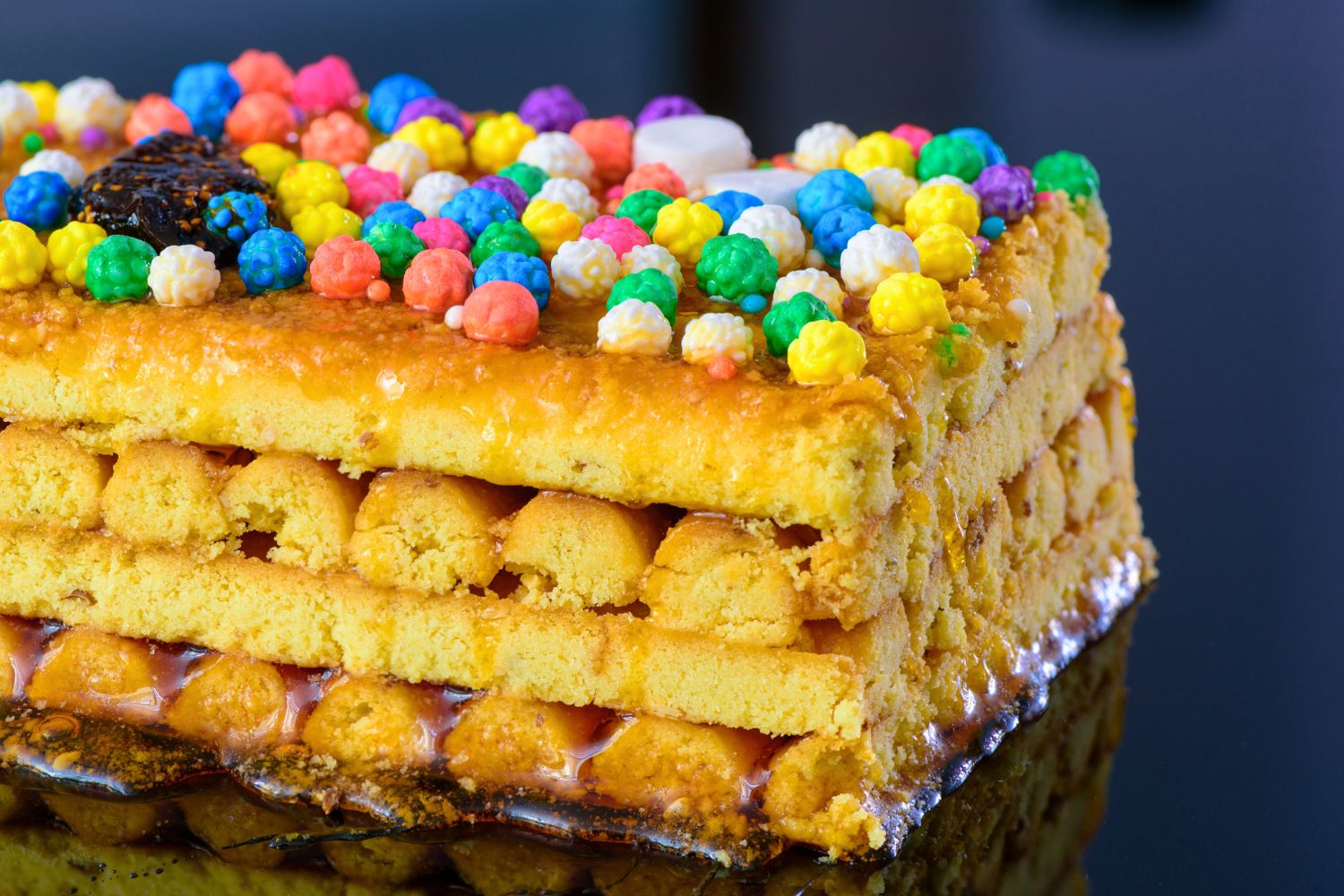 6. Rice pudding
Peruvian rice pudding is one of the most traditional desserts of Peruvian gastronomy. It is characterized by being made from condensed milk and evaporated milk, instead of common milk. Thus, it is a variant of the popular rice pudding, made with milk and sugar, which is prepared all over the world.
This Peruvian dessert is very creamy due to the condensed milk and slightly aromatic due to the citrus touch that, mixed with the intense flavor of cinnamon, becomes a real pleasure for the palate.
Peruvian gastronomy has a wide variety of desserts and many of them come from a fusion and miscegenation since colonial times. Some of these sweets have their Arab origin, which were assimilated by the Spanish, bringing it to Peru and finally mixing with the native products of our country, thus evolving and becoming typical of our land.
Thus, one of these very popular sweets from Peru is called Arroz pudding, which, as its name says, is made from rice, which is one of the most used ingredients in Peruvian gastronomy, so which can be seen in many main dishes. And although this dessert is consumed in several Hispanic countries, Peru has some of its own characteristics that stand out in its flavor and texture and that differentiate it from other countries.
As proof that rice pudding is part of our history, the writer Ricardo Palma mentions it in his famous "Peruvian Traditions" in a part that refers to the visit of a libertine friar to his dying friend and that says: "¡ What the hell, man! I come for you to take you to the party, where there are women of rice pudding and cinnamon.
It is then a typical dessert and a slow cooking of rice in milk with sugar, which can be served hot or cold, previously adding cinnamon, vanilla or lemon peel to flavor it.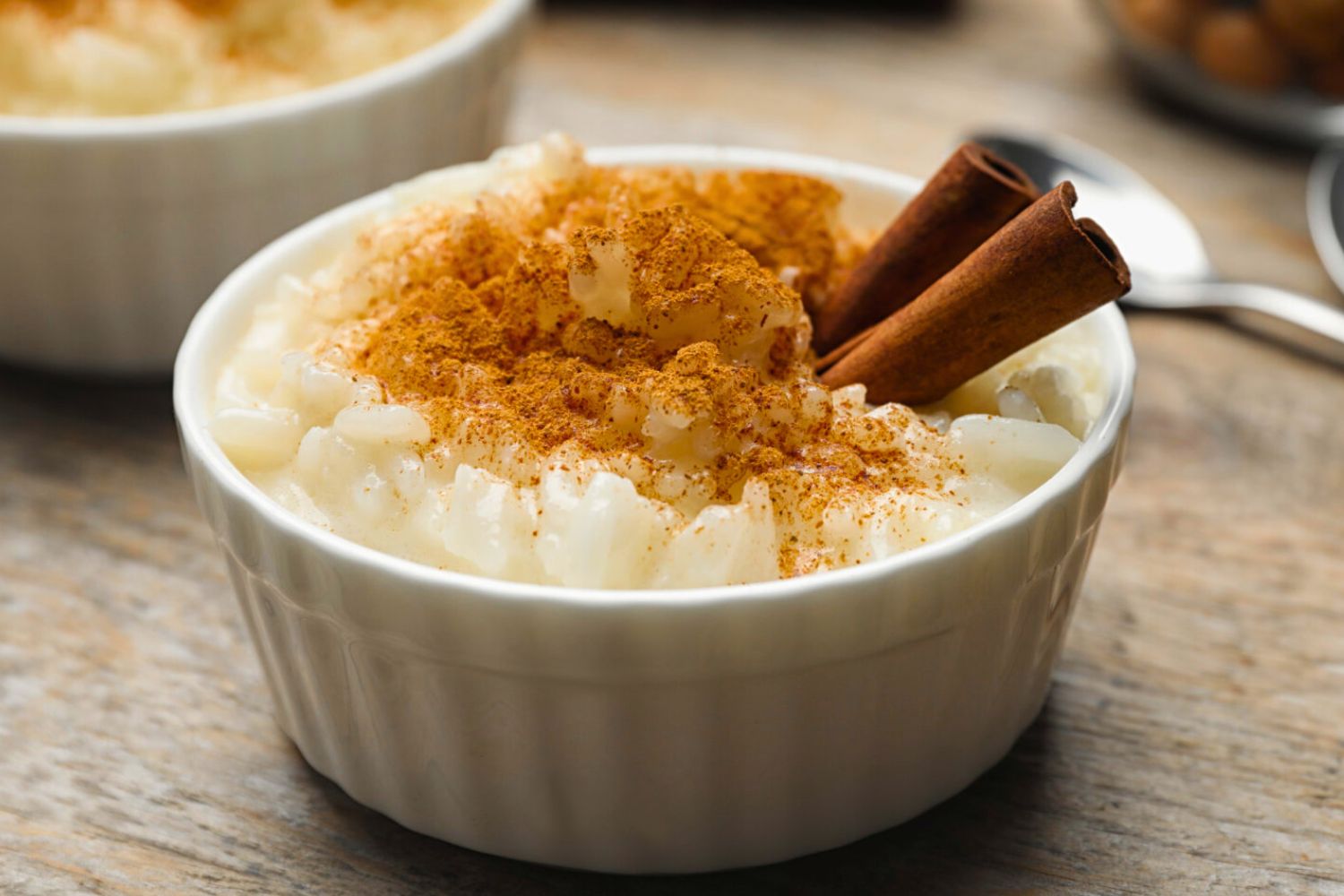 7. King Kong of blancmange
The magnificence of the King Kong – an alfajor made from cookies made from flour, egg yolks, margarine and milk, filled with manjar blanco, peanut or pineapple candy – earned it the title of "Heritage of the Lambayeque Region". . It is a characteristic sweet of Peruvian gastronomy that is sold around the world.
Behind the creation of the alfajor known as King Kong are the ingenious hands of a woman, whose name is Victoria Mejía de García, a resident of San Roque de Lambayeque street. In 1920, together with a group of friends, she had the initiative to create this sweet and sell it in the region. However, he was not yet known by the name by which he is famous today.
Why was it called "King Kong"? This dessert owes its name to popular ingenuity. The year was 1933, the time when the movie King Kong was released on the big screen.
The locals, seeing the appearance of the rectangular-shaped alfajor, decided to call it "King Kong" due to its enormous size, which, for them, was as impressive as that of the giant gorilla. At that time, the appearance of this sweet was something that broke the ground in terms of what was usually conceived of in sweets.
It was in 1943 when the García Mejía family company, called San Roque, decided to patent the original recipe for the sweet under the name "King Kong de manjar blanco", also known as "King Kong San Roque". And so the circumstances of the success of one of the most consumed Peruvian sweets around the world arose.
In Lambayeque, the Traditional King Kong Fair is held annually. This activity is carried out the last week of July and in it a sample of this typical product is made, whose weight is around one ton.
Likewise, the King Kong is a product with export quality. Its flavor and originality are appreciated in many countries around the world. Those who have tried it cannot compare it with any other sweet or dessert in Peru and in the world.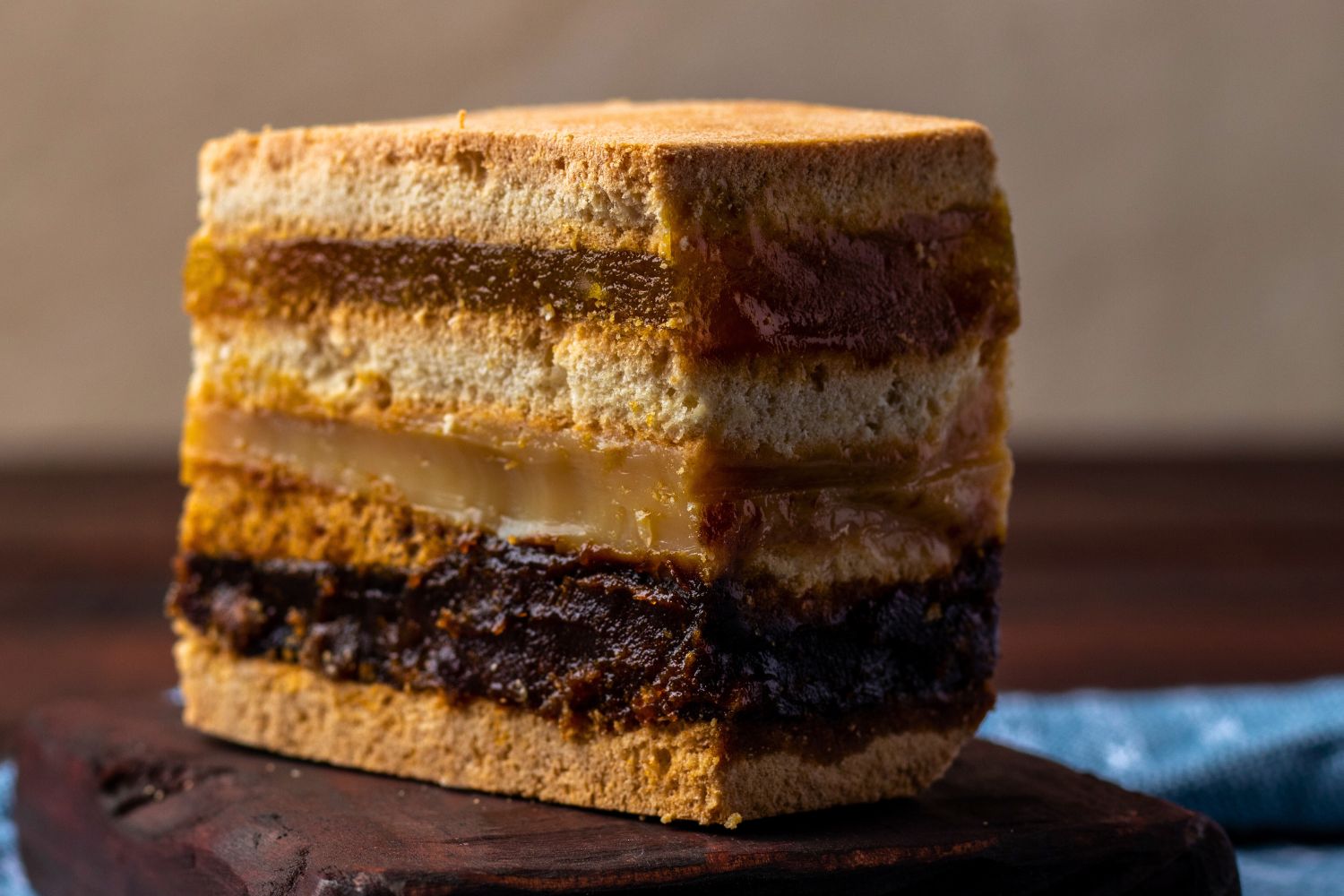 8. Roof tile
Tejas de Ica is a typical sweet from the warm department of Ica. There is not a single visitor who, before returning home, stops taking the tasty tiles. In this post we tell you something about its history, and of course how to make them with the traditional recipe.
According to the story, the workers of the old haciendas of Ica were the ones who gave the name to this sweet. It is said that the personnel in charge of its preparation came from the Sierra. When they realized that the sweet looked like the tiles on their roofs after the snow fell, they gave it that name and it became popular.
Actually, its preparation brings together three recipes from the colonial era. Among them: candied fruits, manjar blanco and a cover with a fondant bath. Which is a laminated paste made from sugar, lemon and water.
There are several varieties of tiles and that depends on the ingredients that the filling has. Those stuffed with pecans, cherries, grapes drunk with Pisco, walnuts, figs, orange, lemon, among others, are very famous.
One of the best known varieties is the so-called chocoteja. The same one that was created in the 50s, and differs from others by being dipped in chocolate. And it is so popular that it can be found more easily anywhere in Peru and not just in Ica. The tile presentation is wrapped in white paper with fringed cut ends.
Of course, today many entrepreneurs make them for business, and they put their own wrappers with prints alluding to their ventures.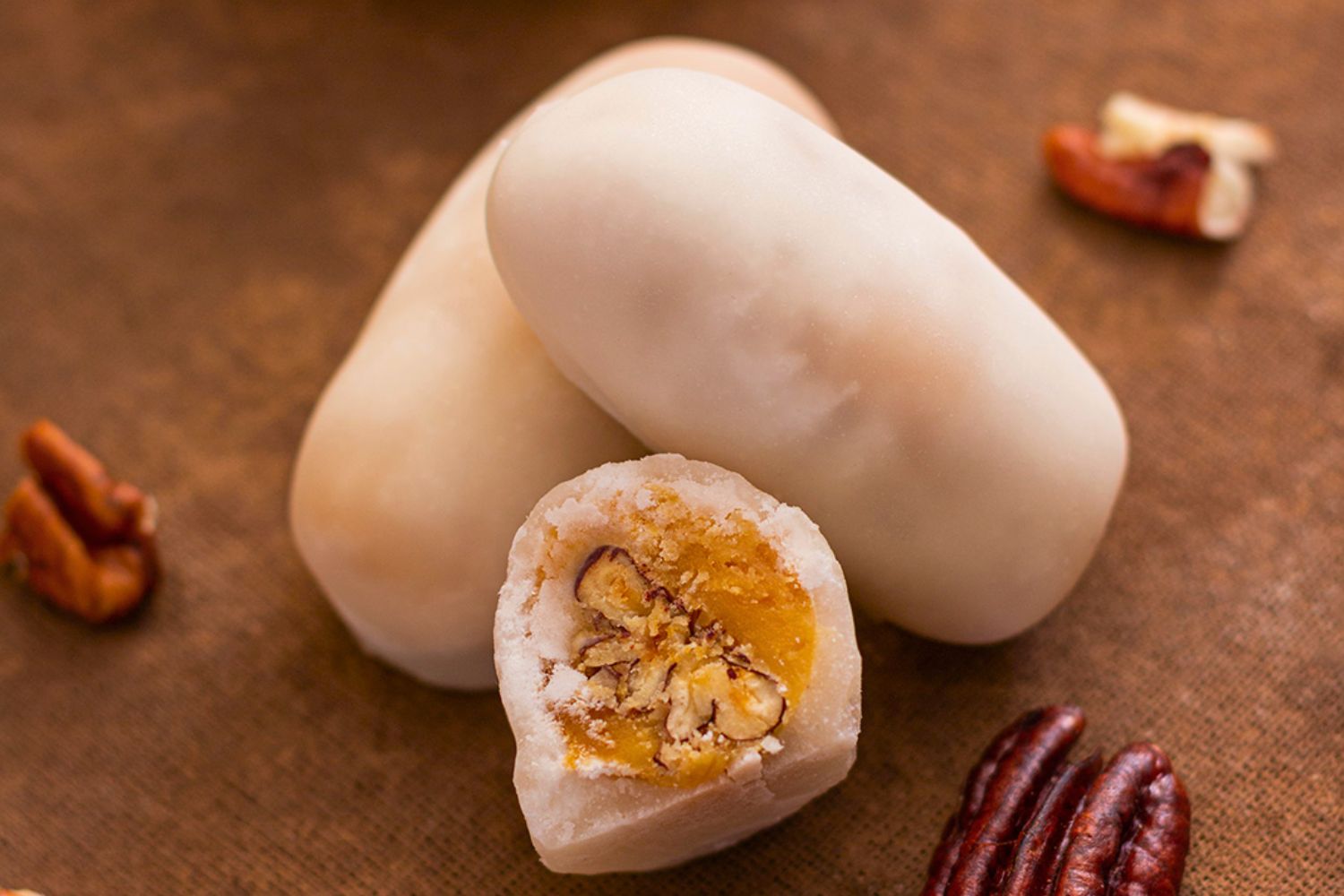 9. Ponderaciones
The ponderaciones are a typical dessert of Peru, very old, this Peruvian dessert dates from the time of the viceroyalty. It had its origin like many other typical desserts and sweets of our country in the convents that arrived in Lima and the main cities of our country during the colony. It was the Spanish who introduced sugar and milk to Peru, which were mainly used to make traditional sweets and desserts such as rice pudding or suspiro a la limeña.
This crunchy and delicious dessert, which consists of a light fried dough, made from flour and egg. It is served with manjar blanco de olla and covered with powdered sugar. To achieve its shape, a spiral-shaped mold resistant to high temperatures is used since it must be immersed in boiling oil. And it is served with a white delicacy sauce and sprinkled with icing sugar. But nowadays it is served with ice creams, creams, sauces, red fruits, etc.
There are several desserts that have a similar preparation in Spain, such as the Flowers of Carnival or Holy Week that are shaped like a flower due to the iron mold with which the dessert is fried. These desserts belong to the family of ¨frying pan fruits¨ as well as lemon or orange leaves and Carnival ears, delicious crunchy and fried masses flavored with citrus that arrive with spring. A technique that has been used in Spanish confectionery since the Middle Ages.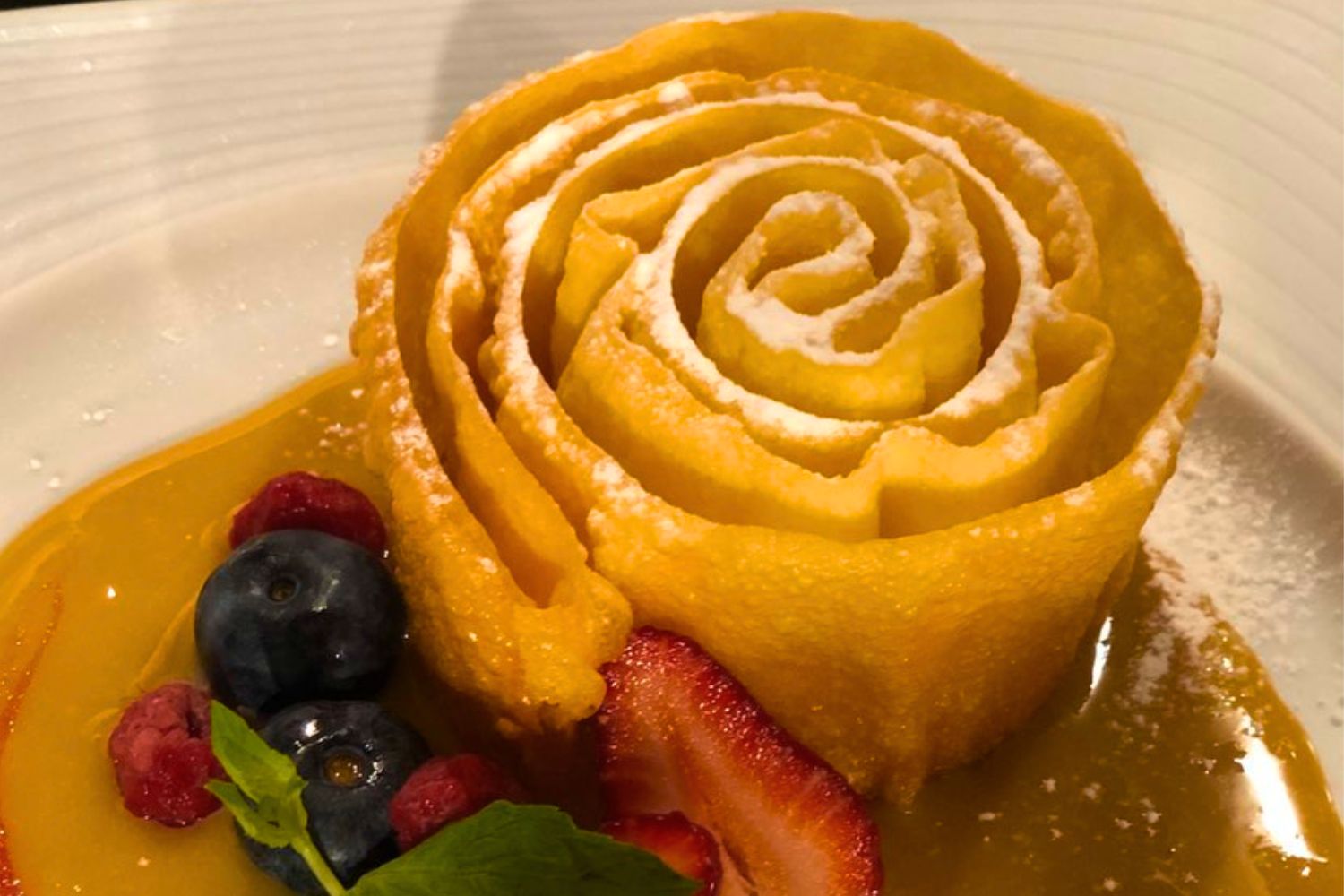 10. Chumbeque
A typical dessert from Sullana, in the Piura region and similar to nougat is the so-called Chumbeque. The sweet from Piura that is characterized by being very energizing, highly nutritious and rich in flavor.
This sweet, which is sold both by street vendors and in kiosks, warehouses, and bakeries in this part of Peru, is made from very simple ingredients. This is the case of flour, egg yolks, salt, cinnamon, sesame seeds, fig or orange honey, sugar and vegetable shortening, all of which gives it its characteristic yellow-orange colour.
You can also find fruit-flavored chumbeques such as guava, mango, lemon, as well as delicacy or chocolate. And something very important that sets it apart from other sweets is that it can be kept over time, without losing its flavor and consistency.
Note: In Chile, chumbeque is a sweet traditionally consumed in the Norte Grande regions, that is, Arica and Parinacota, Tarapacá and Antofagasta. Currently the sweet is patented in the name of Arturo Mejía Koo, grandson of a Cantonese couple who made this famous sweet for the first time and are awarded their creation.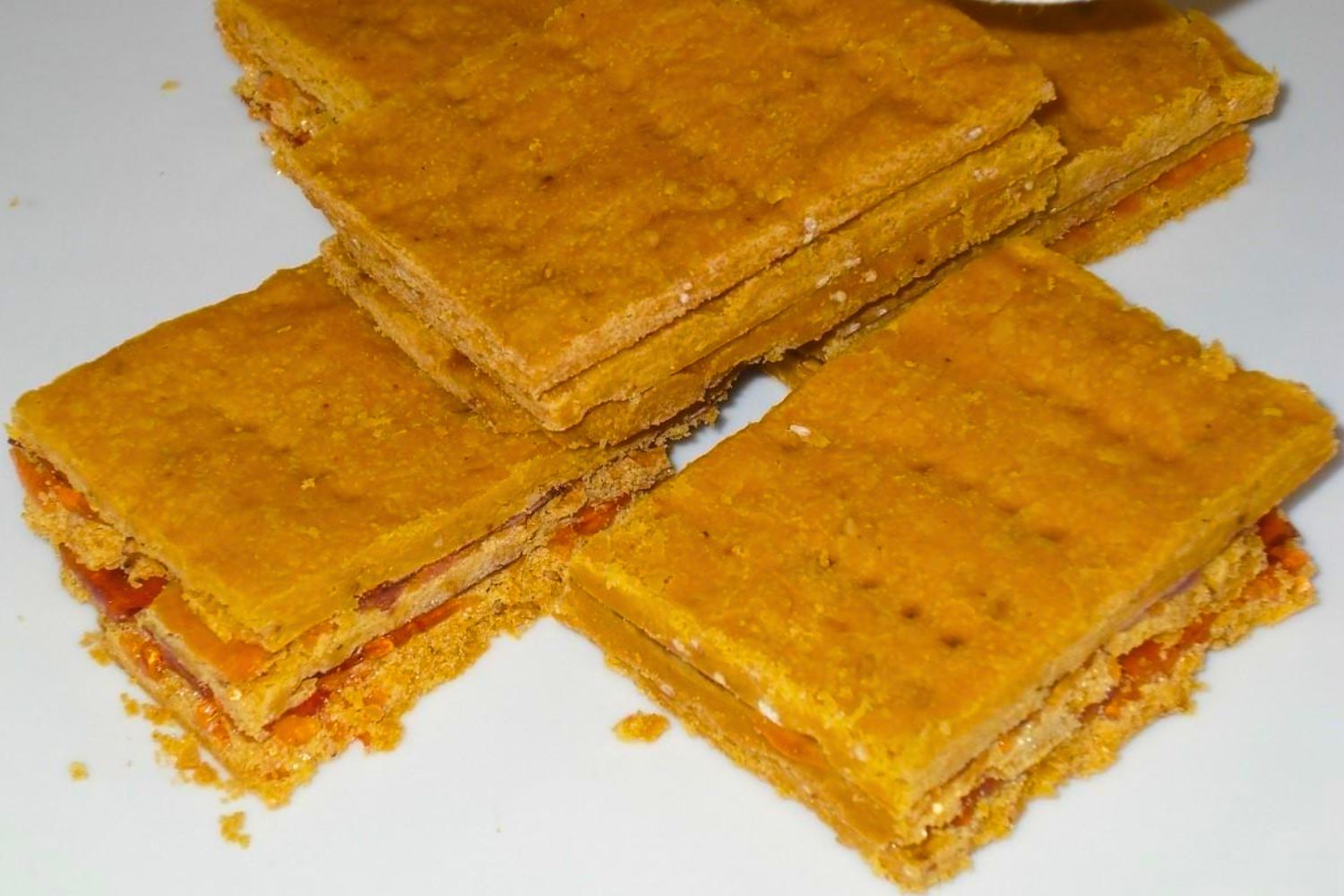 11. Champús
The name of this popular Peruvian sweet comes from the Quechua "chapusca", which means mix and from "chapuy" referring to beat, basically it consists of mixing various fruits to result in a delicious dessert.
Champús is a dessert with a semi-liquid consistency that has been sold on the streets of Lima for many years. Its recipe has been passed down from generation to generation and is a perfect companion to any Peruvian meal on national holidays. This dessert is very popular in Peru, as well as in Ecuador and Colombia. It is made with chancaca honey, cornmeal, fruits such as naranjilla, pineapple, menbrillo or soursop and seasoned with cloves and cinnamon.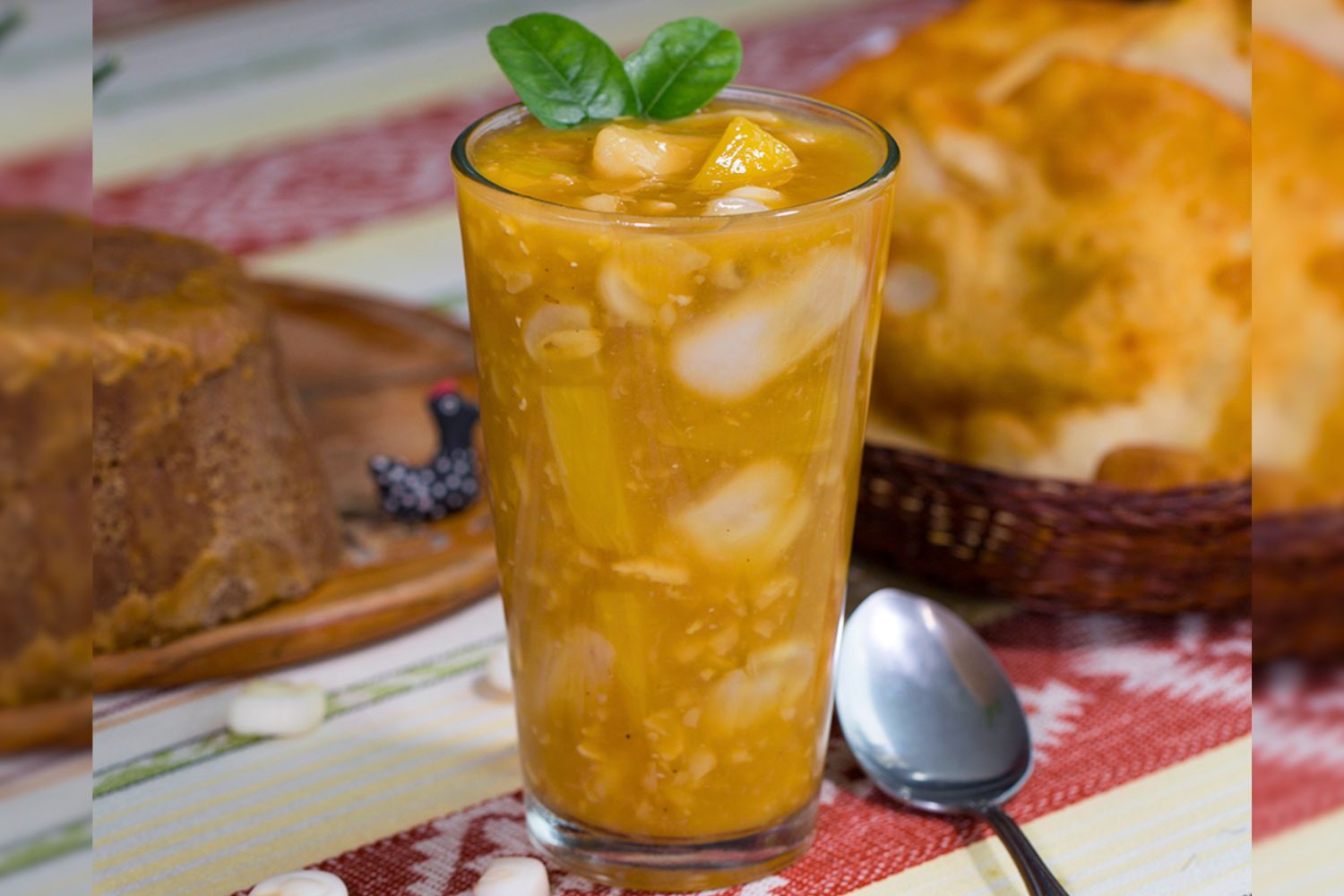 12. Strained beans
We tend to associate menestras with an unattractive flavor, which makes them our worst enemies when it comes to eating. However, the strained beans are so delicious and nutritious. This traditional sweet, typical of the coastal region and inherited from our ancestors since colonial times, was inspired by the European white manjar. However, he used canary beans or black beans as the main ingredient.
The origin of this sweet is attributed to the provinces of Cañete and, above all, to Chincha, where not only Canarian beans were cultivated but also Afro-Peruvian communities settled, who became the main brewers of strained beans. The term "colado" refers to the way the confection was prepared. After cooking the beans, they "strained" them through a tablecloth to obtain a bean paste that was later made into a dessert.
Strained beans are specially prepared on Thursdays and Fridays of Easter and Christmas Eve. The main ingredients are: black beans, brown sugar and finally, evaporated milk. Depending on the area, the ingredients may vary, since in different parts they add red wine, cloves and nutmeg. Likewise, the black bean is replaced by the canary or red bean.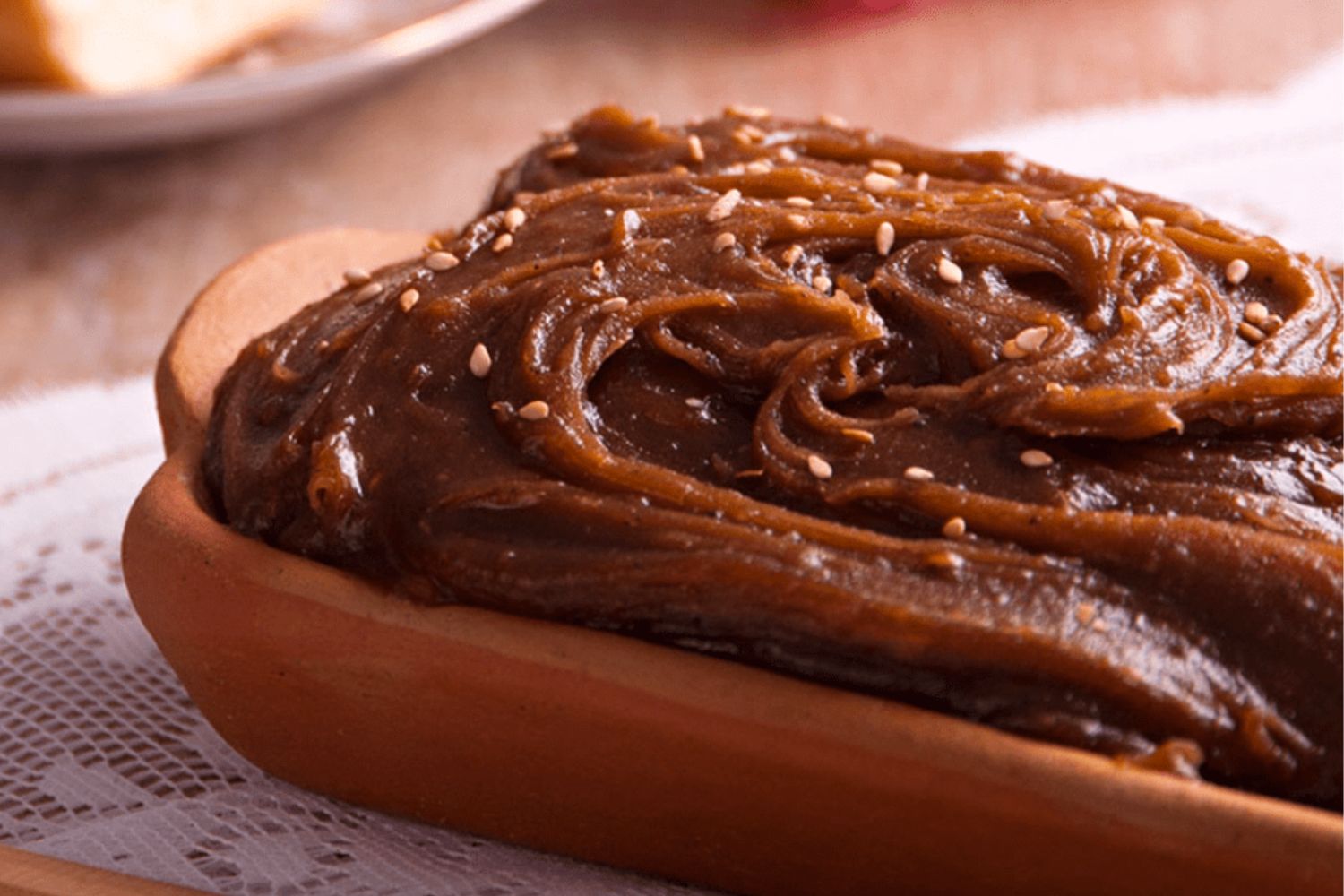 13. Ranfañote
A typical sweet of Lima gastronomy is the ranfañote, which consists only of pieces of bread dipped in chancaca honey and can be accompanied by walnuts, coconut and pecans. This sweet, the oldest in Lima, is not well known by Peruvians, but it was one of the most acclaimed in its time. Currently it can be seen in traditional and craft fairs.
In our country and throughout the continent, in Inca times, sweet flavors were not known, let alone desserts. Their diet was limited only to cereals, fruits and carob. While in Europe, the cooks of royalty, monasteries and important families had dessert on their tables. This is how the Spanish brought sugar cane to Peru during the time of the conquest and introduced desserts into the gastronomy of our country.
They began with sugarcane plantations, being the first place of cultivation in Huánuco. Later on, the fondness for the sweet that was incorporated into meals began and it was the ranfañote who originated this custom by soaking the bread in cane honey. Later, various desserts are created with Spanish recipes and the creativity of the cook.
Another story exists around the origin of the ranfañote. It is said that it was created by black slaves, by obtaining leftovers from their masters' meals and adding cane honey to these, thus giving rise to the ranfañote.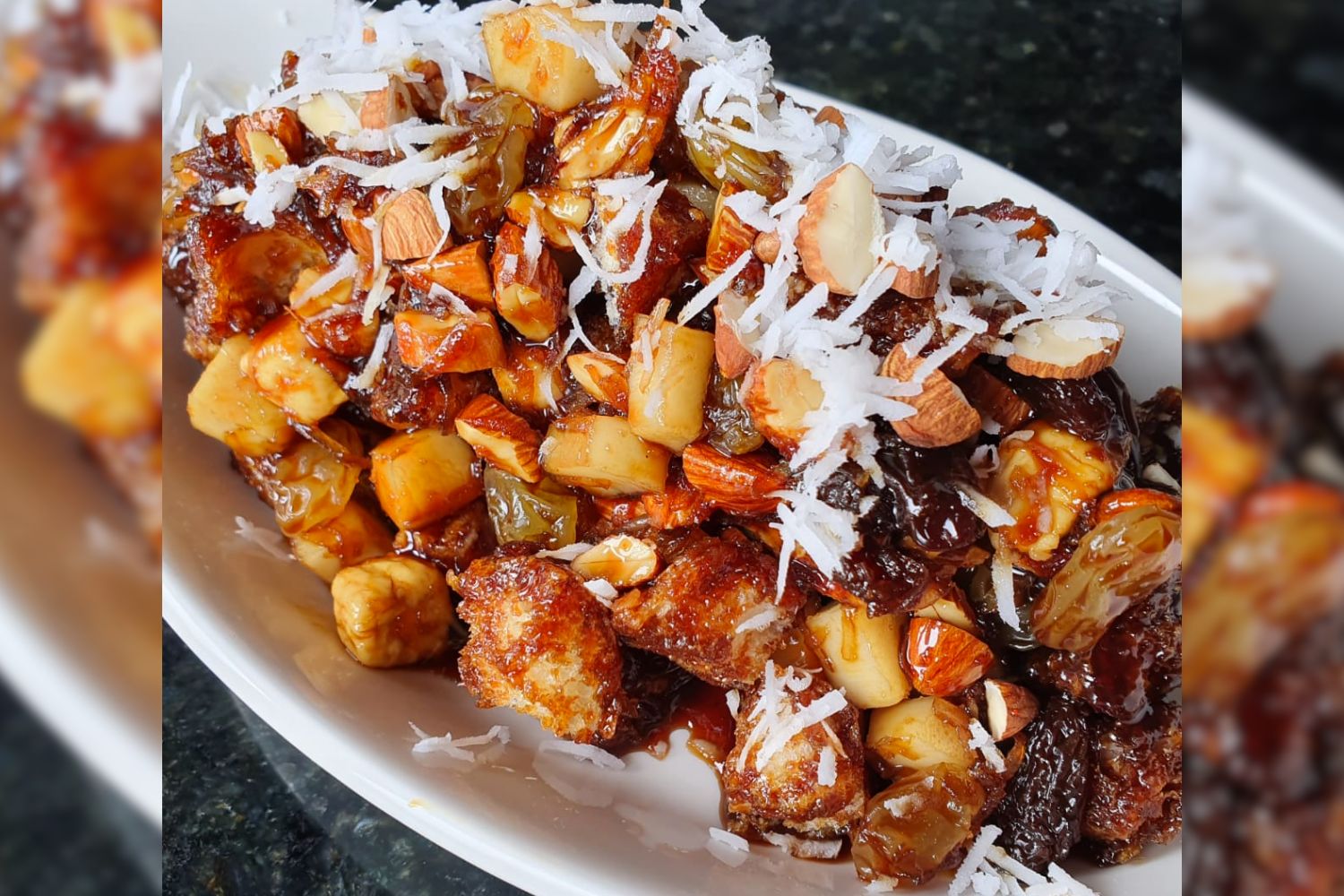 14. Golden ball
The origin of the golden ball, like almost all Peruvian desserts, dates back to colonial times and apparently originated in the convents where the nuns spent a lot of time making delicious sweets and cakes. It appeared in the 17th century. Formerly it was consumed in celebrations such as baptisms, first communion, etc.
According to the recipe book, along the route of the desserts of Peru by Elizabeth Du Bois Curcio, this delicacy was the specialty of the nuns, they used to prepare and market this dessert especially for the marriages of the Lima elite.
The golden ball is a traditional dessert of Peruvian gastronomy, specifically from the kitchen of the Peruvian capital. It consists of layers of sponge cake interspersed with apricot jam, manjar blanco and chopped walnuts. Once it reaches a certain height, it is cut into a dome and covered with manna, a paste made from the egg yolks. It is decorated with fruit figures made with manna.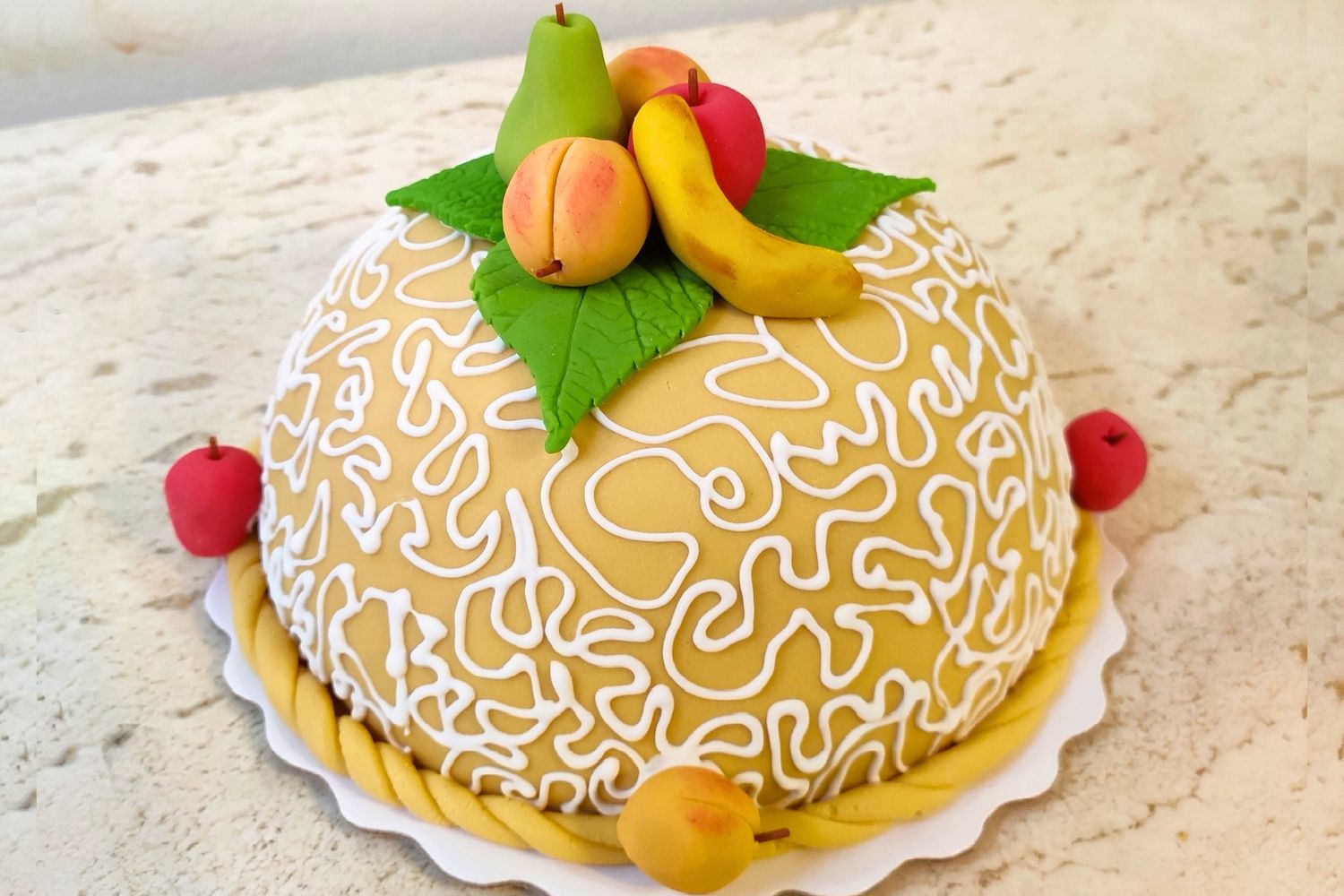 15. Humintas
Humintas are prepared in a large part of America, which began in the Andean areas. In Peru it is one of the traditional dishes that is served for breakfast, lunch and even dinner. Without a doubt, a stew that fills us with joy with the stories.
The word humita comes from the Quechia humint'a, which means cornbread, which can be prepared in a pot, microwave, steamed, and in the oven. The first record of its preparation is given in the 17th century, by the writer and historian Inca Garcilaso de la Vega in his Royal Commentaries, where he mentions the consumption of humita while he lived in Peru.
In the year 1860, we have the writer Ricardo Palma, with his Peruvian Traditions, where he reminds us of the old Lima and mentions: "At 2 in the afternoon rogues and huminteros thundered the streets", he also refers that the humita "is a species tamale or bun made from corn". Another Peruvian representative, the writer Juan de Arona in 1884, in his Dictionary of Peruvianism refers to the following: "General Pezuela says in Madrid to one of our compatriots: When you are in Lima and eat humintas, remember me."
At present, inputs such as milk, eggs, anise and butter were added to the preparation, this in order to reach a thick consistency and have the dough loose since many people usually do it in a blender since they do not have a mill. .
In Peru, recipes from the 17th century prepare the humita with ground corn and their own ingredients, and wrap it in corn flakes before being cooked. The paste is made from fresh ground corn grains, to which cheese, raisins, meat or spices such as salt, sugar, or some kind of herbs are added; This dough is then wrapped in panca and cooked in a pot with water. Depending on the ingredients added, humitas can be sweet or salty.
This food is usually prepared independently (in pots, in ovens, steamed, in the microwave) or it can be included among the foods that are included in the pachamama and the huatia. There is a variant that is prepared from ground corn, whose dough is wrapped in pancas; You can preferably bring sugar or salt; then, it is slowly parboiled.