OLLANTAYTAMBO RUINS IN THE SACRED VALLEY OF THE INCAS
Ollantaytambo ruins, a historic place, is one of the busiest tourist attractions in Cusco. This site functioned as a ceremonial center for the Incas, as well as being a control center for those who passed through the Sacred Valley of the Incas. The great walls, the watchtowers and the perfect carving of the stone walls impress all the travelers that cross it. The Construction of Ollantaytambo had a role of protecting the Sacred Valley. Due to its strategic location, it was a center of operations during the Spanish invasion. In addition, the researchers indicate that it was a place where water was worshiped. Dare to visit it!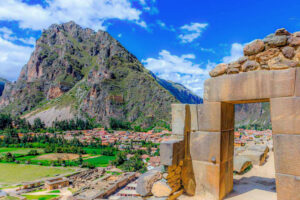 Ollantaytambo is one of the most important villages in the Sacred Valley of the Incas in Cusco. It is the only place that retains its ancient Inca urban design. Because it is a must before arriving at Machu Picchu, which is very visited. However, "Ollantaytambo" has its own charms. The main of all are its Inca archaeological remains.
The architecture of this place is comparable with that of Machu Picchu. The Inca walls, the streets, the houses and the canals are adorned by the mountainous landscapes that surround the town. In the center you can see the archaeological site of Ollantaytambo. There you will see the Inca platforms, which extend for up to 15 blocks, or the Temple of the Sun, with a fascinating stone finish. In the town you will enjoy the streets and the people who will receive you in a kind way. Visit the square and enjoy the typical costumes and the dress of the villagers; Many of them can share more about their culture, habits and economic activities. Some walk with their native animals, with which you can take the occasional photograph. You can also visit the CATCCA site museum (Andean Center for Traditional Technology and Culture of the Communities of Ollantaytambo). The establishment consists of five rooms; in each of them the vestiges of the crafts and architecture of the archaeological site are shown.
What to see in the archaeological site of Ollantaytambo?
Ollantaytambo has beautiful Inca lithic structures. Because it was the scene of hard battles between rebel and Spanish Incas in 1537, many of its buildings are damaged or destroyed. Even so, the site still retains the magic and history of many years ago. Some of the archaeological sites of Ollantaytambo are: The Royal House of the Sun, Fort Choqana, Plaza Mañay Raqay or Kuychipunku, The Temple of the Sun, The Monumental Cover, the Enclosure of the 10 Niche, The Bath of the Ñusta, The Platforms .