THE 10 BEST  SLEEPING PADS TO EXPLORE THE ANDES IN PERU
The sleeping pads should be an essential item when packing your hiking equipment. There are different materials, shapes and costs. A super important fact when buying one of the best sleeping pads is to know the benefits such as light weight, level of insulation from the cold, compactness and duration. We all know that after a long day of walking, what the body needs is to take a good rest. In this sense, a lot will depend on the weather conditions where the walk takes place, so for example you should not take a winter mat to an area where it is very hot.
If you are going to visit the Andes, specifically in Peru, its climates are very varied, from the valleys where there are temperate climates to the high peaks where there are extreme temperatures in the winter months of up to -20 C °. With these parameters it is good to take with you a good sleeping pad, that provides comfort and insulation from the cold. Sleeping surfaces are also quite irregular from flat terrain to steep or gravel fields. If you are an experienced hiker, surely you must already know the main challenges involved in embarking on a high mountain adventure, but this blog is about guiding you on the different types of mats that were tested by our mountain guides in the different hiking circuits, walks like the classics, Inca Trail to Machu Picchu, Ausangate Trek, Quelccaya Icecap Trek among others.
BEST OVERALL BACKPACKING SLEEPING PAD: THERM-A-REST NEOAIR XLITE NXT
Category: Air pad
Average Price: $ 210 USD
Weight: 12.5 oz / 378 g
Dimensions: 72 x 20 in / 183 x 51 cm
Pack size: 9 x 4 in / 23 x 10 cm
Thickness: 2.5 inches (6.4cm)
Material: Nylon, Polyurethane
Reasons to buy: Packs away small, Warm, Included pump doubles as a stuff sack, Versatile
Reasons to avoid: Some edge collapse, Expensive
The new Therm-a-Rest NeoAir XLite NXT is the best 3-season sleeping pad on the market. It has a great combination of comfort, warmth, and weight that makes it very hard to beat for backpacking. The new NXT version of the XLite is 3 inches thick, so it's a bit more comfortable than before, and it also has a slightly higher R-value. One of the best features of the XLite is its lightweight, excellent insulation and durability. Keeping the pack weight low on cross-country trips is critical, and the XLite excels in this arena.
The main drawback of previous XLite models has been the crunchy sound they make when moving. The XLite NXT is as quiet as most air pads, but few can compete with its other specs. The NeoAir XLite is a truly exceptional great backpacking sleeping pad. The NeoAir XLite NXT does tend to run narrow, so if you toss and turn, we recommend getting the wide version. It can also be noisy when you roll over so if you are a light sleeper keep that in mind, but we think for the weight and warmth, this sleeping pad is worth it.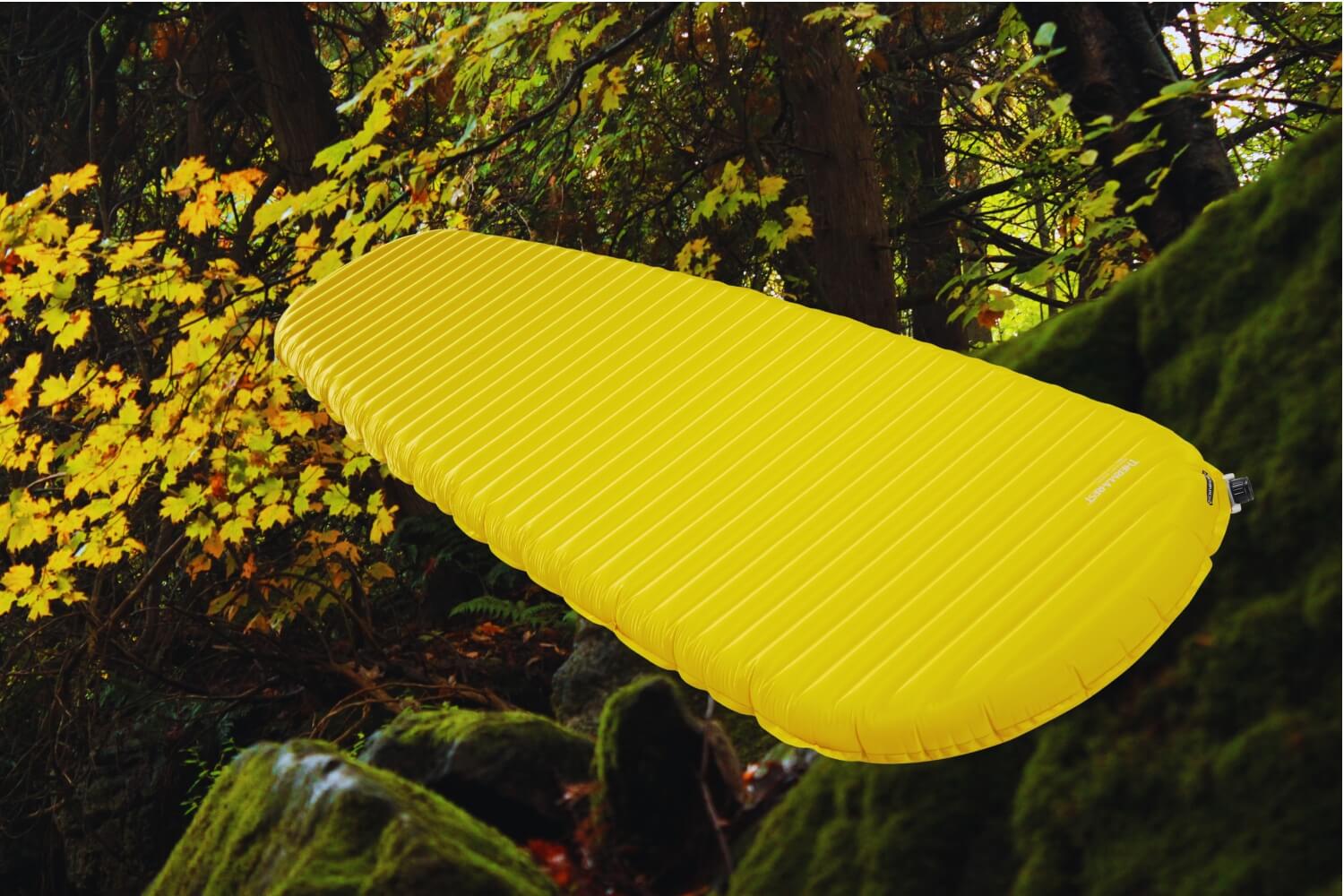 COMFORTABLE & DURABLE SLEEPING PAD: SEA TO SUMMIT ETHER LIGHT XT INSULATED
Category: Air pad
Average Price: $ 199 USD
Weight:  16.6 oz / 472 g
Dimensions (Large): 78 x 25 in / 198 x 64 cm
Packed size: 9.5 x 4.5 inches (24.1 x 11.4cm)
Thickness: 4 inches (10.16 cm)
Material: 30D / 40 D nylon with liquid-extruded TPU lamination
Reasons to buy: Lightweight, comfortable, durable, cushy, quick inflation/deflation, pump sack included
Reasons to avoid: Expensive, heavier/bulkier than some, slightly rubbery feel/sound
The Sea to Summit Ether Light XT Extreme is a nice balance of warmth, comfort, weight, and pack size. This winter sleeping pad also has a different baffle system which doesn't use verticle or horizontal ridges and instead uses dozens of single-layer air sprung cell 'bubbles' like more of a patchwork. The final thing that makes this one of the best cold weather sleeping pads is the fact that it is 4 inches thick for lots of comfort.
This pad is so thick that you can inflate it only halfway and still sleep on your side without touching the ground. Inside the plush design is a double insulating system consisting of high-loft fiberfill and reflective fabric to help trap body heat. The insulation is lightweight, compactable, and very efficient at trapping heat.
The Ether utilizes large quilted baffles throughout the entire pad. These are quite similar to the uber comfortable dual-chamber Sea to Summit Comfort Plus Pattern, but about twice the size per baffle. The highlight of this baffled quilt pattern is how effective it is at absorbing the annoying bouncy feeling we all know well when using tubular baffled air pads. While absolutely not a dealbreaker, having slightly larger outside air chambers could go a long way to reducing the feeling of rolling off/collapsing the sides when rolling around near the edge.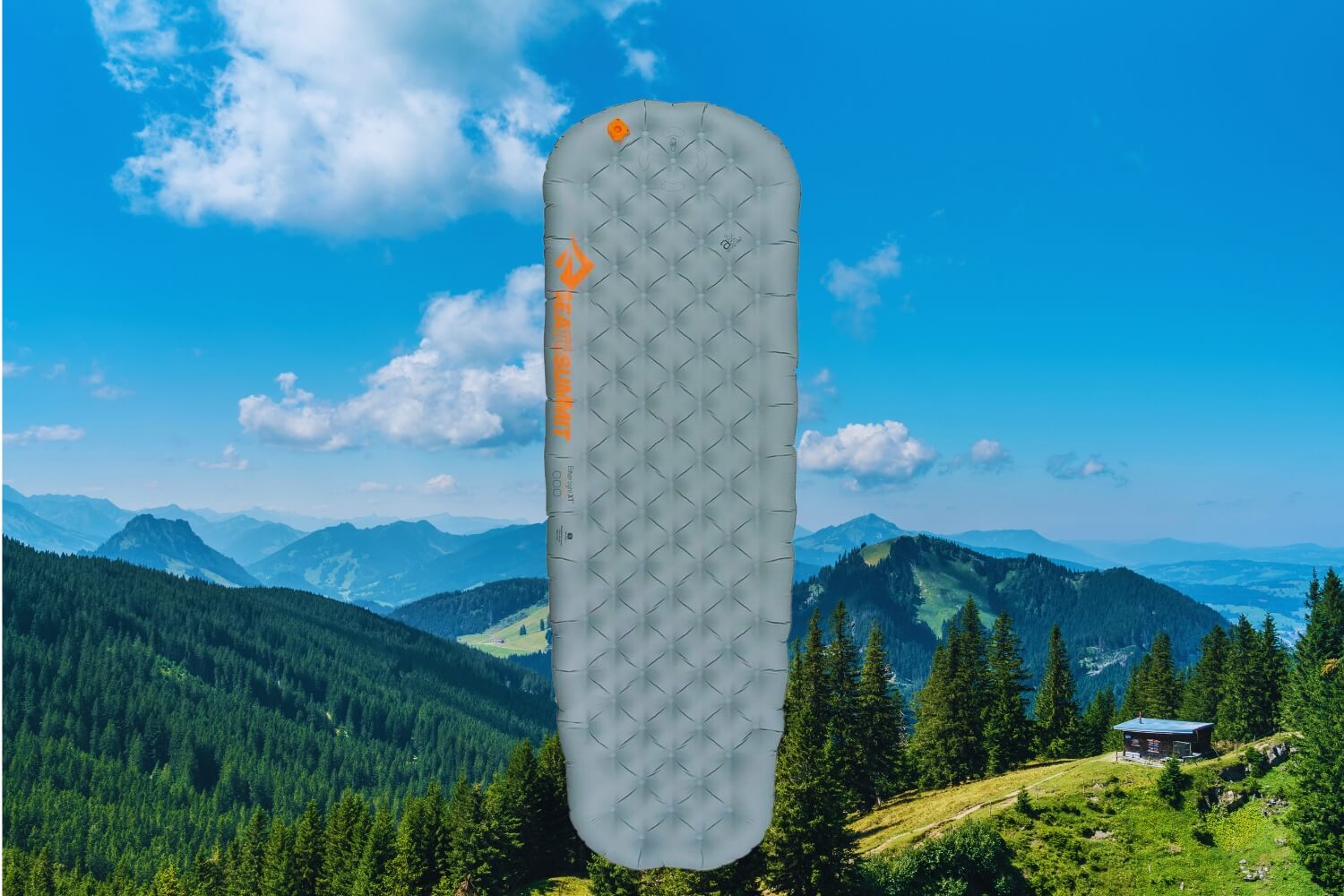 BEST LIGHTWEIGHT SLEEPING PAD: THERM-A-REST NEOAIR UBERLITE
Category: Air pad
Average Price: $ 230 USD
Weight 9.5 oz / 269 g
Dimensions (Large): 77 x 25 in / 64 x 1.96 cm
Packed size:  7.5 x 3.8 inches ( 19 x 10 cm)
Thickness: 2.5 inches (6.4cm)
Material: 15D Nylon
Reasons to buy: Surprisingly comfortable, Packs down extremely small, Easy to inflate
Reasons to avoid: Very limited insulation
As the absolute lightest insulated air mattress available, the UberLite keeps your pack featherweight on the trail. Its proprietary construction provides the critical warmth needed in the backcountry. Packable and comfy for ultralight minimalist camping and backpacking trips, the featherweight Therm-a-Rest NeoAir UberLite sleeping pad offers supportive comfort and an impressively small packed size.
NeoAir UberLite is Therm-a-Rest's lightest creation, it's very comfortable, has a tiny packed size. This helps you keep your pack weight to an absolute minimum on burly, high-mileage adventures. Like most ultralight gear, the UberLite is made with thin materials, so you'll want to be careful with it to avoid punctures. You have to  clear sharp rocks and pokey sticks from under your tents, and you will carry repair tape just in case. This sleeping pad is fundamentally more fragile. Instead of a 30D ripstop nylon, it only uses 15D nylon for the shell.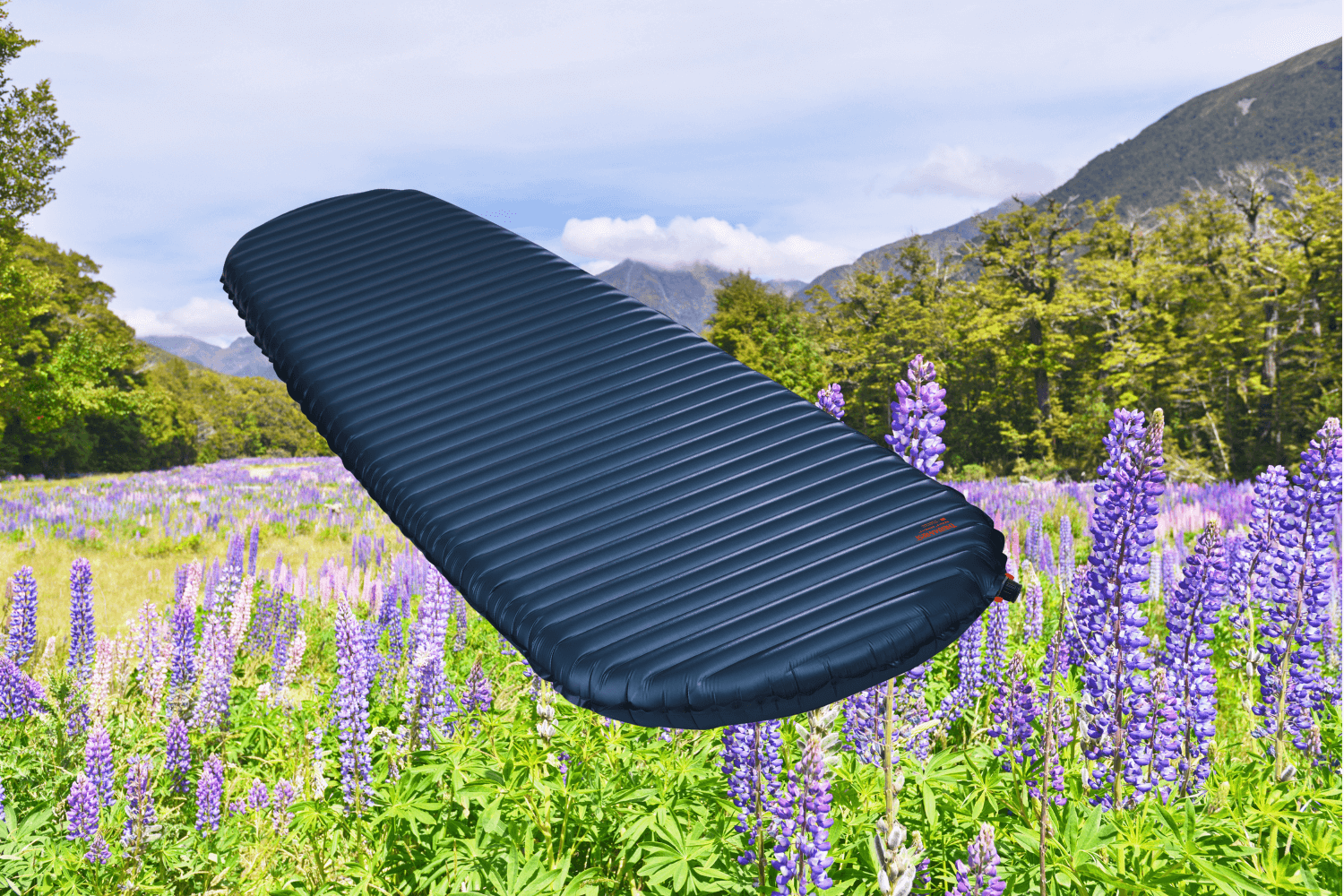 BEST BUDGET AIR PAD FOR BACKPACKING: BIG AGNES INSULATED AIR CORE ULTRA
Category: Air pad
Average Price: $ 70 USD
Weight 30.6 oz / 870 g
Dimensions (Large): 25 x 78 in / 63 x 1.98 cm
Packed size:  6.7 x 14.9 inches (17 x 38 cm)
Thickness: 3.5 inches (9 cm)
Material: Durable, lightweight nylon double ripstop fabric
Reasons to buy: Very thick, Well-insulated, Quilted sleeping Surface, Easy to inflate
Reasons to avoid: Relatively heavy
Like the Air Core Ultra, the Insulated Air Core Ultra offers unparalleled comfort at an incredible price. This light and compact three-season insulated pad has been completely redesigned from the inside out and R-Value rated by a third party. Designed with a smooth and stable sleeping surface made with durable nylon rip-stop and larger outside tubes to cradle you on top. Warm and highly packable insulation on top and bottom make this air pad lighter on your pack than most in its class. Save your breath for the adventure ahead, and use the included upcycled pad inflation sack to inflate. THERMOLITE® Insulation working with a heat reflective film traps body heat and reflects it back at you to prevent heat los. Aviation grade TPU lamination technology for weld strength and ultimate dependability.
High volume valves with micro adjustments make for fast inflation/deflation and easy fine tuning to your preferred firmness, 3.25" thick pad with 3.50" larger outer chambers keep you comfortably cradled in the middle of the pad. Antimicrobial treatment inside the pad prevents microorganism growth. Protective storage sack, replacement valve seal and 3M repair patches included, individually inflated and tested at our factory ensuring 100% quality performance. Pad Inflation Sack made from upcycled excess pad material included. (Color will vary depending on excess material). When sleeping on frozen ground or snow we recommend adding a closed cell foam pad.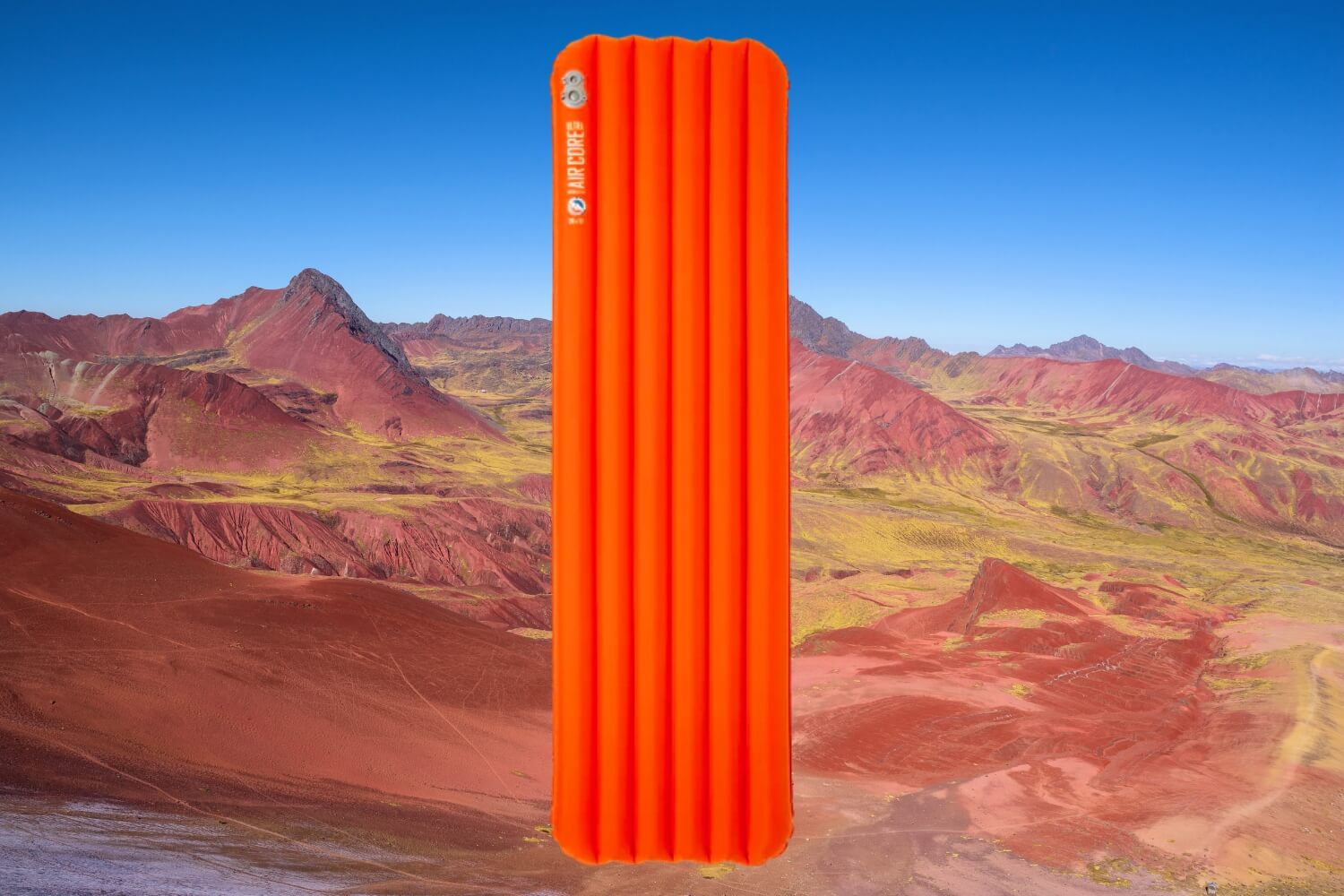 BEST FOAM SLEEPING PAD: NEMO SWITCHBACK ULTRALIGH
Category: Closed-cell foam
Average Price: $ 55 USD
Weight  14.5 oz / 415 g
Dimensions (Large): 72 x 20 in / 1.83 x 51 cm
Packed size:   20.0 x 5.0 x 5.5 in / 51 x 13 x 14 cm
Thickness:  0.9 inches ( 2.28 cm)
Material: PE Foam
Reasons to buy: More durable than air pads, affordable, quick to pack/unpack, doubles as a sit pad
Reasons to avoid: Not as comfortable as air pads, bulky, not warm enough for sub-freezing temps
With Switchback, NEMO has redefined the classic closed-cell foam sleeping pad to deliver more thickness and plush comfort in an industry-leading packed size. This pad features hexagonal nodes molded with our dual-density Axiotomic foam to create Hypnoelasti  zones that conform to your body in a perfect balance of comfort and support. Switchback also leverages a metallized thermal film layer to efficiently reflect heat back to your body. Blend that with 15% more heat-trapping space, and this innovative new design is able to deliver a warmer, more comfortable sleep than other pads in this category.
More precise tooling eliminates wasted space between folded layers, enabling taller nodes to nest tighter for a smaller packed size. Taller nodes create more space for uncompressed sleeping bag insulation, trapping more warmth around your body. Premium dual-density Axiotomic foam offers a supple layer for comfort and a resilient layer for support. Metallized thermal reflective film reflects heat back to your body and is protected by a durable film. Axiotomic dual-density foam is optimized for well-balanced compression and abrasion resistance.
Extremely easy to use and delivers comfort and security for all types of adventure, from mountaineering and thru-hiking to camping on a budget. Folding panel design allows for lightning-fast, easy setup and packing. Use as a standalone pad for ultralight durability and comfort or pair with another pad for extra insulation and comfort in extreme cold conditions. Protected by the NEMO Lifetime Warranty.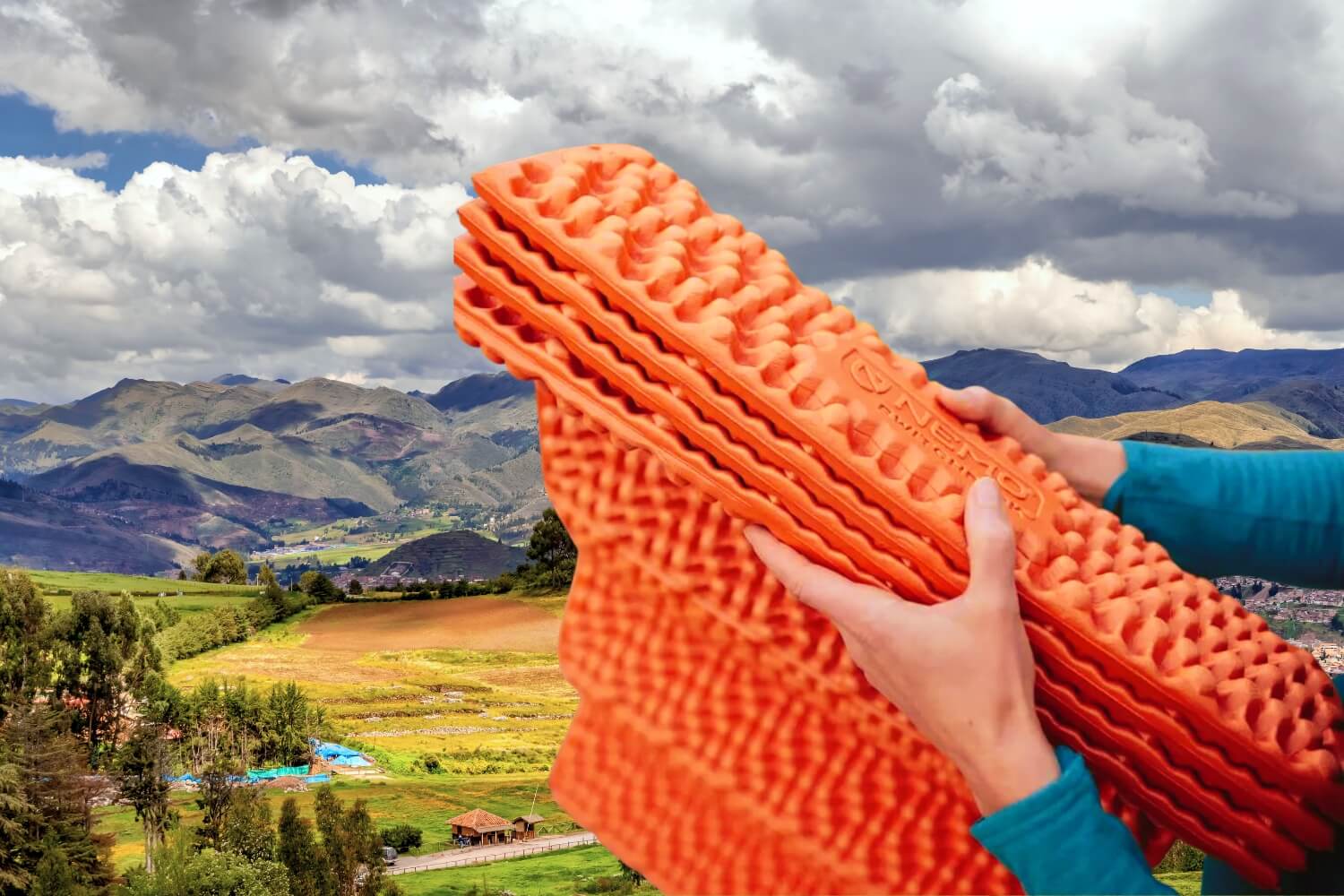 AFFORDABLE & WARM 3-SEASON SLEEPING PAD: REI HELIX INSULATED AIR
Category: Air pad
Average Price: $ 159 USD
Weight  29 oz /  822 g
Dimensions (Large): 78 x 24 x 3  in /  1.98 x 61 x 8 cm
Packed size:  10  x 5.5   in /  25 x 13.9 cm
Thickness:  3 inches ( 7.62 cm)
Material: 30 denier ripstop polyester
Reasons to buy: Warm, affordable, comfortable, quick inflation/deflation
Reasons to avoid:  Too heavy and bulky for ultralight enthusiasts
Three-inch thickness and an even, gridded weld pattern gives you a flat, mattresslike surface thick enough to keep you from touching the ground. Dual reflective layer insulation technology gives you a warm night's sleep without adding weight to the pad. Dual custom valves make inflation and deflation quick and easy, and work seamlessly with the included pump sack. New interior baffle design and weld shape reduce internal stresses which improves pad durability and longevity.
Softly tapered shape provides maximum sleeping surface while fitting easily in trapezoidal tents. This pad has an R-value of 4.9, which makes it best for adventures in cold weather; it provides considerable insulation from ground temperatura. Also a good choice for those that just prefer a warm night's sleep no matter what. Includes inflation pump sack, field repair kit and stuff sack.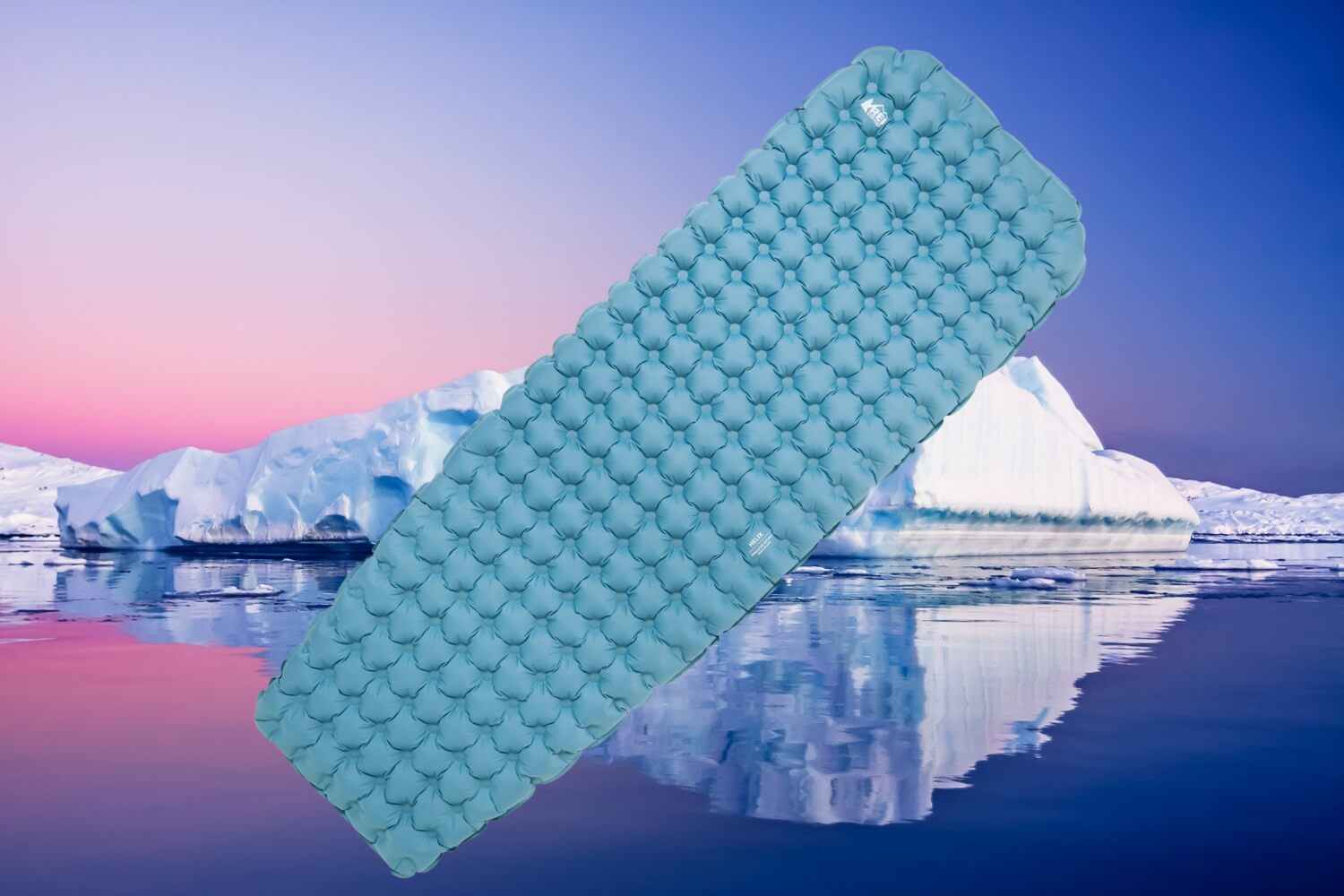 BEST SLEEPING PAD FOR COLD WEATHER: THERM-A-REST NEOAIR XTHERM NXT
Category: Air pad
Average Price: $ 240 USD
Weight   20 oz /   570 g
Dimensions (Large): 77 x 25 x 3  in / 1.96  x 64 x 7.6 cm
Packed size:    x    in /   x  cm
Thickness:  3 inches ( 7.6 cm)
Material:  30D rip HT Nylon / 70D Nylon
Reasons to buy: Exceptional warmth-to-weight ratio, compact for a 4-season pad, comfortable, durable, pump sack included
Reasons to avoid:  Expensive, No double-wide option available
The Therm-a-Rest NeoAir Xtherm is the best winter sleeping pad. It is one of the warmest camping mats and, amazingly, also the lightest with the second smallest pack size. So it offers the best warmth-to-weight ratio and is among the top two easiest to pack. With an R-value of 6.9, the NeoAir Xtherm is suitable for freezing temperatures down to -26 F / -32 C and why it's one of the most popular 4-season sleeping pads out there. The insulation uses strands of thermal foam layered between a Triangular Core Matrix of baffles to provide constant warmth with no cold spots. Out of sight on the inside of the sleeping bag, there is also a reflective thermal layer called Thermacapture to help trap warm air generated from body heat.
You can choose between two types of inflation valve; however you should use a pump where possible to avoid any moisture build-up on the inside. The one thing that it lacks in comparison to the other options is depth, which for side sleepers is a big deal. 2.5 inches is plenty deep to sleep on your side it's just that this is on the lower end of the spectrum of what is available.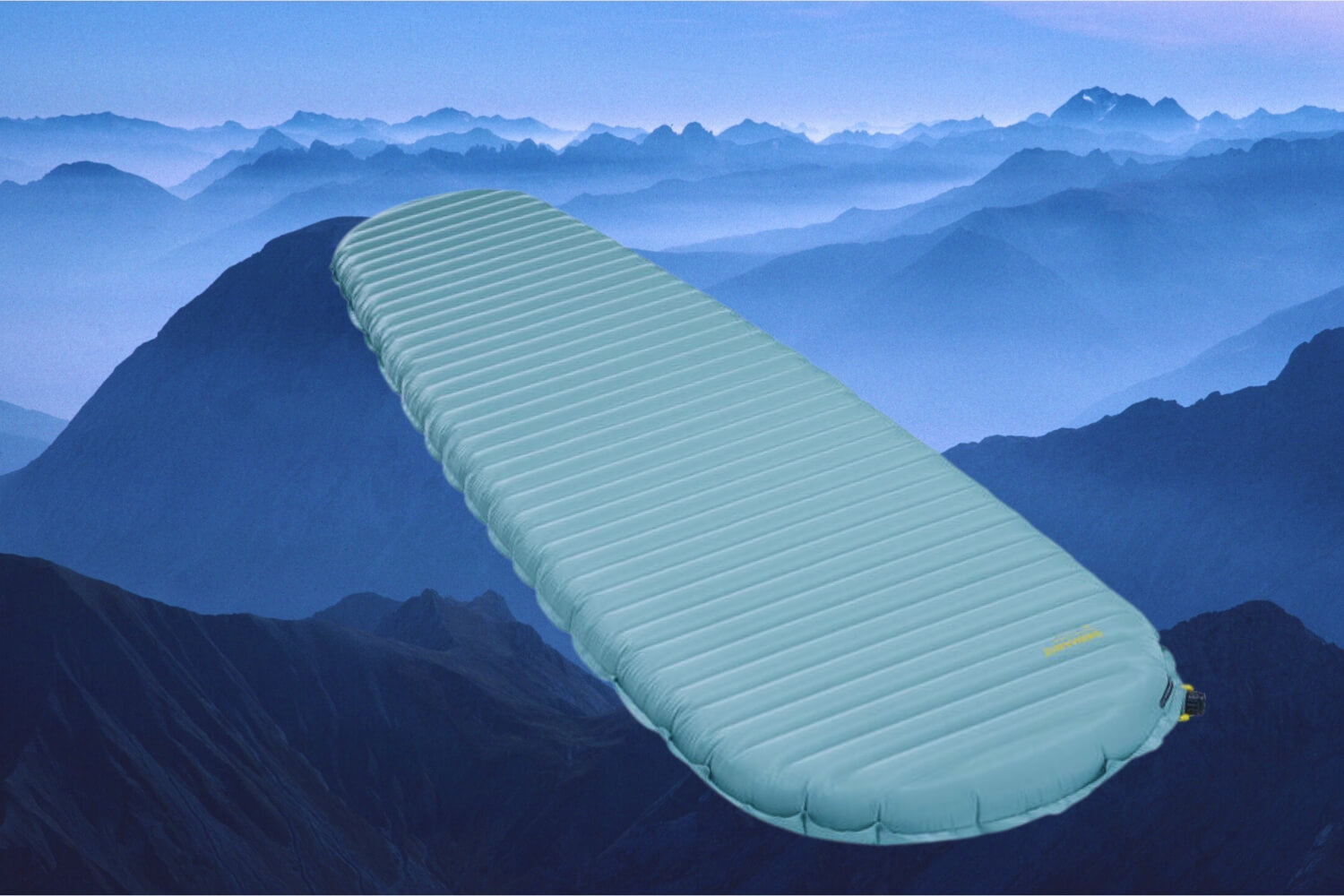 BEST SLEEPING PAD FOR SIDE SLEEPERS: SEA TO SUMMIT COMFORT PLUS INSULATED
Category: Air pad
Average Price: $ 249 USD
Weight    36.9 oz / 1.45 kg
Dimensions (Large):  79 x 25 in /   201 x 64 cm
Packed size:   5 x 10 in / 12 x 26  cm
Thickness: 2.5 inches (6.4 cm)
Material:  30D / 40D nylon with anti-microbial liquid-extruded TPU lamination
Reasons to buy: Warmer, comfortable, durable, quick inflation/deflation.
Reasons to avoid:  Slightly rubbery feel/sound, heavier than some.
Thickness isn't the key factor for sleeping pad comfort, the number of points of suspension is. The air sprung cell sleeping pads support your body weight with hundreds of individually air-filled springs. The supplied stuff sack features an integrated Airstream Pump which will quickly and easily inflate the sleeping pad. This means no hard work and dizziness for you, and practically no condensation moisture inside the pad. This air sleeping pad has a tested R-Value of 4, which is enough insulation for 3-season comfort. Midwinter campers may want to add a second insulating layer.
At just a little over 1.5 lbs, this sleeping pad is likely too heavy for warm-weather backpacking. However, the little extra weight might be worth it when backpacking in colder environments. Exkin Platinum insulation reflects radiant heat while Thermolite insulation prevents convective heat loss. The dual-chamber design means there's no top-to-bottom air movement, which reduces warmth transfer from the upper to the lower side.
Tough 30D/40D face fabric and Sea to Summit's liquid-extruded lamination is quiet, durable and extremely reliable. Anti-microbial treatment added to the TPU lamination formula prevents internal mold growth. PillowLock system prevents your Sea to Summit Aeros Pillow from slipping. Comes with a stuff sack which doubles as a pump, a repair kit with six self-adhesive patches and a spare valve insert. Airstream Pump/Stuff Sack can be used to inflate Aeros Pillows – turn the inflator bag inside out; the nozzle will fit the mini pillow valve.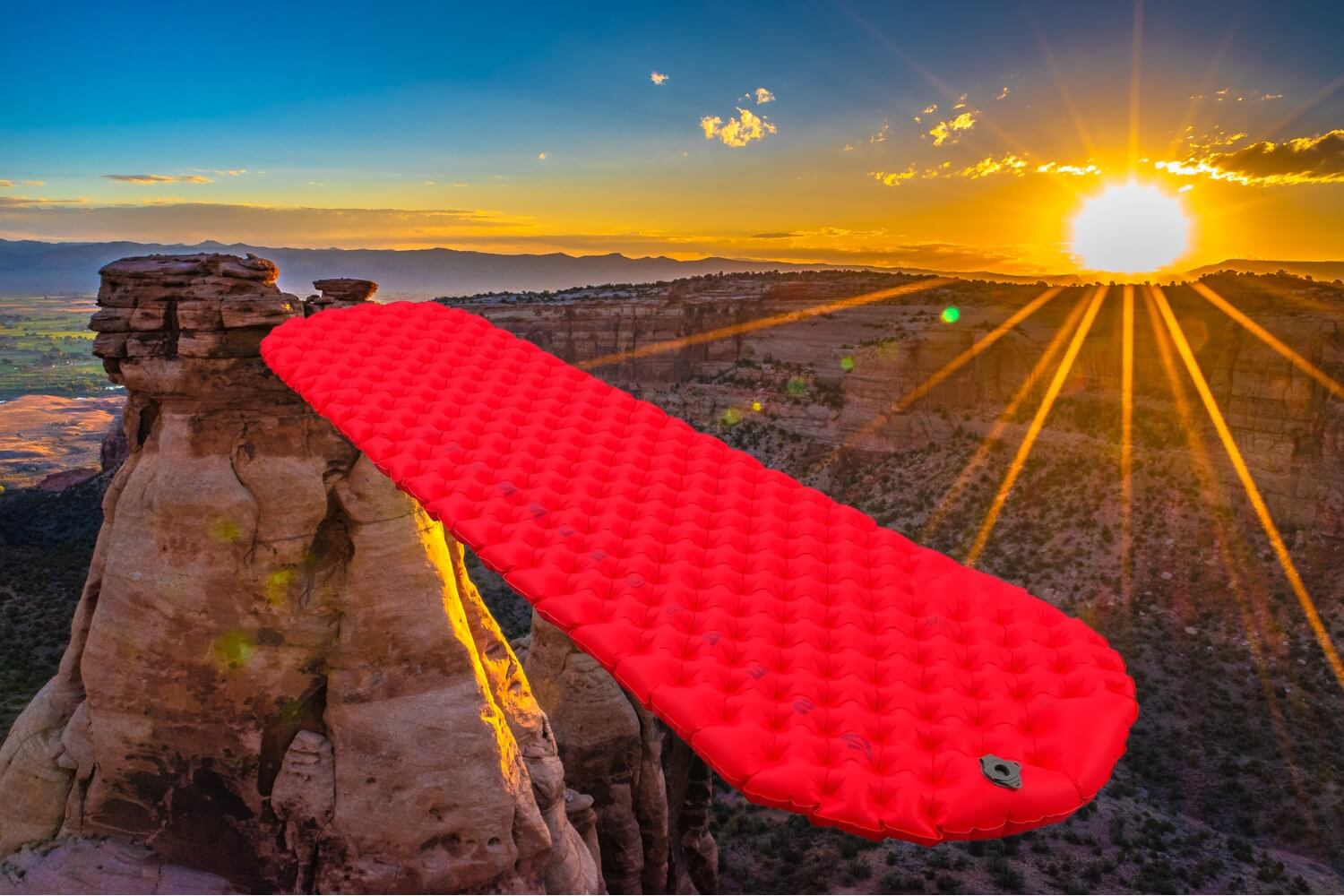 BEST MOUNTAINEERING SLEEPING PAD: NEMO TENSOR ALPINE ULTRALIGHT
Category: Air pad
Average Price: $ 280 USD
Weight    27.16 oz /  770 g
Dimensions (Large):  76 x 25 in / 1.93  x 64  cm
Packed size:   9.5 x 3.5 in / 24 x 9  cm
Thickness: 3 inches ( 7.6 cm)
Material:  PU Polyester
Reasons to buy: Super comfortable, clever design, convenient size
Reasons to avoid:  Expensive, less durable than some
This pinnacle mountaineering pad offers lightweight, compact, extreme warmth without sacrificing comfort. Three layers of suspended metalized film and a unique construction efficiently retains your own body heat. Tensor Alpine brings warmth and comfort to cold weather camping. Whether at base camp or high on the mountain before a summit push, the combination of compact size, light weight, and warmth cannot be beat.
A zero-profile, multifunctional, micro-adjustable valve offers convenient inflation and fast deflation. The included Vortex pump sack provides fast and easy inflation without introducing moisture into your pad. Spaceframe baffles are low-stretch trusses that provide greater stability and point deflection resistance than competitors. Tensor Alpine's unique construction sleeps quieter than other pads.
Ideally suited to backpackers or weekend wild campers who want a sleeping pad that's lightweight but also warm enough to see them through some cold nights, the NEMO Tensor Insulated mat is a great pick. With an R-Value of 3.5, it'll be able to get you through all but the most extreme of winter nights in the Andes. The mat has an interesting quilted construction, mixing both horizontal and vertical baffles (the horizontal ones being slightly more prominent) and this results in a very comfortable 3-inch platform that doesn't collapse too much with any pressure at the sides.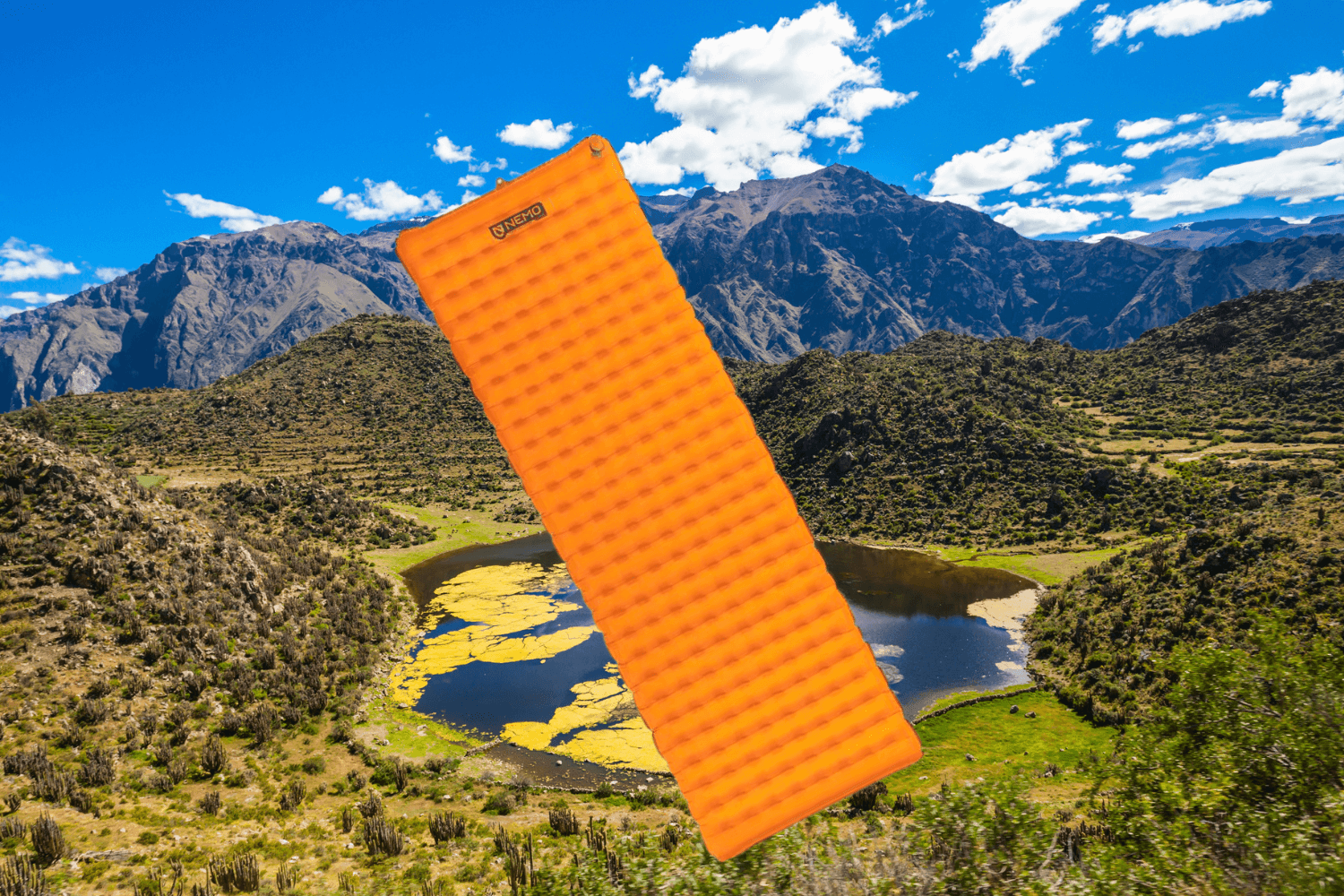 BEST DOUBLE  SLEEPING PAD: KLYMIT INSULATED DOUBLE V
Category: Air pad
Average Price: $ 180 USD
Weight   52.8  oz /  1.497 g
Dimensions (Large):  74 x 47 in / 1.88  x 119  cm
Packed size:   12 x 7 in / 30 x 18  cm
Thickness: 3cin ( 8 cm)
Material:  75D polyester
Reasons to buy: Affordable, wider, more durable than some
Reasons to avoid:  Not as warm as some, can bottom out when shifting around, slow deflation, heavier & bulkier than some.
The V-shaped design delivers support and comfort no matter how you sleep ; on your side, stomach or back. Lightweight, compressible and durable, advanced synthetic insulation in the chambers slows the transfer of air between the top and bottom halves of the pad for improved thermal performance. Integrated into the patterning and construction, they provide a secure, comfortable sleep by centering you on the pad and inhibiting air movement while tossing and turning.
Unlike traditional pads that flatten the bag's fill, Deep Welds create expansion zones that allow your bag to fully loft beneath you for improved thermal comfort. Permeates the inside laminate to inhibit the growth of microorganisms, including fungus and bacteria, that can cause odors and material damage. Patch included for emergency repairs.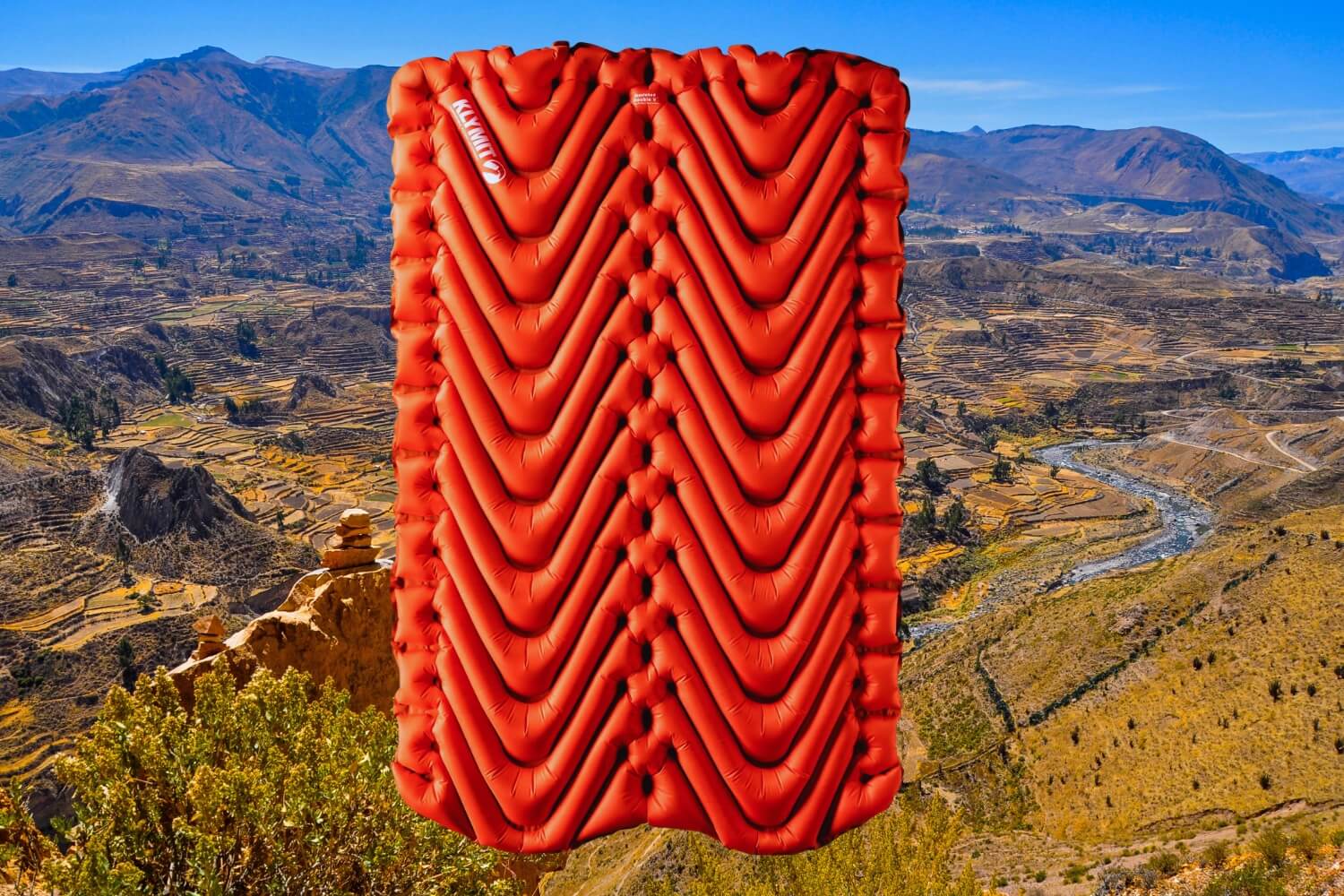 WHY DO YOU NEED A SLEEPING MAT?
A sleeping pad plays two important roles in your backcountry sleep system: keeping you warm and helping you sleep more comfortably. If you sleep directly on the ground, even in summer, it will absorb your body heat quickly. Even the best sleeping bag won't do much to insulate you from the ground, as the insulation compresses under you.
However, the air or foam inside your sleeping mat acts as a strong insulating layer to prevent heat from being absorbed out of your body and into the floor. Having the right sleeping pad is key to staying warm in a tent. Of course, there's more to sleeping comfortably than just being warm enough. The sleeping pads also give you a soft surface to lie on so you don't end up with severe pressure points or neck pain when you wake up.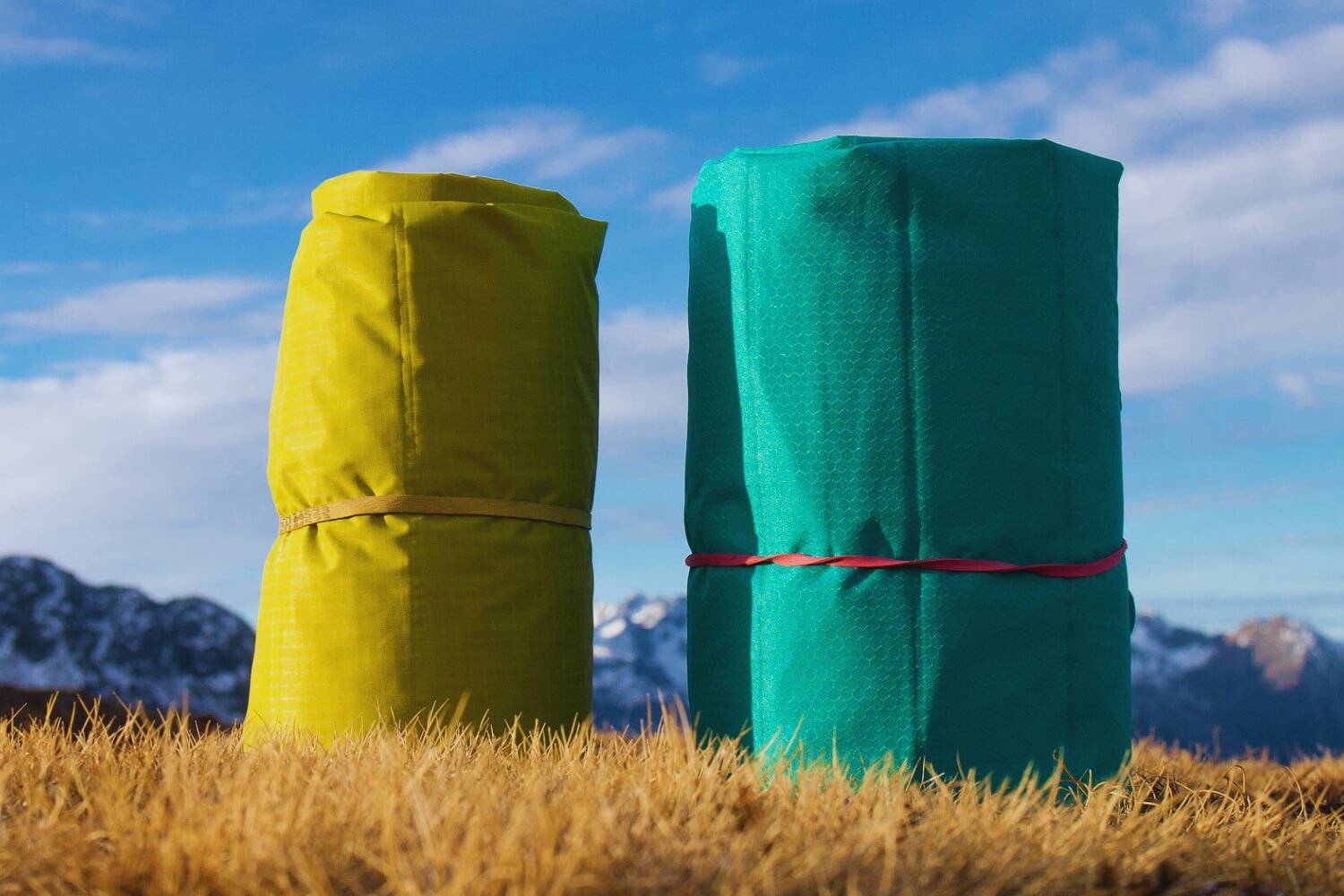 HOW TO CHOOSE A MAT TO SLEEP ON YOUR SIDE
The main thing to consider when choosing a sleeping mat is its R-value and its weight.
R-value
R-values are to sleeping mats what temperature ratings are to sleeping bags. They indicate how insulated a sleeping mattress is and what kind of conditions it is suitable for. Sleeping pads with an R-value in the range 1-3 are not very insulating and should only be used for summer camping. If you plan to backpack or hike in early spring or late fall, look for a sleeping pad with an R-value of at least 4. Camping in the snow or in the colder months when the ground is frozen requires a sleeping pad. much more secluded. Look for pads with an R value of at least 6 for cold conditions. Anything less and you will be able to feel your body losing heat to the ground throughout the night.
Weight
Your mattress won't be the heaviest part of your sleeping kit, but every ounce counts. There are many ultralight sleeping mats that weigh 0.75 pounds (12 ounces) or less. Generally, the thicker pads are more comfortable for side sleeping and weigh around 1 lb (16 oz). If you have trouble sleeping in the backcountry, the extra few ounces may be worth it for the added comfort they provide.
Durability
One of the big fears most people have when using an inflatable sleeping pad in winter is the fact that a puncture could render it unusable. Something you can look for is what materials are used and specifically what dernier fabric. The denier of a fabric describes the thickness of the fibers, which can help you determine the toughness. For example, many lightweight down jackets will be priced as low as 10D fabric, while you'll see many tents using 200D fabric and up. We found that the 75d fabric on the underside of your mat provides more than enough durability and protection from sharp surfaces.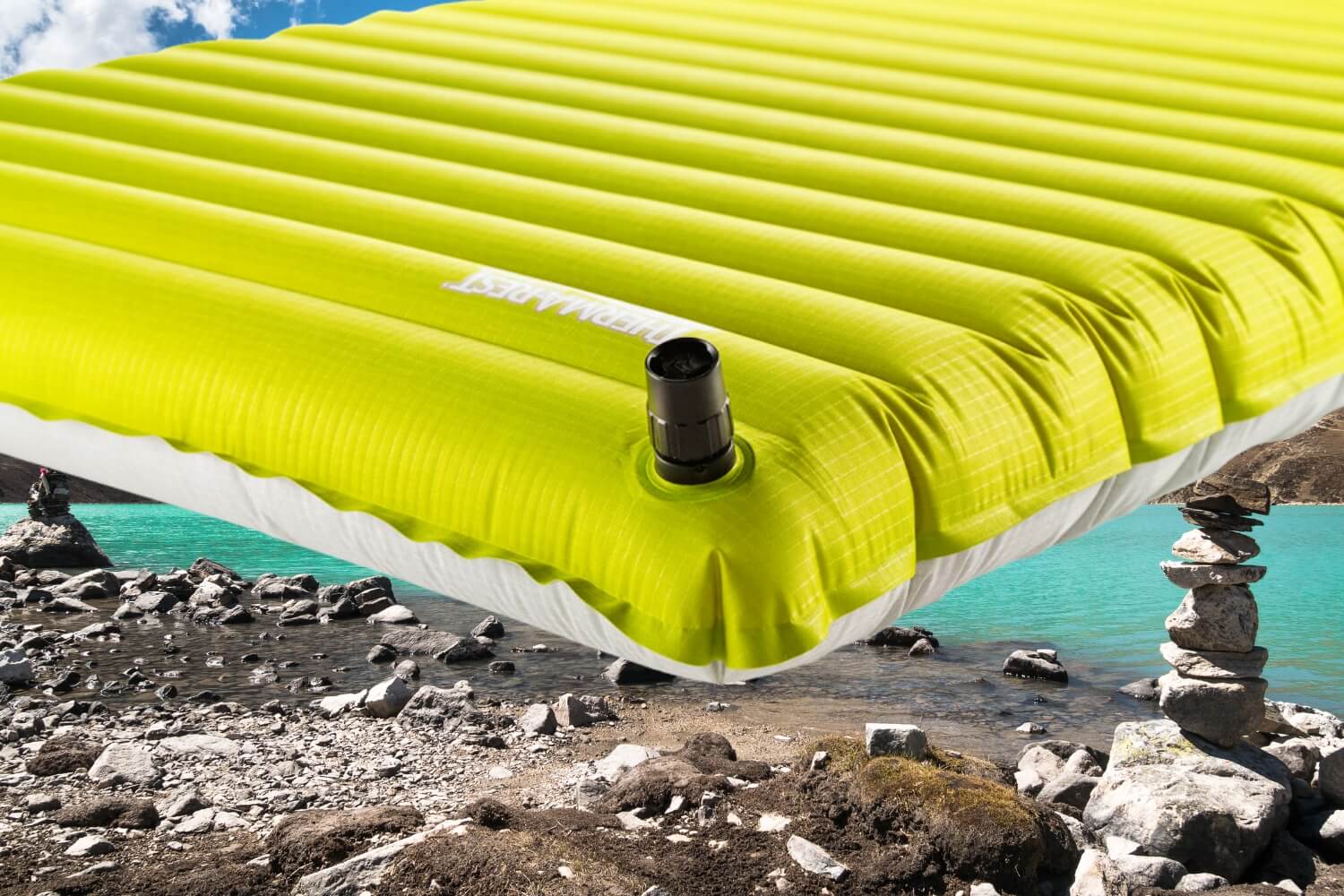 Thickness
Inflatable sleeping pads range from one to four inches thick, and a thicker pad will offer additional comfort if you sleep on your side. The downside to a thicker cushion is that they take longer to inflate by mouth. If you sleep on your back and tend to lie still throughout the night, then you might be fine with a thinner pad. Closed cell foam ear cushions tend to be thinner, typically less than 1 inch thick.
Length and width
To reduce weight, sleeping mats are getting smaller and smaller. In fact, some sleeping pads now come in 3/4 length, which means your lower legs and feet will dangle. Many also have a tapered or mummy-shaped design where the head and foot are narrower than the rest of the pad. While it varies by brands, a regular-size sleeping mat is about 72 inches long by 20 inches wide, and most brands make their mats in various sizes to accommodate people who are shorter, taller, or with wide shoulders. If you move around a lot while you sleep, you may want to purchase a wide sleeping mat.
Packed size
This is one area where sleeping pads have made some serious strides. Some sleeping pads these days are smaller than a bottle of Nalgene when packed, which means they take up a lot less space in your bag than they used to. For backpacking, you'll want something that packs down to around 4 to 5.5 inches by 8 to 11 inches. Of course, you can use something bigger, but we only recommend it for shorter trips or if you are dividing the equipment between your partner or camping partner.
OTHER FEATURES
One way valves
Many of the newer sleeping pads, like the Sea to Summit Ultralight Insulated Sleeping Pad, have one-way valves. That means when you're inflating them, air can't get out of the valve, making them easier to inflate. Then when you want to deflate it, there's a separate valve that you open where the air escapes.
Self inflating
There are some pads on the market that are self-inflating. Therm-a-Rest ProLite Plus is one of them. If you choose to purchase a self-inflating pad, you should be prepared that after some use, the pad will not inflate itself like it used to. At that point, you'll end up inflating it with your mouth like the rest, but self-inflating is a nice feature while it lasts.
Integrated Pump
Many newer sleeping mats come with a pump built into the bag. Basically, you fill the pump bag with air and push or roll that air into the sleeping pad for easy filling. This adds a few ounces, but normally this isn't much of a problem.
TYPES OF BACKPACK MATS
Inflatable (air) mattresses
Are the sleeping pad of choice for most backpackers. They are by far the most comfortable and can pack down to the size of a Nalgene or smaller. Top inflatable pads can weigh less than a pound and offer enough insulation for cold-weather camping. However, air cushions can also be expensive, running into the hundreds of dollars. Durability can be an issue, as a single puncture can render them useless. However, there are repair kits that you can use to patch holes.
Closed Cell Foam (CCF)
Cushions do not need to be inflated. They are as durable as possible and tend to be substantially cheaper than any other type. However, they are bulky to carry around and don't offer much in the way of comfort. They are best for trips in hot climates where you will be sleeping on soft ground. Some backpackers also use closed cell foam pads under an air pad for added durability or warmth on winter trips.
The self-inflating mattress
By combining open cell foam and a space for the pad to expand and fill with air, brought convenience, decent durability and comfort. Compared to air cushions, self-inflating options are more resistant to punctures, and you still have some padding if you go flat in the middle of the night. The negatives are that the foam adds more weight and doesn't pack down as small as an equivalent air pad.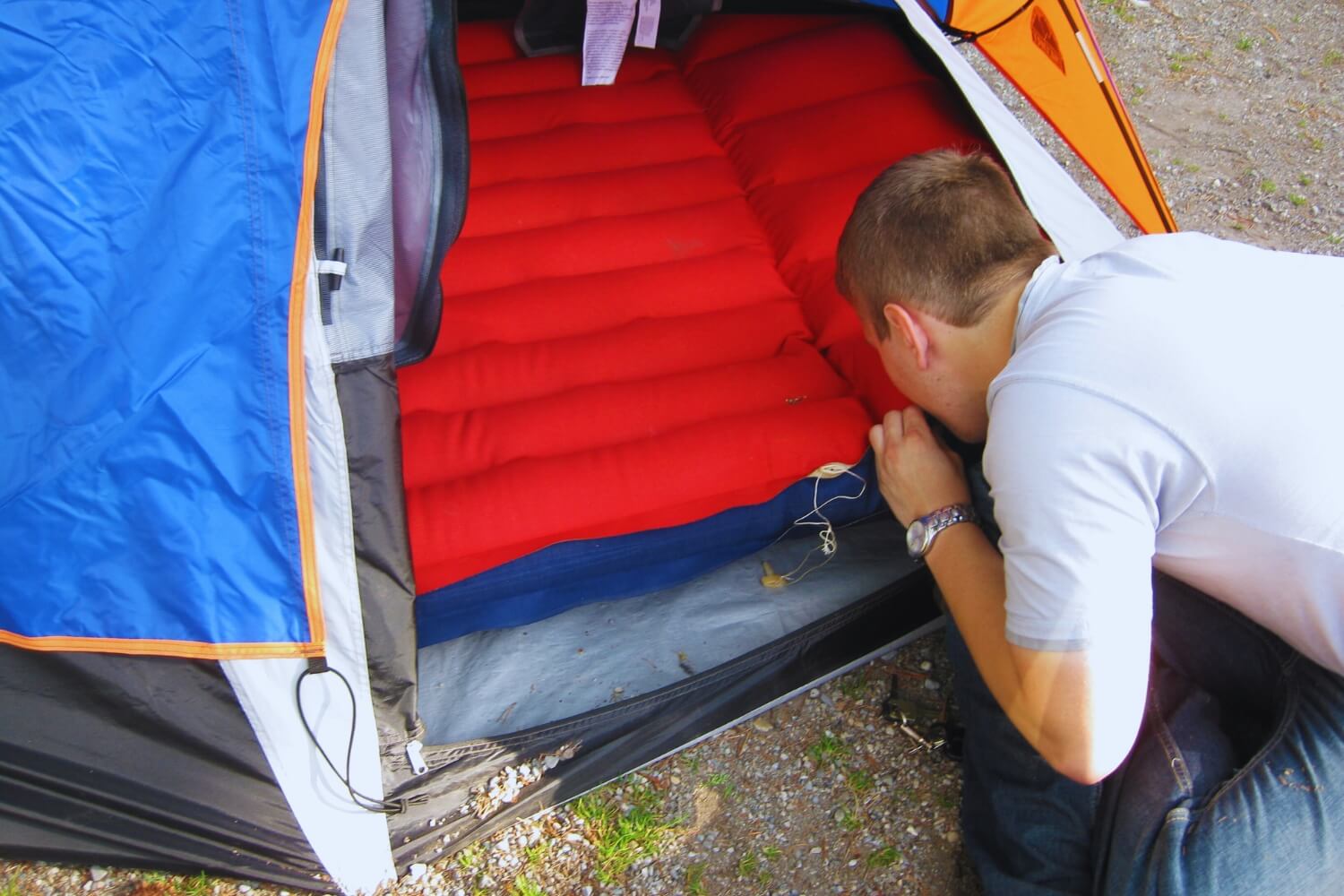 DIMENSIONS AND SHAPE
Mummy-shaped pads
Are generally the standard. Its tapered shape fits under a mummy sleeping bag without any excess material weighing you down.
Rectangular pads
It can offer a substantial improvement in comfort for just a little more weight and size. They are often a much more comfortable option for side sleepers, broad-shouldered backpackers, or anyone who tends to shift in their sleep. 20″ is the standard width for most sleeping mats. This may be on the narrow side. If you are taller or have broad shoulders, many manufacturers have wide pads with an extra 5″ or more for you to stretch out on.
Denier
You will often see specifications that mention the denier of a sleeping pad fabric. Denier refers to the thickness of the individual fibers in the material. The higher the denier, the more durable the pad. 20D is the minimum we have seen. While that's pretty dainty for a sleeping mat, it's strong enough for those who are careful with their gear. For backpackers who abuse their gear, we recommend a pad with at least 30D on the bottom.
TIPS FOR SLEEPING COMFORTABLE ON YOUR SIDE IN THE FIELD
Choose the right floor
You can decide where to put your tent and the ground you sleep on can make a big difference in your comfort. Ideally, you want to look for soft dirt or mossy soil that is more forgiving if you have a thin mat to sleep on. Snow is good too, and you can pack it to fit your body. However, remember that you need an insulating pad to keep you warm enough when you sleep in the snow. Also keep in mind the Leave No Trace principles. Pick a place you've been camping before if it's in a popular area.
Wear your extra clothes
If you have extra clothing, you can use it to add padding to your sleeping pad. Put them under your body or under your pad around your hips and shoulders. This helps relieve pressure points so you don't have to turn multiple times throughout the night.
Bring a pillow
All types of sleepers can benefit from a backpacking pillow. They are fantastic for providing neck support and ensuring spinal alignment throughout the night. Plus, you can inflate them to the exact firmness you want. If you don't have an inflatable pillow, you can also use a sack full of clothes.