Wiñay Wayna Orchid: (Epidendrum Secundum) found at Machu Picchu and along the Inca Trail, this is an orchid with multiple white to fuchsia blooms. Each flower is around an inch in width. Wiñay Wayna means "Forever Young"; Wiñay Wayna Pass on the Inca Trail takes its name from this flower. The orchid is pollinated by both butterflies and birds. Flower essences made from this orchid are said to preserve youth and vitality.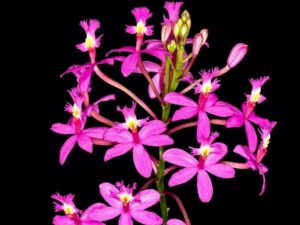 Paradise Orchid: (Sobralia Dichotoma) is one of the most common orchids in the region on the inca trail to Machu Picchu. This orchid has 5-8 flowers per stem, and is deep pink and white in color. It's an ephemeral orchid, lasting for only a few days and blooming between February and April. Its essence is said to have a calming and grounding effect.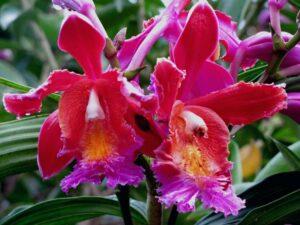 Waqanki Orchid (Masdevallia Veitchiana) This orchid's common name in Quechua, Waqanki, means " You will Cry." This is a single-flower orchid that grows in crevices on rocks. It has orange sepals with purple spots on the sides. A Quechua legend recounts that an Inca princess' forbidden love for a common soldier led to the creation of this orchid.
With beautiful petals in litmus; The great variability in the color and shape of its flowers means that no camera can capture it in all its splendor, being highly appreciated by growers around the world, which has earned it many international awards. Finding a beauty like this in its natural environment is part of the experience offered by the sanctuary of Machu Picchu and Inca Trail hike. It develops between 2,100 and 3,310 meters of altitude, of terrestrial habit and rarely epiphyte. It is used a lot for the creation of hybrid species. It can measure up to 20 cm long by 6 cm wide. The Waqanki orchid is considered a national treasure of Peru.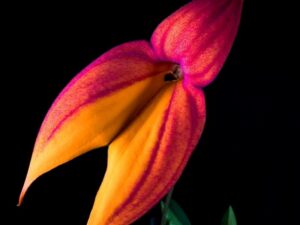 Cryptocentrum Inaequisepalum C. Schweinf.
This tiny species measures just 8 mm, its strange shape provides its name, which derives from the Greek meaning pointed tongue, it extends from Mexico to Brazil and Bolivia, it develops in rainforests and humid forests with temperatures from warm to cold, from sea level up to 2,600 meters of altitude.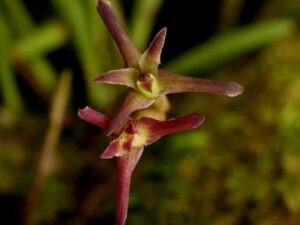 Kefersteinia Koechlinorum Christenson.
It is an epiphytic, medium, uniflora plant, like the tulip or magnolia, with 2.8 x 2.8 cm flowers. It can be perceived by its aroma similar to coriander. Its flowering lasts for 15 days. Discovered by the late gardener Moisés Quispe, (dragged by a huayco years ago) and can be found from sea level.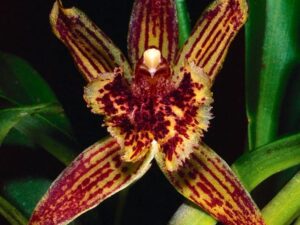 Odontoglossum Praestans Christenson.
Epiphytic orchid that spreads through countries such as Ecuador, Colombia, Peru (Cusco and Cajamarca) and Bolivia, we can find it between 1,700 and 2,100 meters of altitude. So simply beautiful that it inspires peace. It is found in the humid subtropical jungle and the humid sub-tropical jungle of the sanctuary. It can be found in bouquets of up to a dozen, with a scent between jasmine and roses.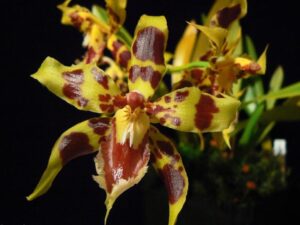 Maxillaria Alpestris Lindl.
This little girl is found growing as an epiphyte and lithophyte, in Venezuela, Colombia, Ecuador, Peru (Amazonas, Cajamarca, Pasco, Cusco, Puno) and Bolivia. In the Historic Sanctuary of Machu Picchu it is found from 2,060 to 4,150 meters of altitude, it develops in humid mountainous forests, growing in the form of a vine.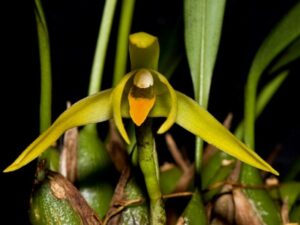 Cyrtochilum Minax
Endemic to the Historic Sanctuary of Machu Picchu, it blooms between August and October, it is found from 1,500 to 3,600 meters of altitude, especially in cloud forests with cold climates, it presents long-stemmed bouquets of few flowers, of 5 cm. long by 4 cm. Wide.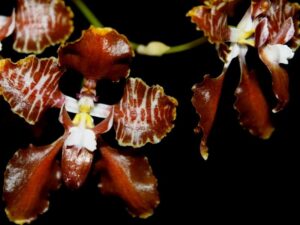 Chondrorhyncha Aurantiaca Senghas 
Epiphytic plant from warm to cold areas, which extends from 500 to 2,400 meters of altitude, it is found in Peru and Bolivia, easy to find in the Historic Sanctuary of Machu Picchu. It develops in the humid subtropical forest and the humid sub-tropical premountain forest, it presents a single flower of about 10 cm. long, sprouting from the base of the plant simultaneously.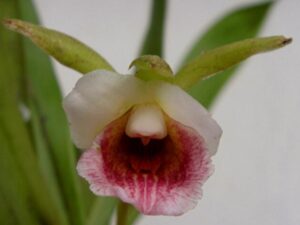 Bletia Catenulata
Variable in size with two to four lanceolate leaves. Formosa plant (presents spheroidal bulge), its flower varies from 4 to 5 cm. long, it has stems with about a dozen purple-pink to fuchsia flowers. The highest flowering is from January to February.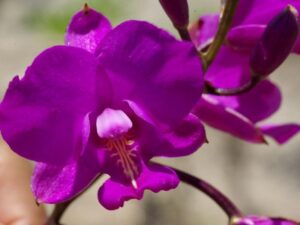 Oncidium Scansor
Epiphyte. Pseudobulbs: It has impressive bright yellow flowers with red-brown spots, they are 2 to 5 cm in size. long. Lip prominent, discoidal, unifoliate. Its flowering time goes from February to May.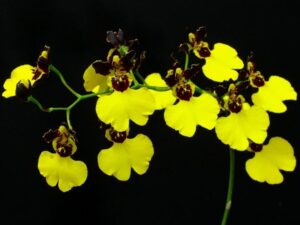 Phragmipedium Caudatum
Terrestrial and Epiphyte, with leathery leaves. Petals brownish-purple, large, some of them reach 20 to 80 cm. long. Two blooms a year have been reported, May, June and February. This is the largest orchid flower that exists.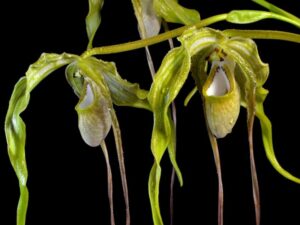 Prosthechea Vespa
Terrestrial, it has creamy red-brown speckled flowers with elongated pseudobulbs, two to three leaves; It has a size of 2 to 3 cm. long. The largest flowering is from November to April.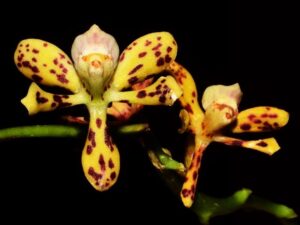 Pleurothallis sp
Epiphyte and terrestrial, quite smooth leathery leaves. With 1.5 cm long flowers, and creamy green to yellow on sepals and petals. Flowers from October to December.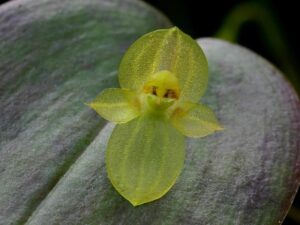 Ida Macrophylla ( Lycaste macrophylla)
Terrestrial and Epiphyte. Presents cavities, which give the sensation of grooves. Generally 2 to 3 leaves; flowers 6 to 9 cm. wide, dark brown sepals, petals and creamy white lip, its flowers are long lasting. Flowers from November to January.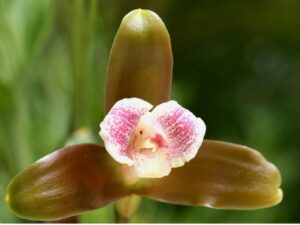 Anguloa Virginalis
Terrestrial, it has dark green pseudobulbs, ovoid, with two to three leaves. With a flower that measures 7 cm. long, white with purple-pink spots on the lip, sepals and petals. Flowers from October to November.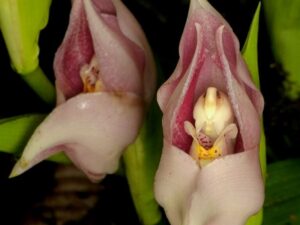 Telipogon Papilio
Clearly epiphytic. Short stem and oval leaves. It has a flower 4 cm long. Yellow-green sepals and yellow petals, with purple veins. Column with purple brown mushrooms. Flowers from April to June.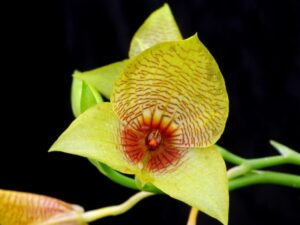 Masdevallia Karineae
Epiphyte or lithophyte. Sepals light purple to pale pink with purple spots. Large leathery leaves, up to 12 cm. long, white petals, with a flower that measures approximately 7 cm. long. New species for science. Flowers from December to January.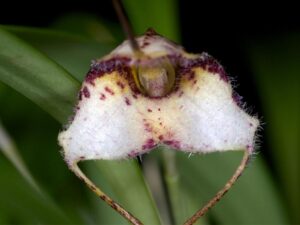 Hofmeisterella Eumicroscopica
Epiphyte. Inflorescence flattened, in racemes, acuminate linear leaves. It has a flower up to 2 cm long. Sepals and yellow petals. Yellow lip with purple veins. Its flowering stage goes from January to February.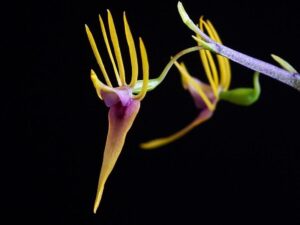 Comparettia Falcata
Epiphyte with cylindrical pseudobulbs, unifoliate leathery. With flowers up to 2 cm, with purple-pink to fuchsia sepals, petals and lip (with a noticeable spur). Flowers from December to March.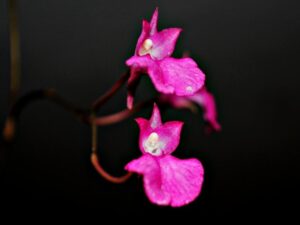 Masdevallia Marizae
Epiphyte. Leaves with prominent petiole, uniflora. With flowers of 6 to 7 cm. long; Whitish sepals with red-purple dots and veins. This species is new to science. It has beautiful white petals.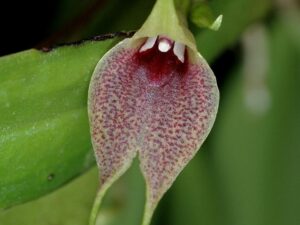 SOBRALIA SATIGERA
Also called "flower of a day" for its short duration and delicacy; It generally grows in the open or under very little shade, in rich, loose soil, somewhat damp. Restricted habitat. 8 cm.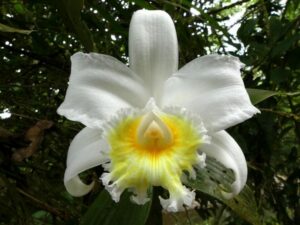 EPIDENDRUM FRIDERICI GUILIELMI
It grows in open places in rocky and mossy soil, with a somewhat restricted habitat, the flower is about 2 cm. Paqaymayu 2,300 masl.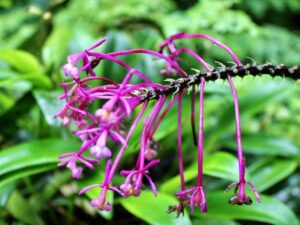 ELLEANTHUS AURANTIACA
It grows in sunny open places or under little shade; in moist and rich soil, forming considerable colonies; wide habitat; the plant exceeds one meter in height; the floral ear measures 10 cm. Wiñaywayna 2,500 masl.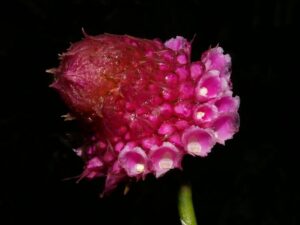 TRICHOCEROS PARVIFLORUS
It grows under the shade of sparse forest; on slightly mossy branches. Gives off an unpleasant odor; it is not very common in the Sanctuary. Restricted habitat. 2 cm. Patallacta 2,800 masl.