TOP LIST OF BEST HIKING BOOTS IN THE WORLD 2023
Best hiking boots are critical to your comfort and performance on the trail, but this no longer means a stiff and burly model that will weigh you down. The trend is toward lighter materials that still offer decent support, and waterproof boots are the most popular by far (some are offered in a non-waterproof version for hiking in hot or dry climates). Our picks for the best hiking boots of 2023 below are broken down into three categories: lightweight boots for day hiking and fastpacking, midweight options that work well for most backpacking trips, and heavyweights for rough terrain or hauling a large load.
The Andes mountain chain in South America offers a wide variety of natural attractions, the most outstanding of which are undoubtedly the mountains, glaciers and lakes surrounded by unusual landscapes. Every year thousands of adventurers and lovers of outdoor sports visit this great world destination for hiking tourism.
For this, if you are very passionate about discovering new trails and living a great adventure in the Andes, you should wear the best hiking boots, since this will give you great comfort on your feet. The weather is very changeable in the Andes, for which your mountain boot must be in very good condition, we are referring to the fact that it must withstand heavy rains, muddy trails, snowy passes and also hot environments. The terrain where you walk will be mostly rough, and full of gravel, so if your hiking boot does not have a good sole, it will certainly bring serious inconveniences to your feet, and what will make your walking pace not be the most versatile.
1. Salomon X Ultra 4 Mid GTX Hiking Boot
Technical Features
Waterproof
Breathable
Lightweight
Weight (1/2 Pair-size 11) 450 g /14 oz
Pros: Fast, light, flexible and good price
Cons: Less hard and stable than the Salomon Quest 4D
The Salomon X Ultra Mid 4 GTX is the latest edition of a long line of top-rated hiking boots. The most noticeable technological improvement comes in the ActiveSupport straps, which secure the foot into place when the laces are tied, making this a more stable shoe when hiking in off-trail situations. The Salomon X Ultra Mid 4 GTX is a very comfortable hiking boot. The upper material, made from leather and textile materials, is very supple and easily conforms to the foot. The Ortholite footbed is of high quality. The Salomon X Ultra Mid 4 GTX uses a proprietary ADV-C Chassis Midsole. This boot is supportive without being as rigid as typical traditional hiking boots. This midsole keeps the foot from feeling most of the sharp impacts of rocks and roots on the trail, and the molded toe bumper cap keeps the toes from slamming into unseen objects when you find yourself gazing at the amazing views and not down at where you're walking.
The Active-Support wings do a great job snugly wrapping around the midfoot, and we felt less likely to roll an ankle thanks to this added security. The mid-top cut, increasingly typical for a modern hiking boot that seeks to walk the line between old school high-top boots and the lower-cut hiking shoes, provides a cradle around the ankle and gives good stability while carrying a pack but still allowing for full flexion and motion. The Salomon X Ultra Mid 4 GTX uses one of the best waterproof-breathable membranes to ensure that your feet stay dry on your hike. The Gore-Tex liner gives this boot a flood height of 4.5 inches, meaning that you can slosh your way through some pretty deep stream crossings without worrying that they will wet out.
Conclusion
We wholeheartedly recommend the X Ultra Mid GTX for day hikes, weekend hikes and fast-moving climbs, and even multi-day light backpack treks. The routes that you can do in Peru with these hiking boots are: Ausangate Trek, Lares Trek, Cordillera de Huayhuash, Huaraz, Choquequirao, Inca Trail to Machu Picchu.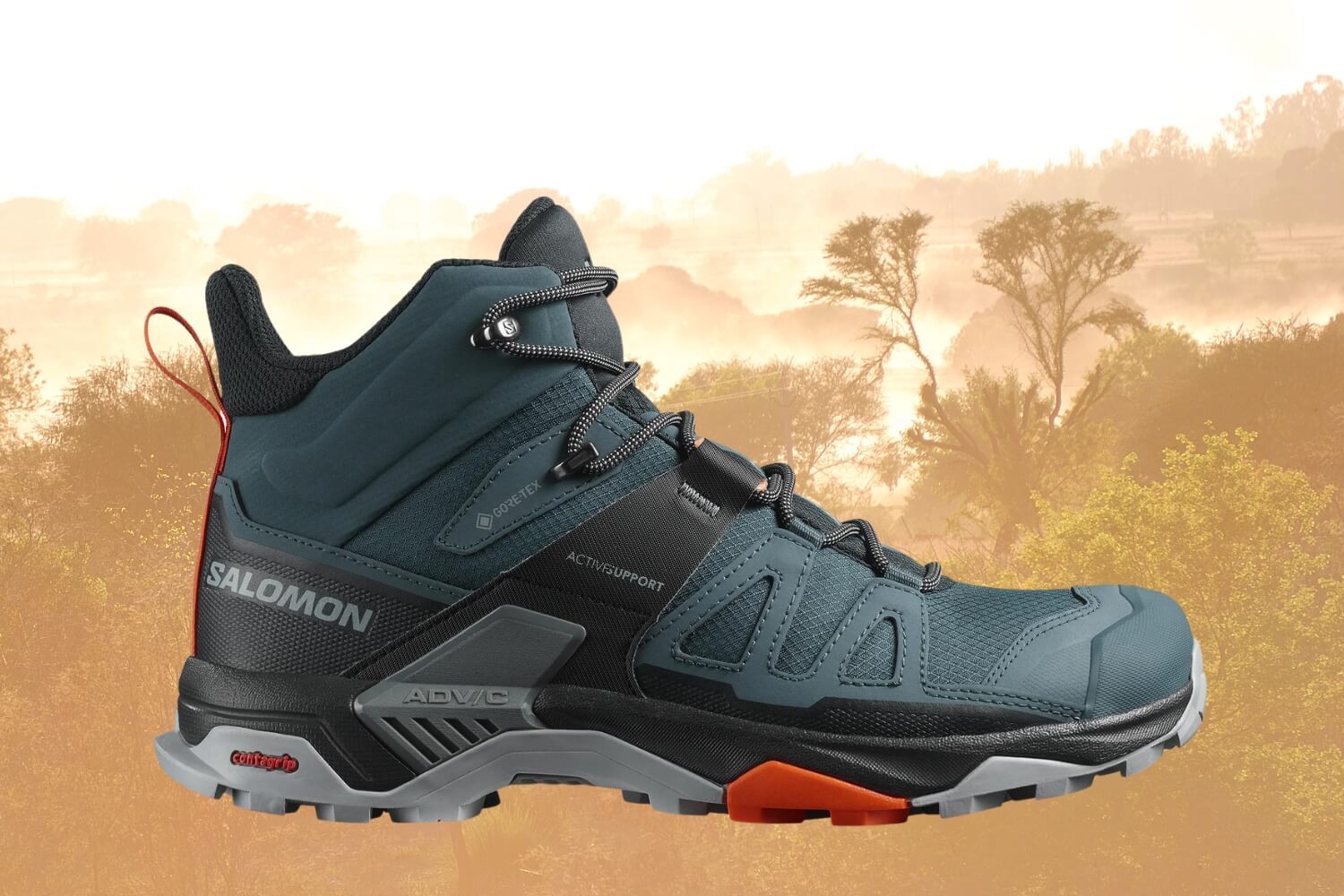 2. Merrell Moab 3 Mid Waterproof
Technical Features
Waterproof
Breathable
Weight (1/2 Pair-size 11) 497g /17.50 oz
Pros: Great price, fit and comfort
Cons: Performance on rough trails or with a heavy pack
The Merrell Moab 3 Mid Waterproof is a very comfortable boot. It is soft and supple, made of quality suede, and is easy to wear right out of the box. For the quality of the boot, it is a bargain, which is why it receives our coveted value award. It is a tad heavy when compared to other models, though we think the additional weight in the form of a supportive midsole and heavier materials is worth the slight trade-off. The Moab 3 would be a great choice  for someone new to hiking but also can offer something for the seasoned adventurer with a great performance overall. as the price is right and the performance is solid.
The Moab 3 Mid is a mid-top boot, the ankle collar comes up to just below the ankle. This allows for some additional protection, though it still gives the ankle plenty of room for articulation. Lacing these boots up snugly feels tight and secure, and the soft inner fabric of the collar is comfortable against the ankle. This adds a lot of versatility to the boot, as it can be used as a day hiking boot for local walks just as easily as it can be taken overnight for a multi-day backpacking trip.
The lug pattern on these boots is shallow and spread out, giving them a leg up on the competition when it comes to smooth surfaces, but they clog easily with mud and then do not provide good grip, nor are the lugs deep enough to effectively grab onto loose surfaces. For general-purpose hiking use, they will provide average traction, and we still recommend them, although if your travels are going to take you off the beaten path, we might suggest a boot with a more capable lugged pattern.
Conclusion
For day trips, weekend hikes, and light trekking on easy paths, tracks, and trails, the best choice is the Merrell Moab 2 Mid. The routes that you can do in Peru with these hiking boots are: Lares Trek, Huaraz, Inca Trail to Machu Picchu, Salkantay Trek, Vinicunca Rainbow Mountain.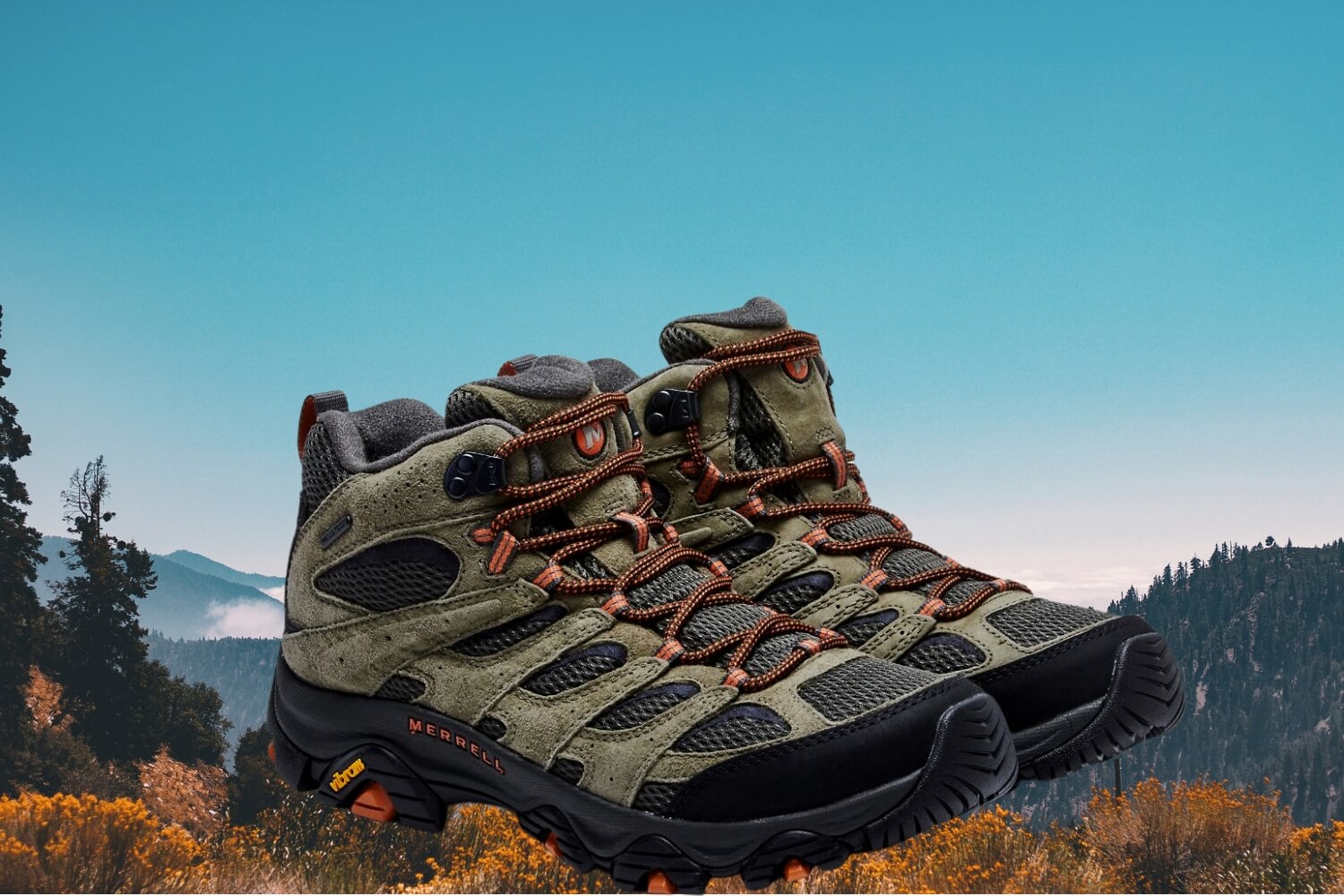 3. Salomon Quest 4 GTX
Technical Features
Waterproof
Breathable
Weight (1/2 Pair-size 11) 650 g / 22.9 oz
Pros: Resistant, stable and comfortable
Cons: A bit heavy and too much boot for most day hikes
The Salomon Quest 4 Gore-Tex is one of the best hiking boot available. This model builds on the success of the earlier Quest models, with the addition of some notable new technologies that increase stability and comfort, as well as a weight savings of nearly half a pound. This boot is suitable for day hikes and easier trails, though it really shines for the backpackers who want the best support and stability they can find for hiking in challenging terrain or with backpacking backpacks.
One notable improvement to this model is the addition of the Active Support wings, which are straps of material that securely wrap around the foot when the laces are drawn tight, further creating an integrated fit between the foot and boot.It also offers the most support and stability, making it an easy choice to single out as the best boot to wear on demanding hikes with heavy loads, or for those who require extra ankle support. Extending up well past the ankle, the padded cuff wraps around the lower calf and hugs the ankle.
Thanks to the aforementioned ADV-C Chassis that delivers the rigidity in off-camber terrain and scrambling up steeper slopes where a solid platform is needed, the Salomon Quest 4 does exceptionally well in demanding situations where traction is critical. The Quest 4 Gore-Tex is the highest-rated hiking boot of our test group in the water-resistance metric. Simply put, it is the best choice for travel in wet weather climates. Using a Gore-Tex waterproof/breathable membrane, an industry-standard in wet weather footwear, these boots do a great job of repelling water.
Conclusion
If you're looking for a tough boot for demanding trails, serious trekking, and multi-day mountain trips, the Salomon Quest 4D GTX is the all-round choice. The routes that you can do in Peru with these hiking boots are: Ausangate Trek, Lares Trek, Huaraz, Inca Trail to Machu Picchu, Salkantay Trek, Vinicunca Rainbow Mountain, Quelccaya Ice Cap, Sibinacocha Trek, Choquequirao, Santa Cruz Trek, Inca Quarry Trail .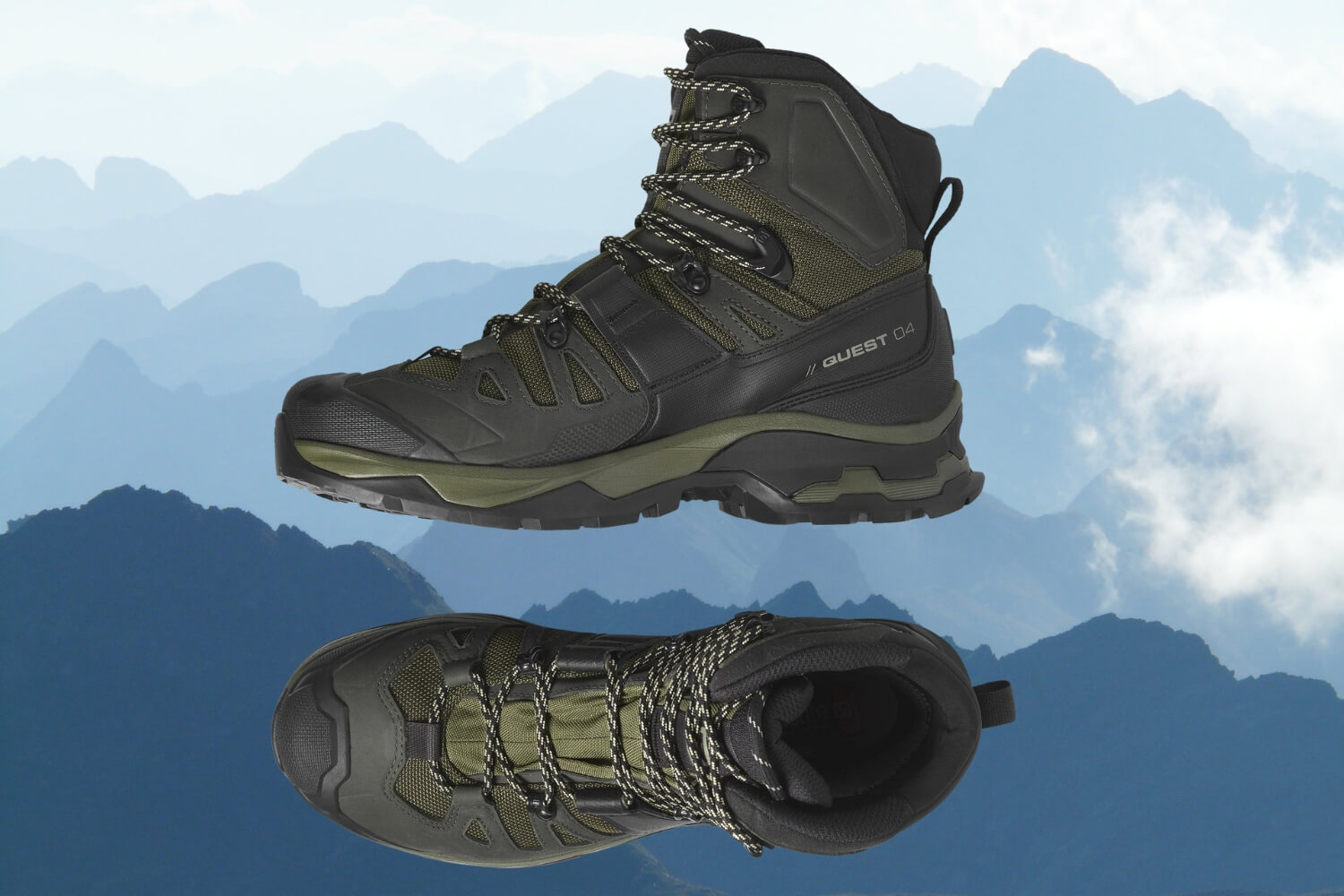 4. Hoka Anacapa Mid GTX
Technical Features
Waterproof
Breathable
Weight (1/2 Pair-size 11) 453 g /15.9 oz
Pros: Extremely comfortable, great lacing system and fit, and smooth ride
Cons: Some outsole durability issues and polarizing looks.
This is a lightweight hiking boot for those who move fast and don't need the support or stability of heftier footwear. It has a thick outsole with a lot of rocker in both the heel and toe and a relatively wide toe box, making it a good option for people with broader feet. It has thinner material in the upper, which provides less support than a traditional hiking boot. This makes it a better choice for unloaded hikes, where speed is a higher priority than precision stepping and stability. This model keeps the feet dry through moderate passing rainstorms but doesn't quite stand up to repeated stream crossings or perpetually damp conditions.
The thick outsole and compression-molded EVA midsole provide a comfortable ride across rocky terrain. We wouldn't describe these boots as uncomfortable, but the primary downside to their comfort is that they feel sloppy. The upper material is flexible, and because there is so much of it, we found that it just warped and folded in odd ways that didn't support the movement of our feet.
The upper isn't nearly as stiff as a traditional boot. This might be good for a particular hiking style, but it also means that they don't have the ankle support that we would expect from a boot. The same goes for the top of the foot. It's not an area that tends to take a ton of impact on hikes, but there is notably less protection against dropped objects or getting feet pinned or pinched between rocks. On the plus side, the outsole far outflanks the upper, meaning that these boots have a nice wide base that makes balancing much easier and reduces lateral sway.
Conclusion
The Anacapa feels great on the trail with generous cushioning and a smooth, fast-moving personality thanks to the rockered sole. Excellent fit including a highly effective and customizable lacing system, enough space in the toe box to account for foot swelling, and a narrower heel that locks the foot securely in place. The routes that you can do in Peru with these hiking boots are: Lares Trek, Huaraz, Inca Trail to Machu Picchu, Salkantay Trek, Vinicunca Rainbow Mountain.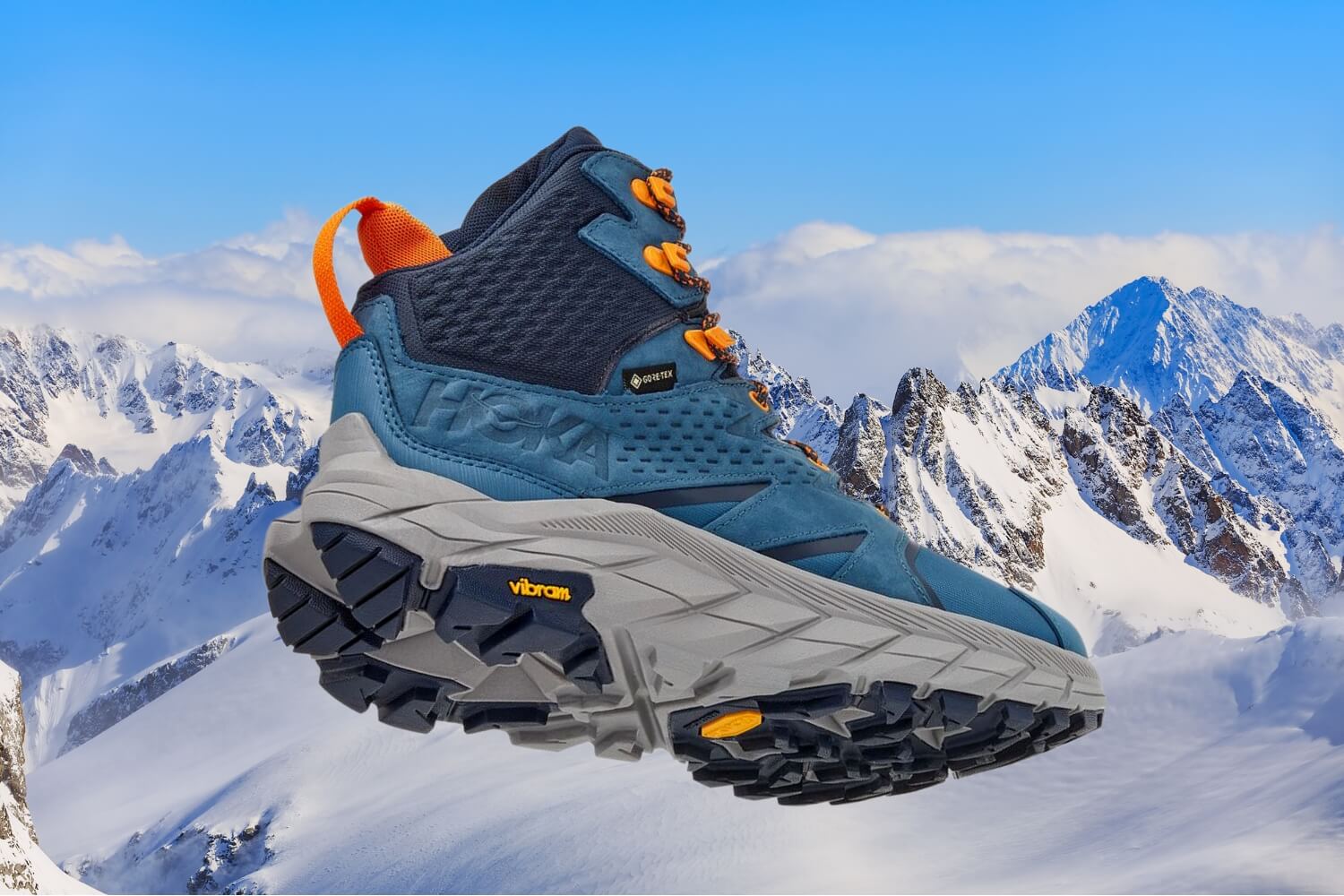 5. La Sportiva Ultra Raptor II Mid GTX
Technical Features
Waterproof
Breathable
Weight (1/2 Pair-size 11) 470 g /16.57 oz
Pros: Excellent stability and durability in a light, trail runner-like design.
Cons: Narrow toe box and shallow lugs are prone to slippage in mud.
If technical trails, rocky summits, and extended periods of off-trail travel are your scene, then take a hard look at the new La Sportiva Ultra Raptor II Mid GTX. This high-performance technical hiking boot is a jacked-up trail running shoe, giving it the quick-footed nimbleness of a low top while providing the support and stability of a high top for those demanding itineraries traveling through rugged terrain or while carrying a heavier pack. You can use this boot for cross-country mountain adventures, and it is also an excellent choice for those who like a more technical fit for their fastpacking adventures.
La Sportiva Ultra Raptor II Mid GTX is a machine built for a steady diet of off-trail travel. It is lightweight, has excellent traction in all terrain types, and is extremely supportive despite its minimal stature. These boots run narrow, so it is reassuring that they also come in a wide version, as the regular width fits right between a narrow and a medium-width foot, this boot also gives incredible ankle support and stability on rugged ground. The tall, 6.75-inch comfort collar is one of the few true ankle-high collars. And, thanks to the lacing system, is a very secure and stable wrap around our ankles to protect us from rolling on uneven surfaces.
The Ultra Raptor II uses a tried and true waterproof/breathable membrane called Gore-Tex Extended Comfort. It is very good at keeping water out while still keeping your feet dry, happy, and not too clammy, as is the case with many waterproof membranes.
Conclusion
If cross-country and off-trail hiking is your thing, then you will love this boot. It is an excellent hiking boot, provides superior performance in nearly all our review metrics, and  while not cheap is a good value due to the performance it provides. The routes that you can do in Peru with these hiking boots are: Ausangate Trek, Lares Trek, Huaraz, Inca Trail to Machu Picchu, Salkantay Trek, Vinicunca Rainbow Mountain.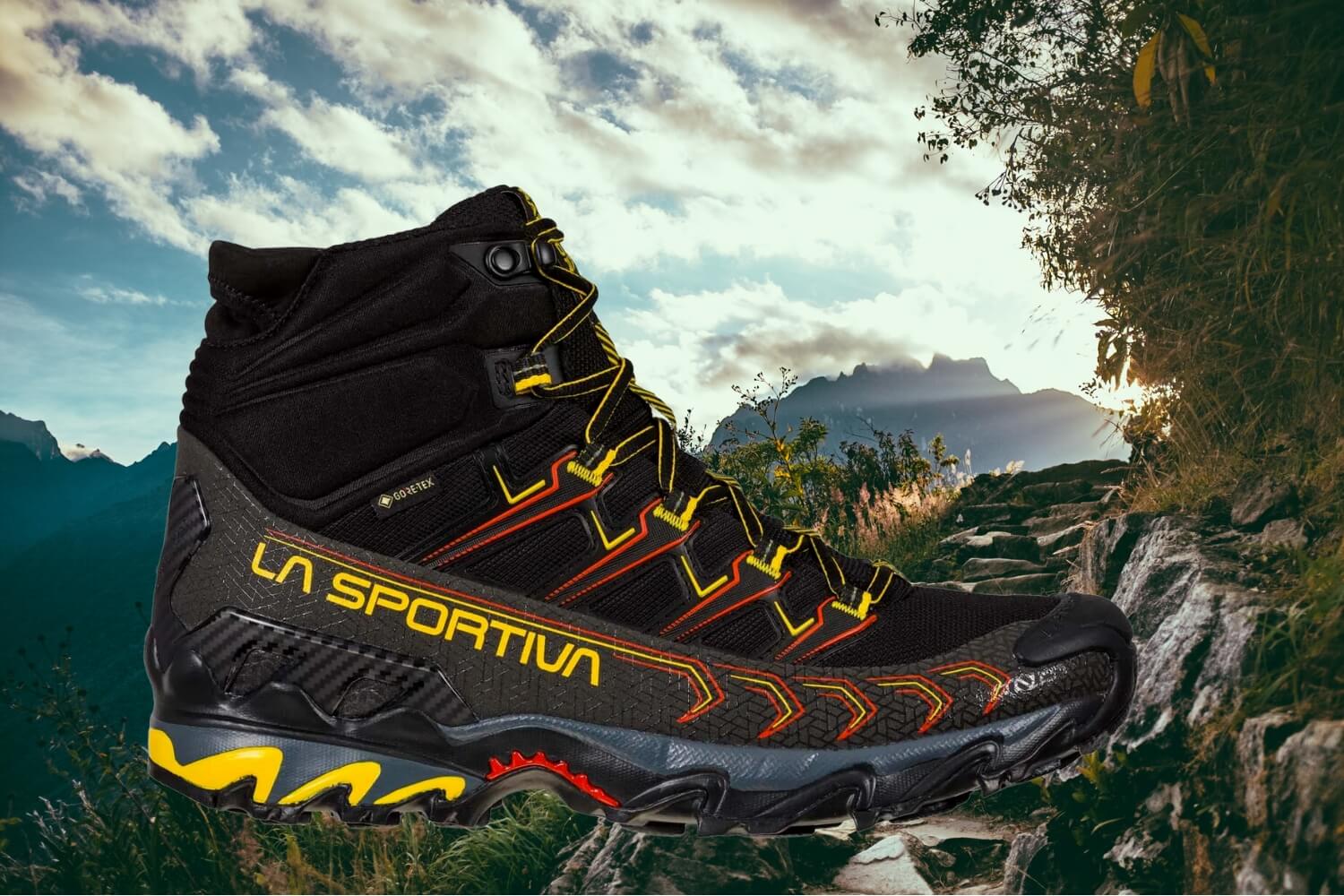 6. Scarpa Zodiac Plus GTX
Technical Features
Waterproof
Breathable
Weight (1/2 Pair-size 11) 545 g /19.22 oz
Pros: Reasonably light but stiff enough for treks over rough terrain
Cons: Lots of boot for maintained roads and trails
The Scarpa Zodiac Plus GTX is a pared-down mountain boot, making it an optimal choice for off-trail travel, mountain scrambling, and carrying heavy loads. It has excellent stability, giving you the confidence to edge or smear up the steepest terrain you might encounter on a challenging cross-country hike. The Vibram sole is sticky while staying durable, and the full-grain leather upper will take a lot of abuse before it starts showing signs of wear.
The Scarpa Zodiac Plus GTX excels in mountain terrain where excellent traction and stability are essential to keep you safe and secure. Less than an actual mountain boot, this mid-weight hiking boot will handle trail miles with ease, whether on day hikes or extended distance backpacking trips. The Ausangate Trek, Choquequirao Trek, Inca Trail hike, Lares Trek, Quelccaya Trek. These iconic and popular treks involve lots of on-trail travel and off-trail boulder hopping, scree slogging, snow walking, and rock scrambling. These types of terrain are where the Zodiac Plus shines brighter than any other boot.
The boots shed water like a duck while walking through fast-moving snowmelt streams. The Gore-Tex lining performed effectively and allowed the feet to breathe well despite wearing medium thickness socks in above-average temperatures.
Conclusion
They combine traction similar to that of a rock hiking shoe with the toughness and stability of a lightweight mountaineering boot, which is a great combination. The routes that you can do in Peru with these hiking boots are: Ausangate Trek, Lares Trek, Huaraz, Inca Trail to Machu Picchu, Salkantay Trek, Vinicunca Rainbow Mountain, Quelccaya Ice Cap, Sibinacocha Trek.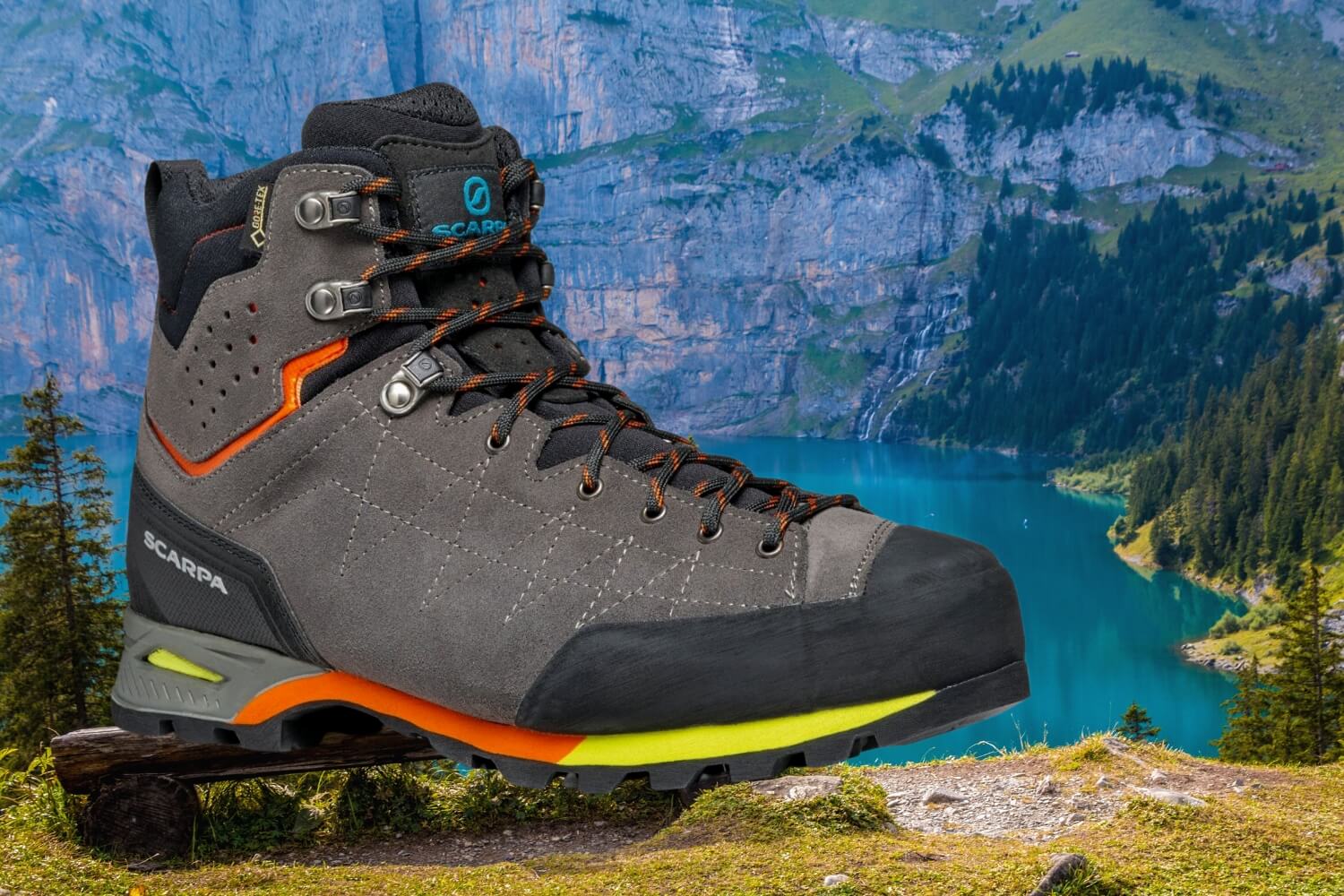 7. La Sportiva Nucleo High II GTX
Technical Features
Waterproof
Breathable
Weight (1/2 Pair-size 11) 476 g /16.79 oz
Pros: Excellent waterproofing, deep lugs for solid traction, heel brake in outsole
Cons: Average stability, difficult to lace up
The La Sportiva Nucleo High II GTX is the hiking boot you need during the spring thaw or when rain is in the forecast. These breathable but lightweight boots will protect your feet at water crossings, in the rain, and through the mud. They have an ample and well-protected toebox, and on the underside. With an understated combination of traditional style and modern footwear technology, these boots are made for stream-filled outings that require thorough waterproofness and traction. The nubuck leather upper is durable and abrasion-resistant, and the deep lugs create a reliable grip on trail surfaces.
With a rigid guard at the back,These boots have a base width that is slightly narrower than most. However, the tread at the fore and heel of the outsole extends laterally beyond the wearer's foot, meaning that the side-to-side support is still excellent. This means fewer opportunities for ankle rolls and better balance.
Conclusion
These boots are made for those who need waterproof footwear and solid traction. They have a comfortable insole with just the right amount of give. Though the upper can't claim quite the same degree of comfort, we appreciate the balance this boot offers between heavy-duty support and lighter weight. The routes that you can do in Peru with these hiking boots are: Ausangate Trek, Lares Trek, Huaraz, Inca Trail to Machu Picchu, Salkantay Trek, Vinicunca Rainbow Mountain, Quelccaya Ice Cap, Ancascocha Trek, Choquequirao, Sibinacocha Trek.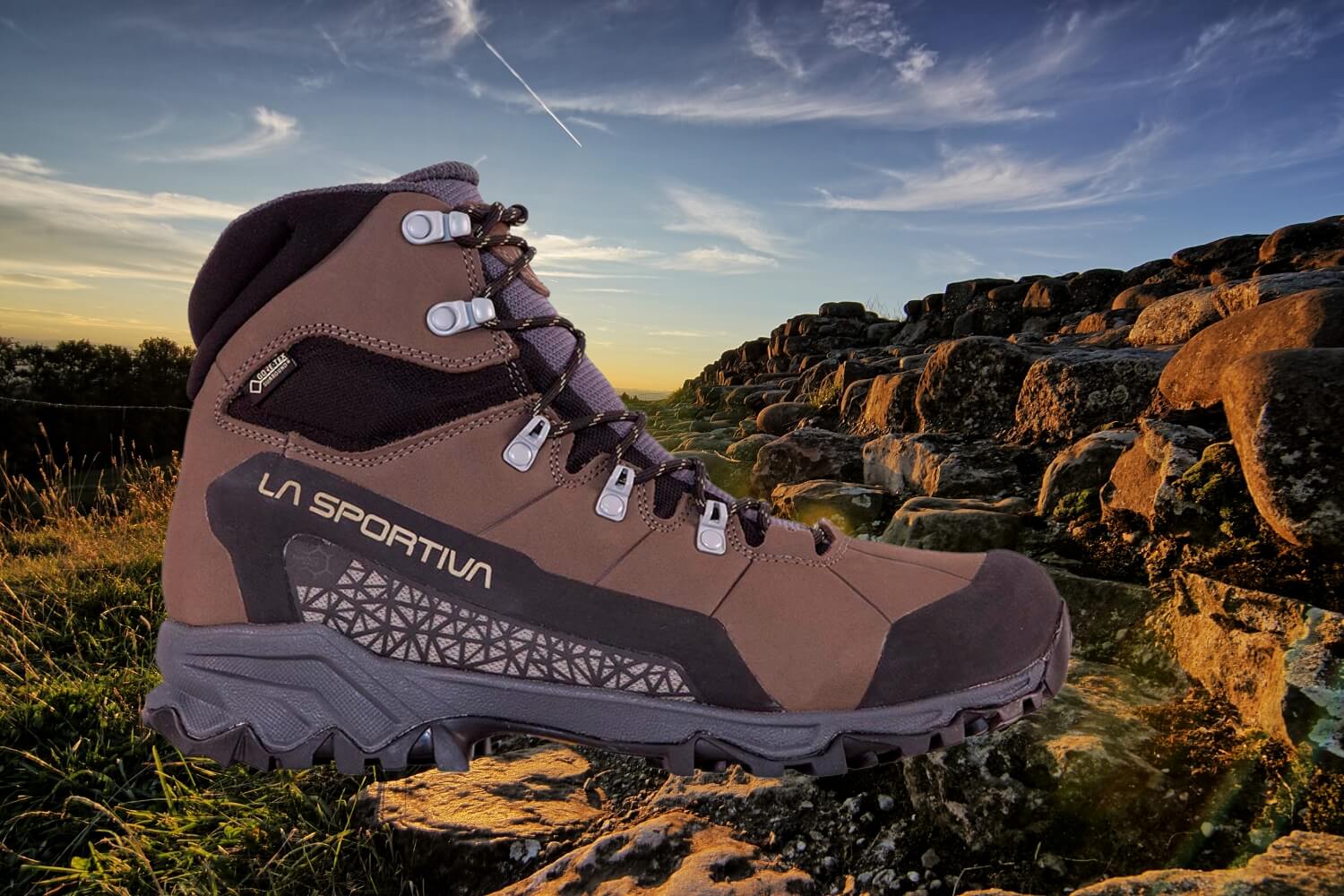 8. Lowa Renegade GTX
Technical Features
Waterproof
Breathable
Weight (1/2 Pair-size 11) 555 g /19.55 oz
Pros: Comfortable collar, great support and stability, lightweight for its class
Cons: Durability, build quality could be better
The Lowa Renegade GTX Mid is a perfect example of a classic hiking boot. Featuring a tall ankle cuff, solid underfoot stability, and top-notch durability thanks to an all-leather upper. It is heavy, to be sure, and other boots best it in most metrics while also being lighter. But this is a boot that is built to last, and it can pay off to not have to replace your hiking gear often. The Lowa Renegade GTX is a classic hiking boot design. With exceptional ankle support and stability as well as water resistance.
The ankle collar is both supportive and comfortable during foot flexion. Four lower eyelets, one central lock, and two upper hook eyelets comprise the lacing system.  The Renegade GTX Mid is one of the top-scoring models regarding stability. The full-length nylon shank makes it feel pretty burly and helps it maintain stability in rough and uneven terrain. This boot is also one of the tallest, and this additional height, combined with the ability to lace all the way up to the top of the cuff, secures the ankle in place with still allowing a range of motion from front to back while higher ankle support panels give extra stability where it's needed most.
Lowa has patented the durable, comfortable design. Your feet will be always dry in these boots. Although the leather rand absorbs water out of the box. This is a very classic style of hiking boot, with a full leather upper and a waterproof/breathable membrane. Something to keep note of is the fact that even though the leather comes from the manufacturer with an applied treatment to keep it from becoming inundated, periodic maintenance of the leather in the form of cleaning and applying a waterproofing agent such as Nikwax will keep the material shedding water and help the Gore-Tex continue to work as it is supposed to.
Conclusion
The Renegade is a solid hiking boot for carrying a large pack into rugged terrain. The additional support and water resistance that this boot provides lends itself to longer treks, though even day hikers can find that it offers comfort and stability. It's a heavy boot, but keep in mind that heavy and well-made can often equate to added durability. If you're hard on your boots, this could be a worthy investment. The routes that you can do in Peru with these hiking boots are: Ausangate Trek, Lares Trek, Huaraz, Inca Trail to Machu Picchu, Salkantay Trek, Vinicunca Rainbow Mountain, Quelccaya Ice Cap, Ancascocha Trek, Choquequirao, Sibinacocha Trek.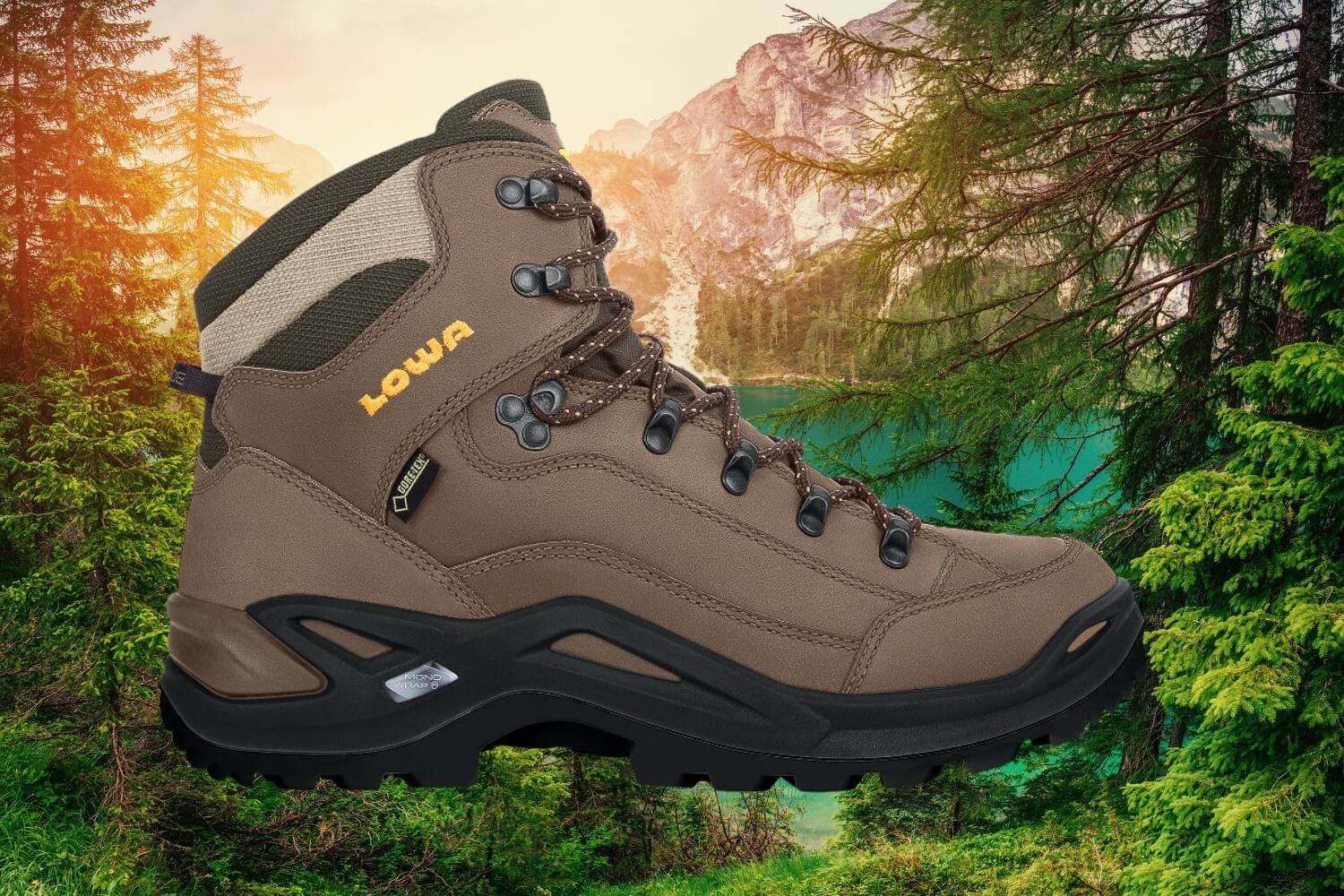 9. Asolo Falcon GV
Technical Features
Waterproof
Breathable
Weight (1/2 Pair-size 11) 430 g / 15.16 oz
Pros: Well built, extremely comfortable and sturdy
Cons: Price and support is better than other boots on the list
The Asolo Falcon GV is a midweight hiking boot offering full ankle protection and excellent waterproofing. These boots are comfortable right from the first moment you put them. This is a great boot to consider if you value the high ankle support typically available in a much heavier boot. This boot is a perfect representation of the advances in materials technology that have allowed footwear to maintain the same levels of support and stability while shedding pounds of weight.
The toe box is roomy but can still be laced securely enough to scramble confidently over boulders, and the TPU toe cap protects your toes. The lacing system is traditional, making it easy to replace the laces once worn out. With a relatively tall ankle collar, the Falcon GV snugly protects  from any  rolling your ankles while hiking over rough or uneven ground. The boots are soft and pliable in the sole. Though this makes for better smearing ability on the rock, it also translates into more fatigued feet at the end of a hiking day and the ability to feel more pointy objects on the trail. The sole uses a lower profile lug pattern than most. This makes these boots quite useful on slabby rock but limits their usefulness on loose or wet terrain. With a flood height of 5.75 inches, these boots provide as much protection as big leather boots do. That alone makes these boots an appealing choice for those who encounter lots of stream crossings on their hiking excursions but want to keep the weight on their feet relatively low.
Conclusion
The Asolo Falcon GV is a premium boot that comes with a premium price. It features lightweight materials and provides good water protection, but due to its price, we suggest weighing out your needs, as there are other models with a better overall performance at a lower price. The routes that you can do in Peru with these hiking boots are: Ausangate Trek, Lares Trek, Huaraz, Inca Trail to Machu Picchu, Salkantay Trek, Vinicunca Rainbow Mountain, Quelccaya Ice Cap, Ancascocha Trek, Choquequirao, Sibinacocha Trek.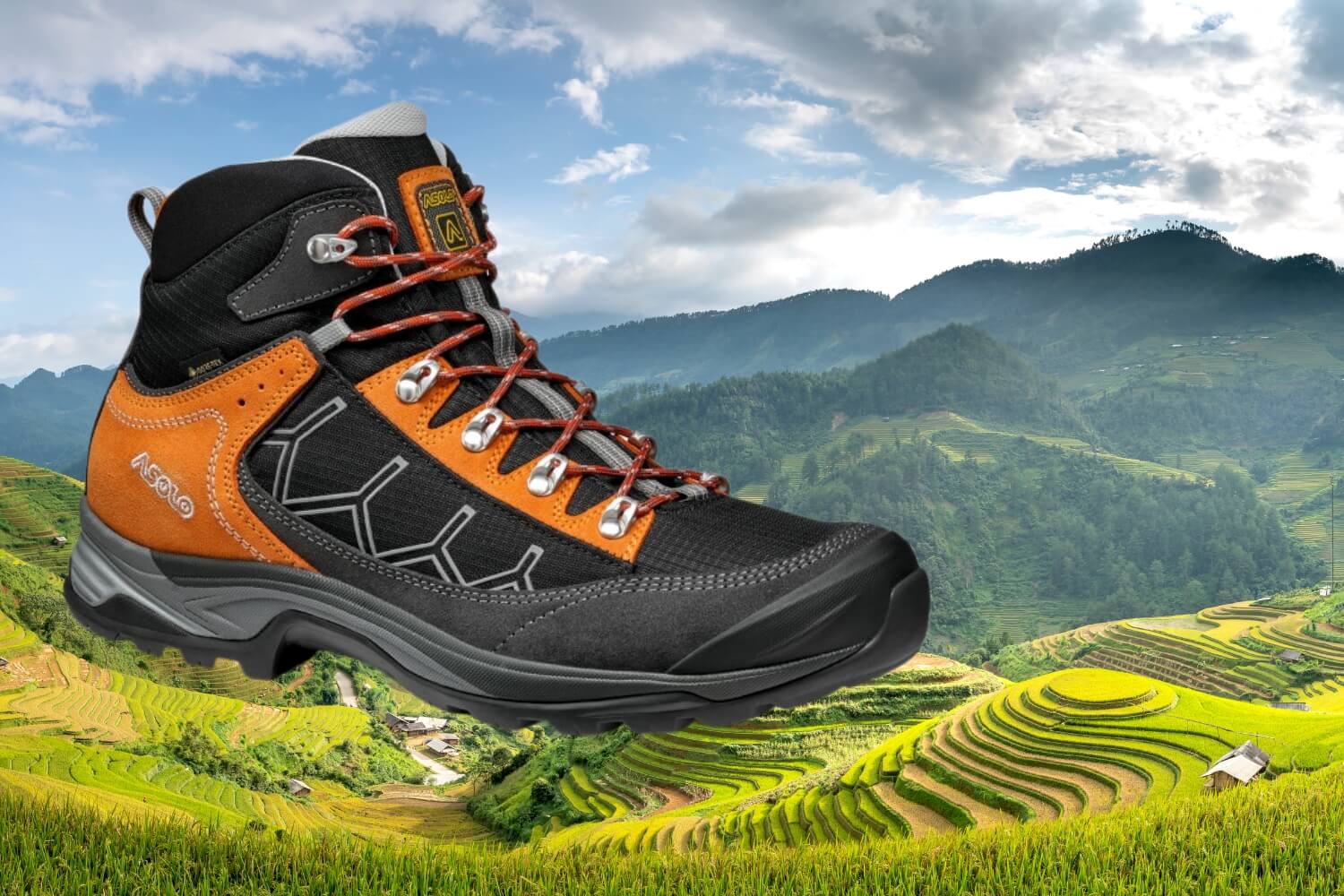 KEEN Targhee III Waterproof Mid
Technical Features
Waterproof
Breathable
Weight (1/2 Pair-size 11) 498 g / 17.5 oz
Pros: Budget oriented, soft and comfortable, quality insole
Cons: Decreased stability, not most breathable
Keen uses an ESS shank insert to allow the boot to travel comfortably over rough and rocky trails on a more stable platform, where others caused foot pain from feeling the jagged rocks through the sole. This boot has a large rubber toe bumper that provides foot protection from tripping over roots and rocks on the trail. The Targhee III employs the same well-thought-out lacing system that we have seen in previous models. Using a strap of webbing that wraps around the heel and into the laces, we were able to attain a custom fit thanks to the variety of cinching options available.
The Keen Targhee III has a flood height of 3.75 inches, making this model one of the shortest hikers. It can withstand sloshing through the infrequent stream or a mud puddle, but those who spend prolonged time in wet climates where higher levels of protection are indicated should look to a boot with a taller flood level. The flexibility gained by having many pieces of nubuck sewn together also results in many seams, especially along the sides and around the toe box, and wear here will result in water finding its way in easier. The Targhee's can handle some wetness, but in a previous test of these boots, we experienced leaking in the front seams.
Conclusion
The Targhee III has received a nice makeover, and now with its clean-looking oiled nubuck leather outer, it is more visually appealing and comfortable from the first step you take in them. They're a great option if you don't want to shell out the big bucks for the premium boots we tested. The routes that you can do in Peru with these hiking boots are: Ausangate Trek, Lares Trek, Huaraz, Inca Trail to Machu Picchu, Salkantay Trek, Vinicunca Rainbow Mountain, Quelccaya Ice Cap, Ancascocha Trek, Choquequirao, Sibinacocha Trek.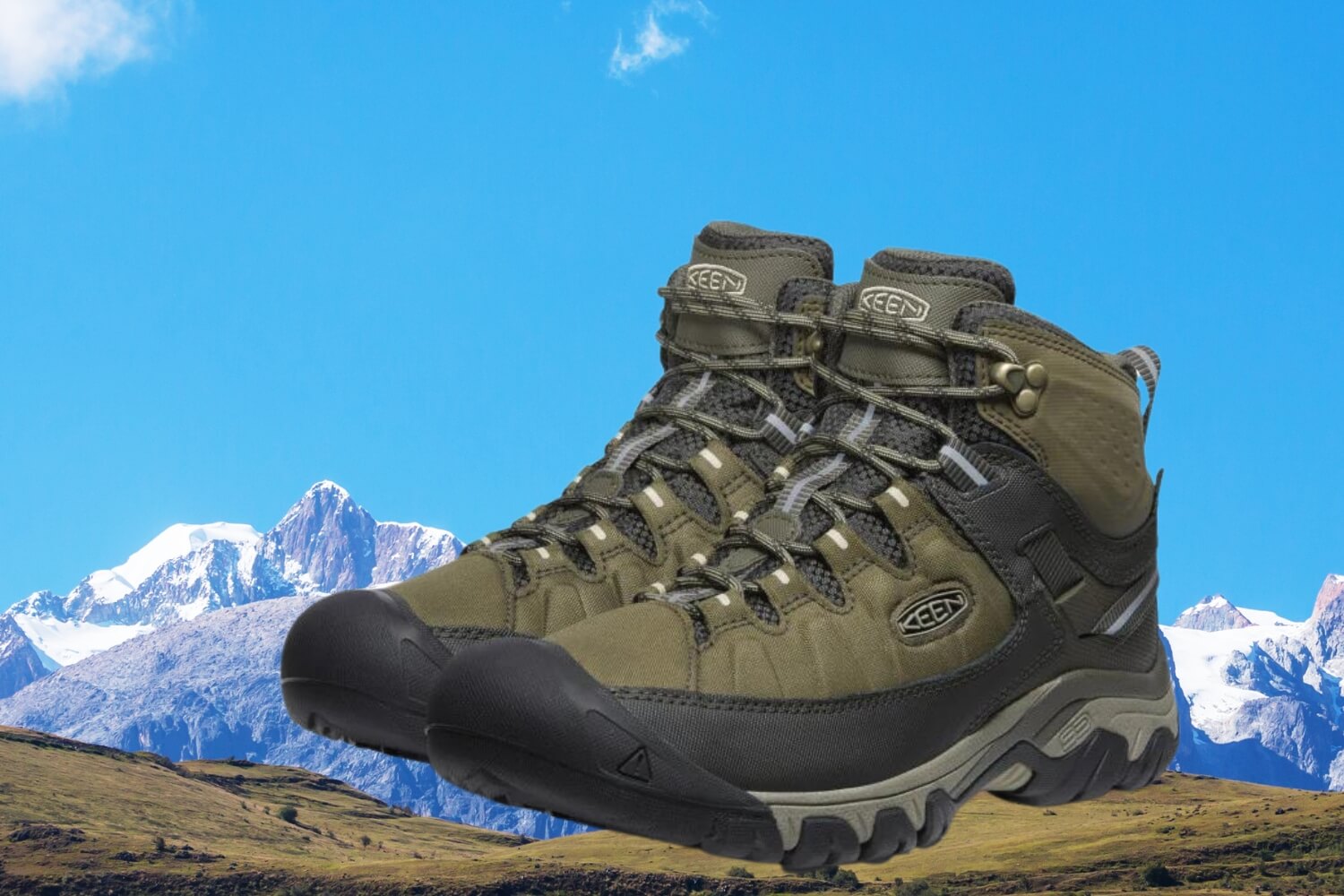 Oboz Bridger Mid Waterproof
Technical Features
Waterproof
Breathable
Weight (1/2 Pair-size 11) 537 g / 18.94 oz
Pros: Very supportive, exeptionally durable, protective soles, waterproof
Cons: Difficult to break in, very stiff, lacking flexibility in forefoot
The Oboz Bridger Mid Waterproof is a well-made, aggressive all-leather hiking boot that will hold up to lots of trail miles with a large pack. It's available in regular and wide sizes, has a very durable leather upper, and a lacing system that pulls the heel in snug for a great fit. The waterproof/breathable membrane keeps water out of socks, and the Granite Peak carbon rubber outsole with aggressive lugs helps this boot gain traction of hard and loose surfaces alike.
These boots scored lower on comfort than any other metric because of their stiffness and long break-in period. They were almost debilitatingly stiff on steep terrain, especially trails with large rock steps. This stiffness made it difficult to flex the foot forward when walking uphill. That said, with time and a strategic break-in plan, these boots could become a great option for all-day hikes and long backpacking trips.
Constructed with waterproof Nubuck leather uppers, these boots will keep your feet dry even when fully submerged in flowing water for a minute or two. The height of the sole and the leather and rubber construction protect from shallow puddles, but even if the leather upper got wet, your feet will not get wet.
Conclusion
The Oboz Bridger Mid are tough and durable, but because of this, we found them difficult to break in. However, this durability lends to their use as a great work boot, so if you need something that can shine as a rugged hiking boot and for occasional use doing manual labor, these are a good option.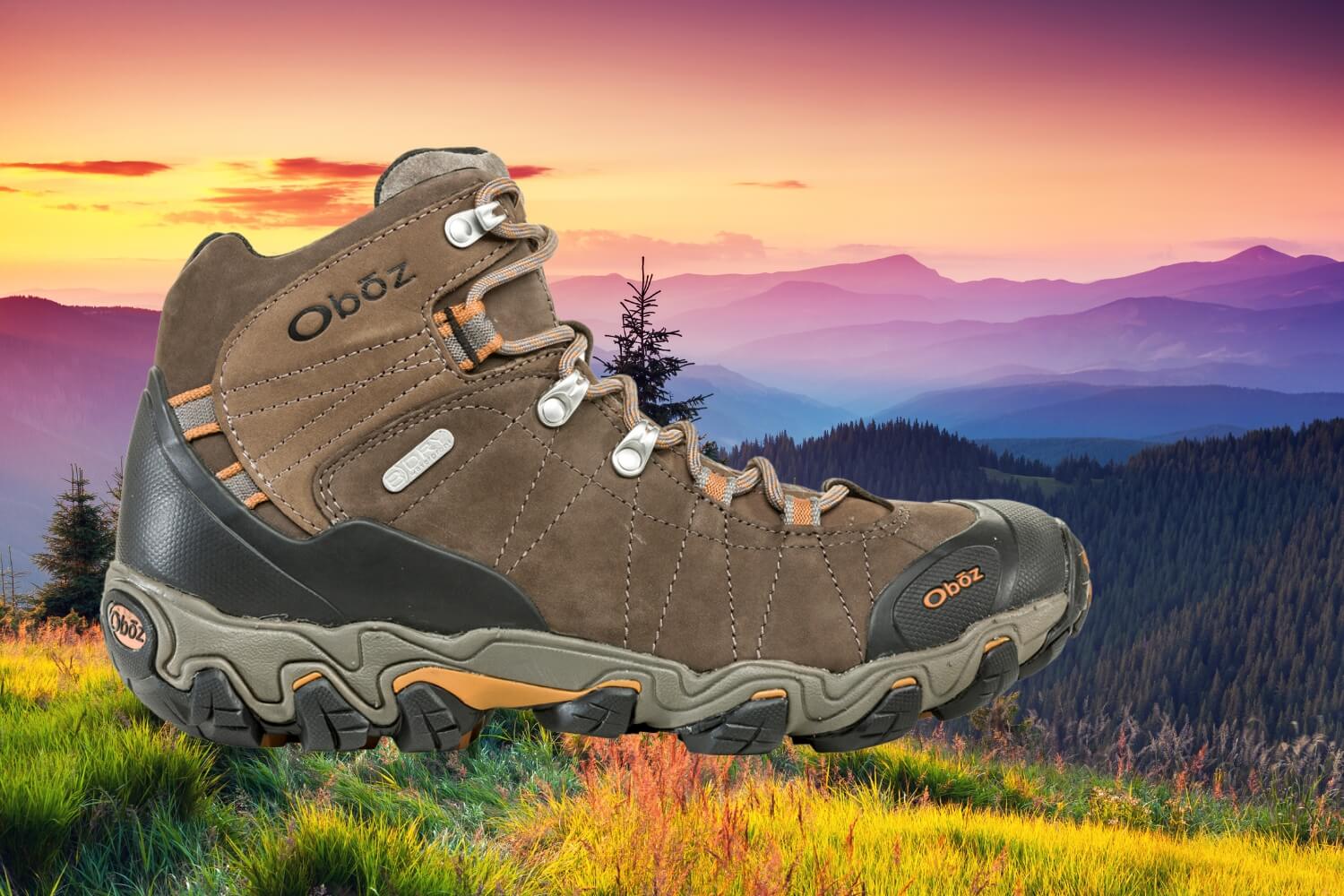 Salewa Mountain Trainer Lite Mid GTX
Technical Features
Waterproof
Breathable
Weight (1/2 Pair-size 11) 700 g / 24.69 oz
Pros: Robust combination with alpine focus
Cons: Not everyone likes the rigidity and heat
Designed with alpine approaches in mind, this boot is more at home scrambling through rocky outcrops at high elevation than hiking groomed trails down low. The most significant drawback to this boot, however, is its lack of comfort. The Salewa Mountain Trainer Mid GTX is a midweight hiker that puts its rigid sole first. This boot also has an impressive lacing system, good heel security, and great traction in mud and vertical rock. However, it carries a heavy feeling and has some serious drawbacks in terms of comfort.This model is most appealing to folks pursuing technical mountain-top heights.
This boot has a flood height of 5.8 inches, modest for a midweight. The Salewa model didn't leak throughout our testing period, despite being submerged in creeks, puddles, and lake edges. You will like the upper's strong resistance to absorbing water.
Conclusion
The Salewa Mountain Trainer Mid GTX has some great features, including its combined lacing and heel-securing systems. However, we consider general comfort to be the most important factor in hiking boots, and this boot came up short in this category. While your feet will probably take a long time to get used to this boot, it's quality construction should last you several seasons. The routes that you can do in Peru with these hiking boots are: Ausangate Trek, Lares Trek, Huaraz, Inca Trail to Machu Picchu, Salkantay Trek, Vinicunca Rainbow Mountain, Quelccaya Ice Cap, Ancascocha Trek, Choquequirao, Sibinacocha Trek.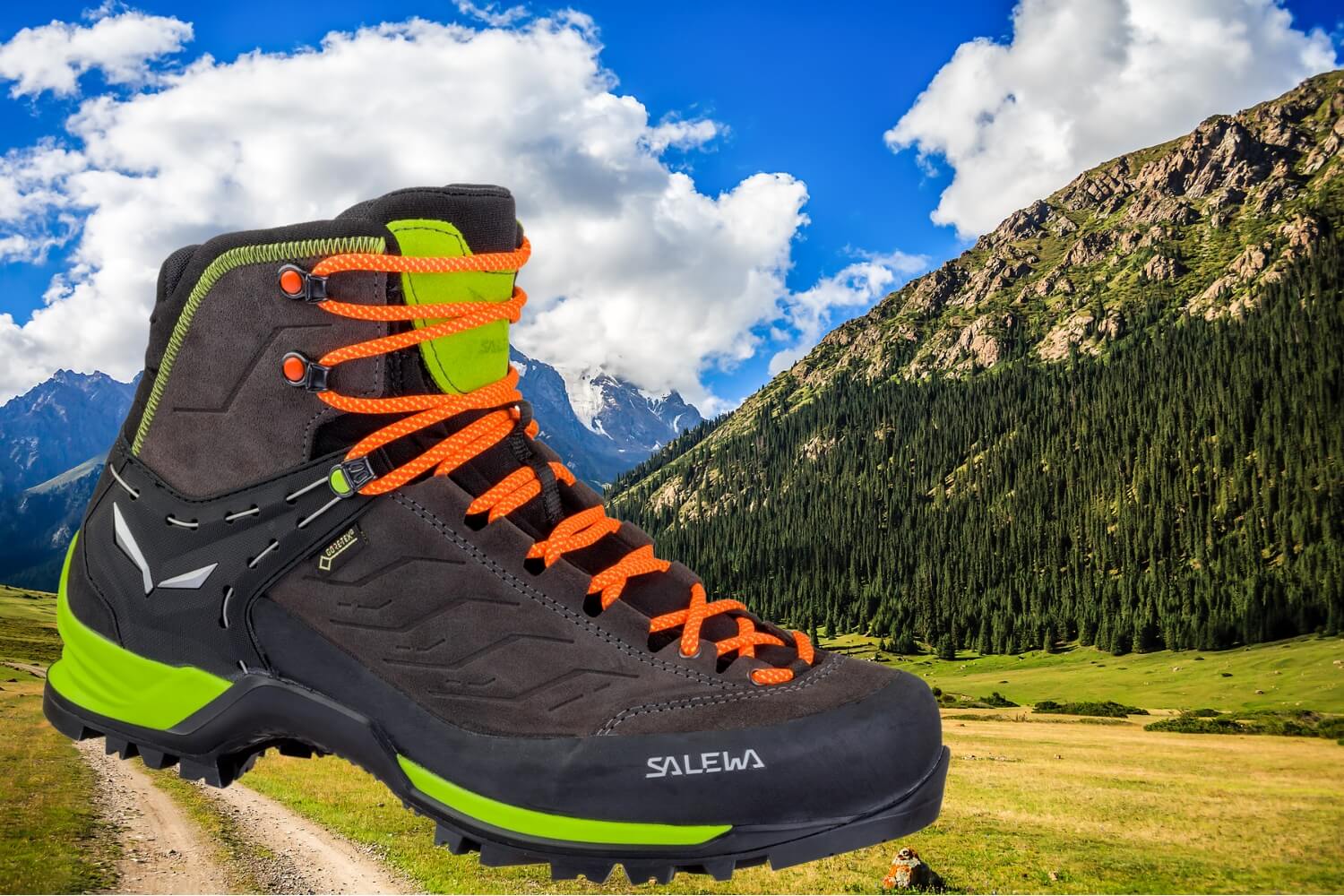 Adidas Terrex Free Hiker 2 GTX
Technical Features
Waterproof
Breathable
Weight (1/2 Pair-size 11) 390 g / 13.75 oz
Pros: Traction and protection at a very tight weight
Cons: Flexible ankle support doesn't follow the rigid design of the rest of the boot
With its sneaker-like appearance and high price point, it has a great performance fit that sits close to the heel (feels like a glove when you slip it on) and has just the right amount of cushioning in the collar and tongue. The lacing system is another highlight: it tightens evenly around the foot, you won't have a problem if it comes loose during the day, there's also a great balance of stiffness and flex for moving quickly on the trail and hopping over rocks.
With the Adidas Free Hiker 2 clearly inspired by trail running shoes, the Adidas are light, agile and quite soft underfoot. But there's a noticeable dose of support, and the upper-ankle height that provides a bit of extra waterproofing for stream crossings and protection for rocky slopes. And that chunky Boost midsole (the exposed foam along the side is hard to miss) helps limit foot fatigue as the miles rack up. For day hikes and light backpacking, I think it's an all-around attractive design.
Conclusion
The Adidas Free Hiker is a very comfortable and truly solvent product on the mountain thanks to its reinforced primeknit fabric upper, the famous Adidas Boost midsole and an excellent sole made by Continental. Its use in the race presents some conflictive aspects, such as the heavy traction that appears when we lighten the step or a doubtful support in case of extreme trail. They are therefore a good fast hiking product that we would dare to use for trail running in contexts that are not excessively technical or fast, such as long mountain journeys following a path or slow runs in which flexibility and comfort are essential. become absolutely essential.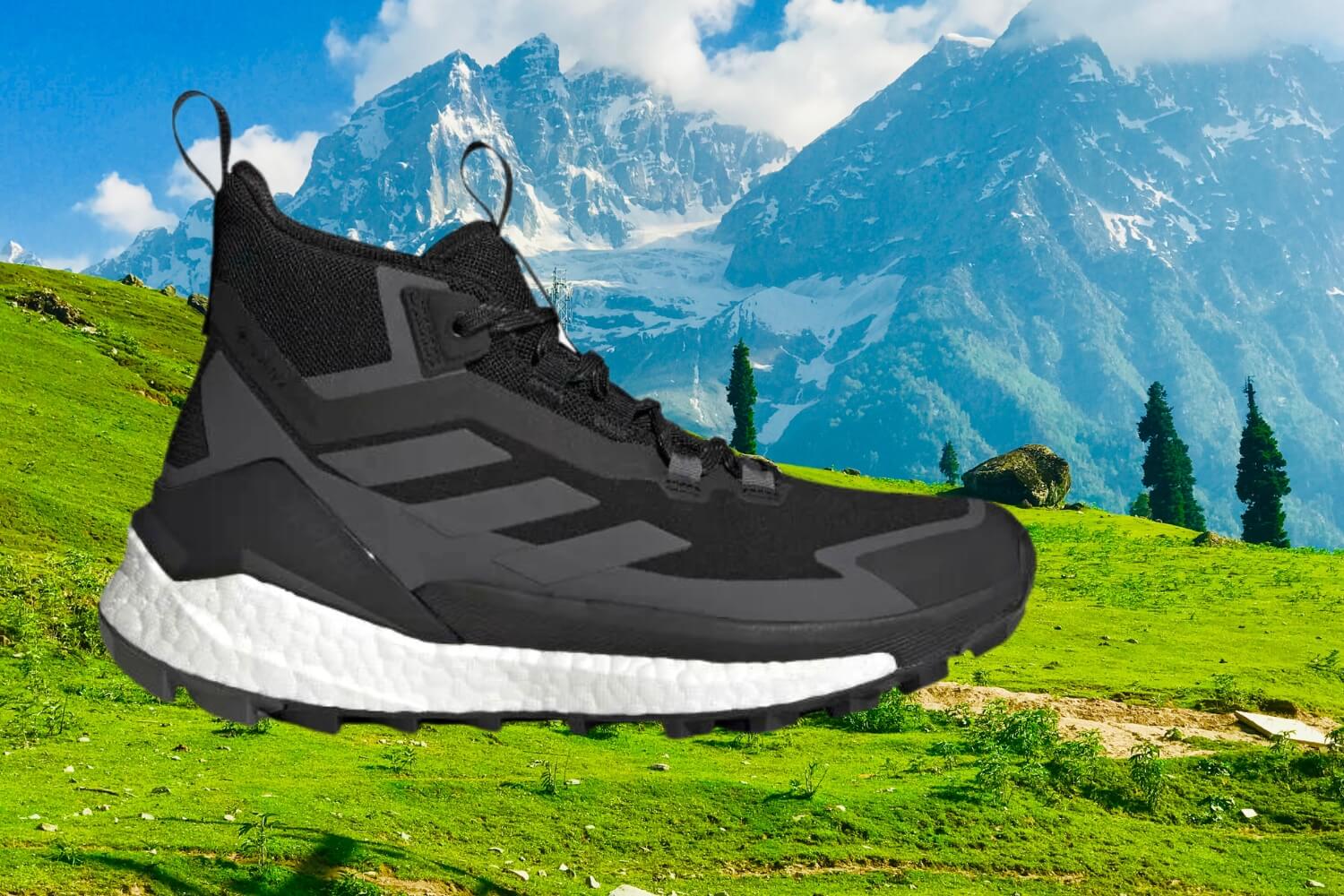 REI Co-op Flash Hiking Boots
Technical Features
Waterproof
Breathable
Weight (1/2 Pair-size 11) 481 g / 16.9 oz
Pros: A unique and stylish option for day hiking.
Cons: Middling comfort and traction.
Slipping your feet into the REI Co-op Flash, it's clear this isn't your standard hiking boot. The design has a sock-like feel thanks to elasticated tongue gussets, and the knit upper is reminiscent of a running shoe with a remarkably flexible feel. And underfoot, the insole is a pleasant surprise: unlike most standard designs that are cheap and thin, the TrailBed insole is decently thick, offers good arch support, and has more cushioning and comfort (it's almost rubbery) . Also REI struck a nice mix of flex and stiffness with the Flash – it's easy to walk pretty fast in the boot, though not as soft as some trail runner-inspired offerings like Hoka One One's new Anacapa Mid, but still feel the extra support and protection on rocky and rutted sections.
For the most part, hiking boots provide fairly reliable traction on a variety of surfaces, but the REI Co-op Flash fell noticeably short on rougher, tougher terrain. Most significantly, the lugs are surprisingly shallow and lack grip, almost immediately caked on softer surfaces like mud. This also translates to less grip on both steep climbs and descents.
REI Co-op Flash does not come with a Gore-Tex lining. Instead, you get a design from the branded HydroWall, which uses 75 percent recycled polyester and is proven to be a great performer, the woven upper material wicks moisture surprisingly well.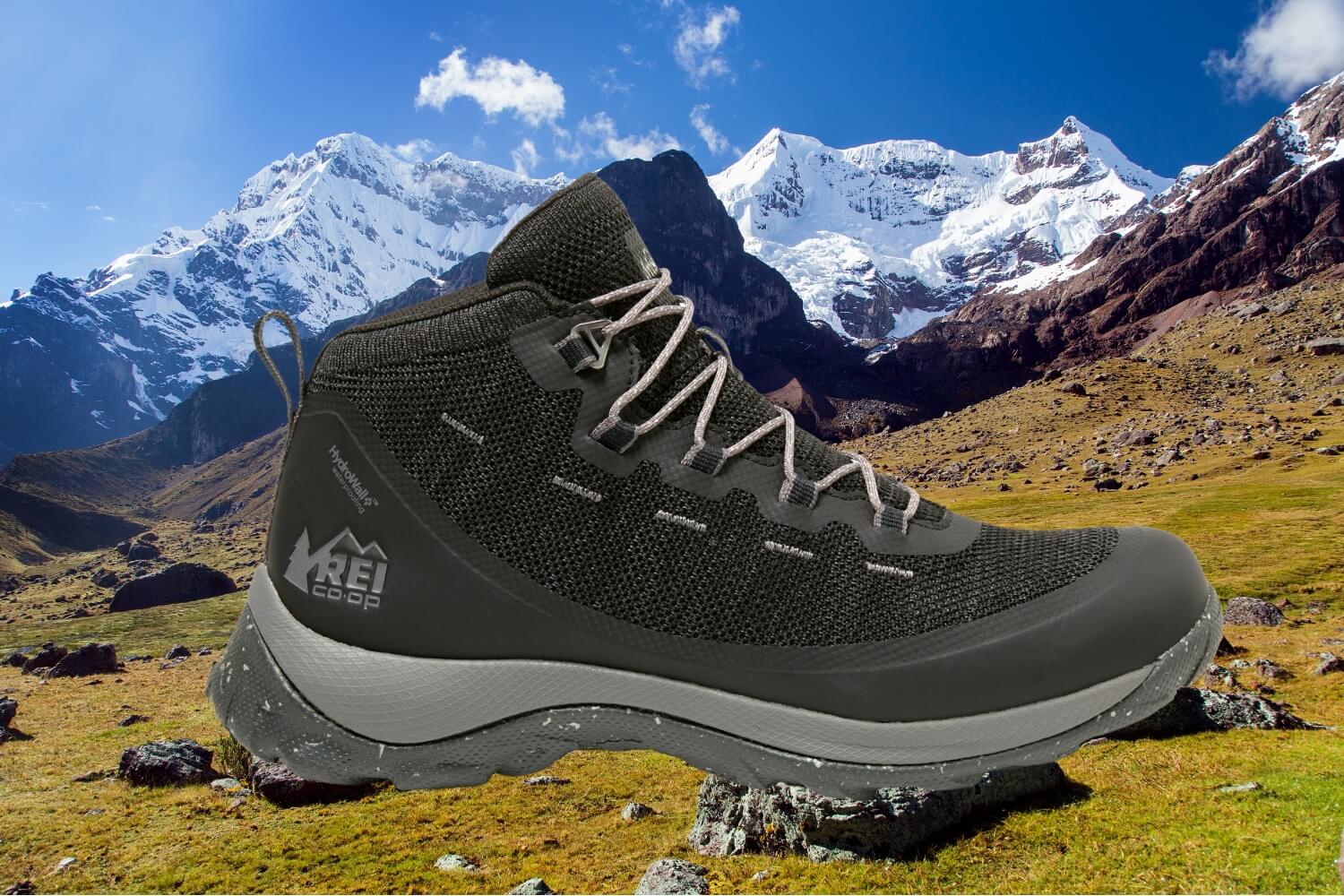 Arc'teryx Acrux TR GTX
Technical Features
Waterproof
Breathable
Weight (1/2 Pair) 550g / 19oz
Pros: High performance at an impressively low weight, the adaptive lining offers a perfect fit, without hot spots and keeps dirt and debris out of the shoe, durable and waterproof
Cons: One of the most expensive on the market
The Arc'teryx Acrux is designed to be strong, stable, comfortable over long distances, and light enough not to be a burden on your adventure trips, whether walking or hanging from a harness. The Acrux TR GTX is made with a very sticky Vibram rubber sole designed to provide elevated traction on all types of terrain, including rocks, dirt, mud and snow. Likewise, they feature a soft rubberized area (like cat feet) on the toe box, shallow circular studs on the midsole, and heel tread for excellent feel, traction, and braking.
Finding the perfect hiking shoe is hard to come by when you're trying to take weight out of your shoe, but the Acrux TR GTX strikes an impressive balance. They're light enough to tackle mile after mile on the trails (and take the odd climbing step after strapping in), but still stable enough to do it with a relatively heavy pack. Plus, the lining keeps your foot firmly in place and keeps dirt and other trail debris out inside.
The Acrux model is constructed with a tongueless, slip-on liner reminiscent of a climbing shoe, and is housed within a seamless nylon upper. This liner allows for a snug, sock-like fit, keeps out dirt and debris, and eliminates hot spots. A one-piece thermolaminate upper surrounds the lining, except for a gap under the laces, and adds durability and water resistance without the extra weight. Its strong nylon upper is completely seamless, providing excellent abrasion and scuff resistance, whether you're tasked with logging miles on rough terrain or twisting your feet into sharp granite crevices. In addition, the sole is perfectly integrated into the upper part. This construction prevents dirt and small rocks from getting into tiny holes in the fabric, where they can wear down the material over time. The Acrux GTX is fully waterproof and a GORE-TEX insert delivers proven waterproof, breathable protection.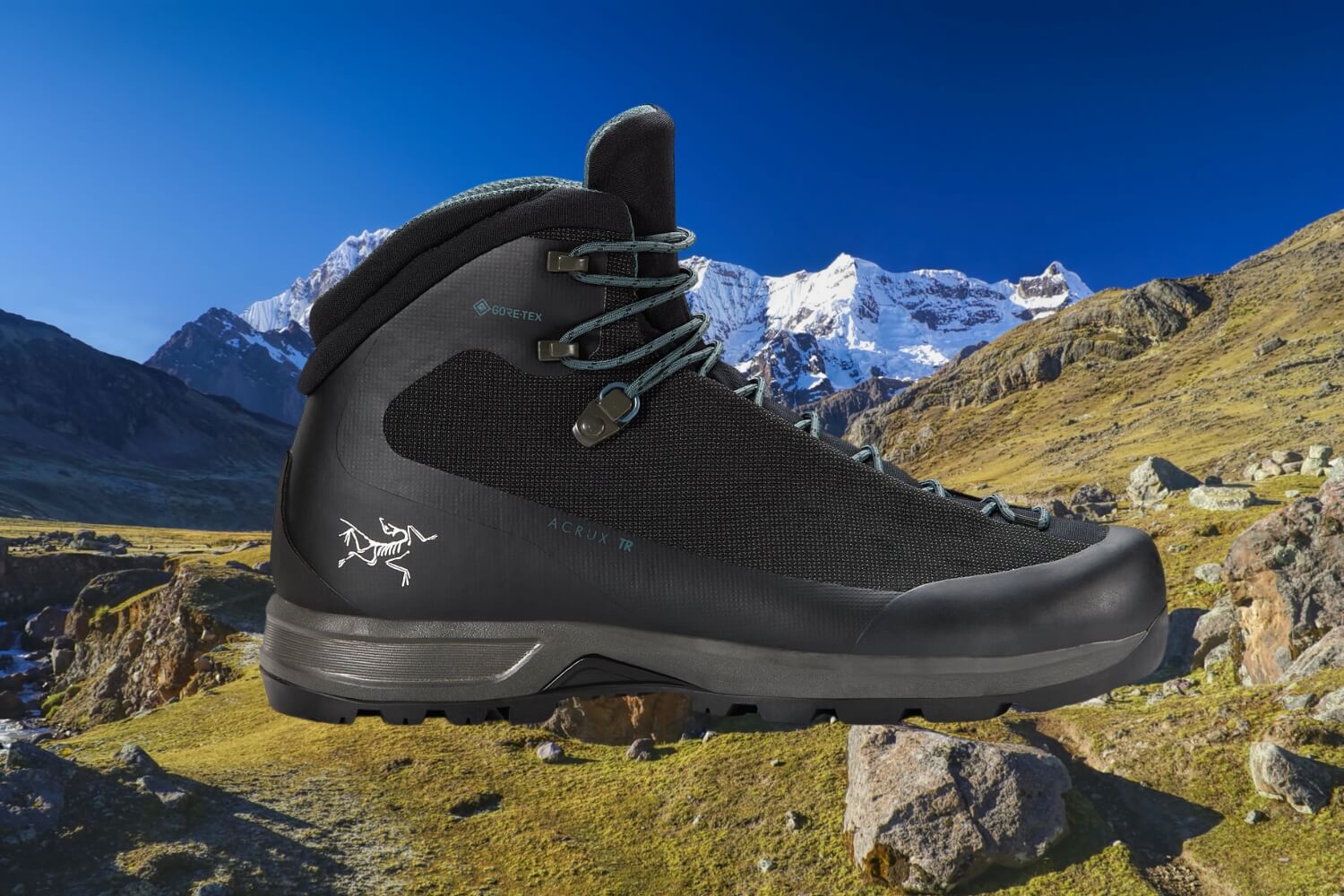 The North Face Cragstone Waterproof
Technical Features
Waterproof
Breathable
Lightweight
Weight (1/2 Pair) 409 g / 14 oz
Pros: The boots are a lightweight option for explorers to challenging routes.
Cons: Moderate resistance to extreme rain conditions
Designed for adventure seekers, the men's The North Face Cragstone Leather Mid Waterproof hiking boots combine lightweight, waterproof construction with a sneakerlike feel for everyday wear. Uppers constructed with molded 3D nubuck leather on the vamps and quarters, leather sourced from a tannery with a minimum rating of silver by the Leather Working Group for its water-, energy- and waste-management practices, DryVent™ waterproof/breathable membrane. Durable scratch-rubber toes and heels for rugged terrain; Outdoor-inspired webbing and lace details, Lightweight, high-rebound EVA midsoles, Surface CTRL rubber outsoles with 3.5 mm lugs are optimized for hiking.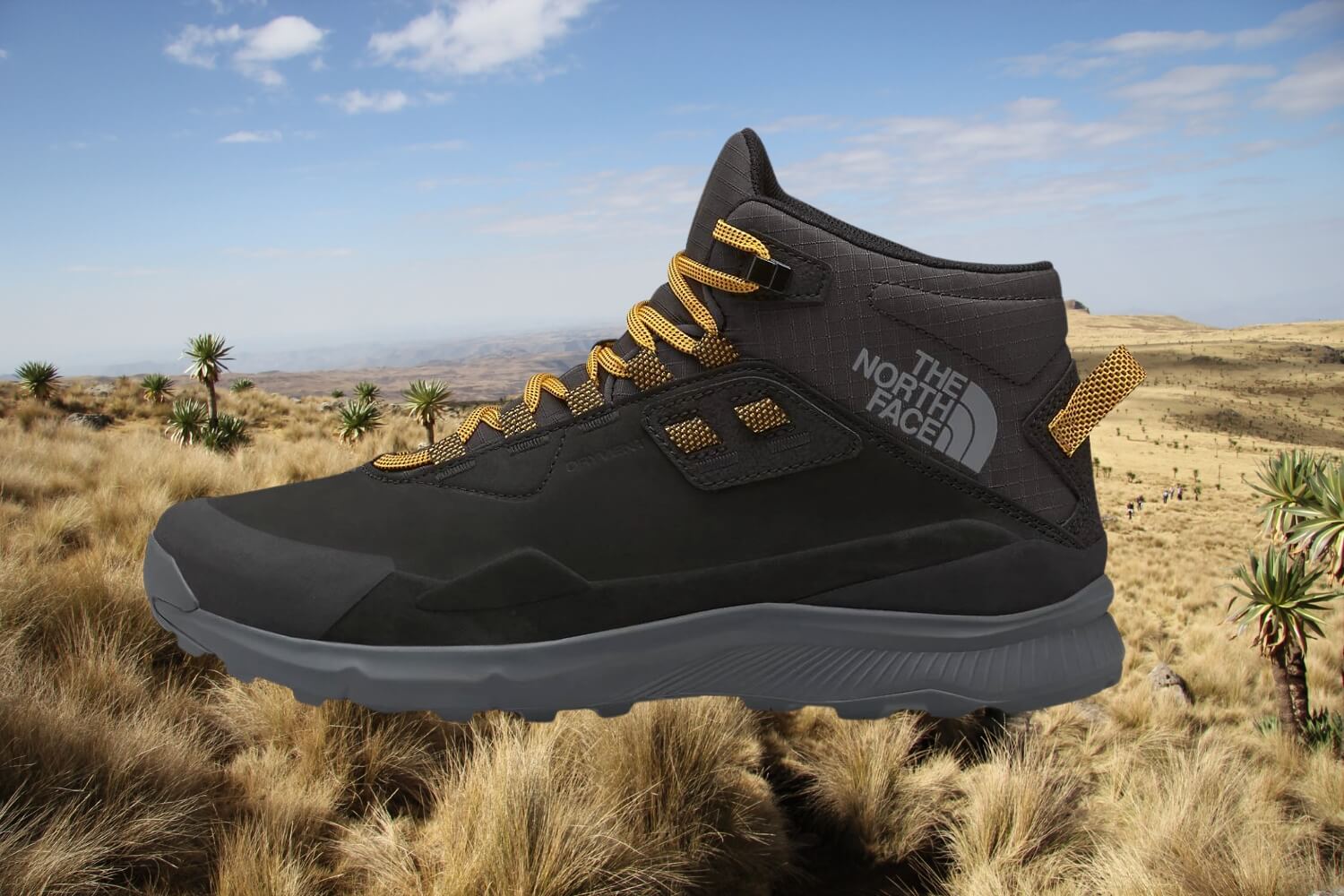 Men's Redmon III Mid Waterproof Shoe
Technical Features
Waterproof
Breathable
Weight (1/2 Pair) 467 g /16.5 oz
Pros: Mesh and suede upper provides exceptional fit and support
Cons: Moderate durability depending on the use you are going to give it
A versatile and durable mid-height hiking shoe built for comfort and protection on and off the trail. The mesh and suede upper provides exceptional fit and support with a waterproof-breathable membrane to keep wet out while the lightweight midsole and high-grip outsole deliver advanced cushioning and traction.
Synthetic leather overlays provide protection and a natural lock down, Omni-Tech™ waterproof breathable seam-sealed membrane bootie construction, Gusseted tongue keeps the debris out, Molded toe cap for protection, Techlite™ lightweight midsole for long lasting comfort, superior cushioning, and high energy return, Omni-Grip™ non-marking traction rubber.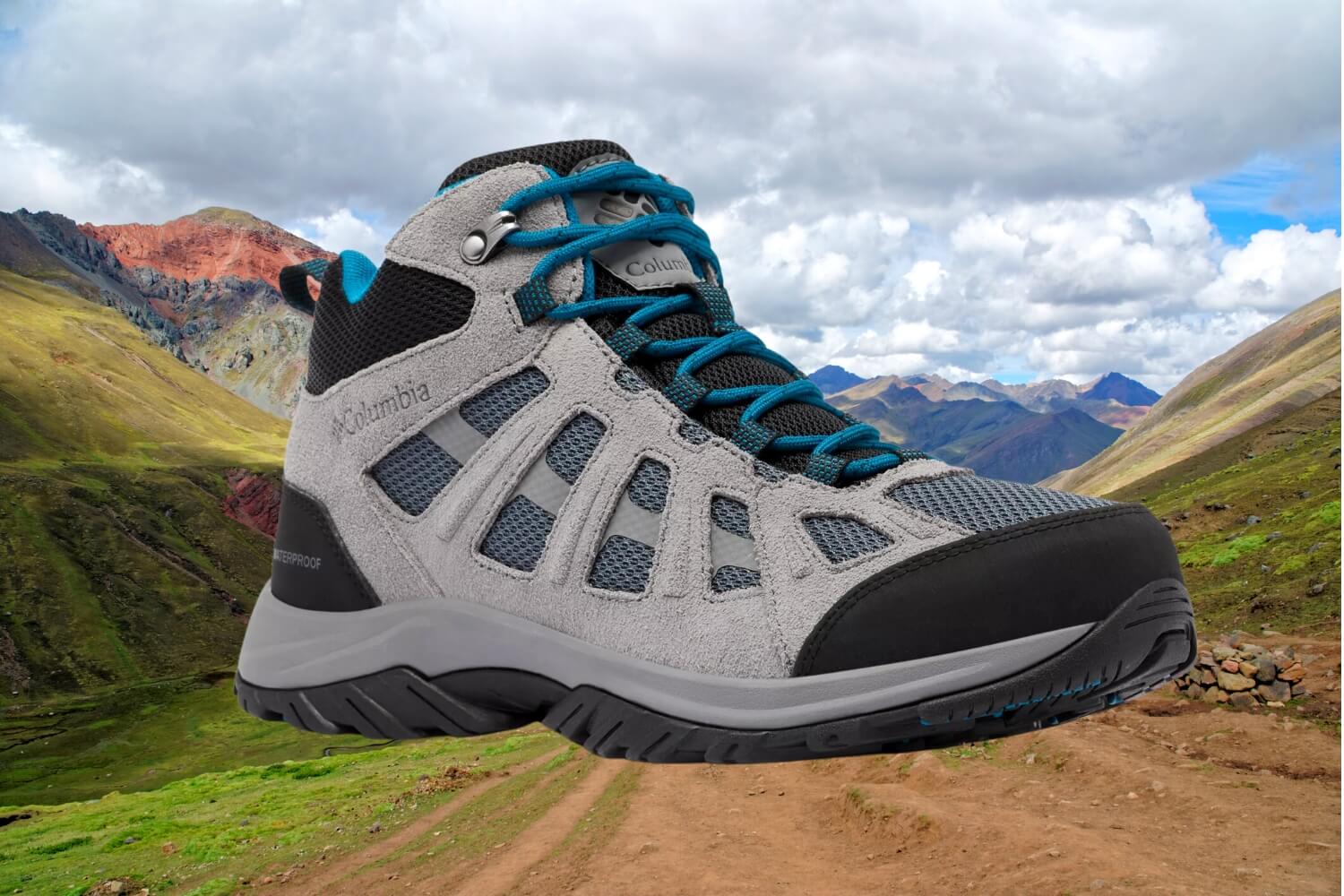 MENS TALUS XT GTX
Technical Features
Waterproof
Breathable
Weight (1/2 Pair) 606 g / 21.3 oz
Pros: Strength, durability and comfort
Cons: Poor ventilation Fit too tight for wide feet
The Talus XT GTX is a waterproof leather hiking boot that's heavy on features at a lighter weight than traditional leather hikers. Premium nubuck leather and a waterproof, breathable GORE-TEX membrane are a forcefield for feet on the roughest, wettest trails. A Vibram MegaGrip outsole provides unrelenting traction for adventures that don't leave room for compromise. Find nature's best in a performance-driven boot that's in its element whether you're above tree line or along the coastline.